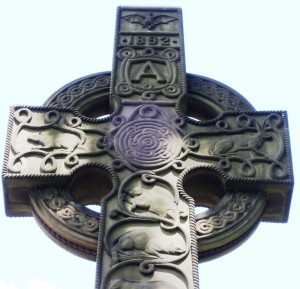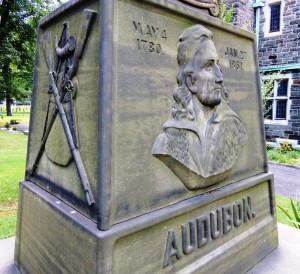 In 1842, needing more land for a cemetery, Trinity Parish purchased 24 acres of the upper Manhattan estate owned by the naturalist and painter John James Audubon (1785-1851). When Audubon passed away, he was buried in Trinity cemetery with only a small s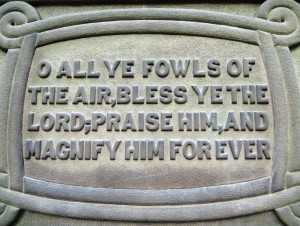 tone marker.
Also buried in the Audubon vault are his wife Lucy Bakewell Audubon, their children and grandchildren, and Audubon's friend, the musician Anton Philipp Heinrich.
Aububon's grave was later moved and funds were raised, under the leadership of Thomas Egleston (1832-1900), for a 25-foot monument. Along with a portrait of the artist are two dozen carved birds and quadrupeds; a painter's easel and brushes; and two of Audubon's rifles, one of which is held in Firestone Library's Audubon collection. The October 30, 1892, New York Times noted: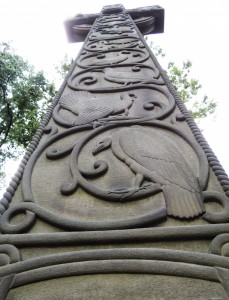 "In May last a fourteen-ton block of North River bluestone, quarried in Malden Township, in the Catskills, near Saugerties, arrived at the marble yards of R.C. Fischer & Co., at Corlears Hook. Since then the stone has been cut into a monument in the form of a Celto-Runic cross, which will soon be erected in Trinity Cemetery over the tomb of Audubon, the naturalist, artist, and ornithologist. The cross is in one solid piece, 19 feet high, and weighs seven tons."

"…The monument is 25 feet high. The color of the stone is a beautiful bluish-gray. The monument was designed and modeled and the work upon it personally superintended by Eugene Pflister, foreman of R. C. Fischer & Co. It has cost $10,000. Some of the minor work remains to be done, but it will be ready to be unveiled by the latter part of November. The monument will be unveiled by Miss Audubon, the grand-daughter of Audubon."
Note Audubon's California Vulture over his portrait, taken directly from the image in his Birds of America. The first scientific paper Audubon delivered concerned the vulture and its sense of smell.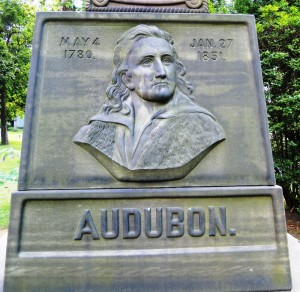 For more information, see: Audubon Park: http://www.audubonparkny.com
Audubon Monument: http://audubonparkny.com/AudubonParkAudubonTomb1.html
Trinity Cemetery: http://audubonparkny.com/AudubonParkTrinityCemeteryTour.html