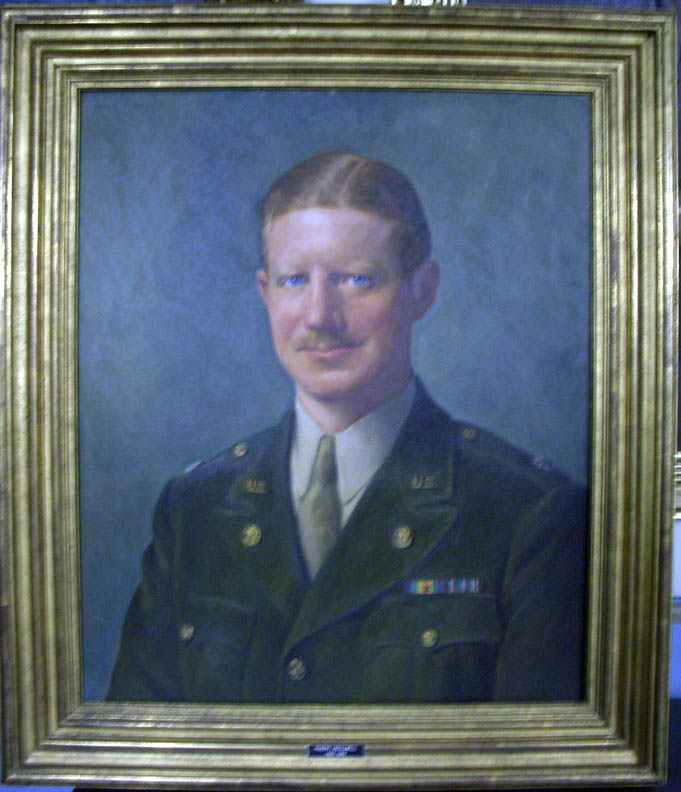 Ivan Gregorewitch Olinsky (1878-1962), Robert Cresswell, 1897-1943, no date [ca. 1943]. Oil on canvas. Graphic Arts Collection
When Lieutenant Colonel Robert Cresswell, Class of 1919, died on a mission for the Office of Strategic Services during World War II, the Princeton University Library chose the Friends' Room in the Graphic Arts Division of Firestone Library as a memorial to him. The room was chosen because it was largely through Cresswell's imagination and skilled effort that the graphic arts collection, together with Elmer Adler, came to Princeton in 1940.
As a member of the class of 1919, Cresswell's undergraduate education was interrupted by service during World War I, returning to campus to graduate in 1920. He joined the New York Tribune, later the New York Herald-Tribune, as a 25 year old reporter and by the age of 35, Cresswell was director the company. In 1940, as chairman of the Friends of the Princeton University Library, it was Cresswell who arranged the financing to establish a three year experimental program of graphic arts led by Adler. Later that year, Cresswell resigned from the Tribune and purchased the Philadelphia Evening Ledger, where he became director and publisher.
Cresswell's life was again interrupted, this time by World War II, and he reenlisted in 1942. It is unfortunate the not long after he arrived in England, Cresswell contracted an infection that spread quickly and he died in 1943. Happily, the three-year experiment in graphic arts was taken over by the Princeton University Library and continues to thrive today. The Friends' room has been renovated and recently reopened as administrative offices.