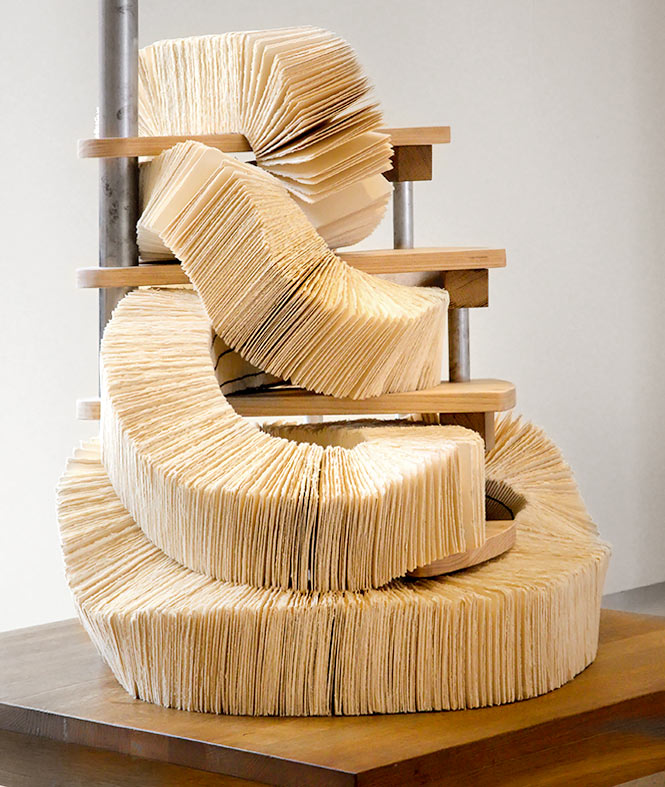 The Association of Norwegian Printmakers has a new exhibition of book arts in their Oslo gallery, called Innbundet / Ubundet, Bok-Trykk-Skulptur = Bound / Unbound, Letterpress Sculpture. On view during the month of April are works by Simon Faithfull, Jan Freuchen, Sarah Jost, Imi Maufe, rebeliCa angeCCa, Randi Nygård, Ellen Marie Blakstad Paus, Samoa Rémy and Randi Strand. http://www.norske-grafikere.no/utstilling
The exhibition presents artist books from the printmaker's perspective, with a focus on the book as a unique object. The artists are working with, against, and across textual communication, while also dealing with the properties of the physical books as a visual sculptures and tactile objects.
The Association of Norwegian Printmakers was founded in 1919 by, among others, Erik Werenskiold, Edvard Munch and Harald Sohlberg. Situated in the center of Oslo, the organization has at any time more than 4000 prints represented by more than 300 artists, making the gallery Norway's principal venue for contemporary prints.

Their website states that the purpose of their organization is to make printmaking recognized as an independent art form and to improve the artists' situation. Since its establishment, the Association has worked continuously to maintain high professional and ethical standards. Their artists use traditional and contemporary techniques, including digital printing as well as classical intaglio and relief techniques, lithography and screen printing, among many others.