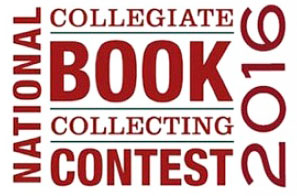 Congratulations to recent alum, Samantha Yosim (nee Flitter), Class of 2016, who became the first Elmer Adler Undergraduate Book Collecting Prize winner to receive an award in the National Collegiate Book Collection Contest. Sponsored by The Antiquarian Booksellers' Association of America (ABAA), the Fellowship of American Bibliophilic Societies (FABS), the Grolier Club, and the Center for the Book and the Rare Books and Special Collections Division, the contest, which recognizes outstanding book collecting efforts by college and university students, includes the essays of the top prize-winners of officially sanctioned American collegiate book collecting contests across the country.
This past Spring, Yosim was awarded first prize in Princeton's Rare Books and Special Collections Library-sponsored Elmer Adler Undergraduate Book Collecting Prize for her essay, "The Sand and the Sea: An Age of Sail in Rural New Mexico," in which she discussed her collection of books on British maritime history and the Age of Sail that, as she explained, allows her to "experience another world as viscerally as if it were my own."
The Adler Prize is awarded annually to an undergraduate student, or students, who, in the opinion of a committee of judges, have shown the most thought and ingenuity in assembling a thematically coherent collection of books, manuscripts, or other material normally collected by libraries as outlined in a personal essay.
Posted by Faith Charlton, Lead Processing Archivist, Manuscript Division Collections