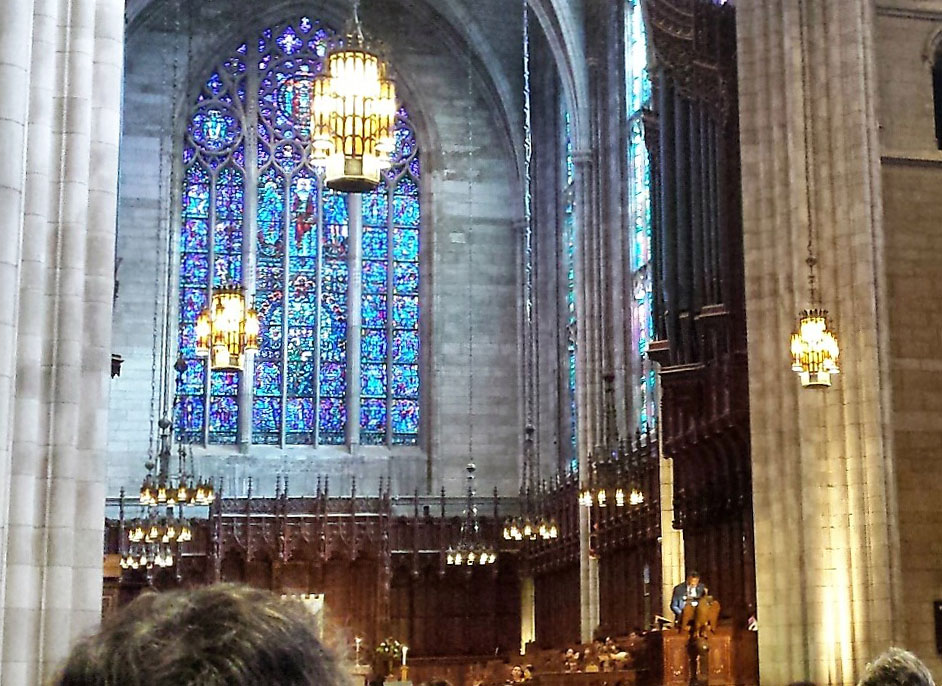 On the twenty-fifth Sunday after Pentecost, 11/11 at 11:11 am, a multi-faith service for peace was held in the Princeton University chapel to mark the end of WW1, with a sermon by guest preacher, Rev. Jesse L. Jackson, Sr.
Rev. Jackson is the founder and president of the Rainbow PUSH Coalition and one of America's foremost civil rights, religious, and political figures. Over the past fifty years, he has played a pivotal role in virtually every movement for empowerment, peace, civil rights, gender equality, and economic and social justice.
This was a reminder of the painting held in the Graphic Arts Collection of Jackson's sermon thirty years ago at Atlanta's Ebenezer Baptist Church.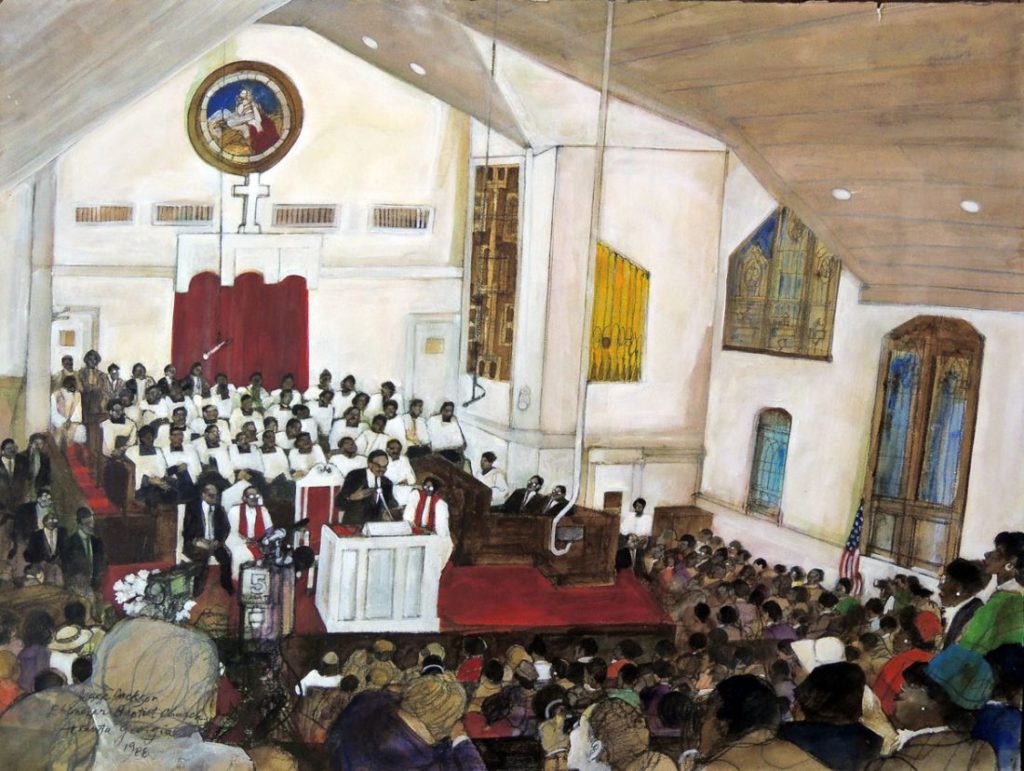 Franklin McMahon (1921-2012), Reverend Jesse Jackson, Ebenezer Baptist Church, Atlanta, Ga. 1988. Graphite, charcoal, and acrylic paint on paper. Graphic Arts Collection GA 2015
As reported in the New York Times, "The Rev. Jesse Jackson came to Ebenezer Baptist Church to preach from the pulpit that once belonged to Martin Luther King Jr. and to cloak his Presidential campaign in the glory of the movement that Dr. King led. It was a rich mix of God, politics and history, of civil rights movement veterans, political leaders and average churchgoers, all crammed into the narrow wooden pews of Ebenezer Baptist, two days before the Super Tuesday primaries across the South. . . "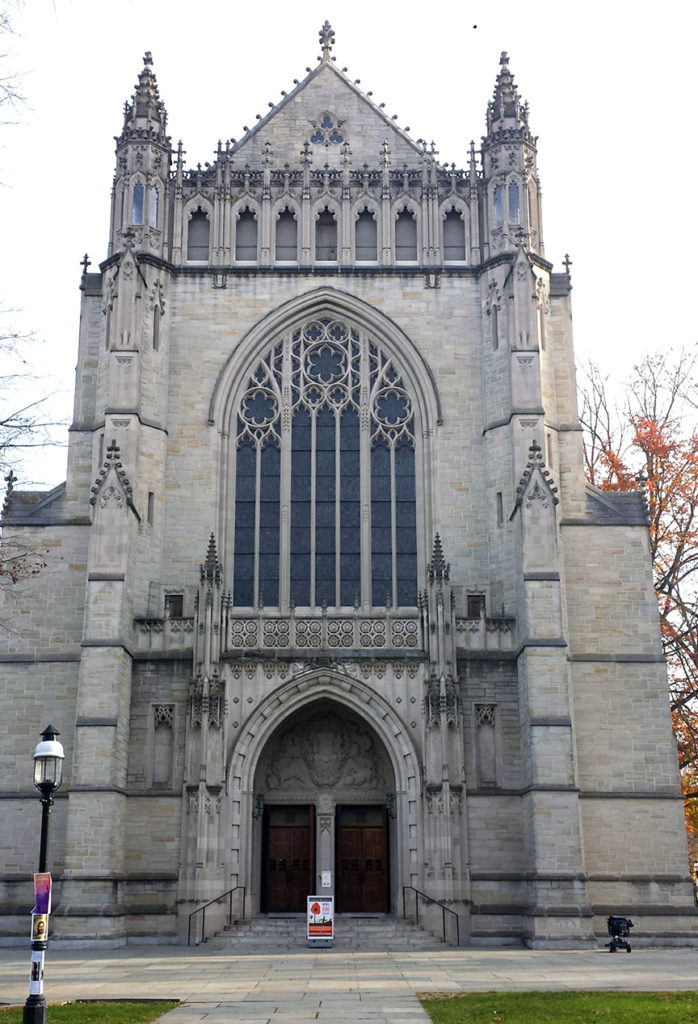 ". . . Then Mr. Jackson took his place at the simple white pulpit. He noted that it was the 23d anniversary of 'Bloody Sunday,' when civil rights demonstrators were beaten on a bridge in Selma, Ala., as they tried to march for the right to vote. He then paid tribute to John Lewis, now an Atlanta Congressman, who had led that march and been savagely beaten and on this Sunday morning was in a front pew. Mr. Jackson went on to present Super Tuesday as the outgrowth of the bloodletting on that Selma bridge. 'Tuesday, 23 years later, we can transform the crucifixion,' he said. 'And on Tuesday roll the stone away, and on Wednesday morning have a resurrection: new hope, new life, new possibilities, new South, new America.'
'I'm proud of the the New South,' Mr. Jackson said. 'No more governors standing in the school house door, no more dogs biting children.' But, he continued, 'It's not enough to have kind governors and tame dogs. It's not enough.' He argued that 'the fight for economic justice' was the principle challenge before the South and the nation. It was a fight for the economic rights of garbagemen, Mr. Jackson noted, that drew Dr. King to Memphis, where he was assassinated in 1968. When Mr. Jackson had finished, the congregation sang him on his way with 'I'm on the Battlefield for My Lord.' And Mr. Roberts adlibbed, 'And I promise not to serve him just 'till Super Tuesday but until I die.'"–Robin Toner, "Hosannas to God and Votes for Jackson," Special to the New York Times, March 7, 1988.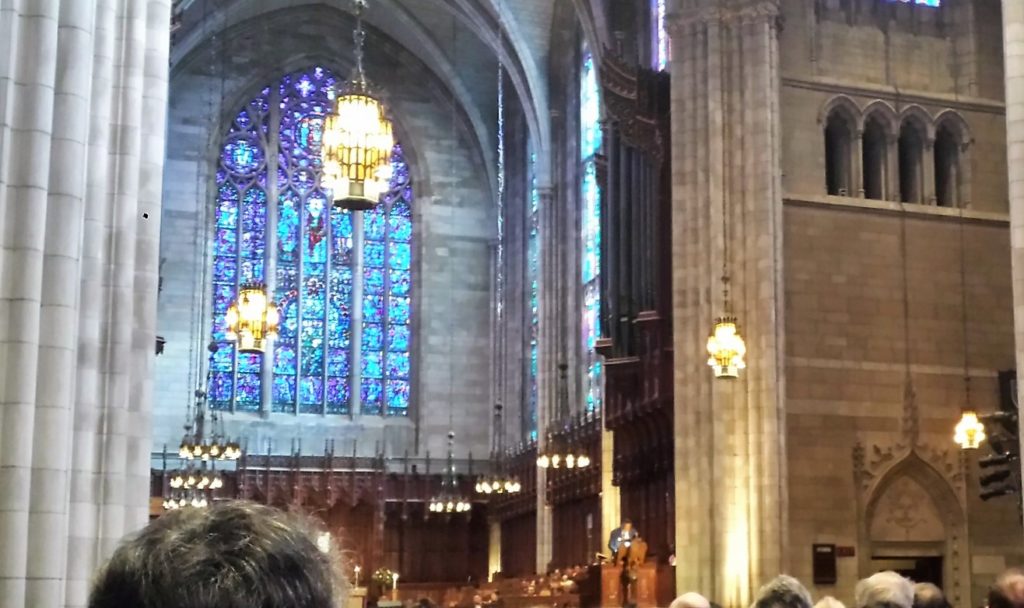 Following yesterday's service at Princeton University, the 39th Annual Conference and Multifaith Service for Peace sponsored by the Coalition for Peace Action (CFPA) and co-sponsored by 31 religious and civic groups in the region (see www.peacecoalition.org) with Rev. Jackson and Ambassador Wendy Sherman.
Sherman led the U.S. negotiating team and was a central player in reaching a successful conclusion of the Iran nuclear agreement. In recognition of her diplomatic accomplishments, she was awarded the National Security Medal by President Barack Obama. Amb. Sherman's latest book Not for the Faint of Heart, is on order. Here is a preview.