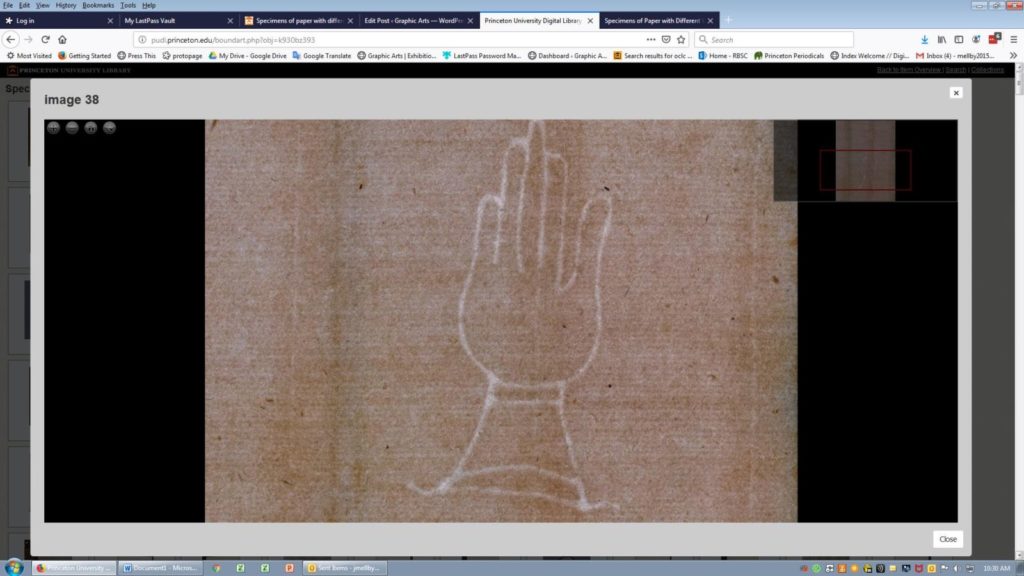 As we previously posted, the Graphic Arts Collection holds a unique volume of nearly 400 specimens of European papers with different watermarks (1377-1840), acquired at the suggestion of Elmer Adler with a fund turned over to the Library by the Friends of the Princeton University Library. Adler must have been a good negotiator, talking rare book dealer Philip Duschnes down from $350 to $300.
Recently, the album was not only digitized: (Permanent Link) http://arks.princeton.edu/ark:/88435/k930bz393, but we have also created an excel sheet so the watermarks can be searched with words:
https://lib-dbserver.princeton.edu/visual_materials/ga_pdf/Watermarks.pdf
The spreadsheet is large but useful if you want to see whether "grapes" are used in watermarks over many years or what type of animals, such as unicorns, turn up.


Originally in the collection of Dawson Turner (1775–1858), the auction catalogue description reads: 'Watermarks on Paper. A very curious collection of upwards of three hundred and seventy specimens of paper with various Watermarks, for A.D. 1377 to A. D. 1842, collected with a view to assist in ascertaining the age of undated manuscripts, and of verifying that of dated ones, by Dawson Turner, Esq. and bound in 1 vol. half calf.'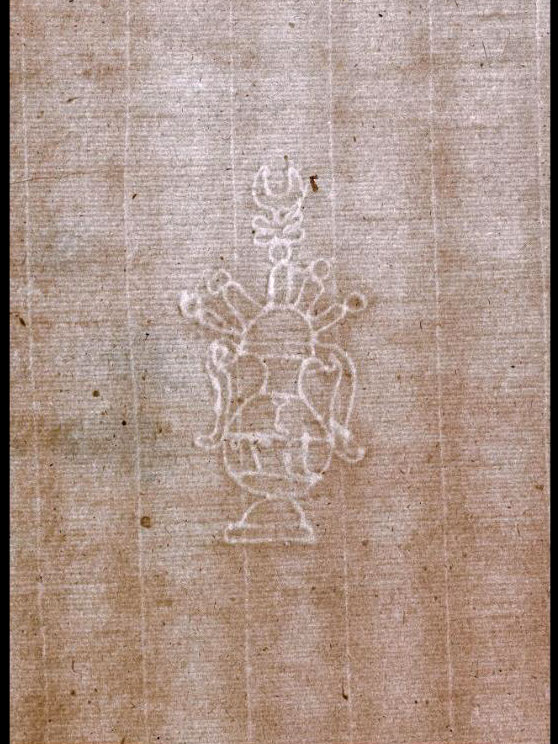 See also: Catalogue of the Remaining Portion of the Library of Dawson Turner, Esq., M.A., F.R.S., F.S.A., F.L.S., etc., etc. formerly of Yarmouth: which will be sold by auction by Messrs. Puttick and Simpson … Leicester Square … on Monday, May 16th, 1859, and seven following days (Sunday excepted). [London, 1859], item 1523.
Specimens of Paper with Different Water Marks, 1377-1840. 1 v. (unpaged); 40 cm. 371 specimens of watermarked paper, together with brief descriptions of each in a mid-nineteenth century ms. hand. The specimens are mainly blank leaves, though some leaves feature writing and letterpress. Specimen 334 is stamped sheet addressed to Dawson Turner (1775-1858), Yarmouth. Purchased with funds from the Friends of the Princeton University Library. Graphic Arts: Reference Collection (GARF) Oversize Z237 .S632f