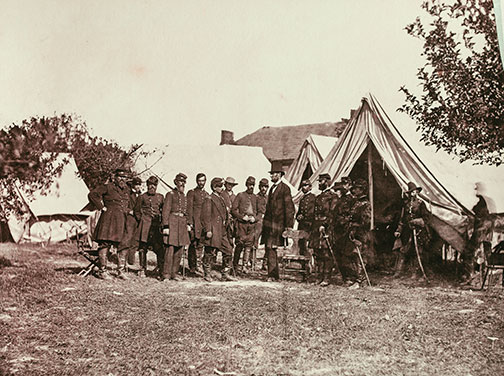 Just a quick addendum to the wonderful article A War Brought Home by Merrell Noden, Class of 1978, in the Princeton Alumni Weekly for 19 March 2014. Our copy of Alexander Gardner's two volume: Gardner's Photographic Sketch Book of the War was featured among the strong photography holdings at Princeton. https://paw.princeton.edu/issues/2014/03/19/pages/5297/index.xml
It is important to remember that the purchase of the album was thanks to a group of enthusiastic alumni and certainly would not have been possible without their support. I wish to thank each and every one of them here with the information included with the album and online with the library catalogue record: Purchase supported by funds from Friends of the Princeton University Library and from Princeton alumni William Bohnett, Class of 1970; George Bustin, Class of 1970; Paul Haaga, Class of 1970; J. Roderick Heller, Class of 1959; Brian Hunter, Class of 1970; Otis Allen Jeffcoat, Class of 1970; John Loose, Class of 1970; and William Trimble, Class of 1958.
We are only able to make a limited number of high value acquisitions each year for the graphic arts collection and this is one of the highlights of all time. Gardner also liked to give appropriate credit, clearly listing all the photographers who worked with him on this project including Barnard & Gibson (8); Alexander Gardner (16); J. Gardner (10); David Knox (4); Timothy H. O'Sullivan (45); William R. Pywell (3); J. Reekie (7); W. Morris Smith (1); Wood & Gibson (5); and D. B. Woodbury (1).