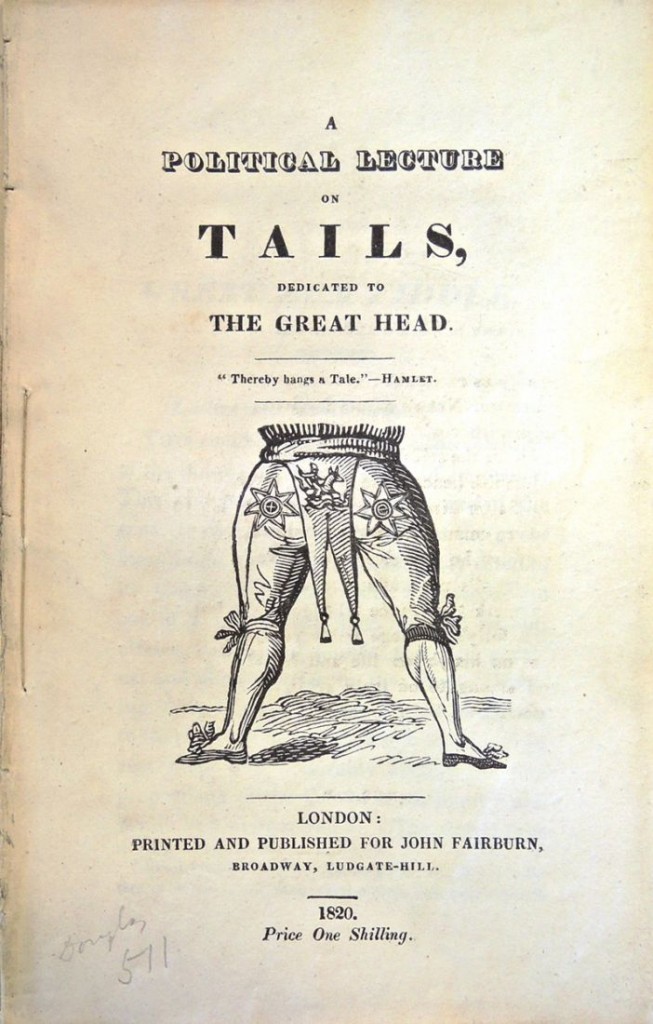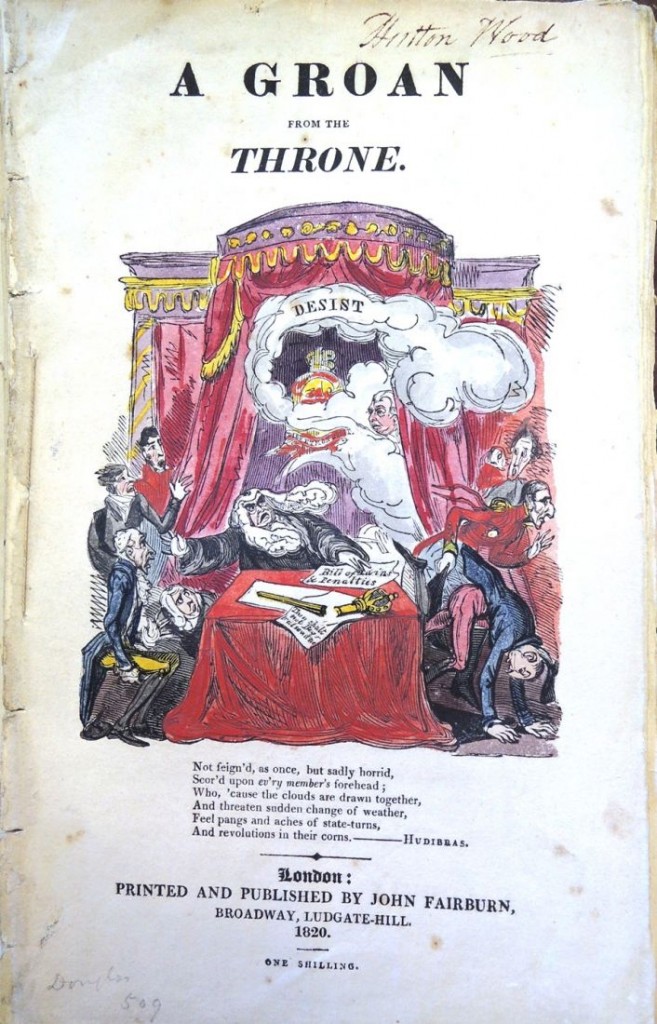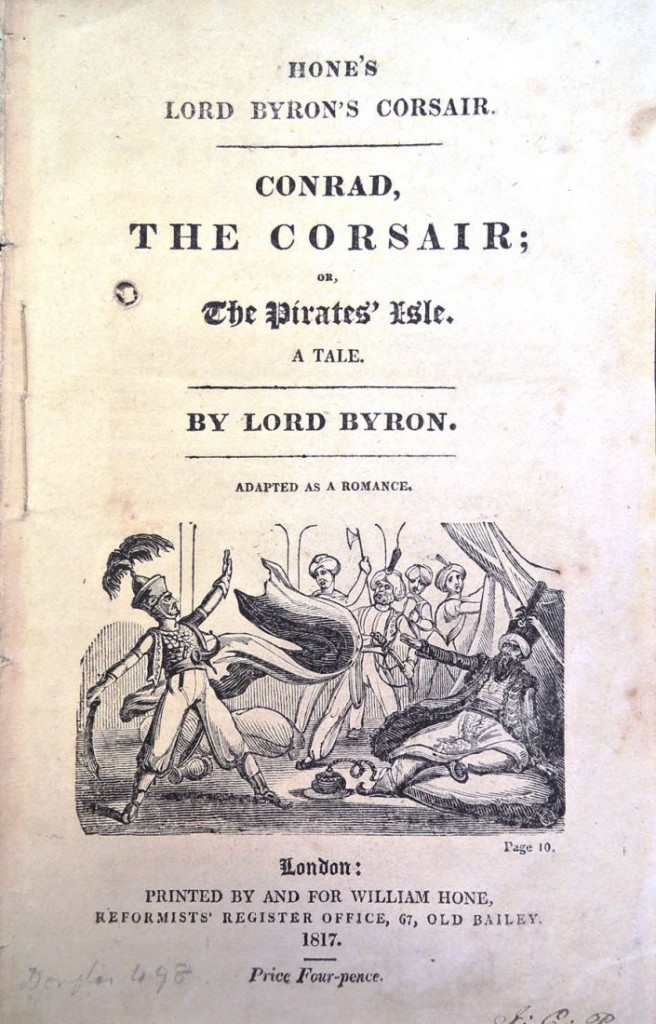 This note was published in Notes and Queries (October 1885) by Alfred Wallis:
A Catalogue of William Hone's Publications is appended to The Political Showman at Home, 1821. This is a tolerably full list, and others may be found at the end of his various tracts. Pamphlets similar to those of William Hone were published about that period by Dolby, Fairburn, Robins, Johnstone, Benbow, &c. The brothers George Cruikshank and Isaac Robert Cruikshank found plenty of employment in drawing caricatures for these publications, and the work of the two artists is so much the same in style and manner at this epoch that one finds some difficulty in assigning the specimens to which no initials are affixed.

I believe that George Cruikshank alone illustrated Hone's publications and Robert Cruikshank those of Dolby; but both the brothers worked for Fairburn and for Robins & Co. More information upon this subject will be found in the various biographies and bibliographies produced since the death of George Cruikshank. The artist is said to have asserted his claim to be considered the originator of some of Hone's most successful publications, especially to the Bant Note—not to be imitated; it is, however, tolerably certain that this claim, in common with the pretence that every author with whom Cruikshank had relations "wrote up to" his designs, must be referred to a morbid exaggeration of his characteristic vanity.

The idea of publishing such a caricature, in the form of a bank-note, was attributed to Hone in all the public prints; and as it only illustrated an extended pamphlet "by the author of The Political House that Jack Built," dealing with "the effects on society of the bank-note system and payments in gold," the Examiner was most likely right in saying, "This bank-note is by Mr. Hone, and ought to make the hearts of the bank directors (if they have hearts) ache at the sight." Some of Hone's political tracts are common, others are very difficult of procurement in a perfect state; for instance, the step-ladder is rarely to be found with The Queen's Matrimonial Ladder. A complete set is a valuable possession to the student of contemporary life and manners.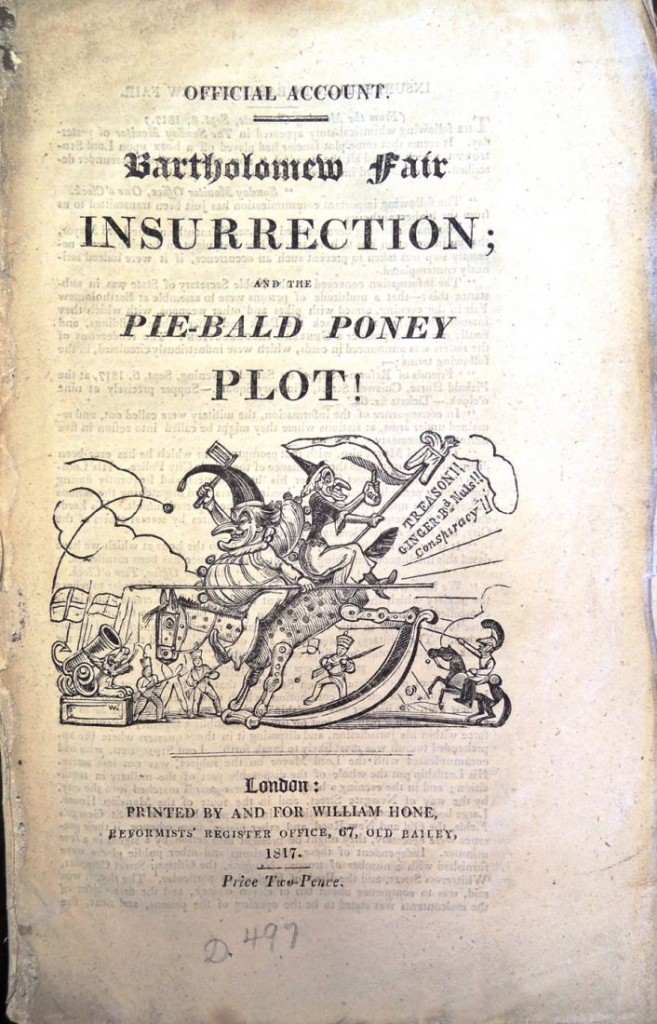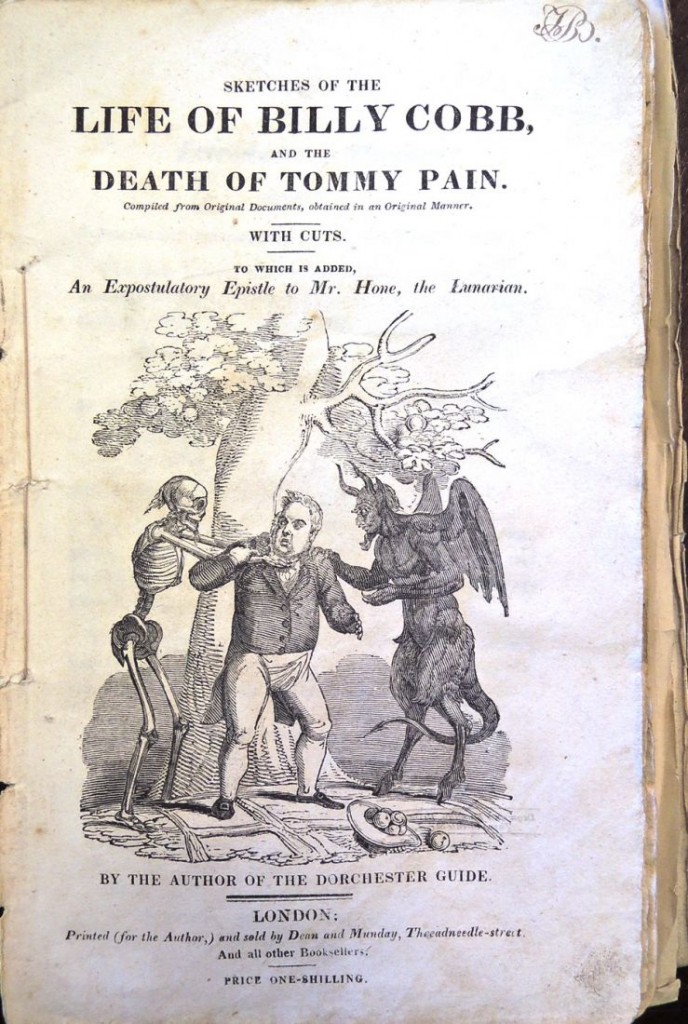 Multiple copies of these and other rare tracts are held in various collections at Princeton, including this set in the Graphic Arts Collection given by Richard W. Meirs, Class of 1888. Although several sets are bound together, each title can be searched separately in http://catalog.princeton.edu. Such as:
A Groan from the Throne (London: Printed and published by John Fairburn, 1820). A satire in verse on King George IV, with woodcut title vignette by George Cruikshank. GA copy: No. 7 of a volume of pamphlets. Graphic Arts Collection (GA) Cruik 1817.28. Gift of Richard W. Meirs, Class of 1888