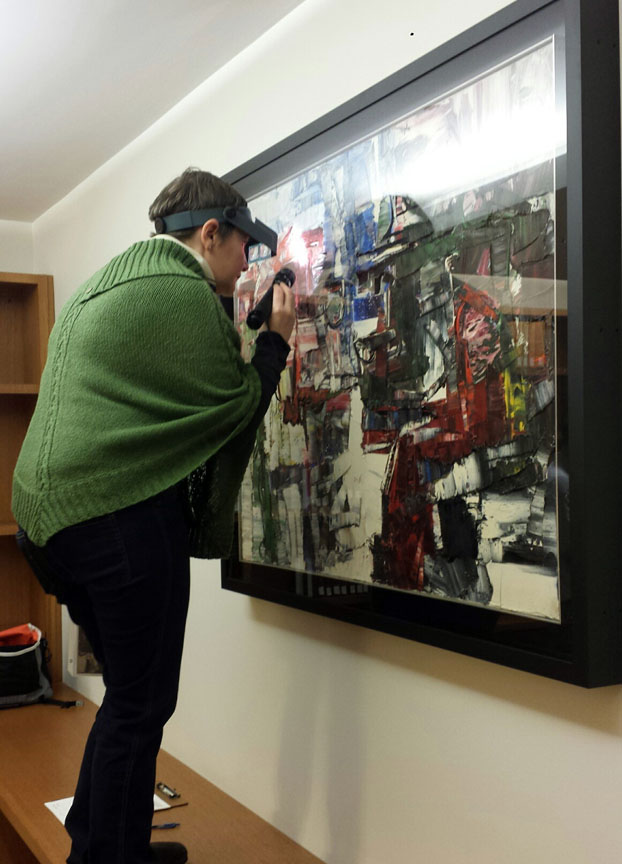 While many of the students and faculty were driving home for Thanksgiving, we used the quiet time to hang a few more paintings on the A floor of Firestone Library.
Here you see Elizabeth Aldred, registrar for the Princeton University Art Museum, completing a condition report on Jean-Paul Riopelle's untitled painting before it was packed up and returned to the museum for conservation.
In its place, the museum kindly offered a beautiful 1960s painting by the New York artist Loren MacIver for the Cheng Family Reading Room.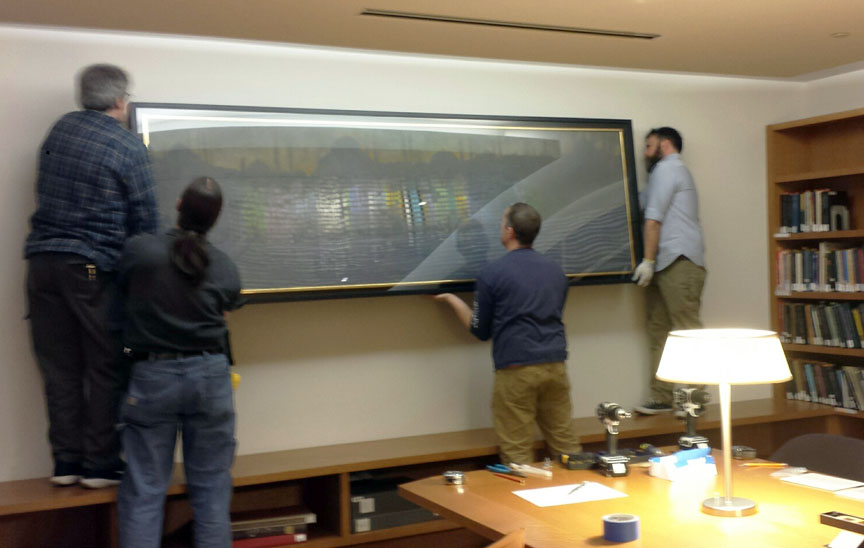 MacIver was a primarily self-taught artist, known for semi-abstract landscapes, cityscapes, and close views of natural forms, many of them ensconced in a hazy fog, lending them a dreamlike aura.
"My wish is to make something permanent out of the transitory," MacIver wrote in 1946. "Certain moments have the gift of revealing the past and foretelling the future. It is these moments that I hope to catch."
MacIver befriended many American poets, including Elizabeth Bishop, E. E. Cummings, and Marianne Moore. See also the catalogue prepared to honor the artist at her death: Loren MacIver: A Retrospective (New York: Tibor de Nagy Gallery, 1998). Marquand Library (SA) Oversize ND237.M165 B287 1998q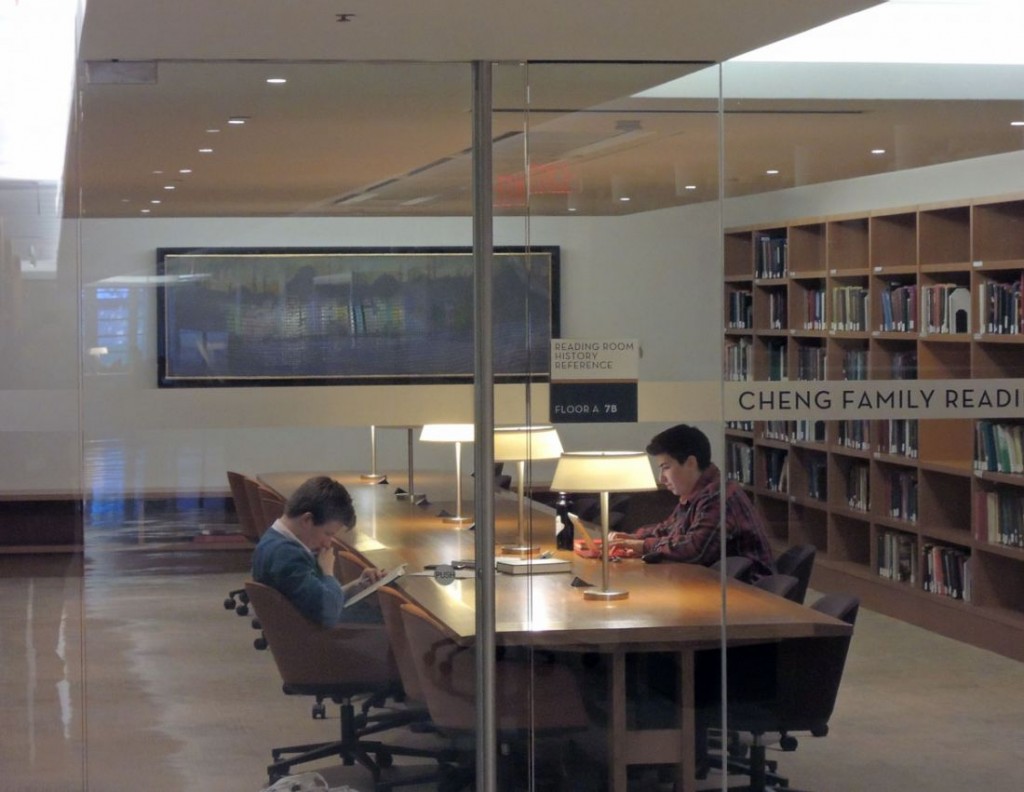 Loren MacIver (1909–1998), Byzantium, ca. 1965. Oil on canvas. Gift of Thirteen Friends (Mrs. Harold Hochschild, Mr. and Mrs. Walter Hochschild, Mrs. R. Wolcott Hooker, Mr. and Mrs. P. J. Kelleher, Mr. Frank Kissner, Mr. and Mrs. John McAndrew, Miss Dorothy C. Miller, Mrs. J. D. Rockefeller III, Mr. James T. Soby, Miss Eleanor D. Wilson). Princeton University Art Museum.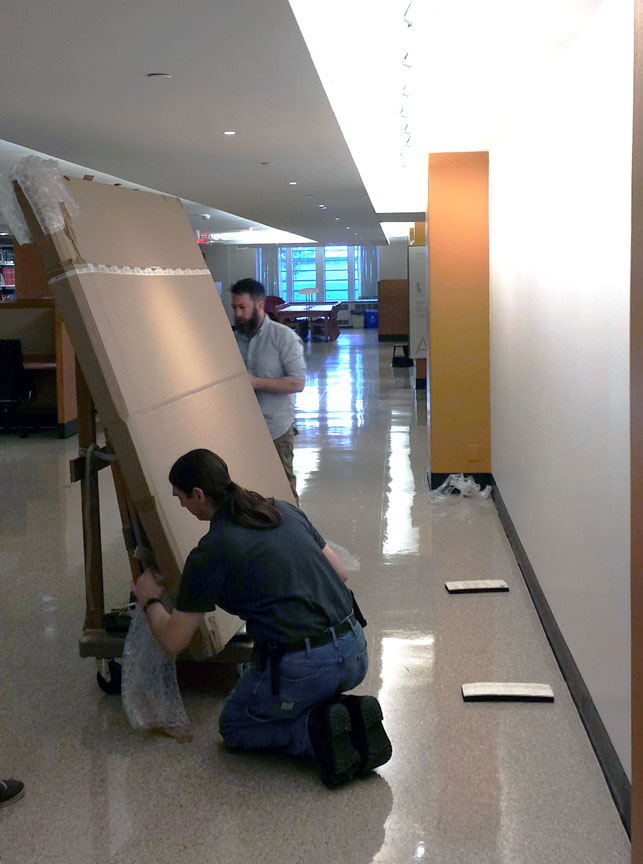 This was followed by the hanging of a monumental painting titled Hippolytus by Princeton University alumnus Cleve Gray, Class of 1940. While at Princeton, Gray studied in the department of Art and Archaeology, completing a thesis on Yuan Dynasty landscape painting with George Rowley (1892-1962).
After serving in Europe during World War II, Gray remained in Paris to receive informal art training from a number of French artists. His paintings from the 1960s, including this one, graft impulsive gestures derived from Abstract Expressionism onto a more or less solid armature, a fusion that hints at the competing tensions at play in painting in the 1960s.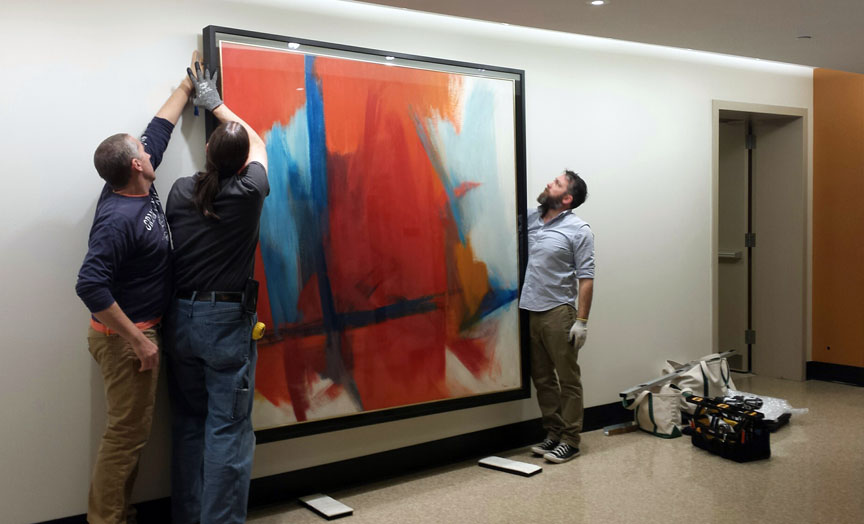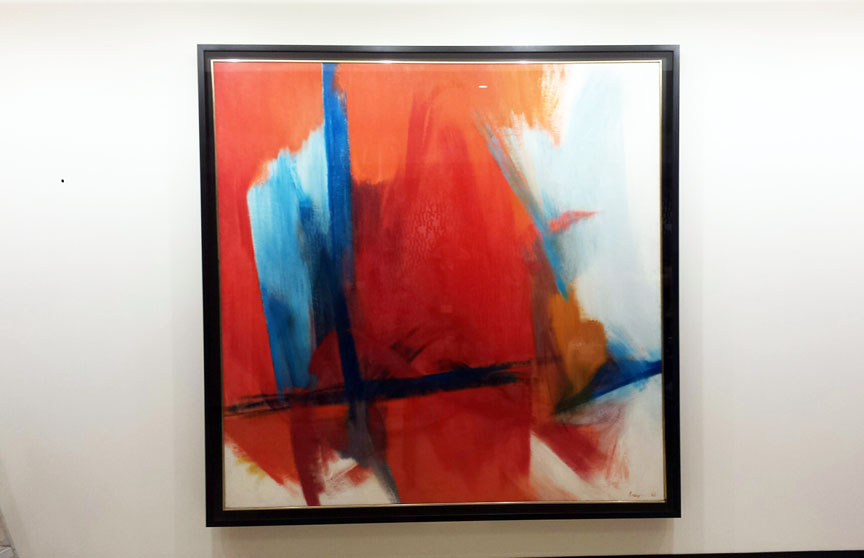 Cleve Gray, Class of 1940  (1918–2004), Hippolytus, 1963. Oil on canvas. Gift of the artist. Princeton University Art Museum.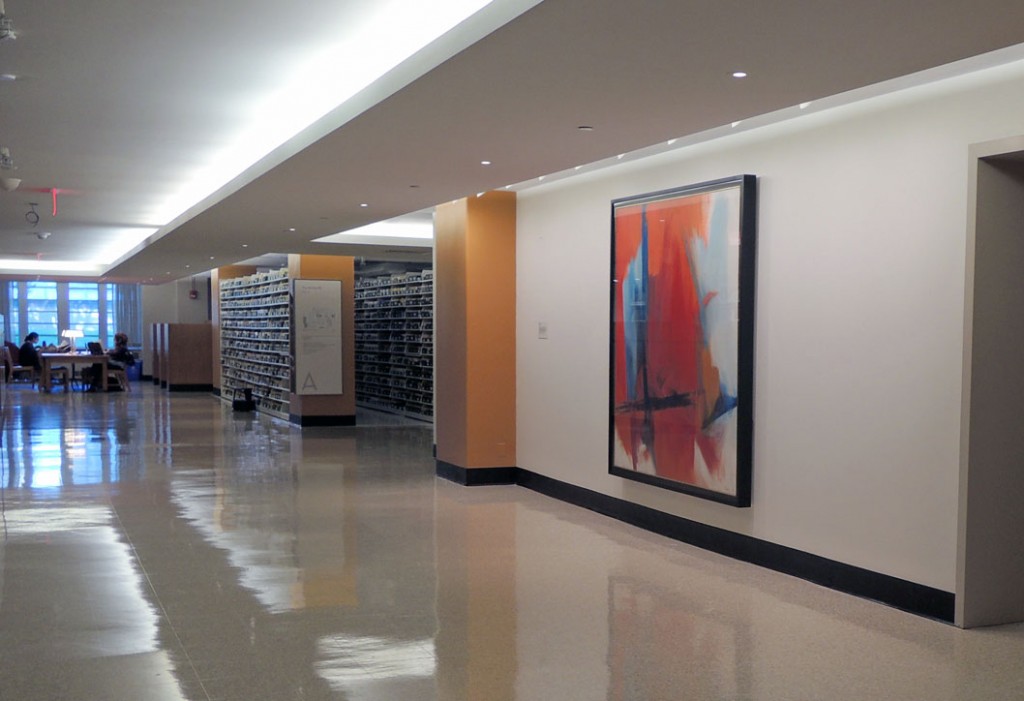 For more on Hippolytus, see Princeton University's "Phaedra project" website:
"Born to Minos, King of Crete, and Pasiphaë, immortal daughter of Helios, the Sun, Phaedra became the second wife to Theseus, the founder-king of Athens. Theseus's son Hippolytus (by his first wife Hippolyta) was a virginal devotee of Artemis, and spurned Aphrodite. In revenge for his disregard, Aphrodite made Phaedra fall in love with Hippolytus. In some accounts, it is the nurse who reveals Phaedra's burning passion for her stepson, while in others it is Phaedra herself. When Hippolytus vehemently rejects his step-mother's desire, Phaedra falsely accuses him of rape. Believing his wife, Theseus curses his son, prompting Poseidon to send a sea monster (or in some accounts Dionysus to send a wild bull), to terrify Hippolytus's horses and to plunge his chariot over a cliff, sending him to his doom. As many versions of the story have it, Phaedra, upon hearing of her beloved Hippolytus's death, takes her own life." — "Myth in Transformation: The Phaedra Project"  http://www.princeton.edu/~phaedra/index.html