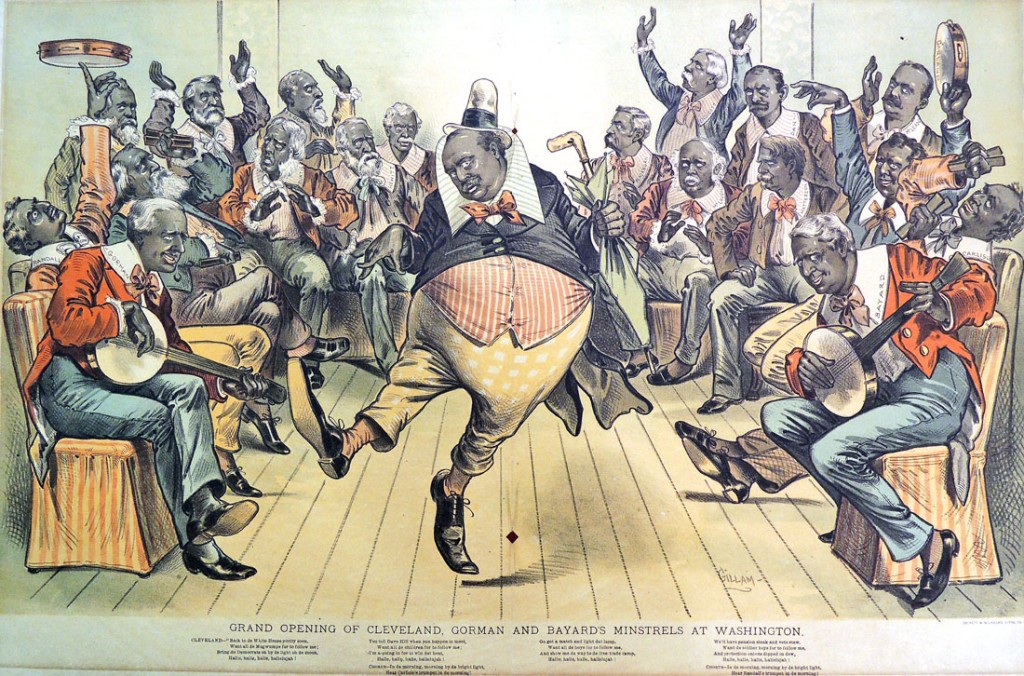 With sincere thanks to Professor Anthony Chase, theater critic, columnist for Artvoice and The Public, and Assistant Dean in the School of Arts & Humanities, SUNY Buffalo State, we are reposting this lithograph cut from Judge magazine.
As Dr. Chase instructs, "If you look at the image, it clearly depicts President Grover Cleveland (1837-1908) in blackface, with Senator Arthur Pue Gorman of Maryland and Secretary of State Thomas F. Bayard also in blackface, playing banjos. The title, Grand Opening of Cleveland, Gorman, and Bayard's Minstrels is actually satirical and because Bayard died in 1889, I would expect that 1887 or 1888 is the more accurate date of this fantastic print."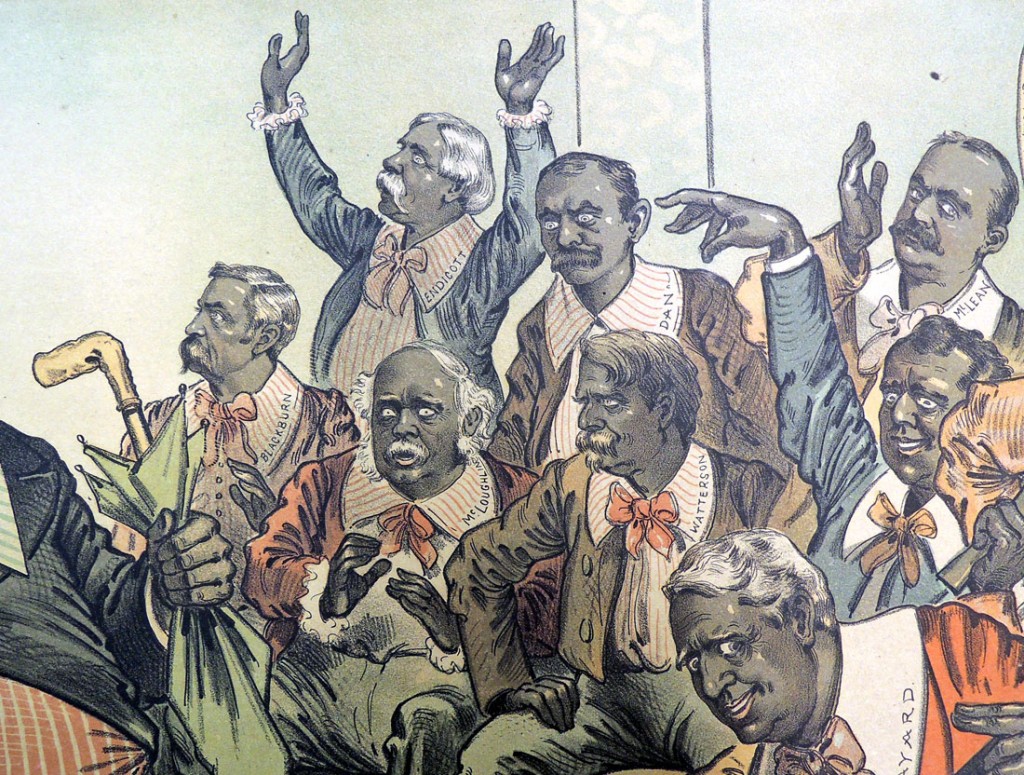 Once enlarged, the names of each politician active during Cleveland's presidency can be seen on their collars. On the right:
John Griffin Carlisle (1834-1910) served as the Speaker of the United States House of Representatives from 1883 to 1889 and was a leader of the conservative wing of the party.
Henry Watterson (1840-1921) was a United States journalist and editor for the Louisville Courier-Journal. He also served part of one term in the United States House of Representatives as a Democrat.
Joseph Clay Stiles Blackburn (1838-1918) was a Democratic Representative and Senator from Kentucky.
William Crowninshield Endicott (1826-1900) served as Secretary of War in Grover Cleveland's Administration.
Hugh McLaughlin (1827-1904) was the head of the Democratic Party in Brooklyn, New York.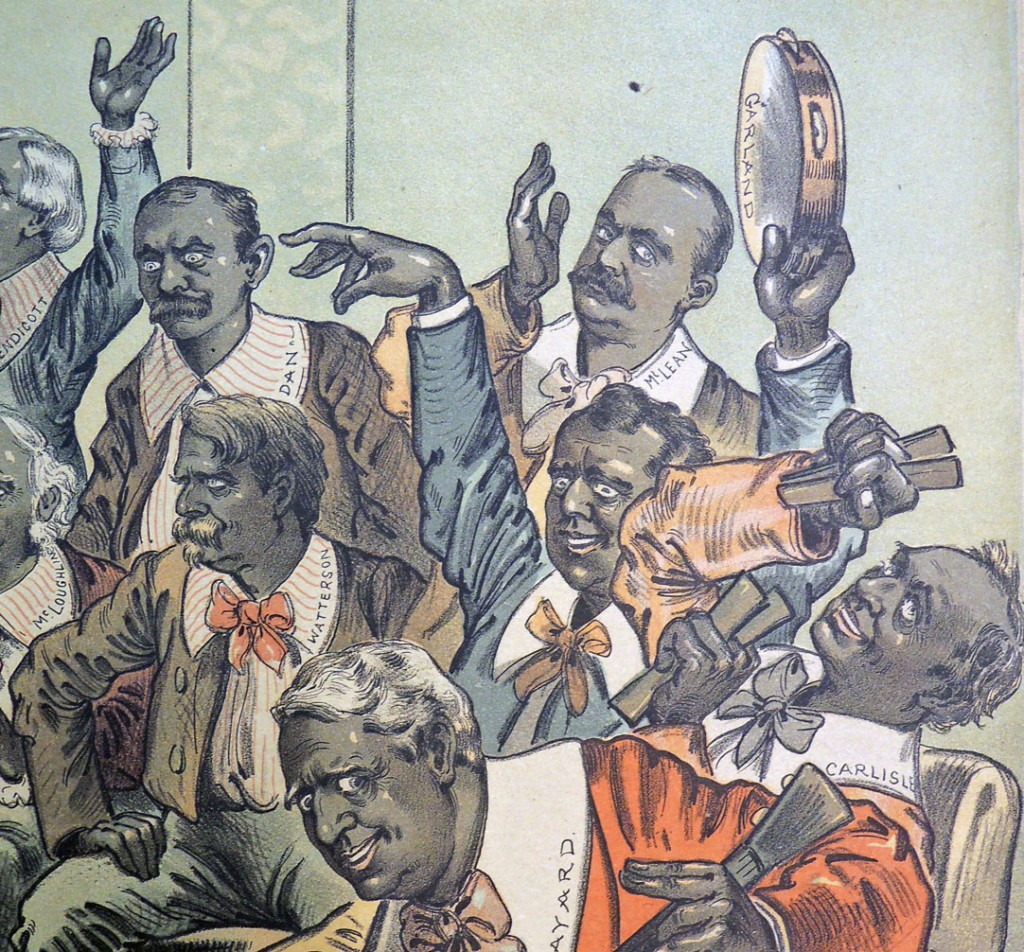 On the left:
Arthur Pue Gorman (1839-1906) was a United States Senator from Maryland, serving from 1881 to 1899 and from 1903 to 1906. He was a prominent leader of the Democratic Party.
Samuel Jackson Randall (1828-1890) was a Democratic member of the United States House of Representatives from Pennsylvania, serving as the 29th Speaker of the House and was twice a contender for his party's nomination for President of the United States.
Lucius Quintus Cincinnatus Lamar (1825-1893) was a United States Representative and Senator, serving as United States Secretary of the Interior in the first administration of Cleveland, as well as an Associate Justice of the U.S. Supreme Court.
Samuel Sullivan "Sunset" Cox (1824-1889) represented both Ohio and New York in the United States House of Representatives. In 1885, Cleveland appointed him U.S. Ambassador to the Ottoman Empire, which last one year. Cox was again elected to Congress representing New York and served until his death.
Abram Stevens Hewitt (1822-1903) was chairman of the Democratic National Committee from 1876 to 1877, U.S. Congressman, and a mayor of New York.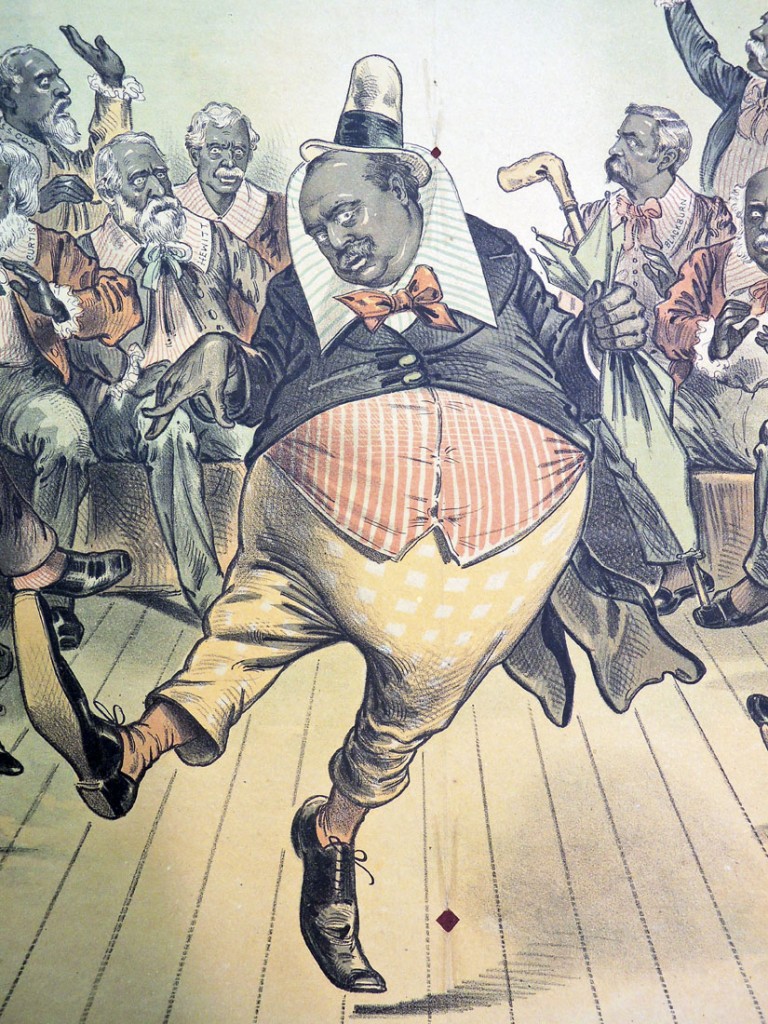 Grover Cleveland is at the center.
The artist is Bernhard Gillam (1856-1896) who provided cartoons to the New York Graphic, Frank Leslie's Illustrated Newspaper, Harper's Weekly, and Puck Magazine. He later became director-in-chief for Judge, where he continued to draw caricatures of American politicians. Each one was lithographed in four or five colors by the New York firm of Sackett & Wilhelms.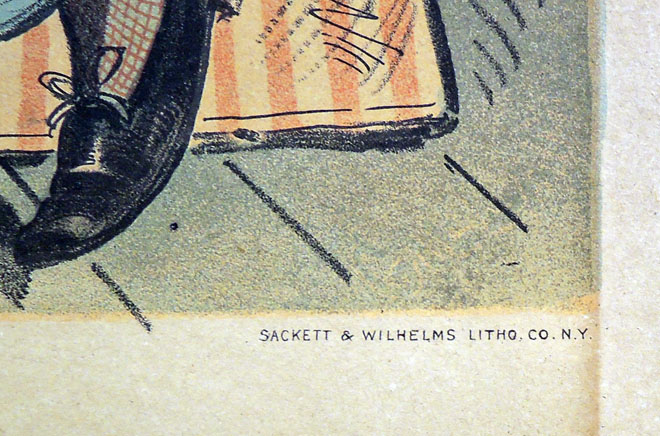 Bernard Gillam (1856-1896), Grand Opening of Cleveland, Gorman and Bayard's Minstrels at Washington, no date [1880s]. Color lithograph. Graphic Arts Collection GA 2012.02692