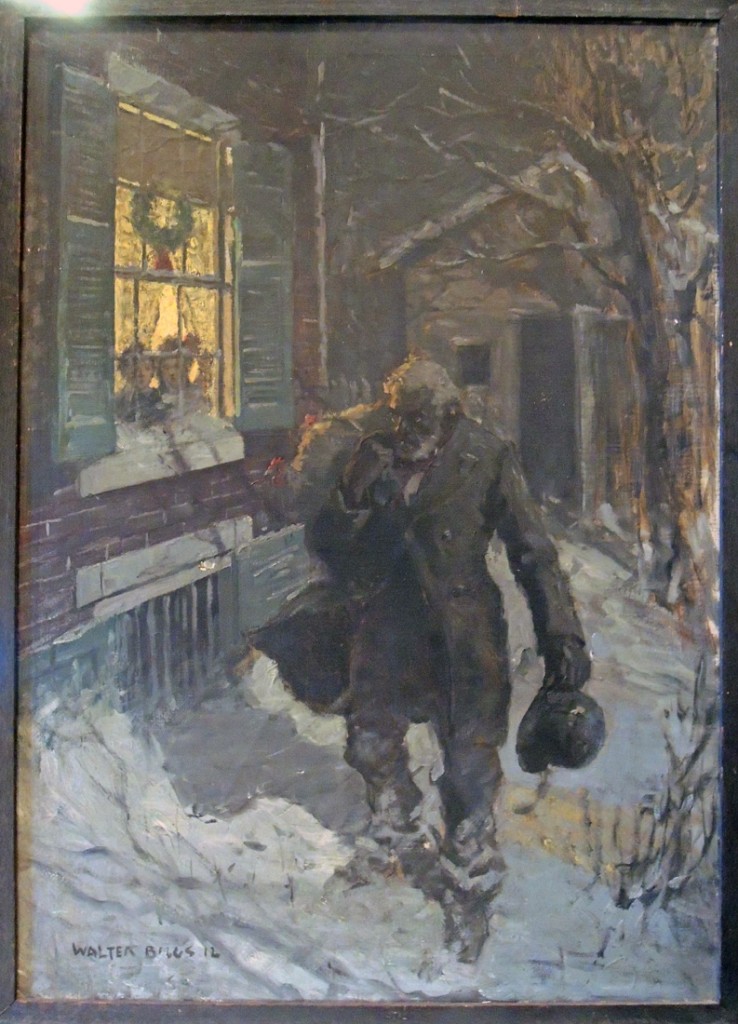 "The Advance Guard of the Feast" was painted by Walter Biggs (1886-1968) for the December 21, 1912 issue of Harper's Weekly. The art, printed on p. 24, wasn't included as an illustration for a short story but as a gift from Harper's to its readers, referencing the upcoming Christmas holiday. The original painting is in the Graphic Arts Collection but the image had to be heavily PhotoShopped so that the figures can be seen. Even the digital reproduction of the magazine page [below] is difficult to make out.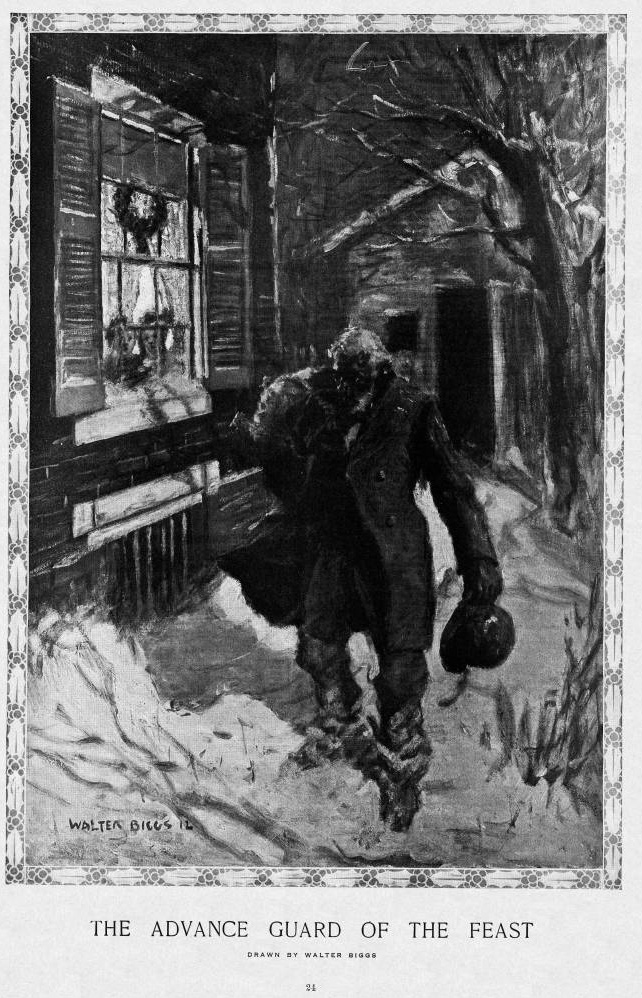 When the work was painted, the twenty-six year old Biggs had finished his classes at the New York School of Art and was making a career as an illustrator. Beginning in 1912, he became a regular contributor to Harper's Weekly, along with Century Illustrated, McClure's, Lady's Home Journal, and many of the other illustrated magazines.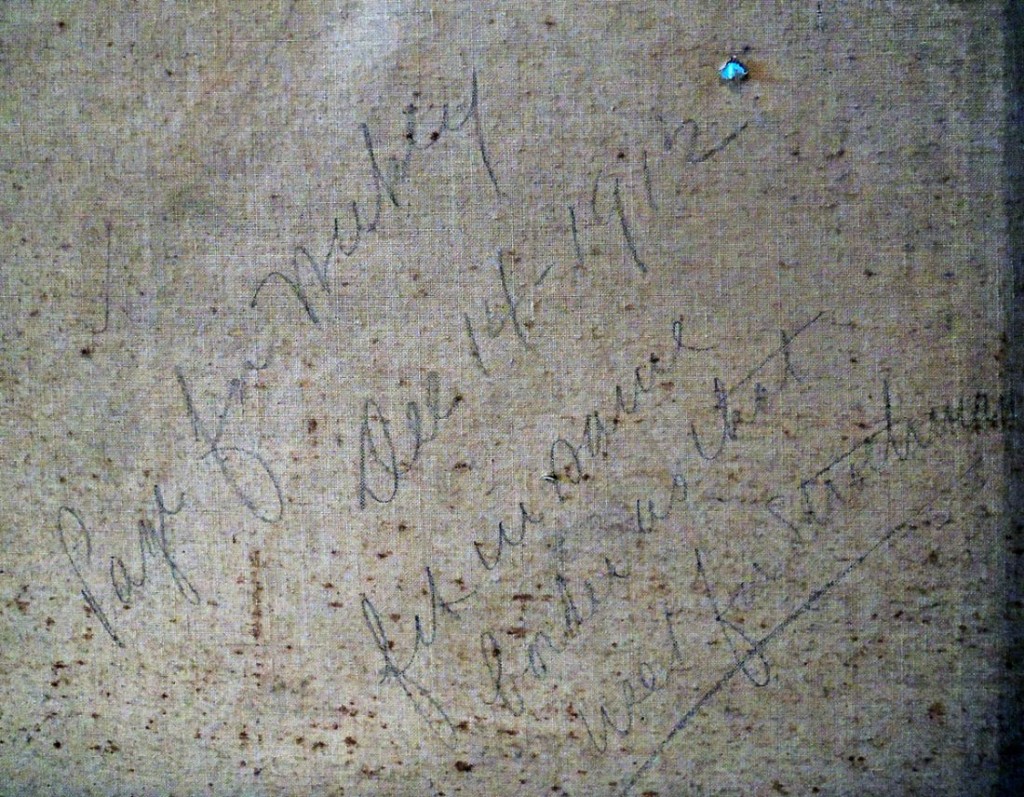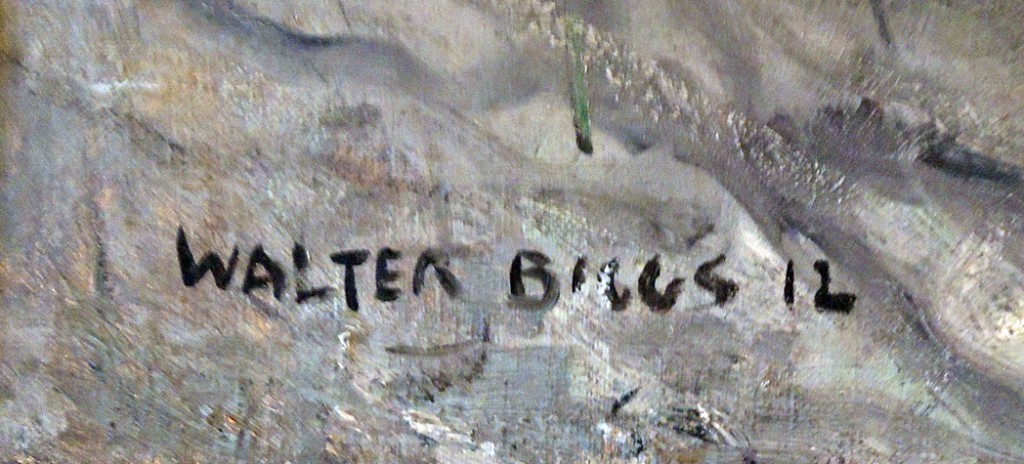 "Biggs began achieving commercial success in 1905, when his illustrations appeared on the covers of Young's Magazine in January and Field and Stream in July. After completing his formal art studies he rented a small studio and worked on a variety of projects. His early assignments included illustrations for a story in the McClure's Magazine of October 1908, a color frontispiece for Myrtle Reed's novel Old Rose and Silver (1909), and drawings for Belle Bushnell's John Arrowsmith—Planter (1910).
In May 1912 he illustrated a story in Harper's Monthly Magazine, launching a twelve-year relationship as a contributor to that magazine. In 1913 Biggs's illustrations appeared in the January issue of the Delineator, in Kate Langley Bosher's novel The House of Happiness, and in The Land of the Spirit, a collection of short stories by Thomas Nelson Page.
He illustrated a series of stories by Armistead Churchill Gordon that appeared in Scribner's from 1914 to 1916 and were also published as Ommirandy: Plantation Life at Kingsmill (1917). In 1918 he illustrated a story by Alice Hegan Rice for the Century. Many of those illustrations were set in the American South, and Biggs won praise during his career for his sympathetic portrayals of African American life."–Encyclopedia of Virginia.