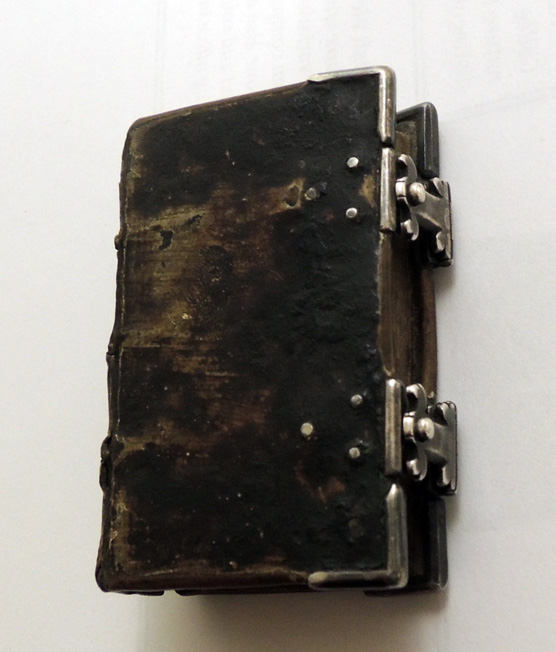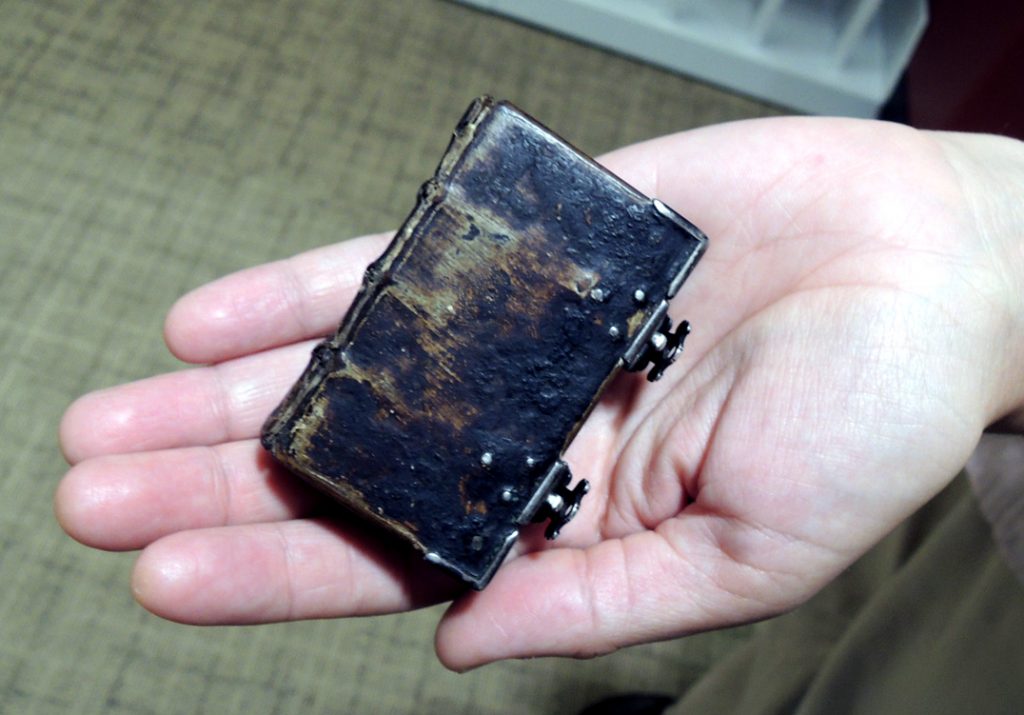 Roger Stoddard once said, "Big books last forever, small books disappear." We are thrilled to have this new acquisition in the Graphic Arts Collection, where it will last forever.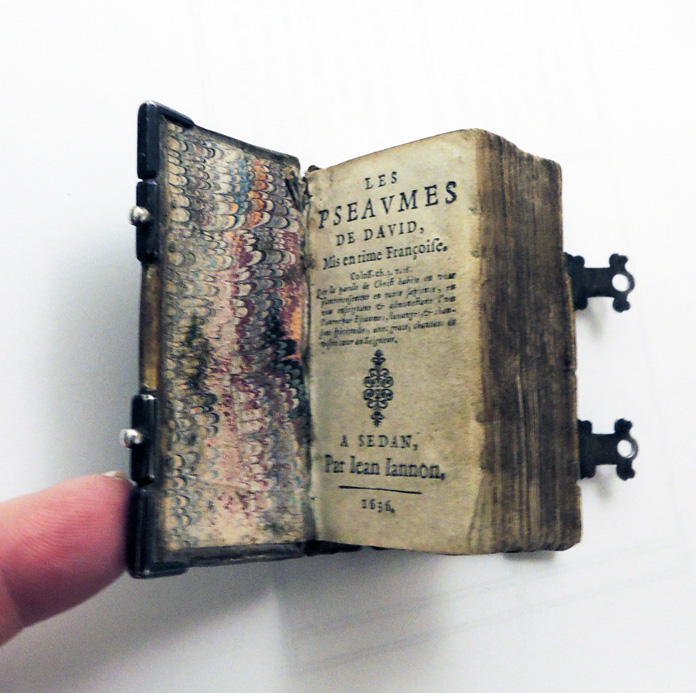 Les Pseaumes de David, Mis en rime Françoise. Sedan: Jean Jannon, 1636. 64mo in eights (62 x 36 mm). Contemporary vellum, painted black, spine with raised bands, two functioning silver clasps, silver corners, marbled paste-downs. Provenance: contemporary ink inscription A le Marg: Le Cocq fille du Juge d'Origny. Graphic Arts Collection GAX 2016- in process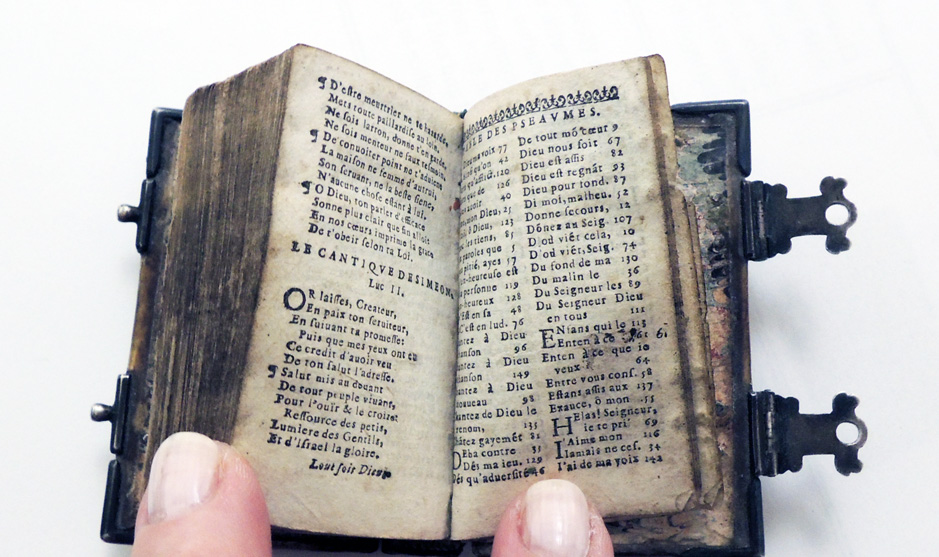 Printed in the independent (up to 1651) Protestant Principality of Sedan in the Ardennes, close to the modern French border with Belgium, this Psalter in French verses is a rather sensational, albeit small, achievement of French typography and Protestant book production.
"In 1610 the Parisian master printer Robert III Estienne recommended the printer, librarian and typecutter Jean Jannon to the Prince of Sedan as a talented and Protestant man of the book. Sedan developed into an academy of Protestant erudition with an impressive collection of printed books, manuscripts and works of art. Jeannon began to print academic theses, classics and religious works, whilst designing and cutting types in Latin, Greek, Hebrew and Syriac.

The type used here, la petite sedanaise, as it became known later, after it had been pirated by a Parisian typecutter, was the smallest type created since the invention of printing. It measures a mere 4.9 points. Jannon reserved this particular type solely for his own use and did not sell it to other printers as he did with his other types. The French government seized Jannon's printshop in 1641 and the Imprimérie Royale used this particularly small type, which was later misattributed to Garamond. Provenance: The volume belonged to a magistrate Le Cocq in the Channel Island of Alderney. This island was a safe haven for Protestant refugees from France." –Dealer's note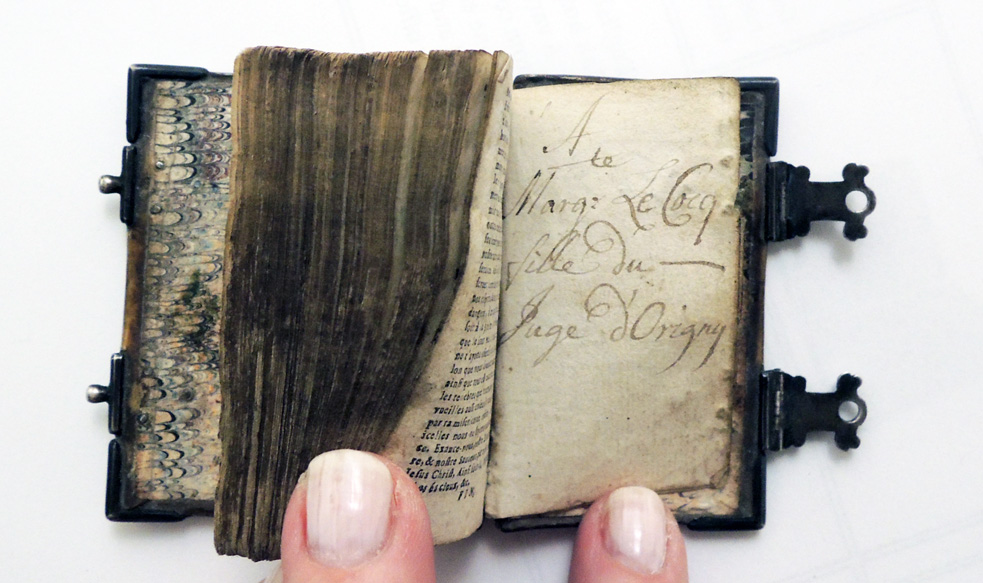 Princeton also holds two other tiny editions of these Psalms:
Les pseaumes de David, mis en rime françoise (Geneve, chez P. Aubet, 1634). Rare Books (Ex) BS1443 .xF7 1634s  and  Les pseaumes de David : mis en vers françois (Amsterdam: Chez Z. Chatelain, [1652]). Graphic Arts Collection (GAX) 2005-0001S
Note also James Mosley's 2012 post in Typefoundry : http://typefoundry.blogspot.com/2012/02/types-of-jean-jannon-at-imprimerie.html