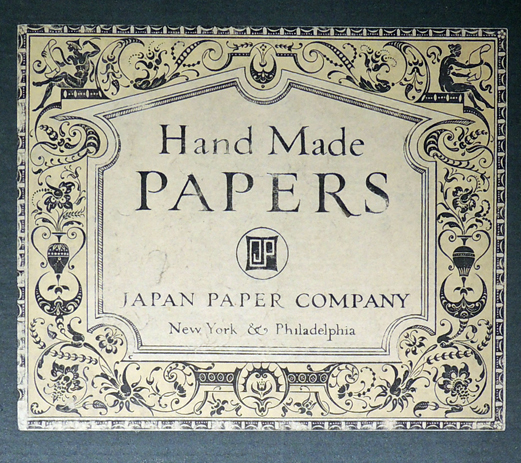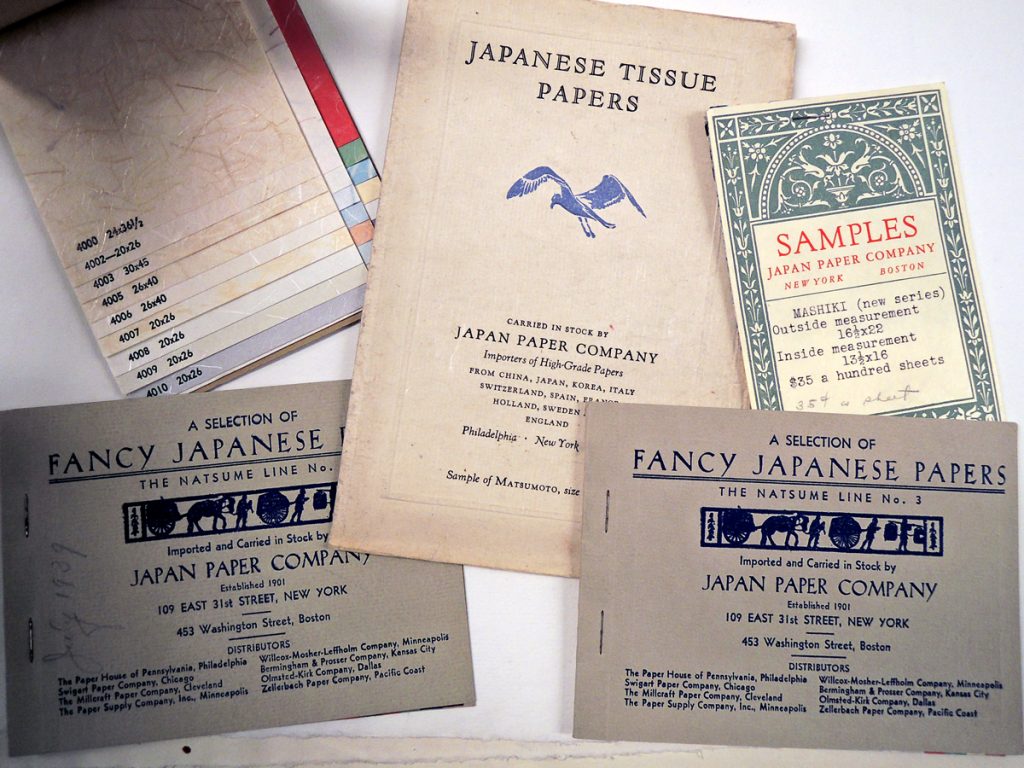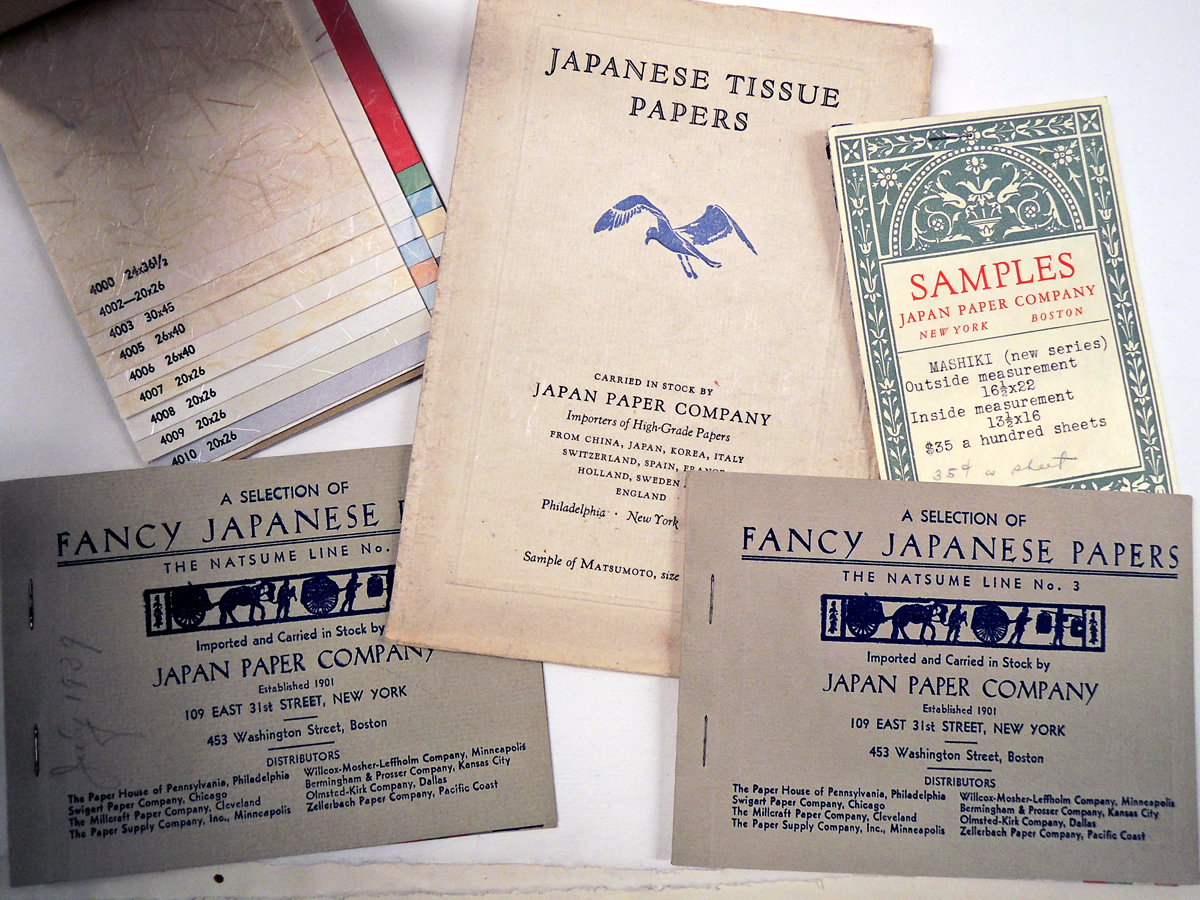 John Bidwell wrote, "Hand-papermaking is now more of an art than a trade, more of a creative opportunity than a commercial proposition."
In the early 20th century, paper manufacturers in the United States started making sample booklets to promote hand-made and specialty papers. Each of the small volumes included a variety of materials: bound swatches, sizes, weights, colors, and prices of the papers for sale. Unlike written descriptions, this promotional material demonstrated the tactile qualities and aesthetic beauty of the merchandise to the finite market of luxury, limited-edition publishers.
The Japan Paper Company was one of the leading importers of hand-made papers for fine press editions. When Harrison G. Elliott (1879-1954) became the company's manager, he greatly expanded the firm's scope, distributing papers from fifteen European and Asian countries.
Elliott was a good friend and associate of Elmer Adler, while Adler was the director of the Pynson Printers. When he gave up that business and came to Princeton, Adler brought with him his collection of paper sample books. Today, the Graphic Arts Collection has identified and catalogued over six dozen booklets, including a large group from the Japan Paper Company.
Recently, a small collection of full-size sheets were also uncovered, which had been sent to Adler by Elliott in 1938.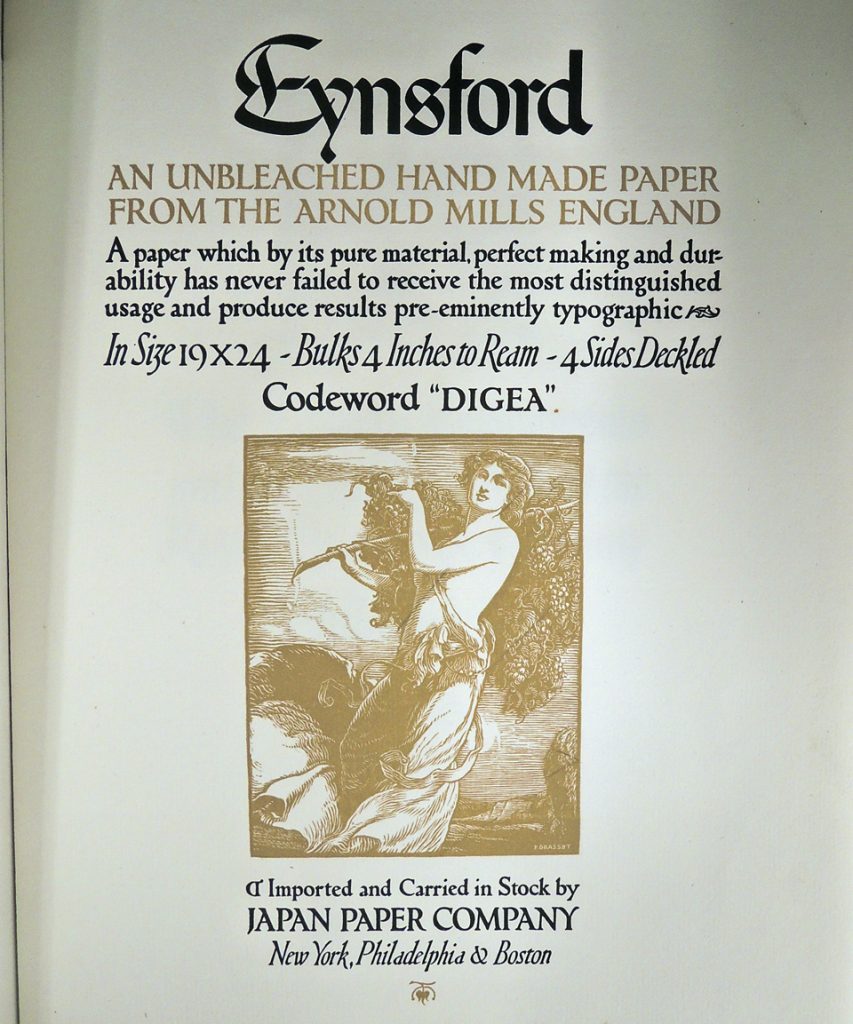 1. Oriental Papers. New York City: Japan Paper Company, [19–]. (GAX) 2014-0431N
2. Japanese Tissue Papers Carried in Stock by Japan Paper Company. New York: Japan Paper Company, 1916. (GAX) 2013-0263N
3. Hand Made Papers. New York: The Company, [1917?]. (GAX) Oversize 2010-0002F
4. Privately Printed Books and Their Personal Value as Christmas Gifts. New York: Japan Paper Company, 1921. (GAX) 2004-3723N
5. [A collection of paper sample books from the Japan Paper Company]. [New York: Japan Paper Company, 1924-1939] (GAX) TS1220 .J361
6. Dutch Charcoal Papers. New York City: Japan Paper Company, 1929. RCPXG-7207242
7. Renka Announcements: deckle edge sheets and envelopes imported and carried in stock by Japan Paper Company. [New York, N.Y.: Japan Paper Company, 193-?] (GAX) Oversize 2010-0008Q
8. Handmade Paper: its Method of Manufacture. New York: Japan Paper Company, 1932. RCPXG-5893687
9. Aurelius Hand Made: Handmade Deckle Edge Announcements from Italy … by Japan Paper Company. [New York, N.Y.: Japan Paper Company, 1935?] (GAX) Oversize 2010-0141Q
10. Arnold Hand-Made Deckle Edge Cards & Envelopes: from England … by Japan Paper Company. [New York, N.Y.: Japan Paper Company, 1938?] (GAX) Oversize 2010-0019Q
11. Samples of Letterhead Papers with Envelopes to Match from Japan Paper Company. New York, N.Y.: Japan Paper Company, [1938?] (GAX) Oversize 2010-0017Q
12. Oriental Papers. New York City: Japan Paper Company, [1939?] RECAP-91156800
13. Samples: Bethany, Virgil, Ragston. New York, N.Y.: Japan Paper Company, 1939. (GAX) Oversize 2010-0020Q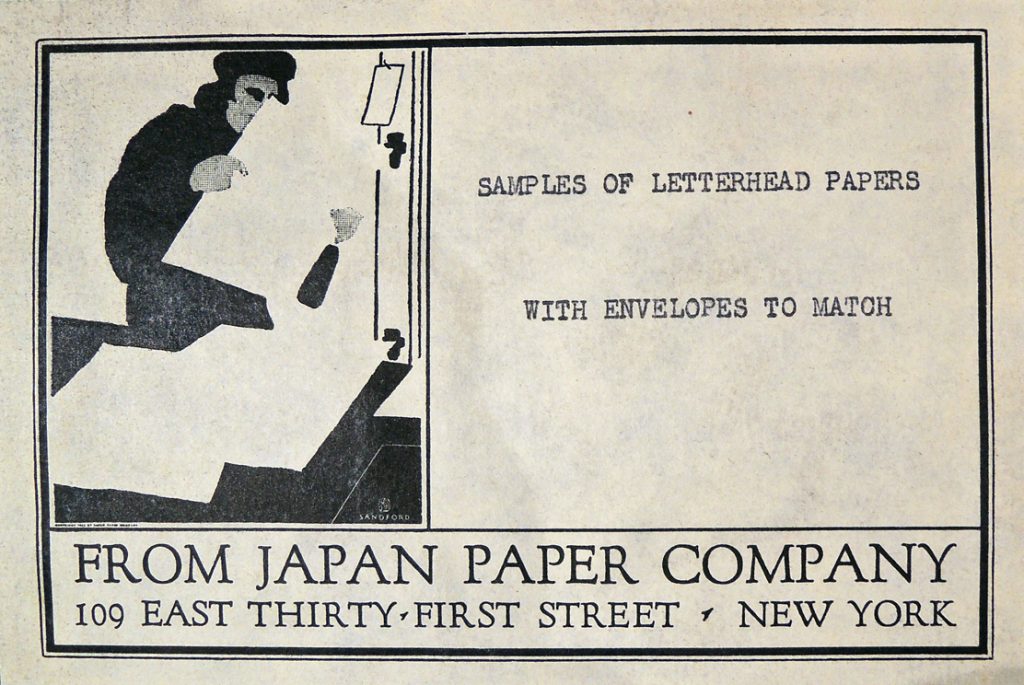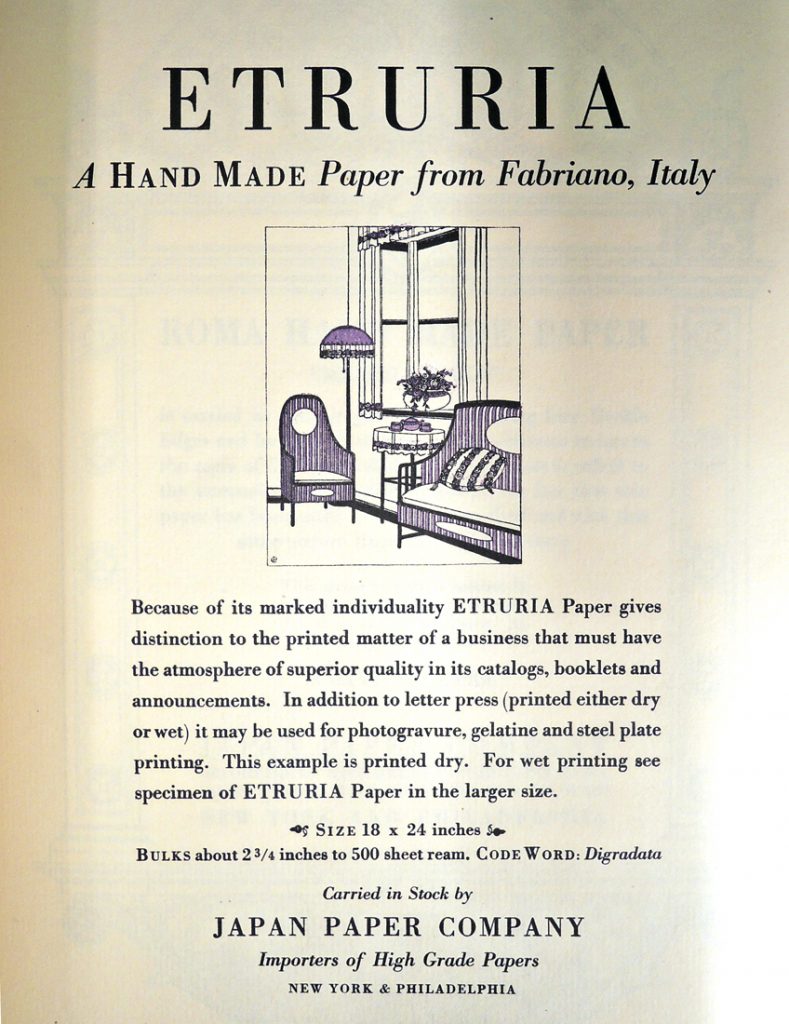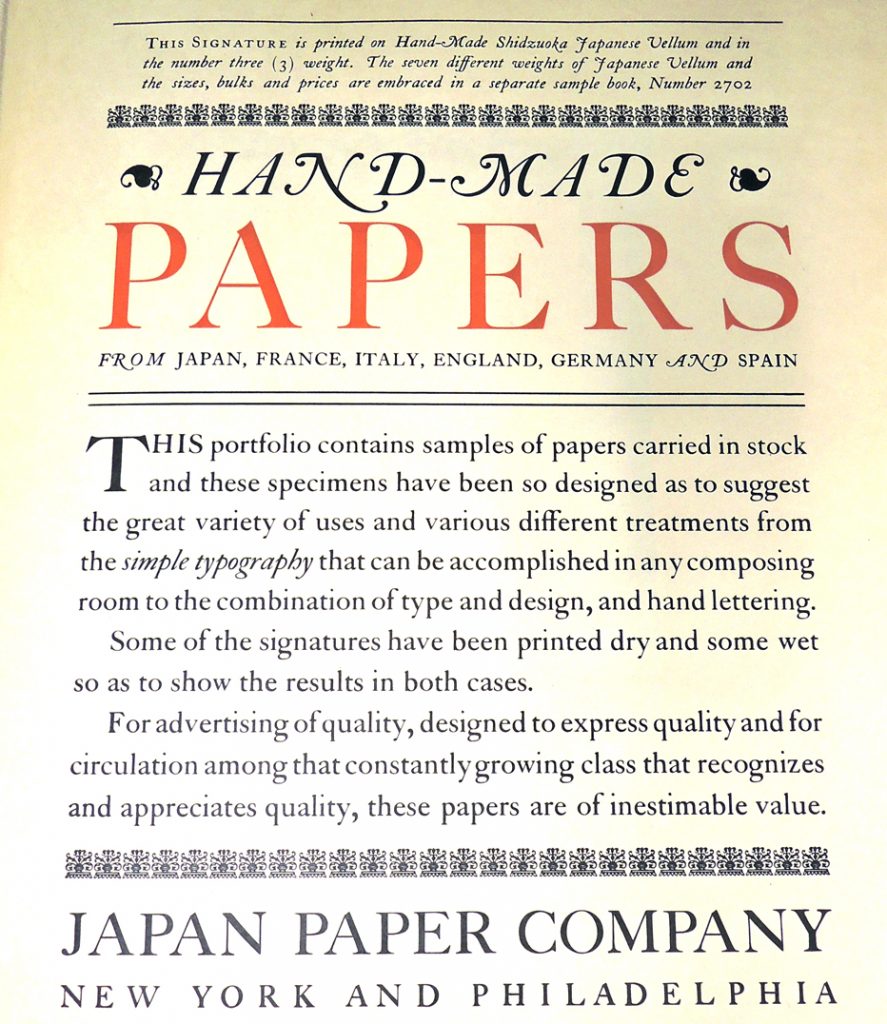 For examples of English hand-made papers see: John Bidwell, Fine papers at the Oxford University Press (Risbury, Herefordshire: Whittington Press, 1999). "This edition of 300 copies is set in 14-point Centaur (from matrices belonging originally to Oxford University Press) printed at Whittington on Zerkall mould-made paper, & half-bound with Fabriano Roma paper."  GAX copy is no. LI. Graphic Arts Collection (GA) HD8039.P33 B5 1999f