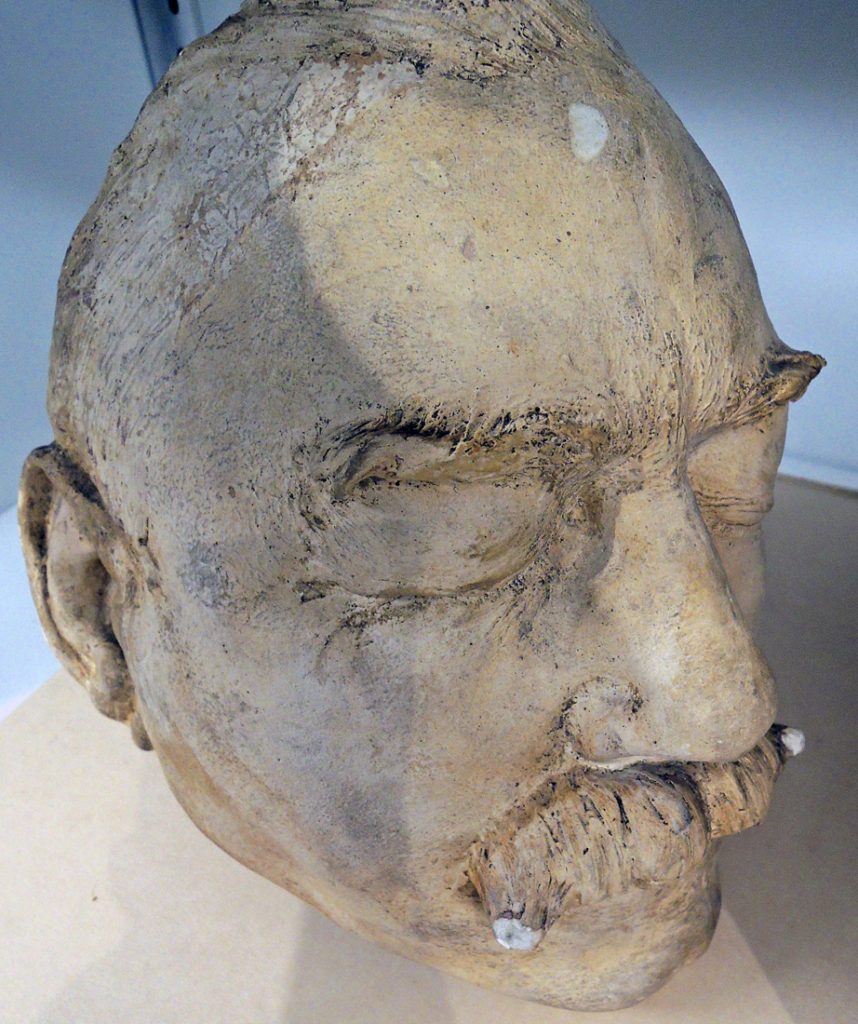 Robert Tait McKenzie (1867-1938), Life mask of John L. Sullivan (1858-1918), pugilist, 1914 (cast 1913). Gift of Charles D. Hart, Princeton Class of 1892, presented March 27, 1919.
A trained physician and physical therapist, R. Tait McKenzie was appointed the first professor of physical education at the University of Pennsylvania in 1904. He was also a sculptor, specializing in portraits of male athletes. At the 1912 Olympics, his medallion, "Joy of Effort" was installed in the stadium at Stockholm.
His colleague Charles D. Hart was a physician at the Pennsylvania Hospital and president of the Philadelphia Council of the Boy Scouts of America. In 1914, Hart commissioned McKenzie to create a statuette of the "Ideal Boy Scout." [http://scouters.us/TheBoyScout.html]
The same year, McKenzie helped Hart create his own copy of a life mask of John L. Sullivan from the original mould McKenzie made in 1913. The mustache, eyebrows, and ears were sculpted and added to the original cast. Five years later, Hart donated the mask to his alma mater.
"For many years there lived unmolested in Philadelphia a distinguished physician who often turned men to stone. Now and then, for variety, he would turn a man to bronze. The police never thought of interfering and the populace, or such section of it as took notice of his work, applauded the hard finish of his subjects. He was the late and truly lamented Dr. R. Tait McKenzie, Canadian-born, honored alumnus of the Medical School of McGill University, licensed practitioner in the United States, Head of the Department of Physical Education of the University of Pennsylvania, and a famous sculptor on the side. It was as a sculptor, of course, that he turned his visitors, by appointment, into stone or bronze. Those who came to see him on medical matters were treated with a softer touch.

… One day in his studio he was showing some death masks he had made. He held up one and said: "Give a guess, from the face, as to what profession this man followed." Since it looked somewhat like William Howard Taft, the guess was that he might have been a lawyer or public official. "No," said Dr. McKenzie with a smile, "He was formerly heavyweight champion of the world—John L. Sullivan." John Kieran, "A Philadelphia Physician Who Turned Men to Stone," JOHPER: Journal of Health, Physical Education, Recreation, Vol. 15 (1944).