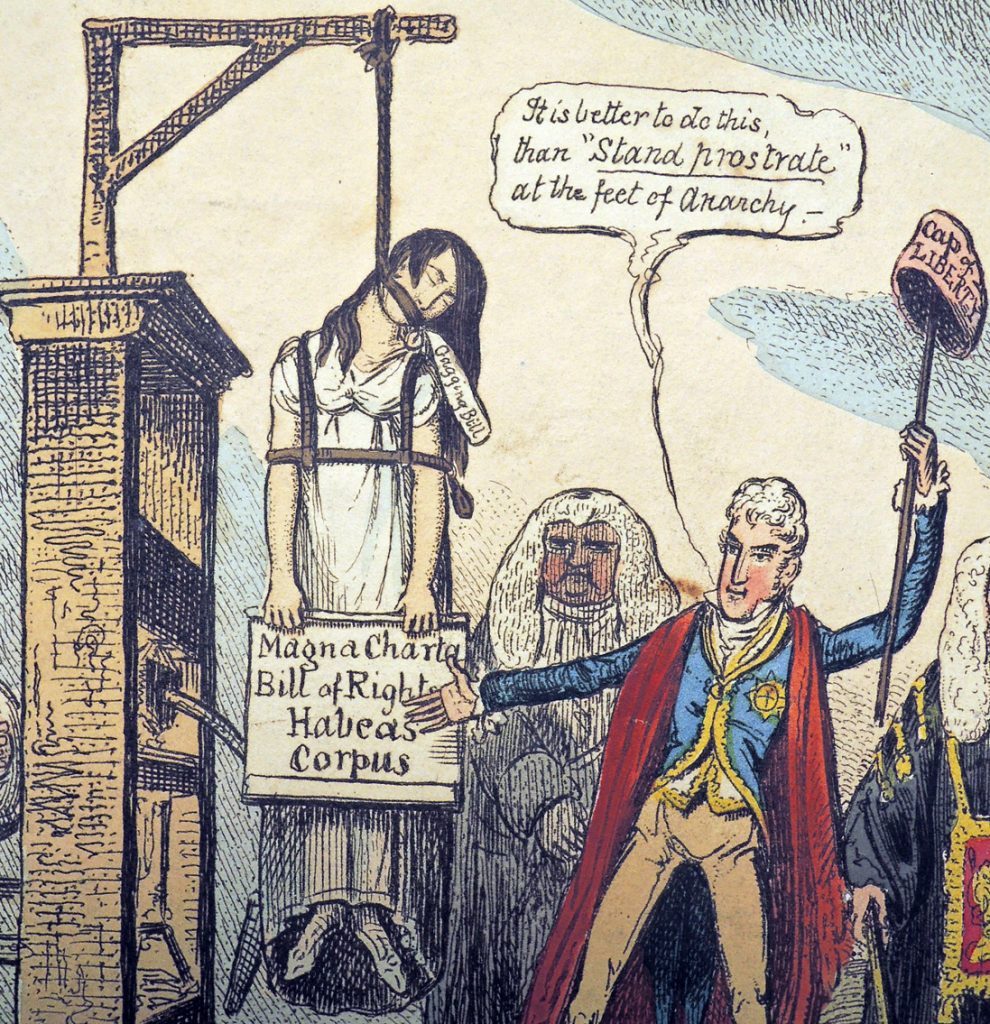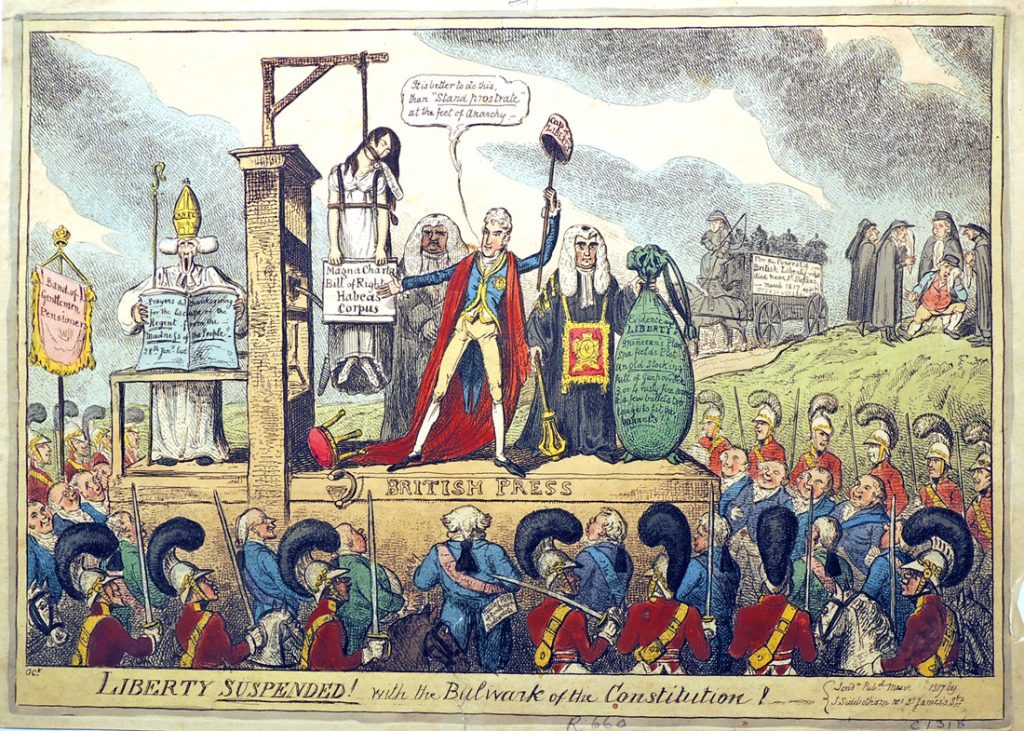 George Cruikshank (1792-1878), Liberty Suspended! with the Bulwark of the Constitution!, March 1817. Published London: J Sidebortham. Etching with hand coloring. Graphic Arts Collection Cruikshank GC 022. Gift of Richard W. Meirs, Class of 1888.
Two hundred years ago, Cruikshank drew this radical and now rare, satirical print highlighting a loss of liberty by the "green bag committee" and the temporary Seditious Meetings Bill (passed on March 25, 1817) suspending the Habeas corpus in cases of persons committed for treason. Read more in Katrina Navickas, Protest and the Politics of Space and Place, 1789-1848 (2015 Firestone JN329.P7 N38 2016)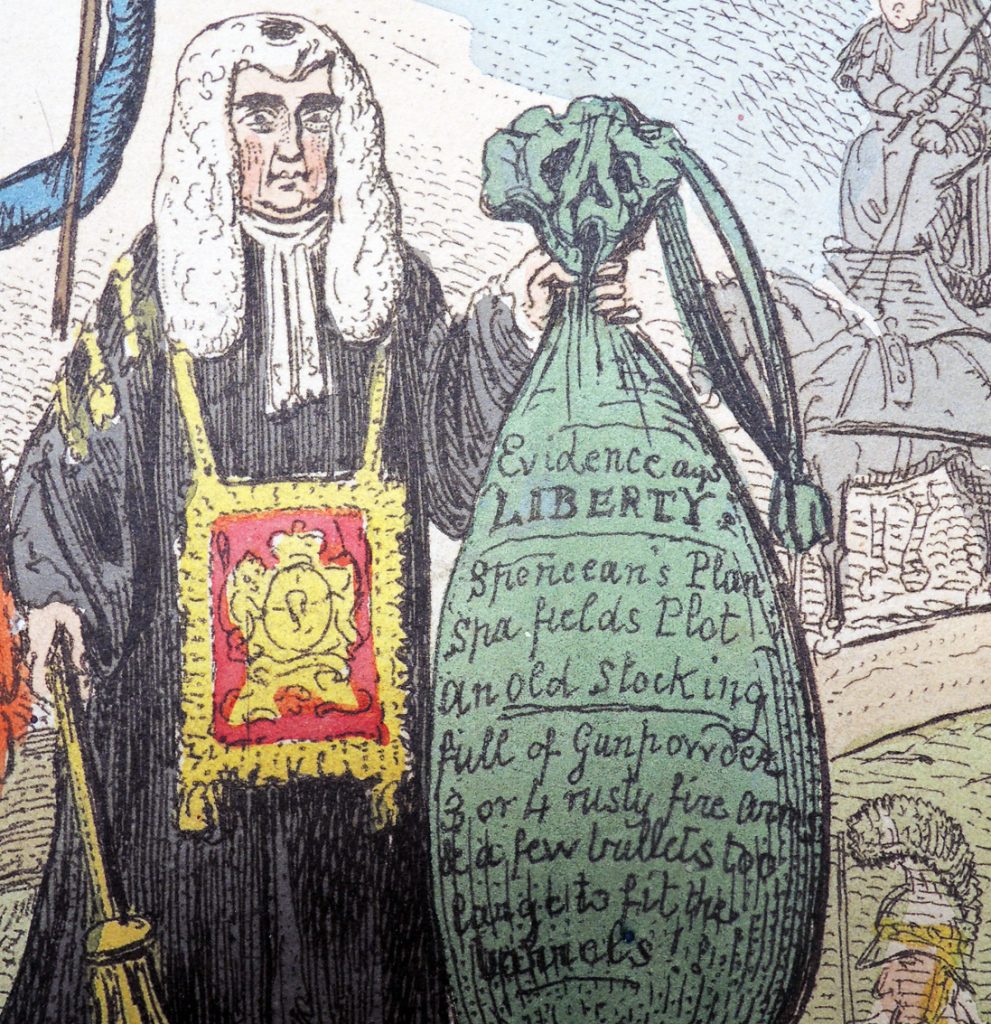 Dorothy George, the great British print historian wrote, "the base of a dismantled printing-press, 'BRITISH PRESS', Castlereagh, Eldon, and Ellenborough display to armed ranks of Sinecurists* below, the body of Liberty, gagged and bound, hanging from a gibbet which projects to the right from the press, which suggests a guillotine."
John Scott, 1st Earl of Eldon (1751-1838) [above] has the Purse of the Great Seal around his neck and in his left hand a large green bag inscribed: "Evidence ags LIBERTY—Spencean's Plan Spa fields Plot An Old Stocking full of Gunpowder 3 or 4 rusty fire arms & a few bullets too large to fit the barrels!!"
Robert Stewart, Viscount Castlereagh and 2nd Marquess of Londonderry (1769-1822) [top] holds up Liberty's broken staff and declaims, "It is better to do this, than "Stand Prostrate" at the feet of Anarchy."
*Sinecure (ˈsaɪnɪˌkjʊə): A paid office or post involving minimal duties.