"The misfortune happened to me on May 28, 1929. Being dragged along by the waters of the Rio Grande in El Paso, Texas, I saw myself in such great danger that I invoked Our Lady of San Juan de los Lagos with a true heart, and at that moment my salvation came from a friend who, bravely fighting the fearful waters, was able to pull me to the river bank. In thanksgiving for so apparent a miracle, I make public the present retablo. San Francisco de Rincón. January 29 of 1932. Domingo Segura."
This is one of 170 stories documented and transcribed by Jorge Durand and Douglas S. Massey in their 1995 book and exhibition Miracles on the Border. Each story resulted in the painting of a retablo, an offering for miracles granted, usually painted on small pieces of tin.
A reference question today reminded us that Massey photographed his collection of retablos and the images have been added to ArtStor, so that everyone can enjoy and even download them.
http://www.artstor.org/content/mexican-retablos-jorge-durand-and-douglas-massey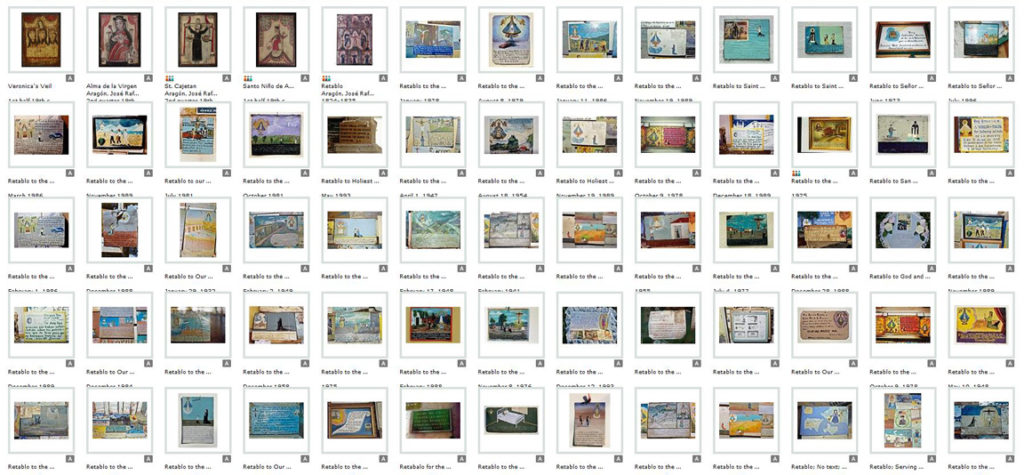 ArtStor notes,
"The retablos collected by Massey and Durand for Miracles on the Border, which date from 1912 to 1996, represent modern expressions of this traditional Mexican art form. Produced for Mexican migrants to the United States, these retablos were left anonymously at churches as offerings for miracles granted. They are united by the types of miracles they commemorate, specifically, the trials undergone by migrants crossing the border from Mexico into the United States. Massey and Durand used these images to study the social conditions surrounding Mexican migration, conducting statistical analyses of the age, gender, geographic origins, and eventual destinations of the migrants who commissioned the votive paintings."
Massey is the Henry G. Bryant Professor of Sociology and Public Affairs at the Woodrow Wilson of Public and International Affairs at Princeton University. Since 1988, Massey has collaborated with long–time colleague Jorge Durand, research professor of anthropology at the University of Guadalajara, collecting and studying retablos — religious folk art produced for Mexican migrants to the United States.
Information can also be found on the website for the Mexican Migration Project (MMP), where the collection is described and several artists introduced: http://mmp.opr.princeton.edu/expressions/exhibitdesc-en.aspx
The term retablo, from the Latin retro tabula, or "behind the altar," originally referred to the large paintings depicting saints, Jesus, or the Virgin Mary, which hung behind altars in Catholic churches. In Mexico, retablos, also called laminas, came to denote the small devotional paintings that devout Mexicans would commission as ex–votos, or votive offerings, given in fulfillment of a vow or in gratitude for divine intercession.
Jorge Durand and Douglas S. Massey, Miracles on the Border: Retablos of Mexican Migrants to the United States; with Photographs by the Authors (Tucson: University of Arizona Press, 1995). Firestone Library (F) ND1432.M46 D87 1995
There are additional retablos on Artstor from other collections, such as this piece owned by the Museum of New Mexico, Albuquerque.