Over the last year, Google Creative Labs and the London publisher Visual Editions have been releasing visual books for your phone under the imprint Editions At Play. Two new titles are being offered today, for free and for your participation.
"Today we're excited to release two new books which, we hope, will continue to inspire fresh conventions around how we think of books and 'bookness', and how authors can work with developers and designers to create new formats of non-linear, dynamic literature":
A Universe Explodes, by Google's own Tea Uglow, is "on one level the story of a parent losing their grip on reality. The book is accessible to all, but owned by only a few, and when one owner is 'finished' with their version, they dedicate it to a new owner, triggering a change of ownership which is recorded to the Blockchain–a permanent, public database accessible to everyone. There are 100 'versions' of A Universe Explodes, which each start the same. The first 100 owners receive a personal dedication from Tea, and are then invited to edit the book themselves by removing two words and adding one. They in turn dedicate their version to someone else, creating a 'daisy book chain' which gradually gets shorter until there is only one word per page in the book."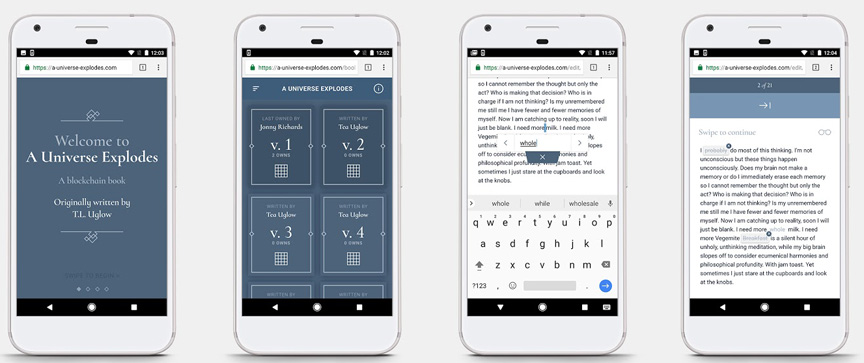 The second title is Seed, by British author Joanna Walsh, is the story of a young woman coming of age in the 1980s, digitally growing and decaying around an unmentionable event that every reading will see differently.