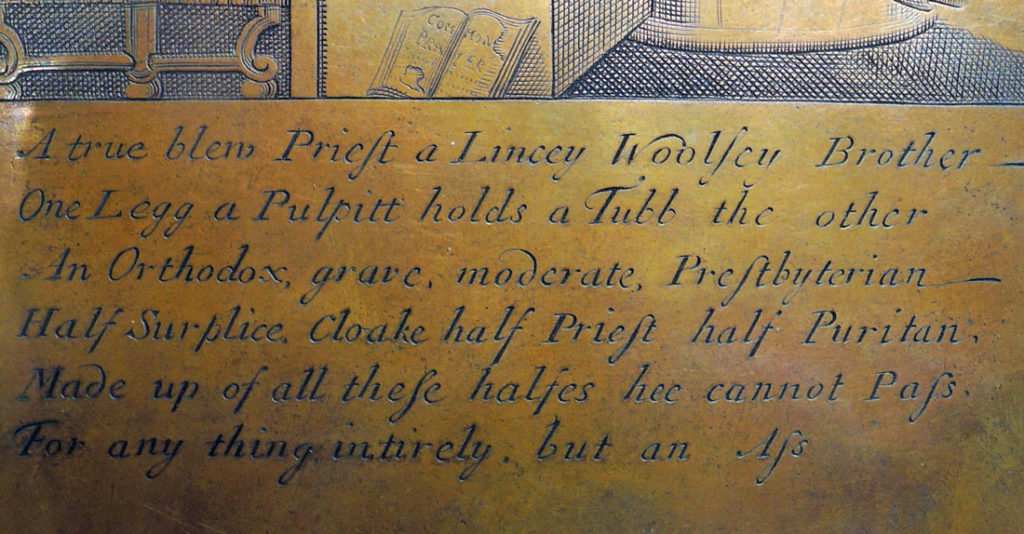 [Copper plate digitally laterally reversed, note the Book of Common Prayer on the floor]
"A true blew Priest, a Lincey Woolsey Brother.
One Legg a Pulpitt holds, a Tubb the other,
An Orthodox, grave, moderate, Prestbyterian.
Half Surplice, Cloake, half Priest, half Puritan;
Made up of all these halfes, hee cannot pass,
For anything; intirely, but an Ass."
–altered slightly from Hudibras, p. 1, c. iii. l. 1224.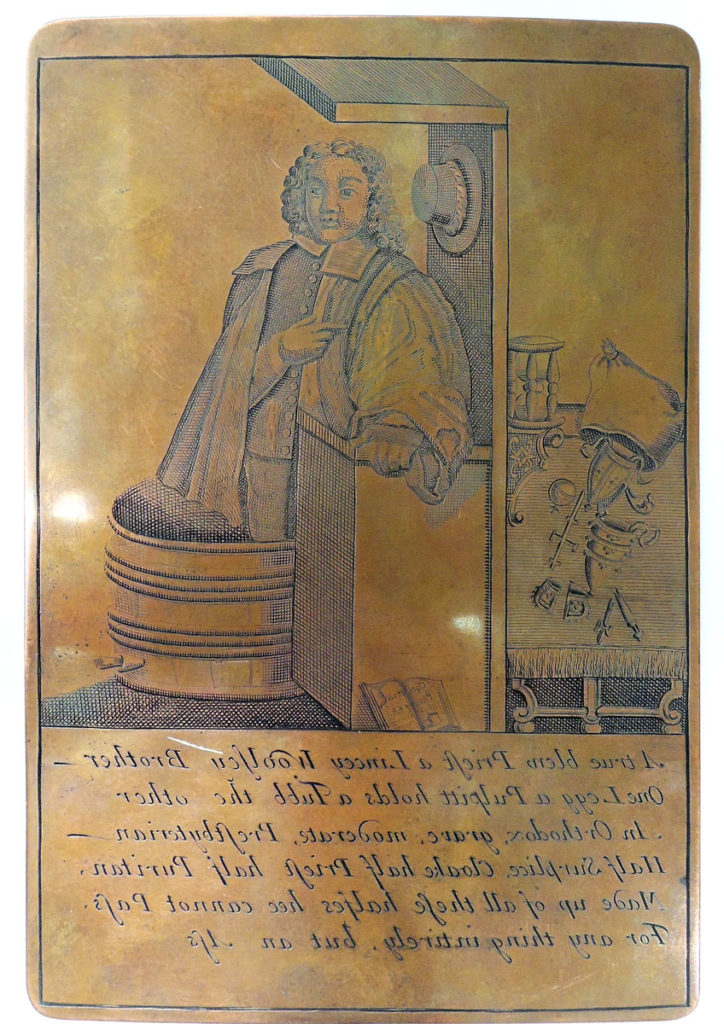 Unidentified artist, A Trimmer, ca. 1689. Graphic Arts Collection Block collection.
The British Museum holds a mezzotint by "W.H." called  A Trimmer, ca. 1689. They also hold a line engraving of the same figure dressed "half like a Puritan standing in a tub, and half like a clergyman standing in a pulpit, at the side of which is fixed an hourglass upon its stand, such as was used in the sixteenth century." Falling out of a bag are a broken scepter, divided crown, miter, tiara, an archiepiscopal crosier and orb.
The Graphic Arts Collection has a copperplate engraved with the scene as in the BM's line engraving. It might be a practice plate because it has been used a second time for another engraving on the verso.
According to Dorothy George, of the BM, this is supposed to be a satirical representation of Bishop Burnet, of whom it has been said that he was "in profession a prelate, a dissenter in sentiment."  Gilbert Burnet, Bishop of Salisbury (1643-1715) became Bishop of Salisbury and Chancellor of the Order of the Garter in 1689. He was also the author of The History of the Reformation in England.
On the verso of this copper plate is a very warn engraving, possibly of a wedding. No signature or chop can be seen on either side.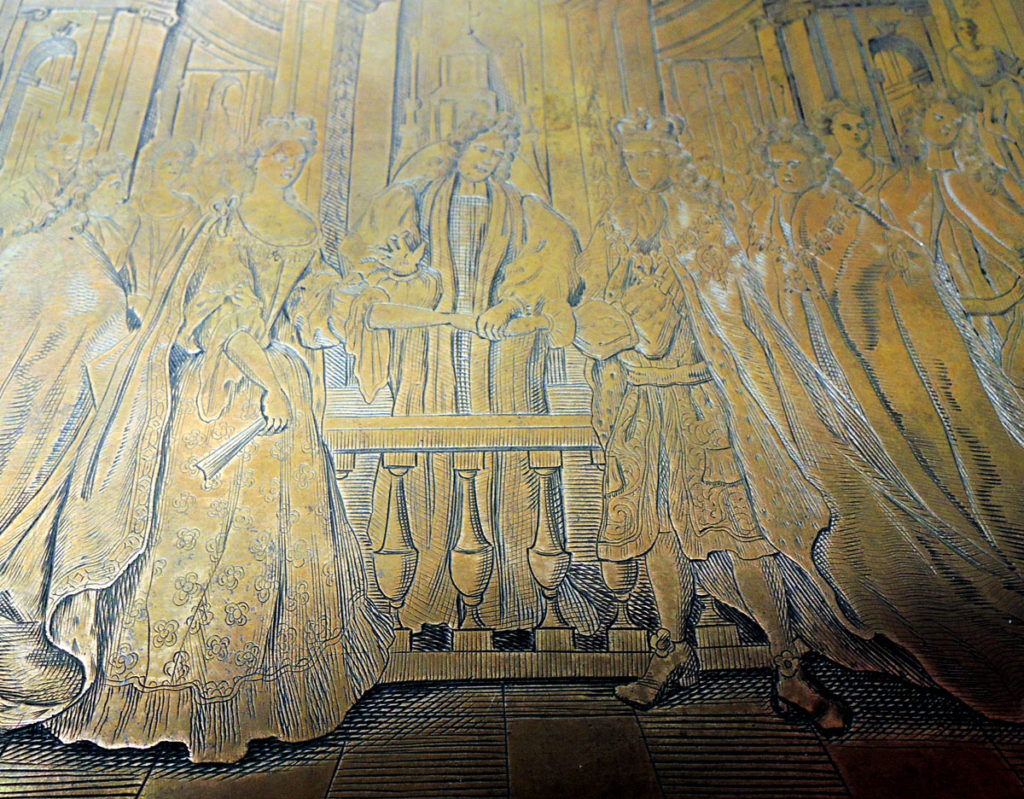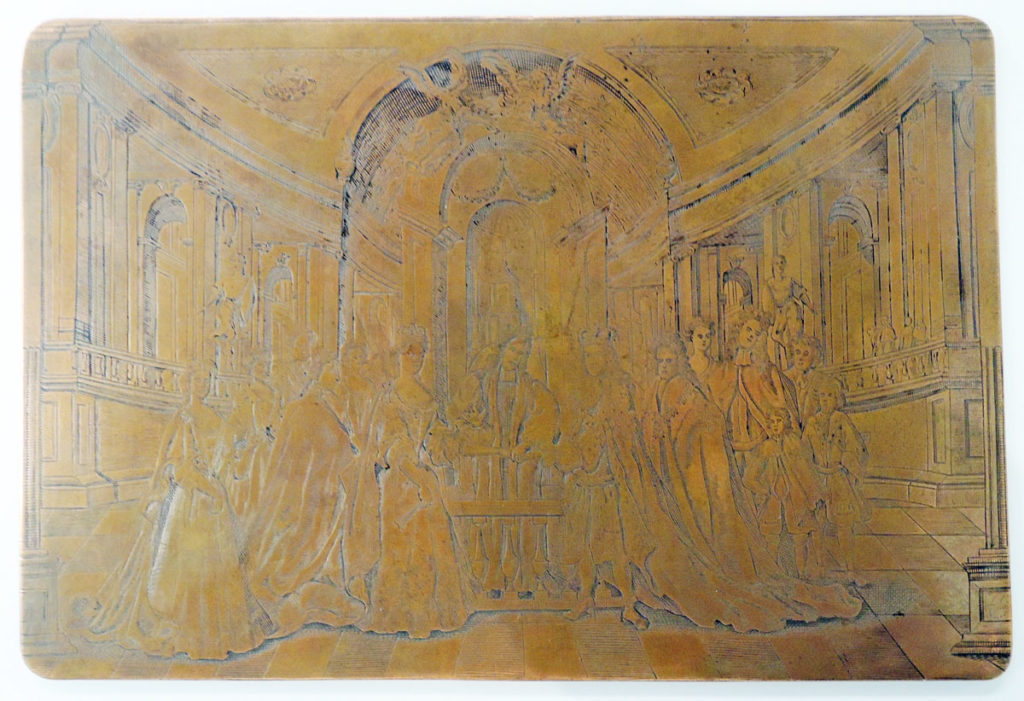 See also: Samuel Butler (1612-1680), Hudibras. The first part (London: Printed by J.G. for Richard Marriot …, 1663). Rare Books (Ex) 3660.5.34.115