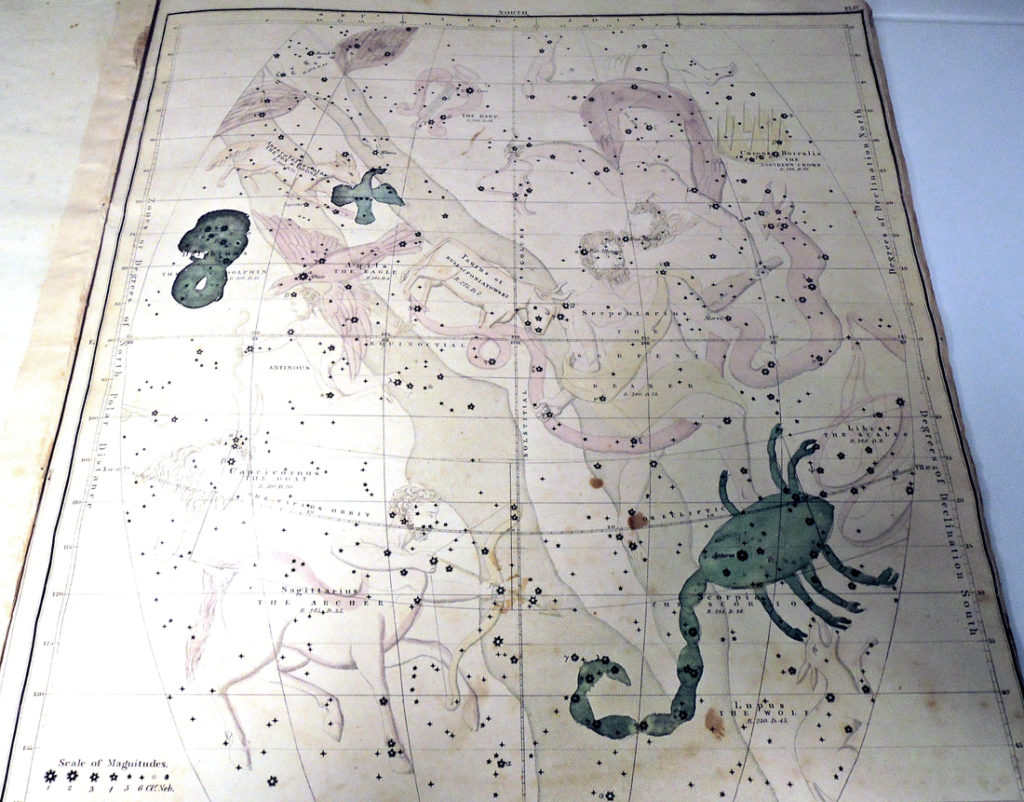 A missing section of the southern sky from Elijah Hinsdale Burritt's 1833 Atlas, Designed to Illustrate the Geography of the Heavens, was recently found and returned to its portfolio. Each map is delicately hand colored in pastel shades of yellow, pink, and blue. Curiously, some of the sections are square, some oval, and some round. It is possible that the engraved plates from the various editions (Princeton has 7 paper copies) have been mixed over the years.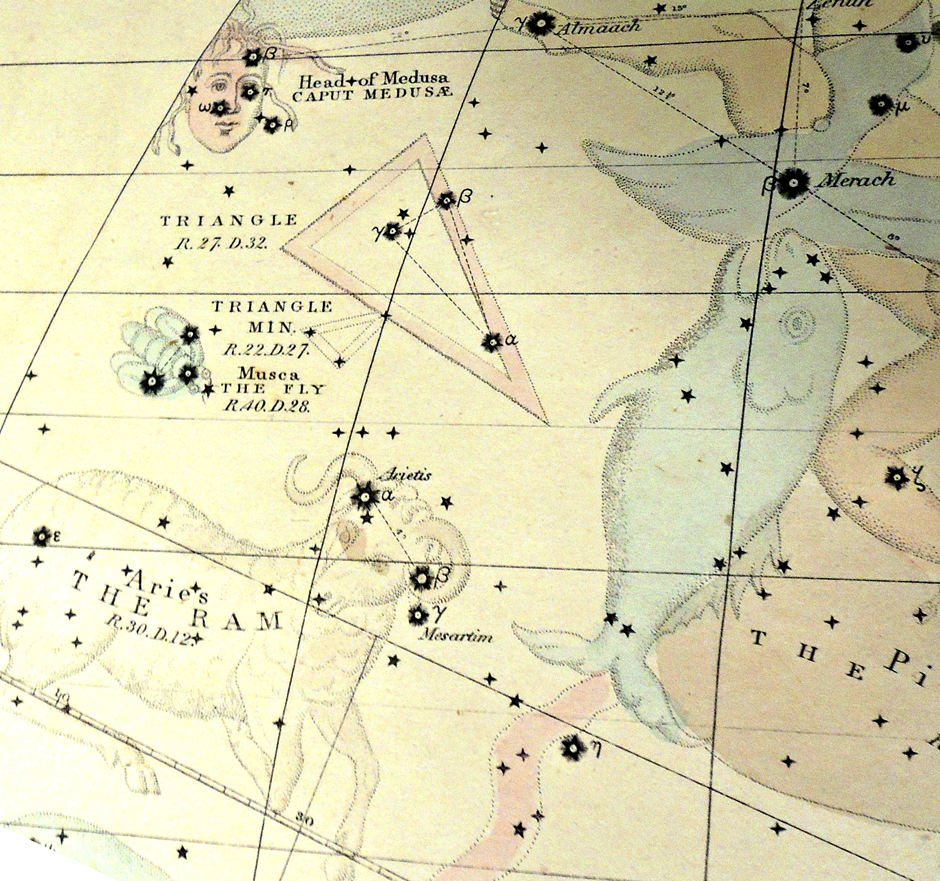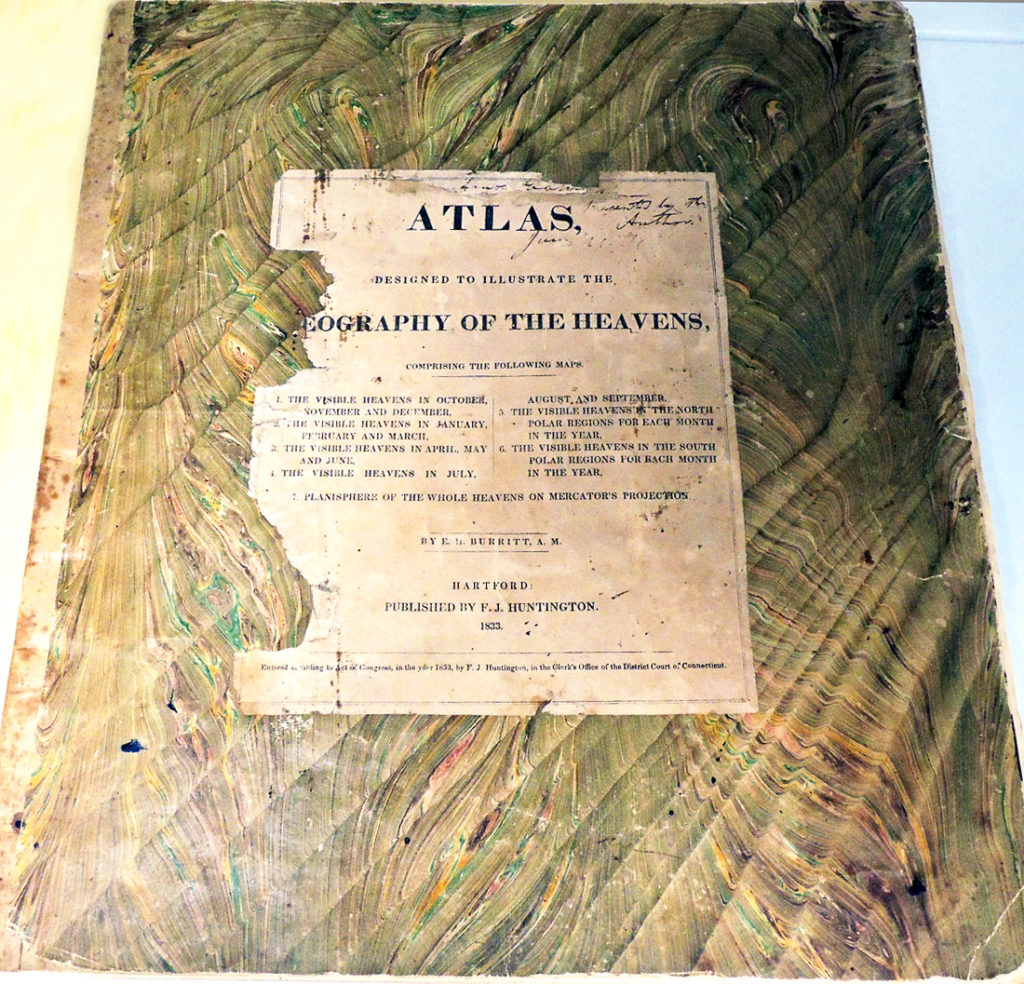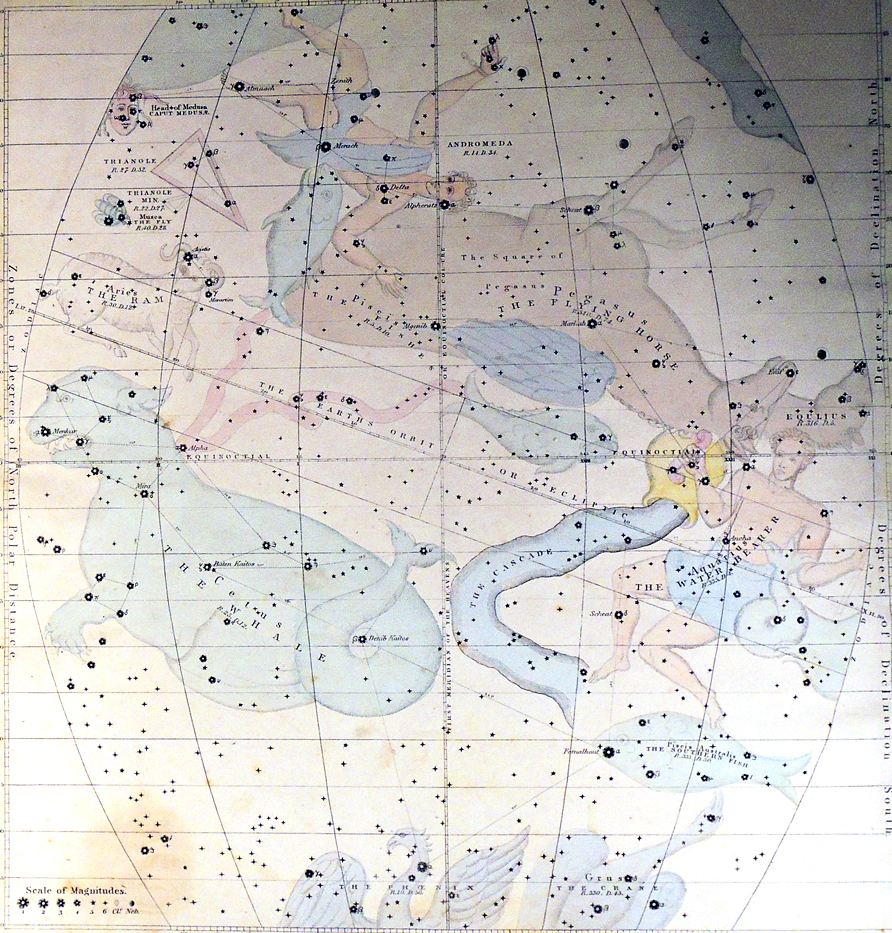 Geographicus Rare & Antique Maps posted a nice biography of the original engraver Thomas Illman, repeated in part here: Thomas Illman (died 1858) attended Trinity College, Oxford, where he received a degree in theology but never pursued it as a career, turning instead to the art of engraving. His first professional work was illustrating Thomas Carlyle's Confessions of an English Opium Eater.
Illman emmigrated to New York City in 1828, almost immediately partnering with Edward Pilbrow, advertised as Illman and Pilbrow. David H. Burr used them to engrave maps for his Universal Atlas and when Burr took a position as topographer and cartographer for the United States Post Office, the project was finished by their firm.
Outside the parnership, Illman pursued his own art, which included engraved portraits and landscapes. At some point he may have relocated to Philadelphia where his sons, H. Illman and G. Illman joined the business in 1845 as Illman & Sons.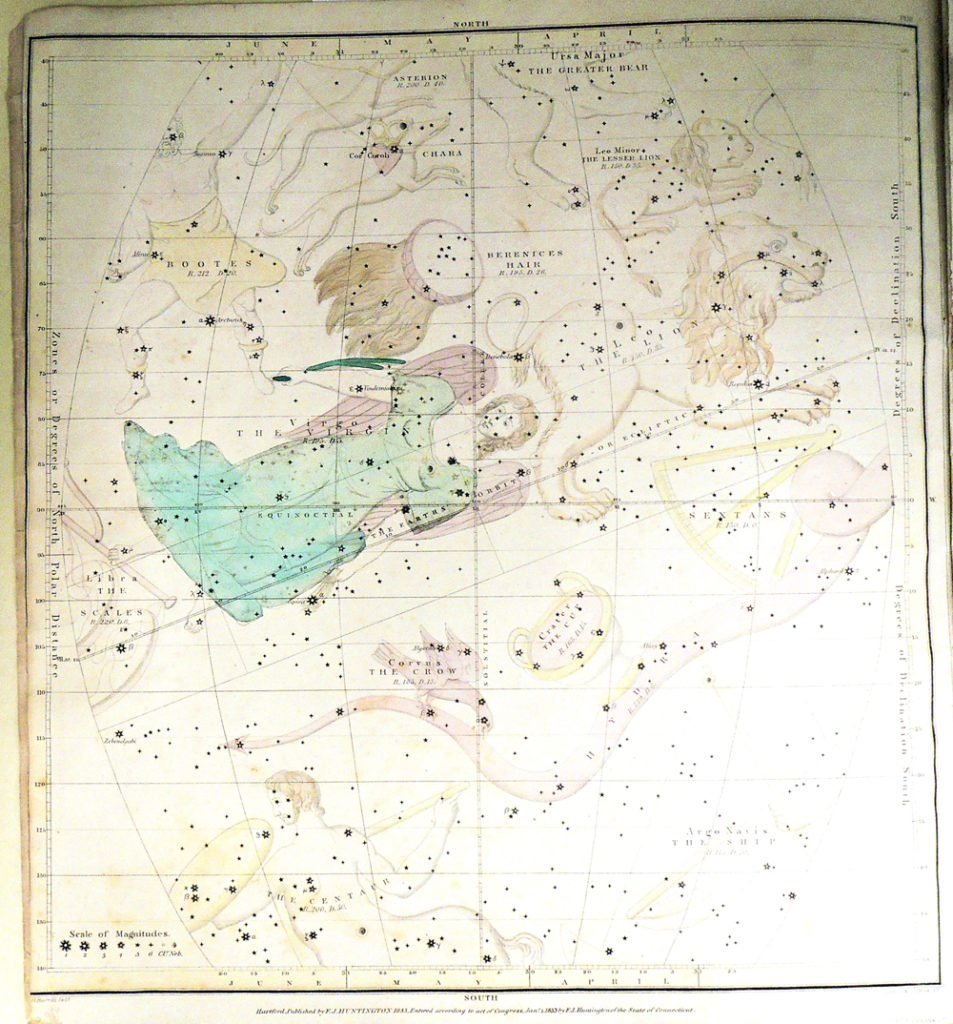 Elijah Hinsdale Burritt (1794-1838), Atlas, designed to illustrate the geography of the heavens … (Hartford: Published by F.J. Huntington, 1833). 1 atlas (VII leaves of plates): all ill. (some col.); 39 cm. Maps are hand colored engravings by Illman & Pilbrow after the author's drawings. Graphic Arts Collection (GAX) Oversize 2006-0162F
Elijah Hinsdale Burritt (1794-1838), Atlas designed to illustrate the geography of the heavens … Edition New edition. (New York: Published by Huntington and Savage, 216 Pearl Street, [1835?]). VIII leaves of plates (2 double-page): ill., star charts (col.); 42 cm. Engraved by W.G. Evans. Rare Books: Historic Maps Collection (MAP) Oversize 2015-0036F
Elijah Hinsdale Burritt (1794-1838), Atlas, designed to illustrate the geography of the heavens…
Edition New edition (New York: Published by F.J. Huntington and Co, 174 Pearl Street, [1835?]). Engraved by W.G. Evans. Graphic Arts Collection (GAX) Oversize 2006-0163F
Elijah Hinsdale Burritt (1794-1838), The geography of the heavens and class book of astronomy: accompanied by a celestial atlas. Edition 5th ed. with an introduction by Thomas Dick (New York: Huntington & Savage, 1843, c1833). RECAP 8407.229.11
Elijah Hinsdale Burritt (1794-1838), Atlas: designed to illustrate the geography of the heavens.
Edition New ed., rev. and corr. by Hiram Mattison (New York: F. J. Huntington, 1850). RECAP 8456.228.11f
Elijah Hinsdale Burritt (1794-1838), 1794-1838. Atlas designed to illustrate Burritt's Geography of the heavens: comprising the following maps or plates …Edition New ed., rev. and corr. / by Hiram Mattison (New York: Mason Brothers, c1856). RECAP 8456.228f
Elijah Hinsdale Burritt (1794-1838), The geography of the heavens, and class-book of astronomy: accompanied by a celestial atlas. Greatly enlarged, revised, and illustrated by H. Mattison, A.M. Edition New and rev. ed., cor. in 1873 (New York, Sheldon & company [c1873]). RECAP 8407.229