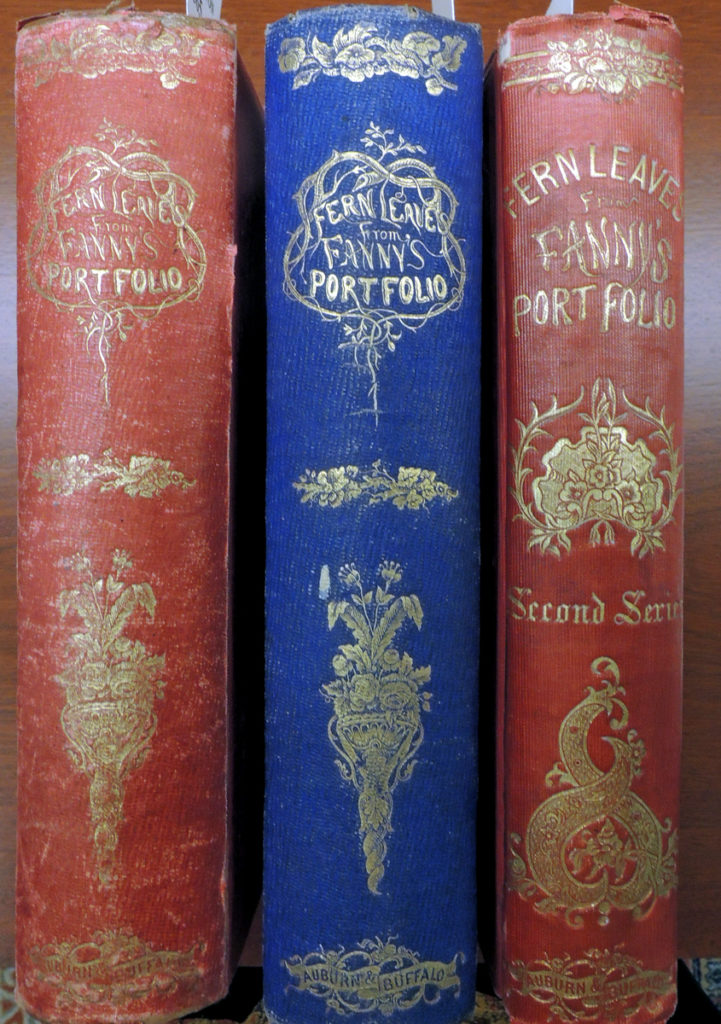 Several of the Sinclair Hamilton Collection copies of the collected stories by the author, journalist, columnist, and humorist Sara Payson Willis (1811-1872) are filled with clippings and other notes about the writer and the illustrators. Willis wrote for several small Boston magazines under the pen-name Fanny Fern, including a weekly column in the New York Ledger read by hundreds of thousands of fans across the country. Willis is considered one of, if not the first American woman columnist. She continued to publish a column every week until her death in 1872.
Her 1853 collection of articles, published under the title Fern Leaves from Fanny's Port-Folio, was an immediate success, recorded as selling nearly 100,000 copies the first year. Six other collections followed, including Fresh Leaves (1857), Folly as It Flies (1859), Ginger-Snaps (1870), and Caper-Sauce (1872). https://fannyfern.org/bio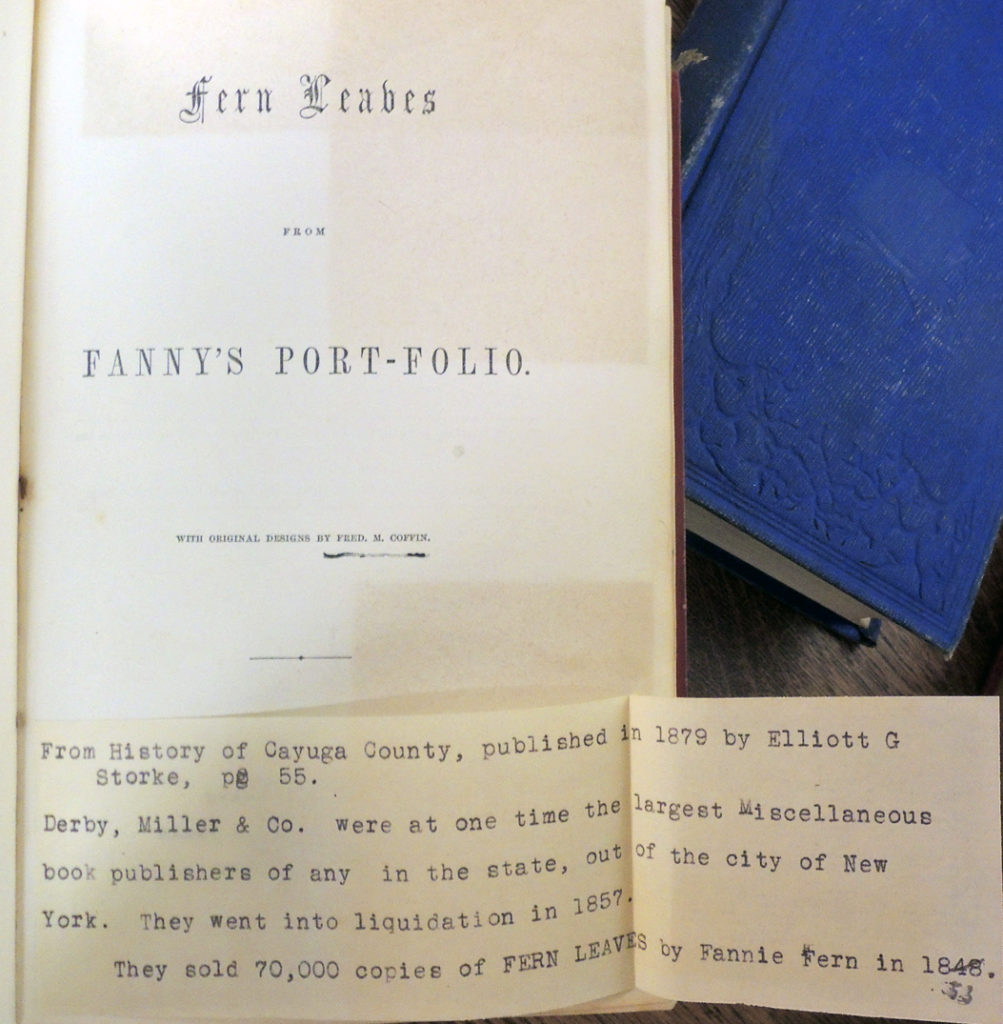 Hamilton's note recording her sales at 70,000 has since be changed to nearly 100,000.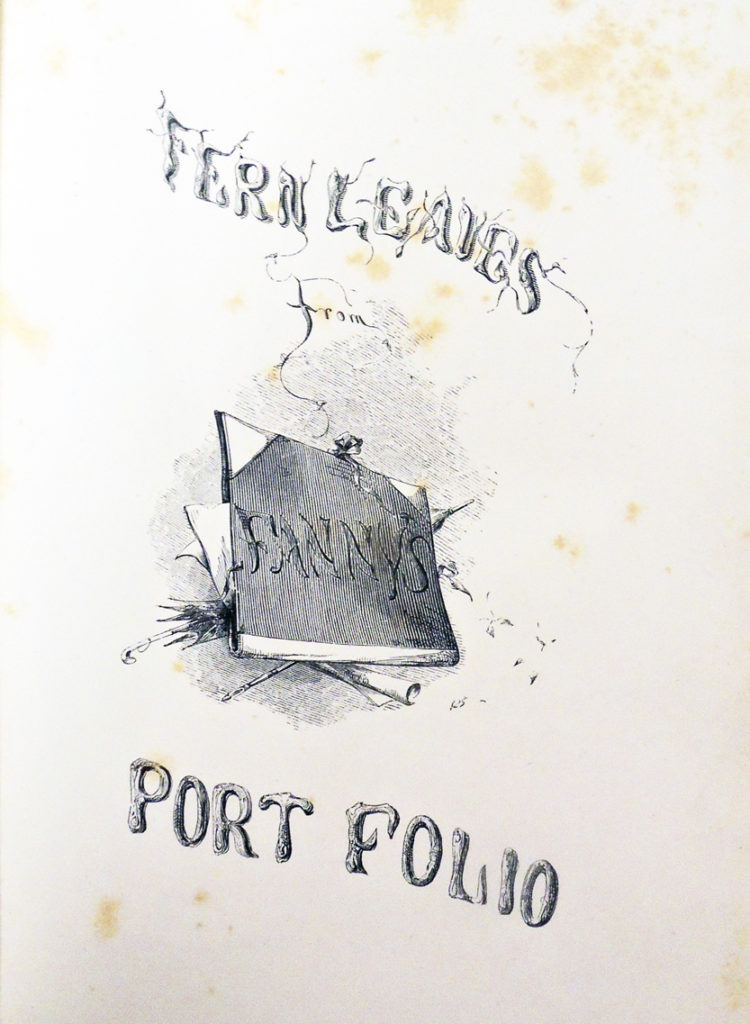 Design and wood engraving by Nathaniel Orr.
"When her first husband died of typhoid fever in 1846, Sara's father and her in-laws did not want to support her and her two children. She tried her luck at being a seamstress, one of the only respectable positions available to women, but could not make ends meet. She also attempted to secure a teaching position, but was not successful. At her father's insistence, Sara embarked on a marriage of convenience that ended in divorce. Because Sara left her abusive husband, the scandal further alienated her from her family and friends. In a desperate attempt to feed her children, Sara began writing articles for Boston newspapers in 1851. Shortly thereafter, her articles were read in newspapers nationwide and in England." –Giuliana Lonigro, "Women's History Month Profile: Sara Payson Willis ("Fanny Fern")"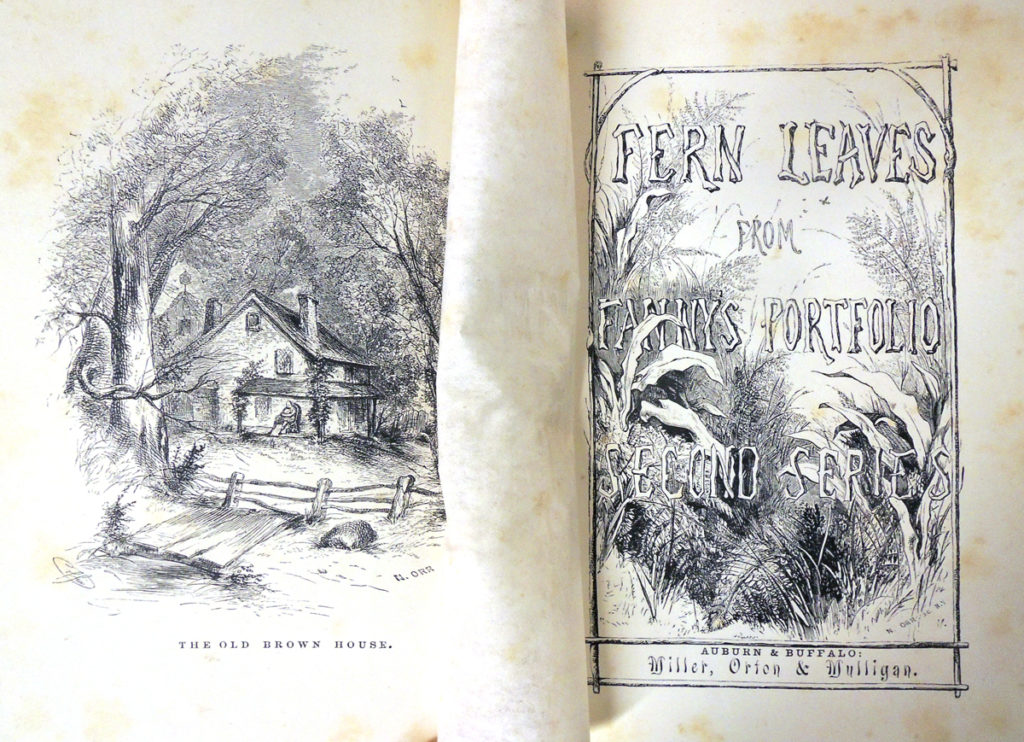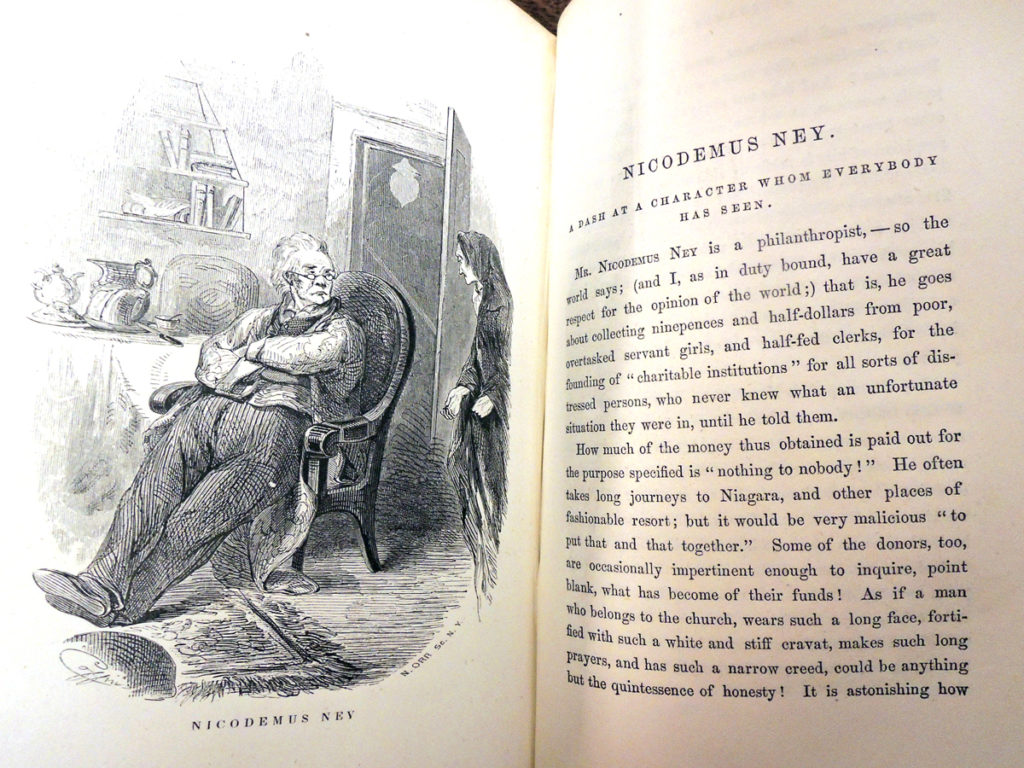 In an article published in New York Life on August 8, 1867, Fern wrote: "I look around and see innumerable women to whose barren, loveless life [writing] would be improvement and solace, and I say to them, write! Write if it will make your life brighter, or happier, or less monotonous. Write! It will be a safe outlet for thoughts and feelings…[L]ift yourselves out of the dead level of your lives…Fight it! Oppose it, for your own sakes, and your children's! Do not be mentally annihilated by it."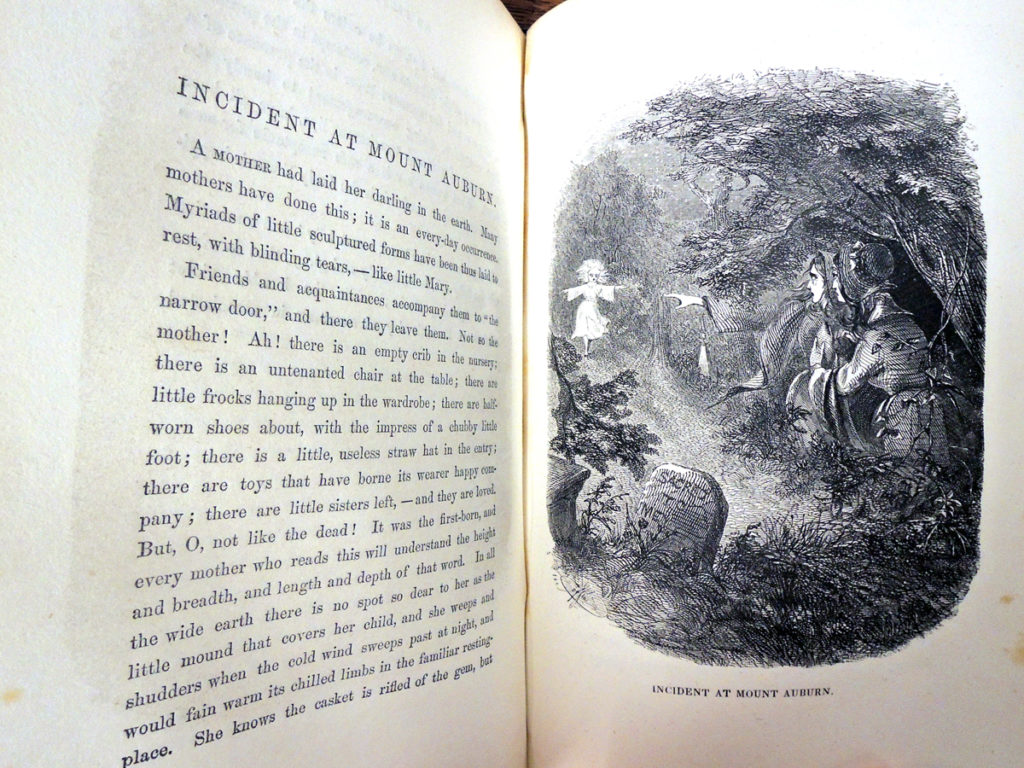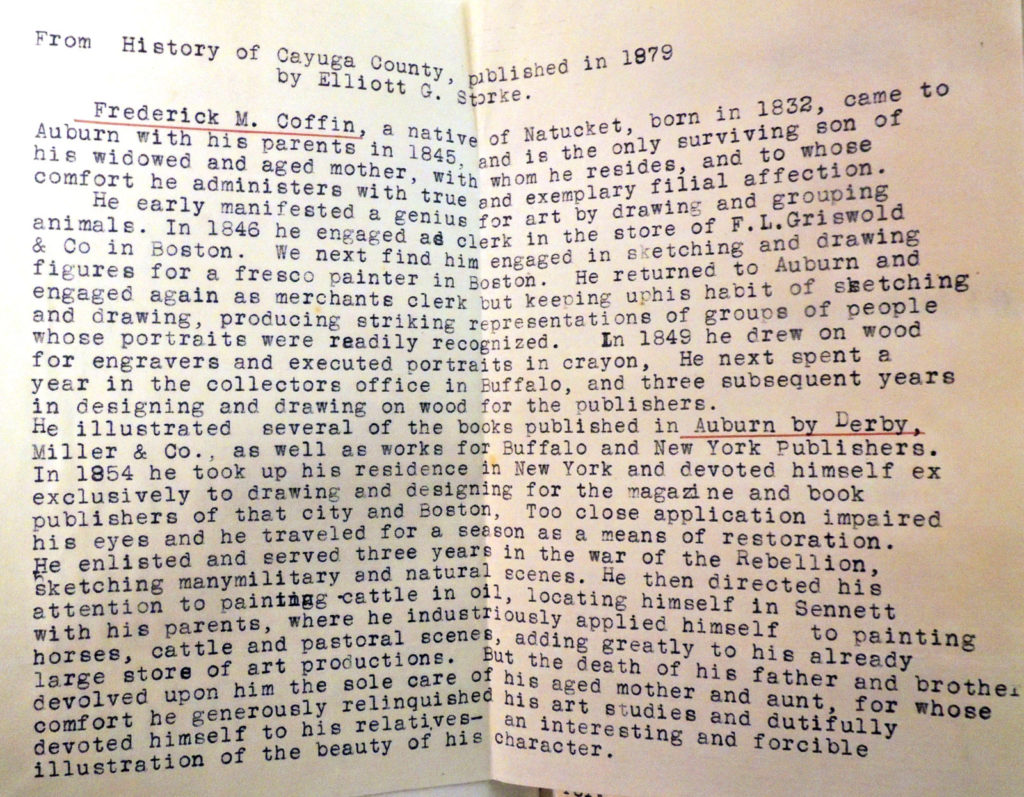 The frequent team of Frederick Coffin, designs, and Nathaniel Orr, wood engraving, were called on to illustrate this popular book. Orr was responsible for the binding.
Robert Bonner of The New York Ledger "originally offering Fern twenty-five, then fifty, then seventy-five dollars per column, only to be turned down on all three occasions, Bonner then offered her an unprecedented $100 for each column of a serialized story, an offer which Fern finally accepted, making her the highest-paid newspaper writer in the country."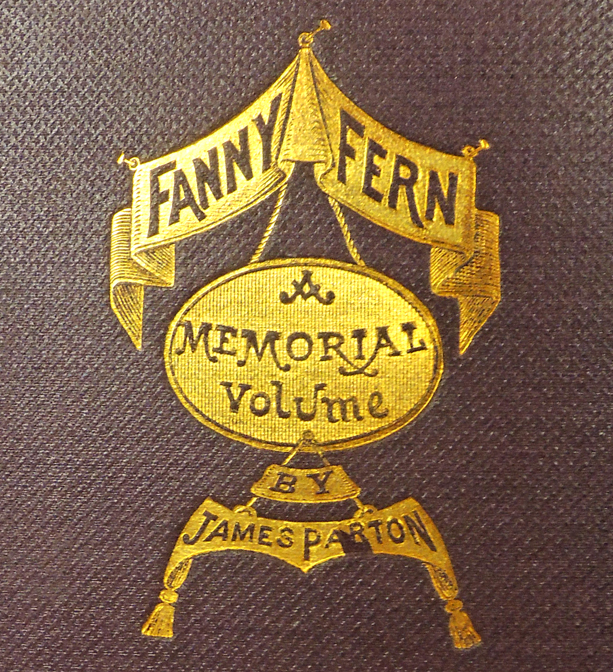 Fanny Fern (1811-1872). Fern leaves from Fanny's port-folio : with original designs by Fred. M. Coffin [engraved by Nathaniel Orr] (Auburn: Derby and Miller, 1853). Illustrations by Frederick M. Coffin, engraved on wood by N. Orr and E. Bookhout. GAX Hamilton 1565,
Fanny Fern (1811-1872). Fern leaves from Fanny's port-folio Second series; with original designs by Fred. M. Coffin (Auburn [N.Y.]: Miller, Orton & Mulligan, 1854, [c1853]). Added, engr. t.p., by N. Orr. Published in London under title: "Shadows and sunbeams," being a second series of Fern leaves from Fanny's portfolio.
Fanny Fern (1811-1872). Fern leaves from Fanny's port-folio : second series / with original designs by Fred. M. Coffin (Auburn ; Buffalo : Miller, Orton & Mulligan ; London : Sampson Low, son & Co., 1854). 7 full page illustrations and half title cut by F. Coffin, engraved on wood by N. Orr. Graphic Arts Collection (GAX) Hamilton 501
Mrs. Sara Payson (Wilis) Parton (1811-1872), Fern leaves from Fanny's port-folio. (Auburn, Derby and Miller; Buffalo, Derby, Orton and Mulligan [etc.,etc.] 1853). Miriam Y. Holden Coll. (Holden). Firestone PS2523.P9F3 1853a
Fanny Fern (1811-1872), Shadows and sunbeams and other stories: being the second series of Fern leaves from Fanny's port-folio (Chicago: Belford, Clarke & Co., 1884). RECAP 3885.05.385