"Let Us All Be Unhappy Together," part 9, p.96 in The Universal Songster, or, Museum of Mirth: forming the most complete, extensive, and valuable collection of ancient and modern songs in the English language… embellished with a humorous characteristic frontispiece and twenty-nine wood-cuts [per vol.] designed by George and Robert Cruikshank, and engraved by J.R. Marshall (London: Printed for John Fairburn …, 1825-1826). Graphic Arts Collection (GA) Cruik 1825.5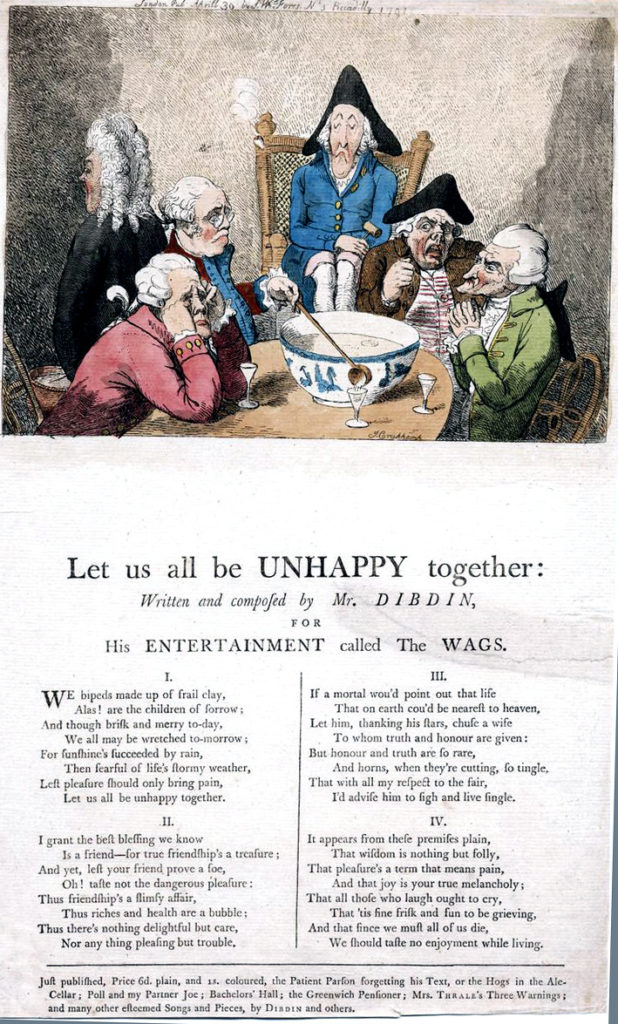 In 1790, Charles Dibdin (1745-1814) composed and performed a musical entertainment called The Wags, or, The Camp of Pleasure at the Lyceum Theatre in London. One of its hit tunes titled "Sound Argument" became better known for the chorus, "Let us all be unhappy together."
This may well have been the primary inspiration to James Beresford, who later wrote The Miseries of Human Life, which in turn inspired the one act farce by Dibdin's son Thomas, "The Miseries of Human Life; or, Let Us All Be Unhappy Together," performed at the Covent Garden Theatre in 1807.
The Miseries of Human Life and Other Entertainments: Drawings by Thomas Rowlandson is on view at the Princeton University Art Museum: http://artmuseum.princeton.edu/object-package/miseries-human-life-and-other-amusements-drawings-thomas-rowlandson/112600
There were a number of caricatures, broadsides, and illustrated scores inspired by "Unhappy Together." Here are a few more:
Above:
Let us all be unhappy together, 1794. Mezzotint on wove paper. Published by Laurie & Whittle. (c) British Museum.
Isaac Cruikshank, Let us all be unhappy together. London, April 30, 1791. Etching on laid paper. Illustration to ballad Let Us All Be Unhappy Together, written and composed by Dibdin for his entertainment called The Wags. (c) Lewis Walpole Library
Unidentified artist, Let us all be unhappy together, 1812-17. Hand colored etching. Published by William Davison of Alnwick. (c) British Museum
On Princeton computers only, listen to a performance from The Jane Austen Songbooks: http://princeton.naxosmusiclibrary.com/catalogue/item.asp?cid=VOX-7537
LET US ALL BE UNHAPPY TOGETHER.
E bipeds, made up of frail clay,
Alas! are the children of sorrow;
And, though brisk and merry to-day,
We may all be unhappy to-morrow.
For sunshine's succeeded by rain;
Then, fearful of life's stormy weather,
Lest pleasure should only bring pain,
Let us all be unhappy together.
I grant the best blessing we know
Is a friend, for true friendship's a treasure;
And yet, lest your friend prove a foe,
Oh! taste not the dangerous pleasure.
Thus friendship's a flimsy affair, .
Thus riches and health are a bubble;
Thus there's nothing delightful but care,
Nor anything pleasing but trouble.
If a mortal could point out that life
Which on earth could be nearest to heaven,
Let him, thanking his stars, choose a wife
To whom truth and honor are given.
But honor and truth are so rare,
And horns, when they're cutting, so tingle,
That, with all my respect to the fair,
I'd advise him to sigh, and live single.
It appears from these premises plain,
That wisdom is nothing but folly;
That pleasure's a term that means pain,
And that joy is your true melancholy;
That all those who laugh ought to cry,
That't is fine frisk and fun to be grieving;
And that, since we must all of us die,
We should taste no enjoyment while living.