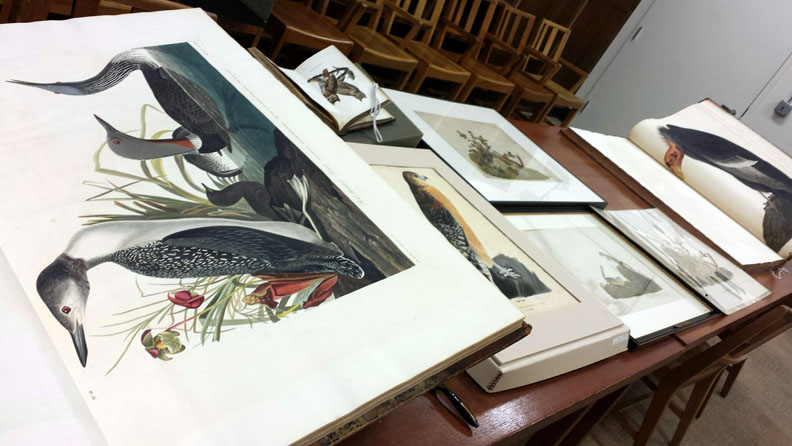 Princeton University Library received the gift of the double elephant folio Birds of America [(Ex) Oversize 8880.134.1860e] from Alexander van Rensselaer, Class of 1871 (1855-1933), during the academic year 1928-29. We believe he inherited the copy from his uncle, Stephen van Rensselaer IV, Class of 1808 (1789-1868). The wealthy van Rensselaer family is the only one I have found who bought two copies of Audubon's massive publication. The second was purchased by Stephen's cousin Dr. Jeremias "Jeremiah" Van Rensselaer (1793-1871), who graduated from Yale.
Most American subscribers to Audubon's Birds of America were convinced to join during his second trip back to the United States in 1831, when Audubon spent considerable time in New York during 1833. Both Jeremias and Stephen IV were born at the sprawling 1,200-square-mile van Rensselaer estate near Albany, New York, but lived during the 1830s in New York City.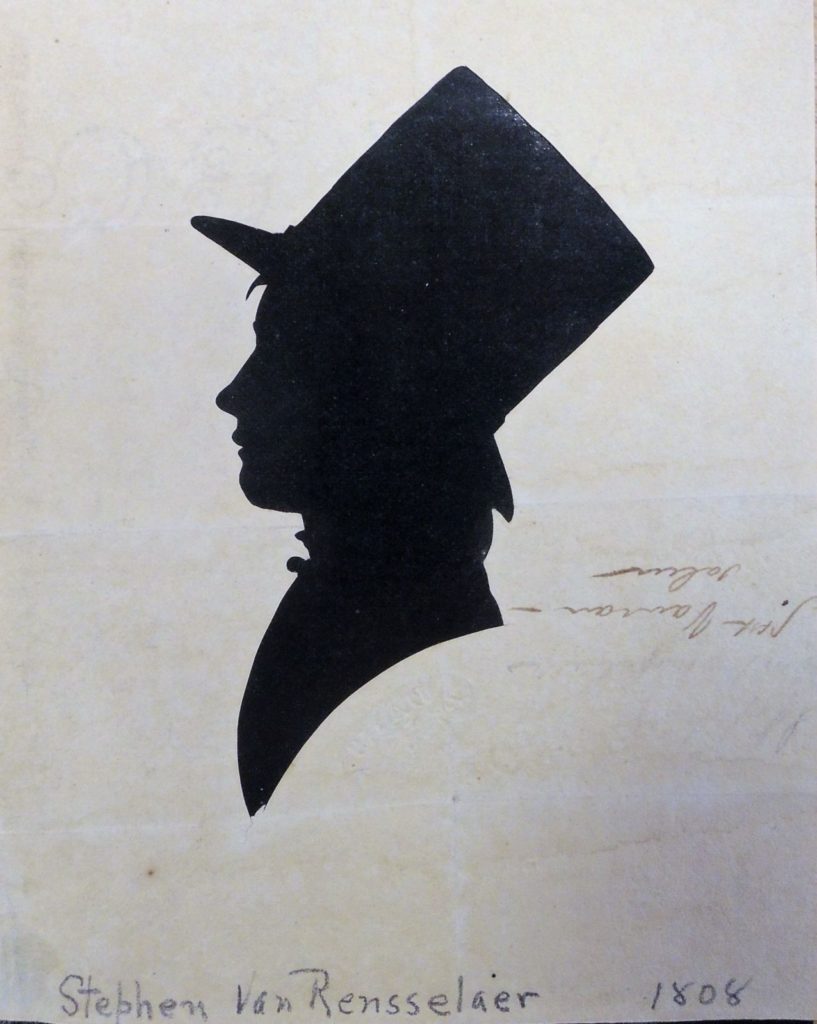 Stephen's father and Alexander's grandfather, Stephen Van Rensselaer III (1764-1839), was among the richest men in America and when he died, Stephen IV left New York City to live in the "West Manor" of the Rensselaer estate. Jeremiah's medical practice remained in New York City, where he was also corresponding secretary of the X.Y. Lyceum of Natural History, with a great love for the natural sciences. He retired in 1852, traveled, and died in New York City in 1871. The whereabouts of his copy of Audubon's Birds of America is not known.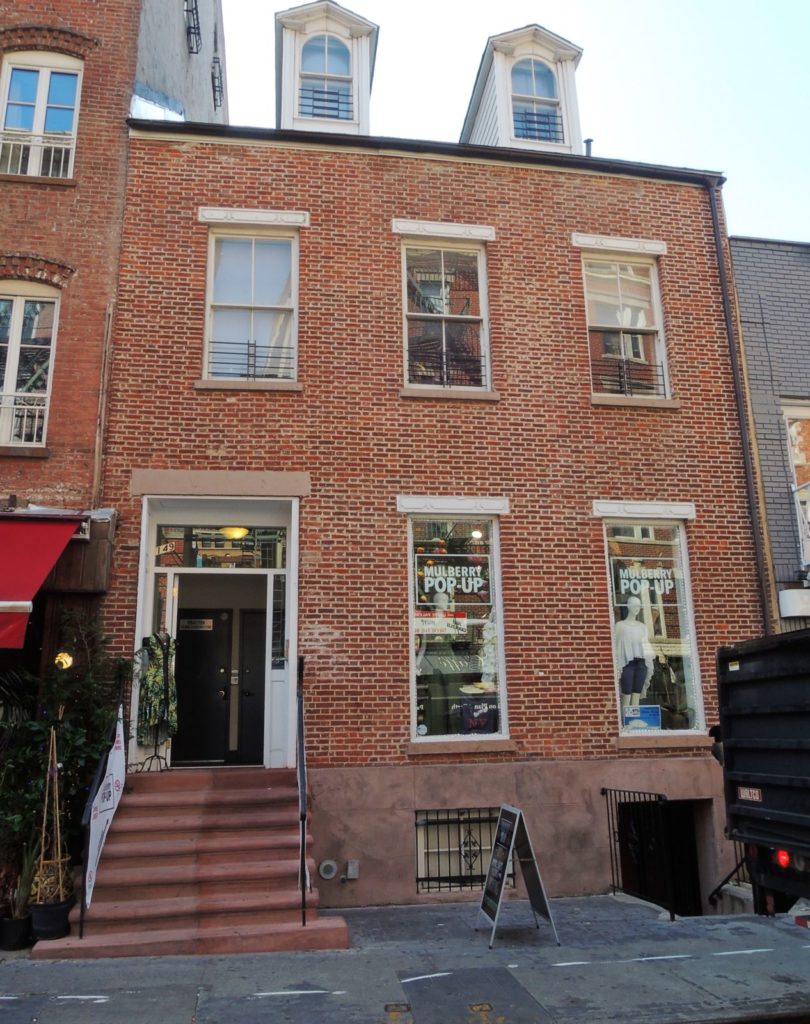 Stephen III was an active businessman who owned several New York properties and in 1816, built a modest two-story house on Mulberry Street (originally no. 153 moved to no. 149) where the family could live while in town. The Federalist structure, which survived flood, fire, and a bomb, has a façade of Flemish bond brick and a Dutch-style gambrel roof, punctured by two tall dormers.
Around the time, Stephen IV moved back to Albany, the family sold the house and it has had various owners since then. http://daytoninmanhattan.blogspot.com/2014/07/the-1816-van-rensselaer-house-no-149.html
In the 1890s, Helen Louisa Stokes (1846-1930), wife of Anson Phelps Stokes (1838–1913) purchased the house and converted it to The Free Italian Library and Reading-Rooms, which opened in 1894.
"The free Italian library and reading rooms established chiefly by Mrs. Anson Phelps Stokes, in a house formerly used by [an] Italian, as a cheese factory at 149 Mulberry street, was open for inspection yesterday from 2 to 10 P. M. The guests were welcomed by the Rev. Antonio Arrighi. pastor of the Italian church at 123 Worth Street. The library has more than 200 volume, which will be added to by books now being bound, it contains books of history, poetry, science, travel, natural history, and novels. –New York Times, July 23, 1894
See our colleague's research: Alexandra Deluise, "Mission work, Conversion and the Italian Immigrant in Turn-of-the-Century New York City: the Story of the Anson Phelps Stokes Italian Free Library" (2015). CUNY Academic Works. http://academicworks.cuny.edu/lacuny_events/3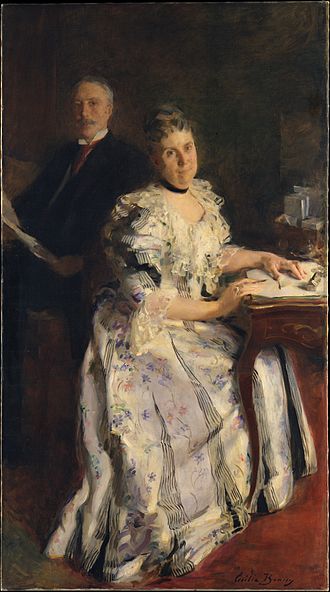 Interesting that her father's family company, Phelps, Dodge & Company was the organization that helps to preserve the Audubon printing plates when Mrs. Lucy Audubon was forced to sell her family estate.
Cecilia Beaux (1855–1942), Mr. and Mrs. Anson Phelps Stokes, 1898 (?). Oil on canvas. Metropolitan Museum of Art