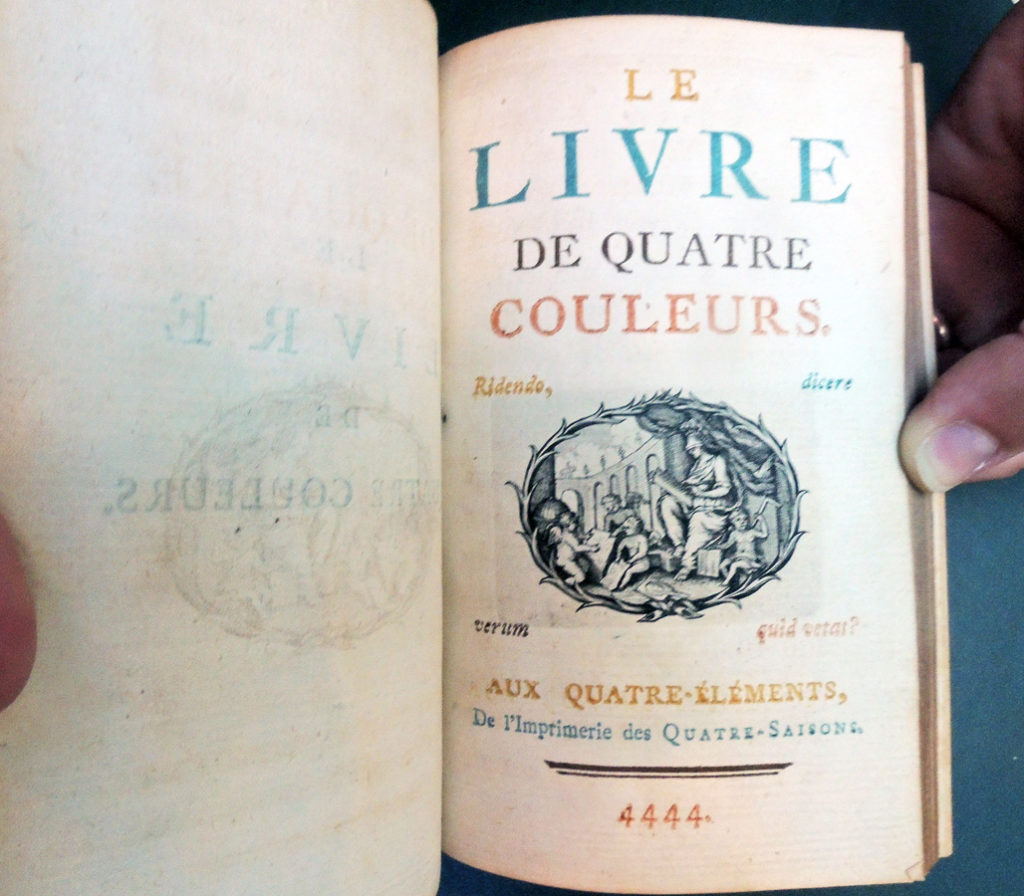 Book collectors remember the Parisian author Marquis Louis-Antoine Caraccioli (1719-1803) not so much for his writing but for the colorful printing of his books. These typographic curiosities were printed separately in one colored ink and then, bound together with separate sections in separate colors. There are many editions and variations, including pirated editions. Some say they are new editions but are exactly the same. Princeton has five variations.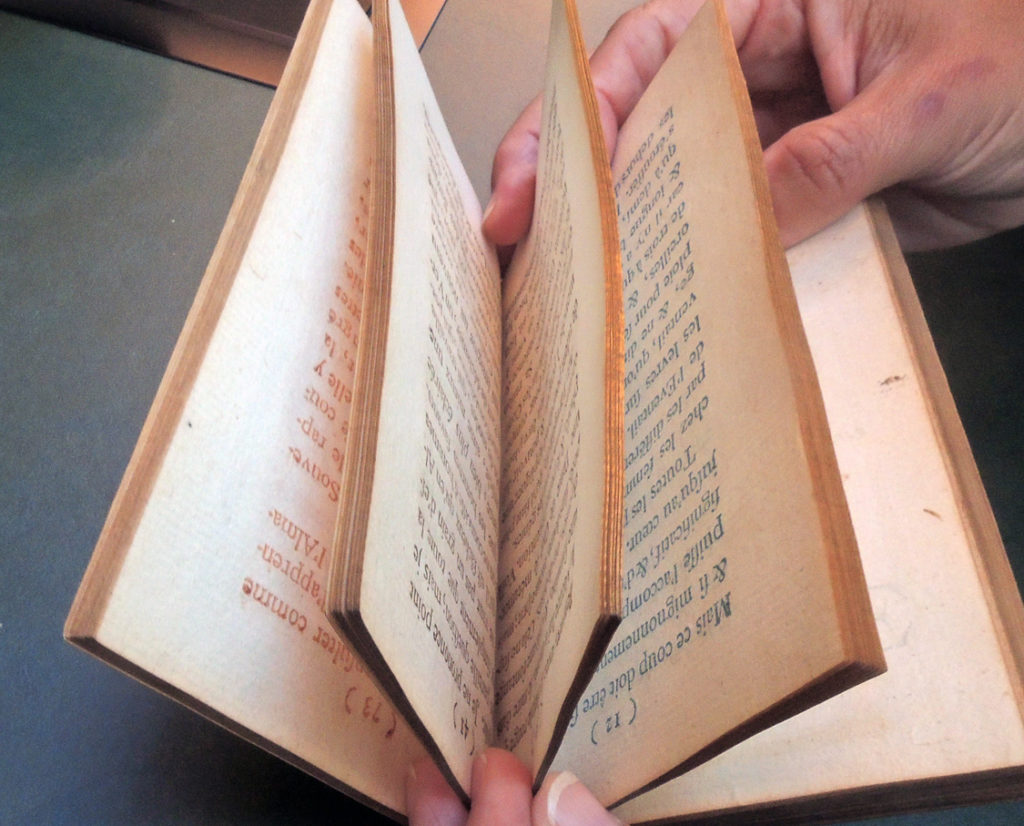 In 1760, they are brought together in the Book of Four Colors, to the Four Elements, of the Printing of the Four Seasons. If you count black, the title page actually has five colors. There are sections in orange-yellow, greenish-blue, brown, and scarlet red, although the orange is very close to the brown and yellow. Of the several copies I've seen, the colors look different, perhaps some inks holding up better than others.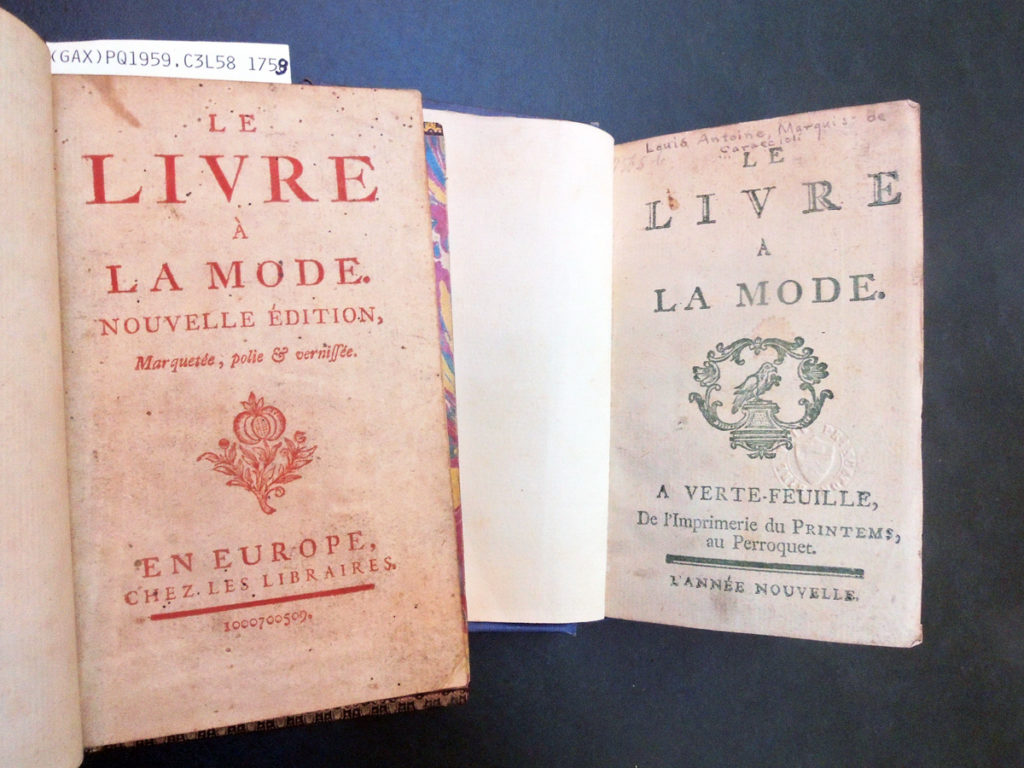 One collector writes: "Moreover, the text is also very agreeable, and Caraccioli also laughs at himself and fashions from the beginning, when he stresses that probably the color of his works alone will suffice for their success, at a time when one is enamored of everything and nothing, under the pretense often the most futile. He also writes that he offers his readers books that resemble them, colored "… I offer you (…) the most beautiful vermilion, such that it shines on your faces beautifully and furiously illuminated." http://bibliophilie.blogspot.com/2007/11/des-livres-lhonneur-les-livre-la-mode.html
"Of letterpress or typographic printing in colours, not very much seems to have been done during the eighteenth century; work in red and black, other than on title-pages, was almost entirely confined to the service books of the Roman Church, and a large proportion of even these were printed in black only, though such establishments as the Plantin Press still produced creditable examples on the old lines.

In the middle of the century, several editions were got out at Paris of a work entitled Le Livre a la Mode, a satirical description of the manners of the time. It was a 12mo volume, of which two editions were published in 1759, one printed wholly in red, the other in yellow. In 1760 there was another red edition, and then the work, which was in four sections, was re-issued with the title of Le Livre de Quatre Couleurs, the sections being respectively printed with green, yellow, red and brown ink. On the title-page lettering in all these colours appears, in addition to a vignette printed in black." R.M. Burch and William Gamble, Colour Printing and Colour Printers (1910).
Louis-Antoine Caraccioli (1719-1803), Le livre à la mode. Nouvelle édition, marquetée, polie & vernissé. En Europe [Paris]: Chez les libraires, [1759]. Rare Books Off-Site Storage 3238.95.359
Louis-Antoine Caraccioli (1719-1803), Le livre à la mode. Nouvelle édition / marquetée, polie & vernissée. En Europe [i.e. Paris]: Chez les libraires [1759]. Graphic Arts Collection (GAX) PQ1959.C3 L58 1759
Louis-Antoine Caraccioli (1719-1803), Le livre à la mode. A Verte Feuille, de l'imprimerie du Printems au Perroquet. L'année nouvelle. [Paris, 1759]. Rare Books Off-Site Storage 3238.95.359.11
Louis-Antoine Caraccioli (1719-1803), Le livre de quatre couleurs. Aux Quatre-Elements: De l'Imprimerie des Quatre-Saisons, 4444 ; [i.e. Paris]: [publisher not identified], [1760]. Graphic Arts Collection (GAX) in process
Louis-Antoine Caraccioli (1719-1803), Le livre de quatre couleurs. Aux Quatre-Éléments [i.e. Paris], De l'imprimerie des quatre-saisons, 4444 [i.e. 1760]. Graphic Arts Collection (GAX) PQ1959.C3 L58 1759
Louis-Antoine Caraccioli (1719-1803), Le livre à la mode; suivi du, Livre des quatre couleurs, textes présentés et annotés par Anne Richardot. Saint-Etienne: Publications de l'université de Saint-Etienne, 2005. Firestone Library (F) PQ1959.C3 L68 2005