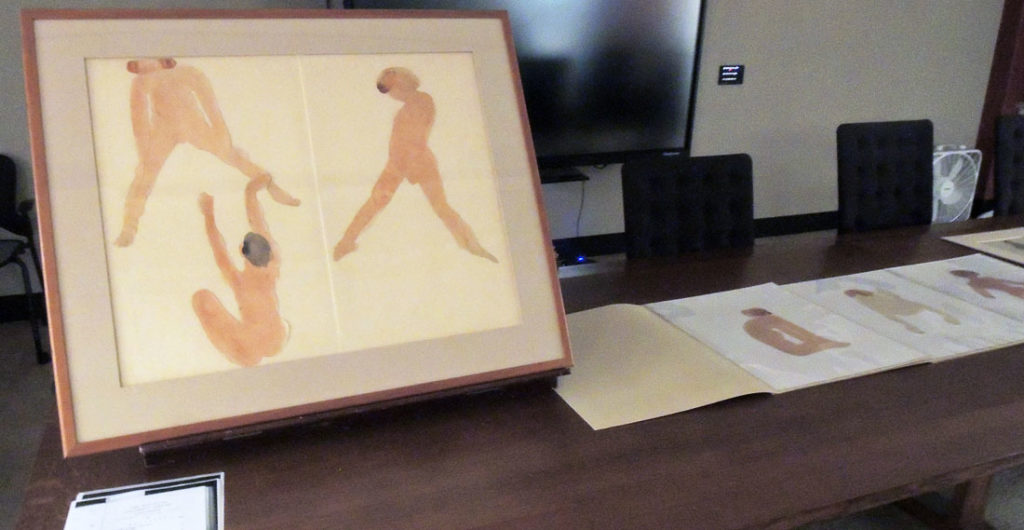 While in his sixties, Auguste Rodin (1840-1917) made hundreds of sketches from female models, added watercolor in one or two strokes and then, loosely cutout the forms. When he ran out of paper, an assistant was sent over to the local boucherie (butcher shop) for more.
These silhouettes were combined in various groupings, the artist arranging and rearranging them to form compositions of female forms. Six examples of Rodin's cutouts can be found in the Graphic Arts Collection thanks to the students of René Chéruy, Rodin's secretary from this period.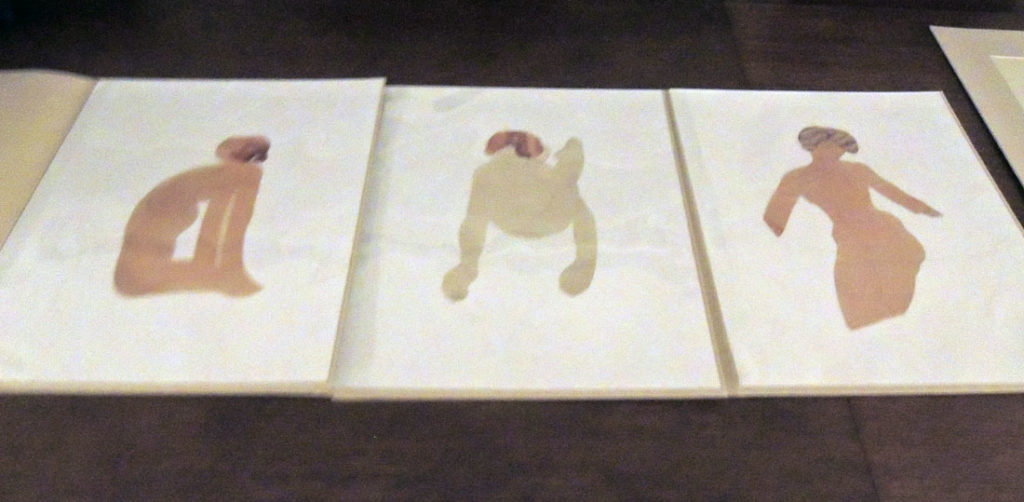 In "Glimpses of Rodin" in the Princeton University Library Chronicle 27, no. 1 (Autumn 1965), Howard C. Rice, Jr. writes
"Material about the French sculptor Auguste Rodin (1840-1917), including several letters, notes, and sketches in his autograph, has recently been added to the Library's collection of modern manuscripts. This small but attractive group of mementoes, which had been preserved by René Chéruy, one time secretary of Rodin, who subsequently resided in the United States as a teacher of French at the Loomis School in Windsor, Connecticut, has been presented to the Princeton University Library in Mr. Chéruy's memory by a group of his former students, including Jewett T. Flagg, James Parton, and William H. Scheide. Several pencil and watercolor drawings by Rodin, as well as examples of his dry points…, which also belonged to Mr. Chéruy, have been added to the initial gift by Thomas S. Brush. The souvenirs, now at Princeton evoke mainly the years 1902-1908, when Chéruy, then in his twenties, was performing numerous secretarial chores for "the Master," who was in his sixties and at the peak of his contemporary fame."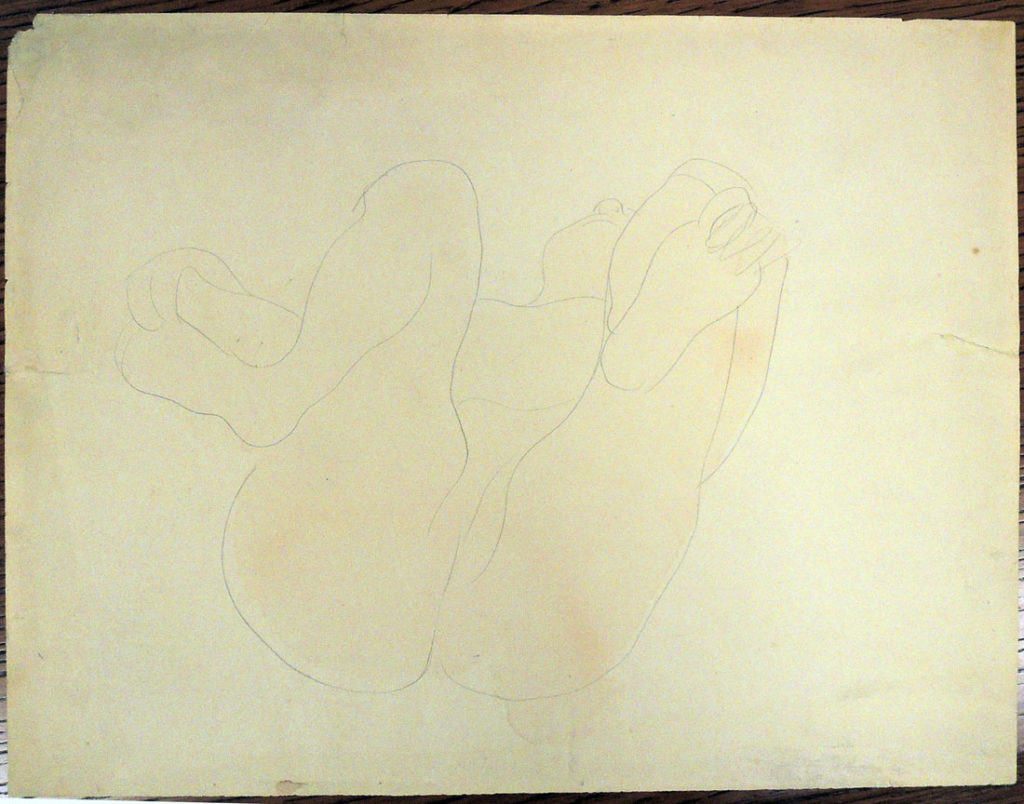 The cutouts, sketches, lithographs, and other works on paper at Princeton were recently reviewed for an upcoming exhibition of Rodin's cutouts at the Musée Rodin in Paris next fall. Like 50% of the sketches attributed to Rodin in collections around the world, many of the holdings have questionable artistic provenance but one pencil sketch with watercolor [above] was a beautiful surprise. Unquestionably from the hand of the master, this sheet has light damage from over-exposure but otherwise is a clear example of his late work.
We also solved the mystery of why one of the cutouts had such strange endings at the arms and legs. When the figure was turned slightly, it became obvious the form was drawn at the bottom corner of the sheet to produce a female languidly relaxing rather than standing upright.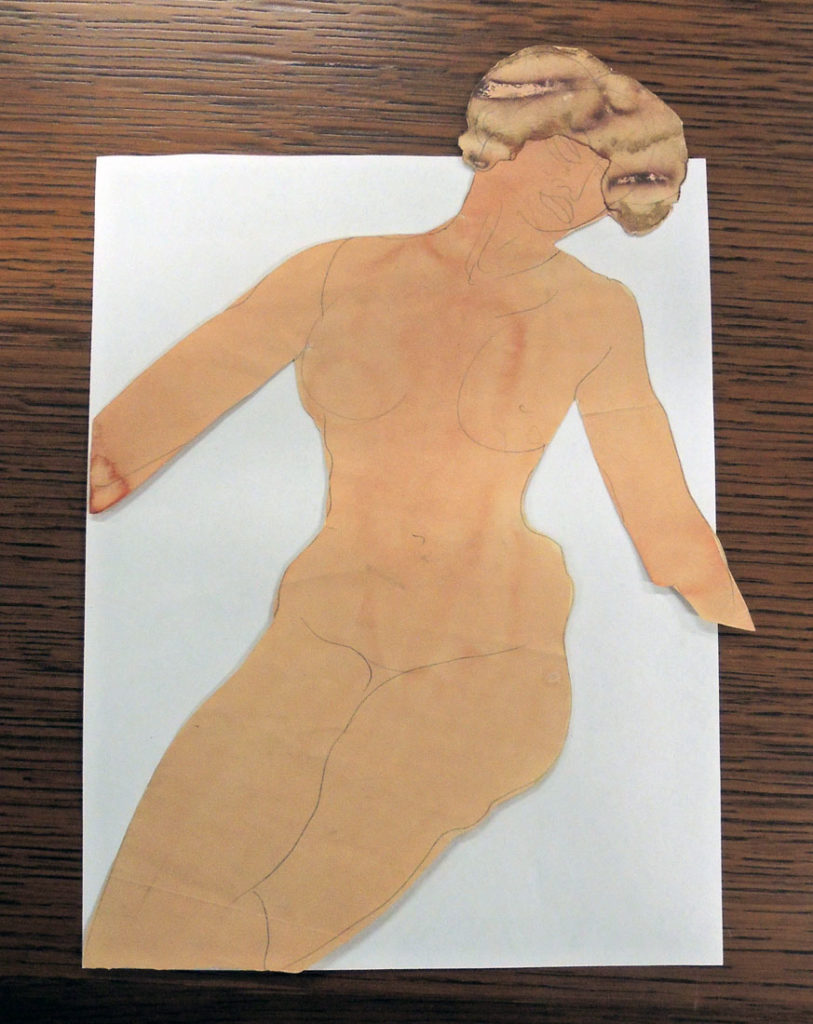 "An idea came to me suddenly and enlightened me," wrote Rodin, "this is art, this is the revelation of the great mystery, how to express movement in something that is at rest." –quoted in Rodin's Art : The Rodin Collection of Iris & B. Gerald Cantor Center of Visual Arts at Stanford University (2003). Marquand library SA NB553.R7 E473 2003