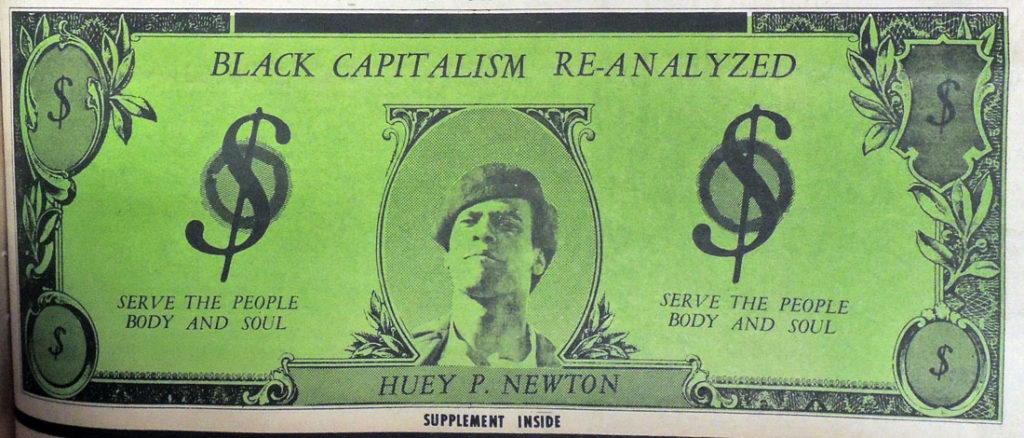 "The initial idea behind the paper was to inform and to enlighten and to educate people about the basic issues in the community and to tell our story from our own perspective. We had an X-acto blade, some white sheets of paper, and we would typeset [the pages] on the typewriter with the ball. We couldn't hardly afford but one color ink and so it was black with one other color. . . To get that bold, broad look, I began to mimic woodcuts with markers and pens, playing with shadows . . . We were creating a culture, a culture of resistance … [and] I became the minister of culture."–Emory Douglas.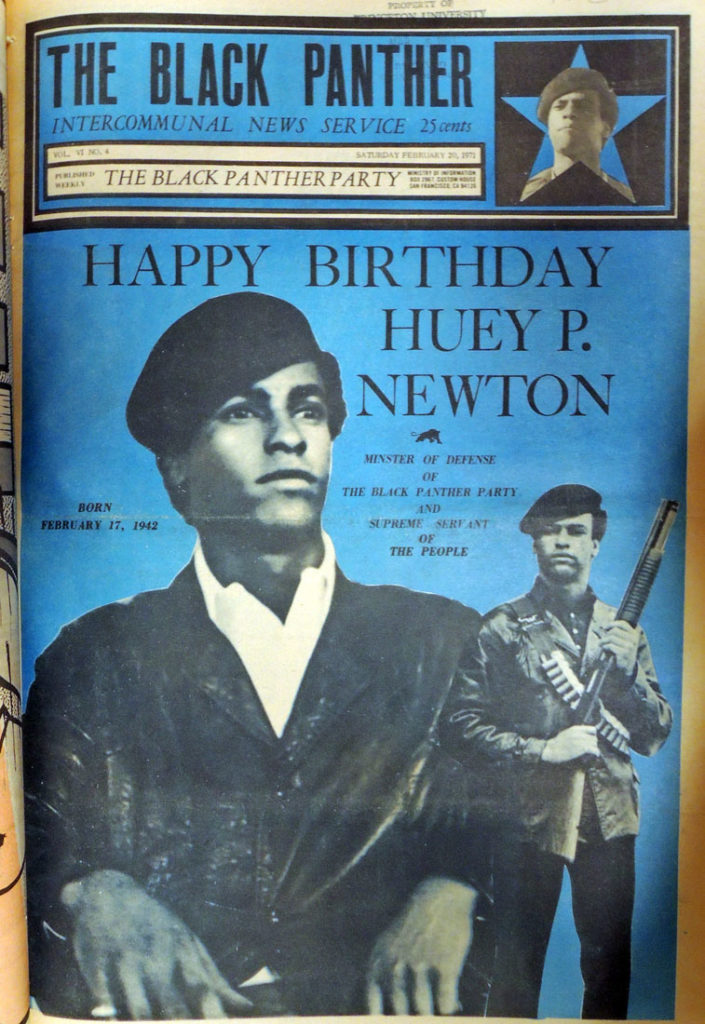 A request came recently to see what graphics we had by Emory Douglas (born 1943), minister of culture for the Black Panther Party from 1967 to 1980. The Princeton University Library holds an incomplete run of The Black Panther newspaper, founded by Huey P. Newton (1942-1989) and Bobby Seale (born 1936) in 1967.
Happily, the issues are not faded or damaged, but filled with bold graphics designed by Douglas, many reproduced as posters and fliers after they appeared in the paper.
Printed by Howard Quinn Printers in San Francisco, The Black Panther Intercommunal News Service came out on Wednesday evening and at its height, 100,000 copies were sold weekly in 30 cities across the country [subscription numbers vary widely]. During the 1970s, one issue cost 25 cents.
Jonina Abron, who served as the editor of the paper from 1978 until September 1980 when it closed, stated that "the newspaper staff met weekly to discuss the content of the paper and sought to communicate visually the message contained in the printed articles."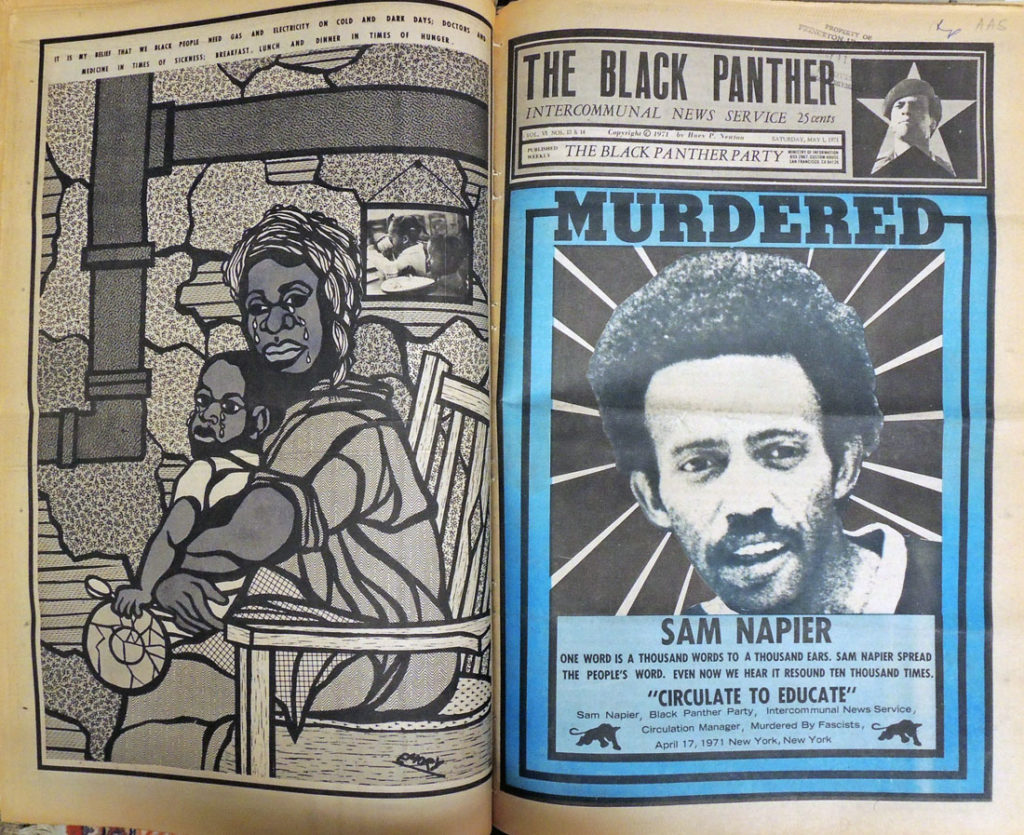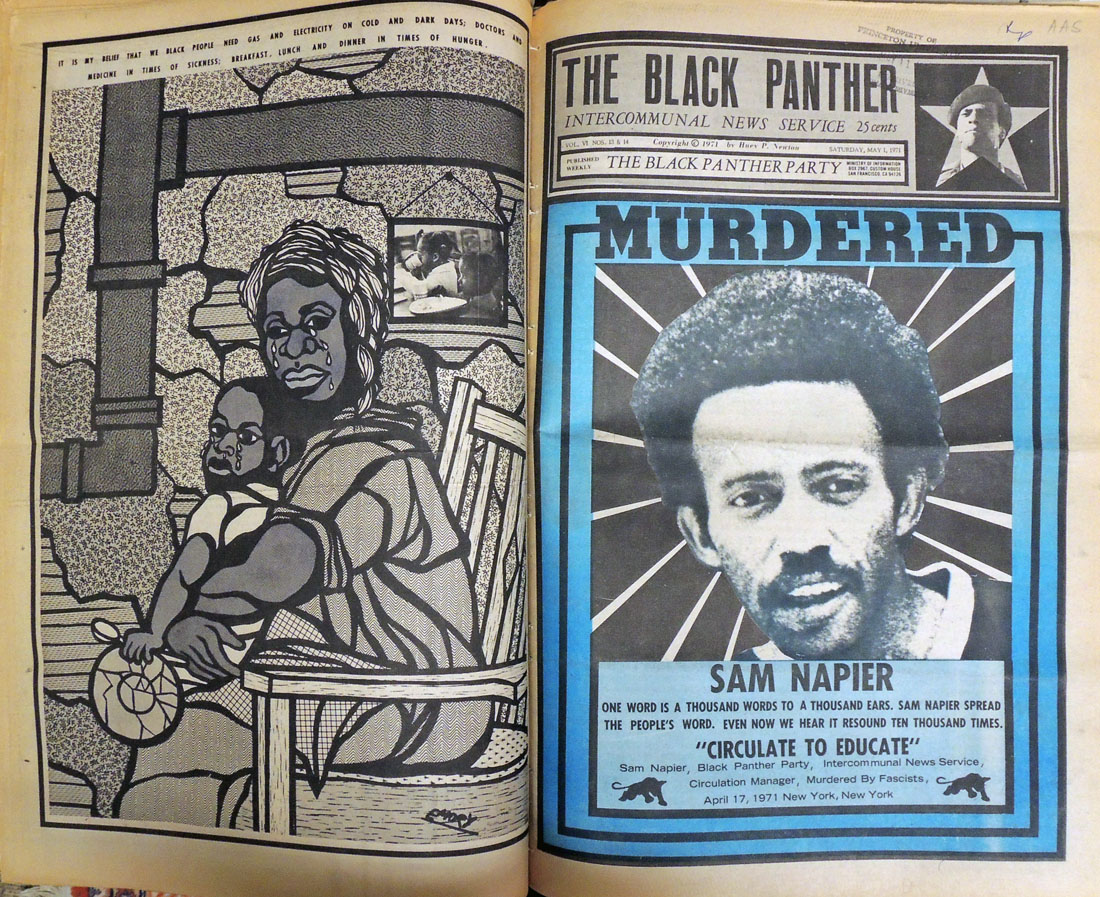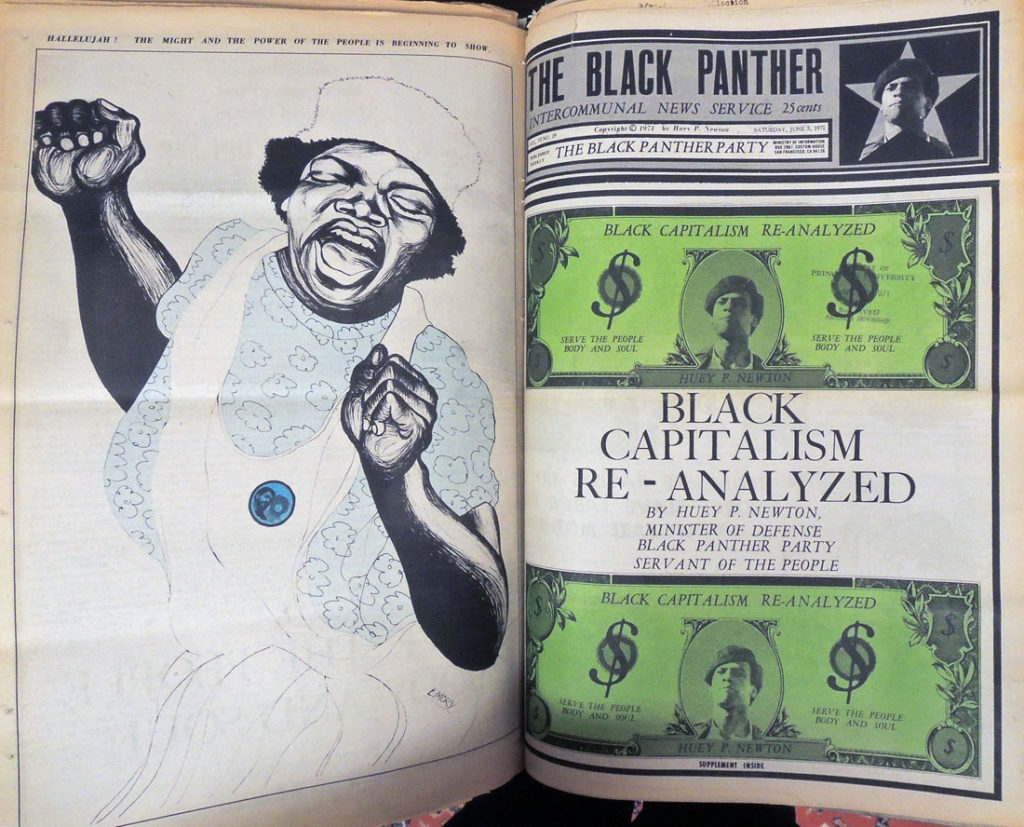 In 2015, Douglas was recognized with the American Institute of Graphic Arts Medal "for his fearless and powerful use of graphic design in the Black Panther party's struggle for civil rights and against racism, oppression, and social injustice."  To read more about this event, see: https://www.aiga.org/medalist-emory-douglas-2015.
Retrospective exhibitions of Douglas's graphic art were held at the Museum of Contemporary Art, Los Angeles from 2007 to 2008 and a second at the New Museum in New York the following year.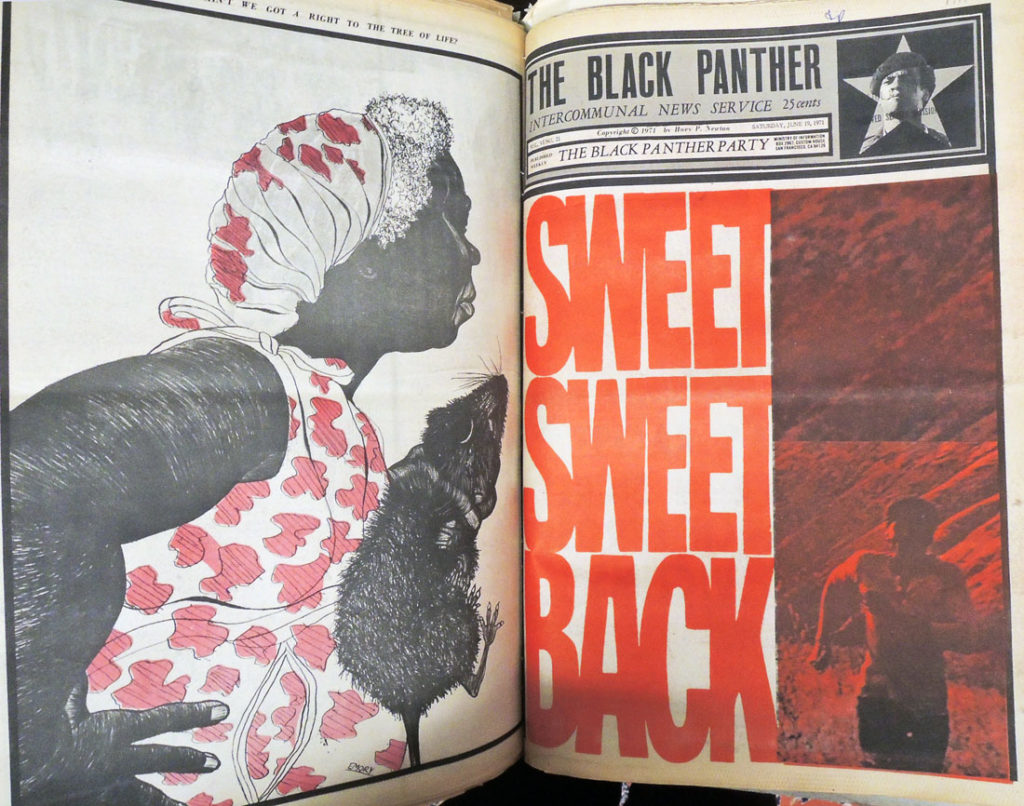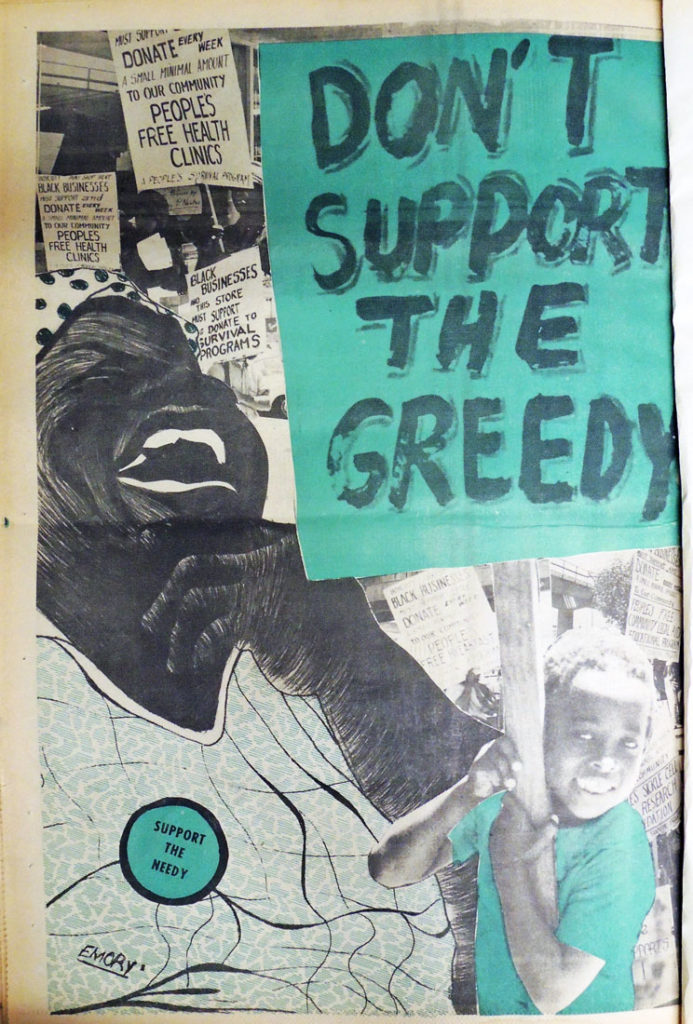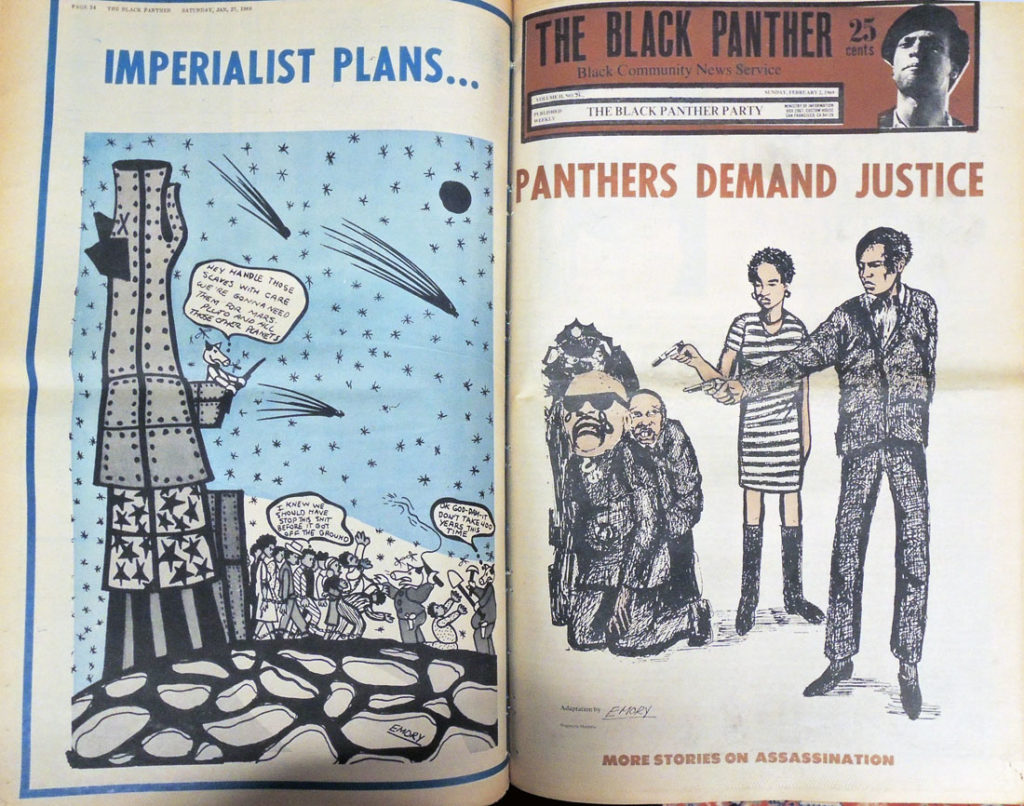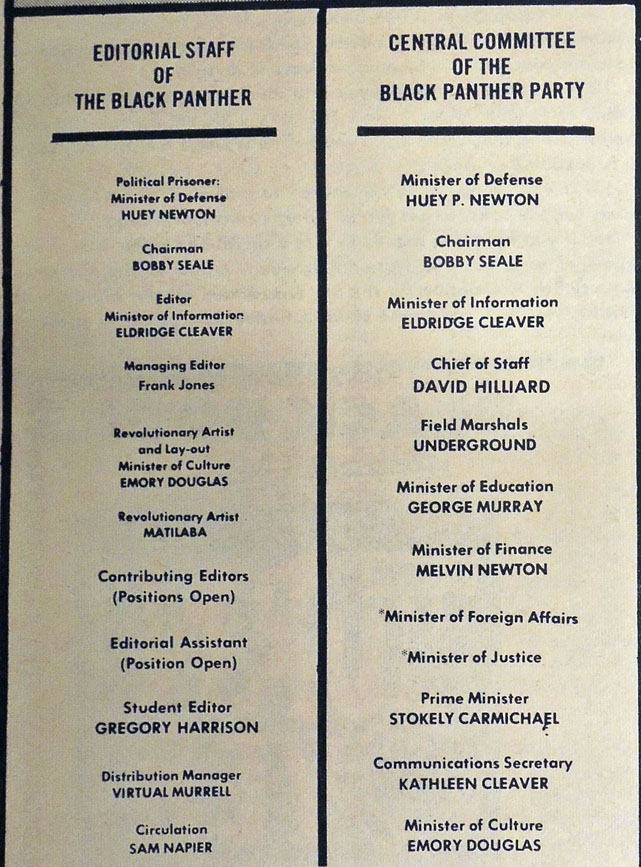 Black Panther Party. Ministry of Information, The Black Panther (Oakland, Calif.: Black Panther Party for Self Defense San Francisco, CA : The Black Panther Party, Ministry of Information, 1967-1980). Began with volume 1, number 1 (April 25, 1967); ceased with v. 20, no. 9 (Sept. 1980). Annex A 0921.183F