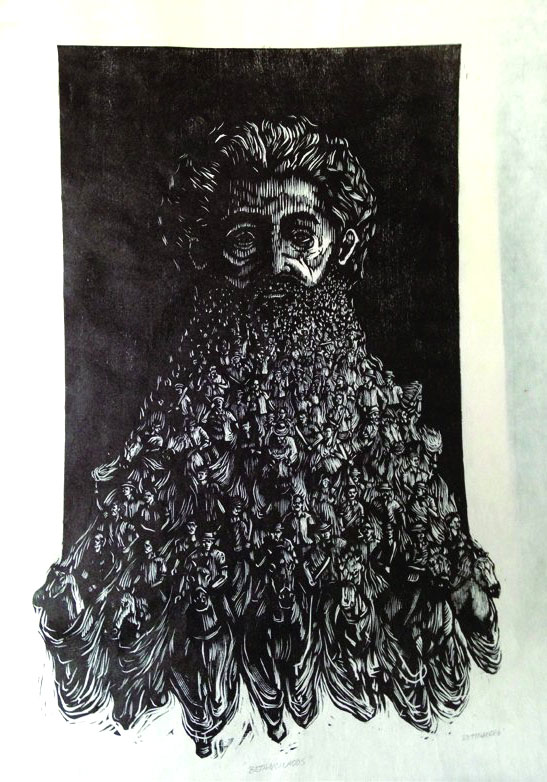 Yiyo Tirado Rivera (born 1990), Betancinados, 2016. Xilography.  Collection of Alma Concepcion and Arcadio Díaz-Quiñones.
Inspired by the emblematic figure of Ramón Emeterio Betances (1827-1898), Puerto Rican radical abolitionist and revolutionary. Betances lived in exile in France most of his life and was one of the major leaders of the Grito de Lares (1868), an armed insurrection against the Spanish colonial regime.
This print is one of the highlights of the exhibition Puerto Rican Graphic Arts on view in Aaron Burr Hall, Princeton University, in connection with the 50th anniversary of the Program in Latin American Studies. For more images and additional events, see: https://plas.princeton.edu/news-events/news/puerto-rican-graphic-arts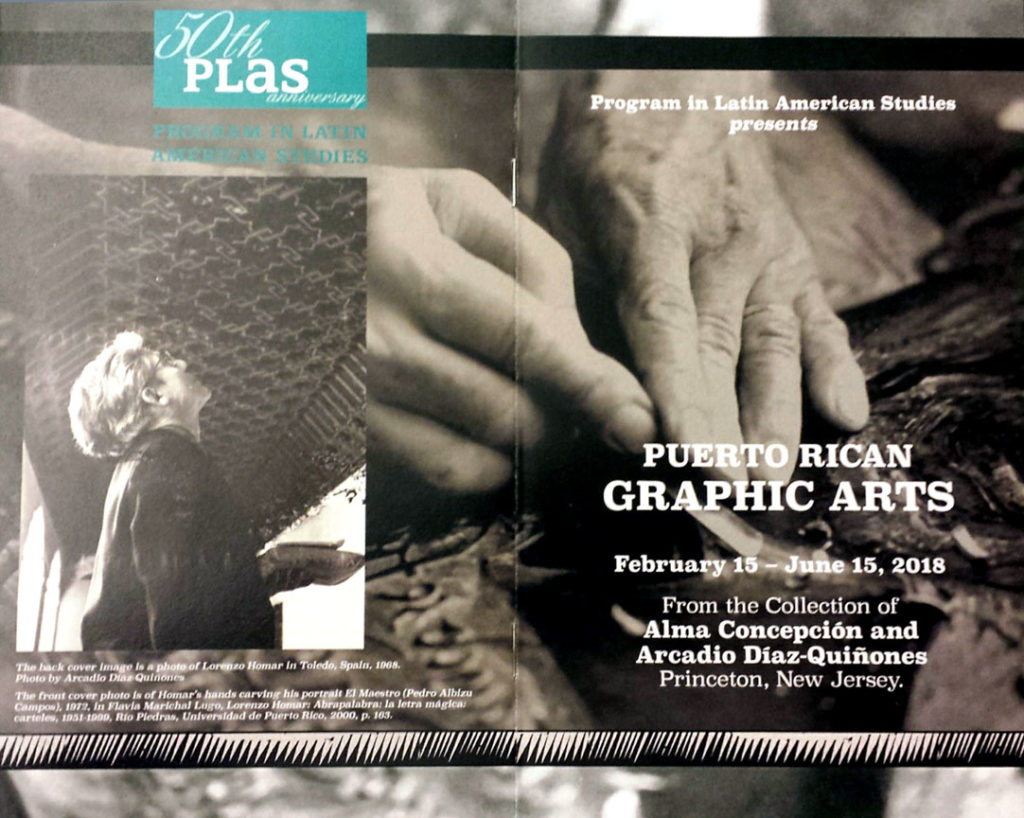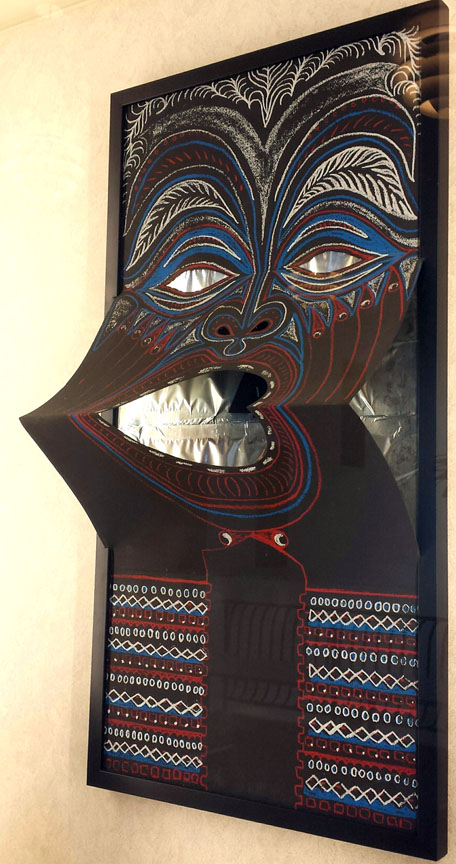 Antonio Martorell (born 1939), Mask, 1979. Screen print and collage. Collection of Alma Concepcion and Arcadio Díaz-Quiñones.
From the portfolio Loas, 1979, based on a text on Afro-Caribbean deities and rituals by Antonio T. Díaz-Royo. This text inspired Atibón Ogú, Erzulí, a choreodrama by Alma Concepción, for Taller de Histriones, a Puerto Rican mime company directed by Gilda Navarra. Set designs, costumes, and body art by Martorell. Music by Emmanuel "Sunshine" Logroño.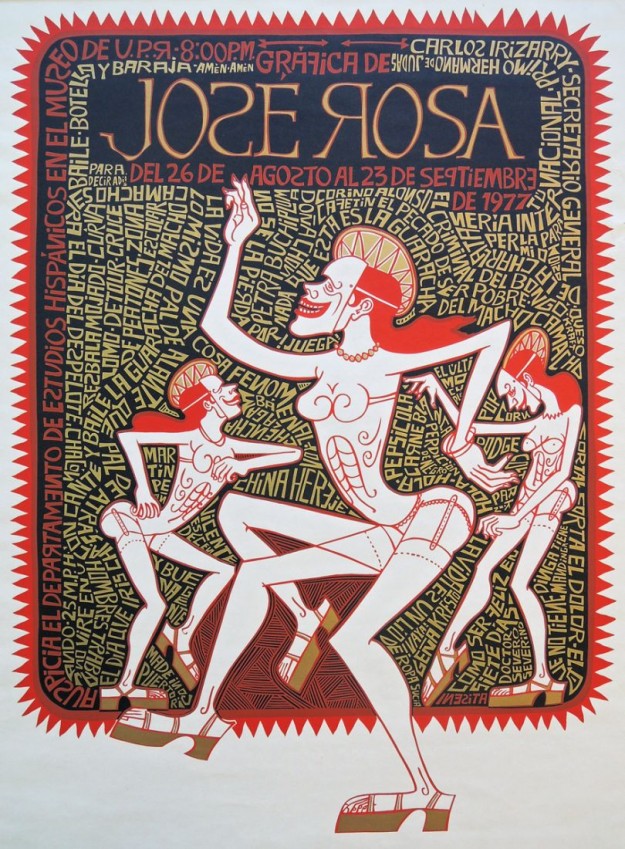 Born in 1939, Jose Rosa studied at the Taller del Instituto de Cultura Puertorriqueño (Graphic Arts Workshop of the Institute of Puerto Rican Culture) run by Lorenzo Homar (1913-2004) and later succeeded Homar as the workshop's director. As this poster demonstrates, he was a master of screen printing.
The print was later exhibited and reproduced in the catalogue José Rosa: Exposición Homenaje: Obra Gráfica, 1963-1996: Antiguo Arsenal de la Marina Española, Viejo San Juan, Puerto Rico, 29 de abril al 31 de agosto de 1998 ([San Juan, P.R.]: Programa de Artes Plástica, Instituto de Cultura Puertorriqueña, 1998).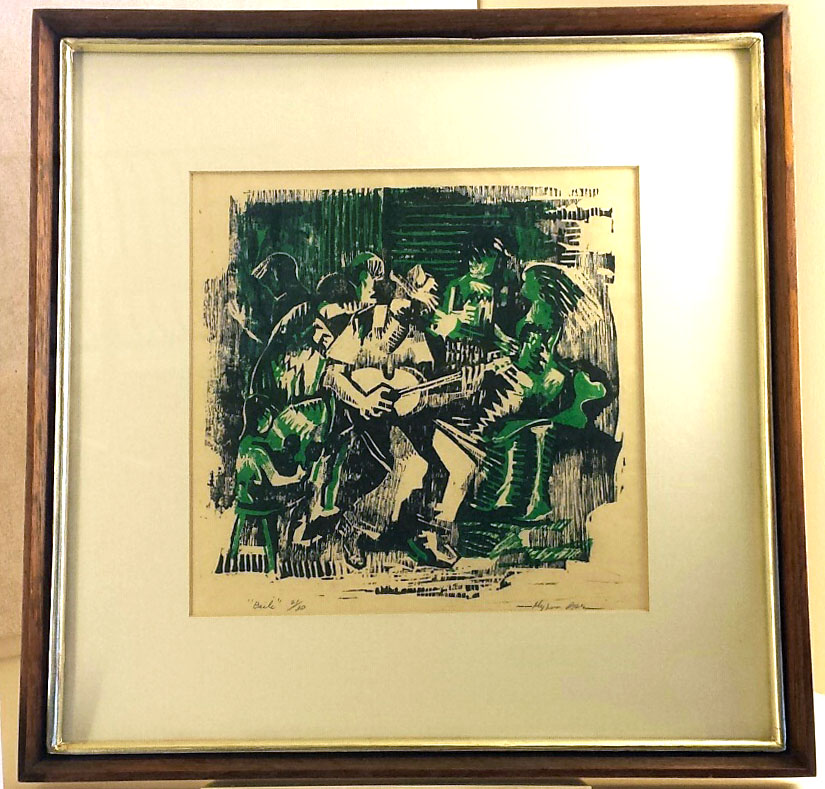 Myrna Báez (born 1931), Baile, 1963. Linocut and woodcut. Inspired by traditional Puerto Rican dance and music. Collection of Alma Concepcion and Arcadio Díaz-Quiñones.