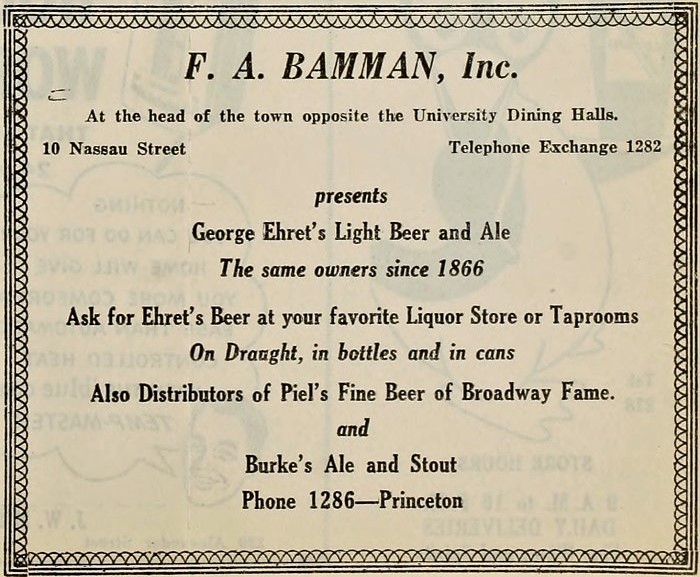 Daily Princetonian advertisement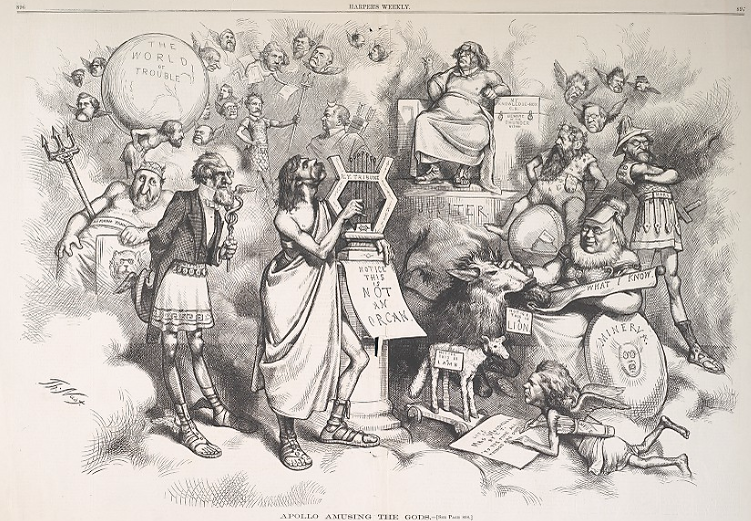 Thomas Nast (1840-1902), Apollo Amusing the Gods [on the far right-center, Senator Carl Schurz as Mars, god of war] published in Harper's Weekly November 16, 1872. Wood engraving. Graphic Arts Collection.
This weekend, I was asked "what did the German American politician Carl Schurz (seen here caricatured by Thomas Nast) and George Ehret, the owner of Hell-Gate Brewery, have in common?" The answer is love of the German Jewish poet Heinrich Heine (1797-1856), author of Die Lore-Ley.
These two men joined forces in the 1890s to form the Heine Monument Association to bring the Lorelei Fountain, designed by Ernst Herter (1846-1917) in honor of Heinrich Heine, to New York City. Commissioned for but rejected by the city of Dusseldorf, Heine's birthplace, Schurz and Ehret were confident they could raise the funds to move the 19-foot monument, sculpted in Tyrolean marble, to Grand Army Plaza in front of the Plaza Hotel, which was still under construction.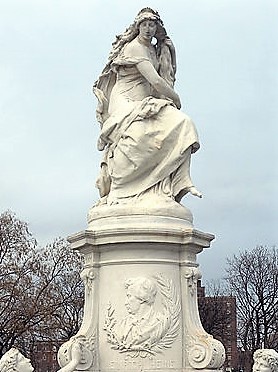 Funds were raised but the fountain was again rejected for this prominent site, next rejected by the city of Baltimore, and also rejected for a site on the north shore of Long Island. After several years in a warehouse, Heine's monument was finally installed at 161st Street and the Grand Concourse in the Bronx, a largely German Jewish community, and dedicated on July 8, 1899.
Unfortunately over the next few years vandals cut off the heads and arms of all three mermaids that sit in the fountain bowl symbolizing poetry, satire, and melancholy. In 1940 the marble was painted black and the fountain moved to the farthest end of the Joyce Kilmer Park, where it was further destroyed with graffiti, trash, and erosion. The city offered to renovate the park if the monument was removed but local activists refused to give it up.
After years of being almost unrecognizable, funds were raised to repair and restore the fountain. The base was hollowed out and that marble used to re-sculpt heads and other body parts for the mermaids. On its centenary in 1999, Heine's monument was rededicated in its original location, where it is enjoyed today.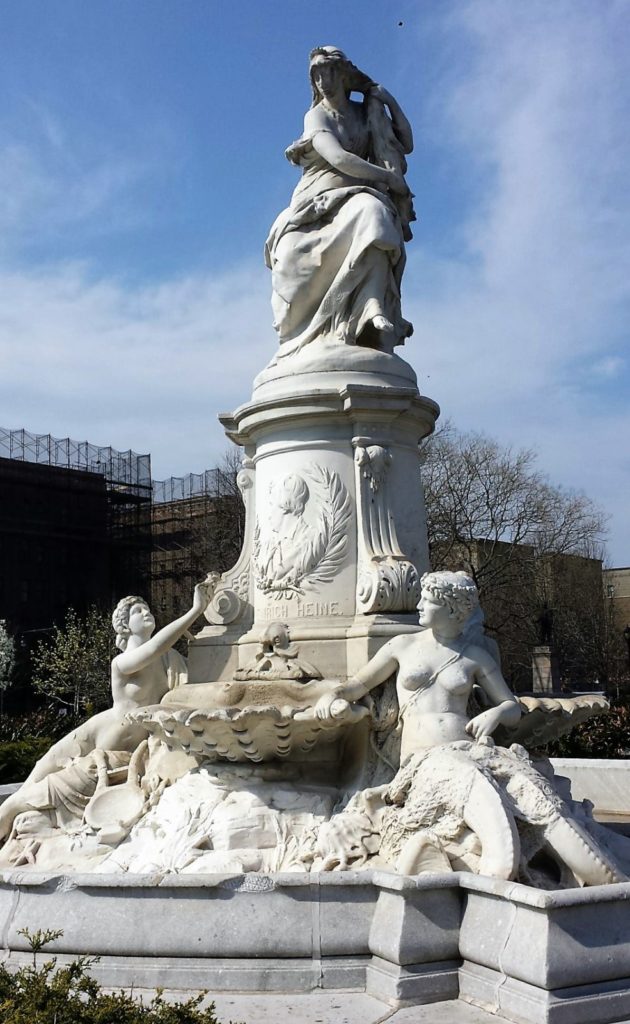 Loreley
translated by Tr. Frank 1998
I cannot determine the meaning
Of sorrow that fills my breast:
A fable of old, through it streaming,
Allows my mind no rest.
The air is cool in the gloaming
And gently flows the Rhine.
The crest of the mountain is gleaming
In fading rays of sunshine.
The loveliest maiden is sitting
Up there, so wondrously fair;
Her golden jewelry is glist'ning;
She combs her golden hair.
She combs with a golden comb, preening,
And sings a song, passing time.
It has a most wondrous, appealing
And pow'rful melodic rhyme.
The boatman aboard his small skiff, –
Enraptured with a wild ache,
Has no eye for the jagged cliff, –
His thoughts on the heights fear forsake.
I think that the waves will devour
Both boat and man, by and by,
And that, with her dulcet-voiced power
See also: http://cartoonresearch.com/index.php/paul-terrys-the-lorelei-1931/