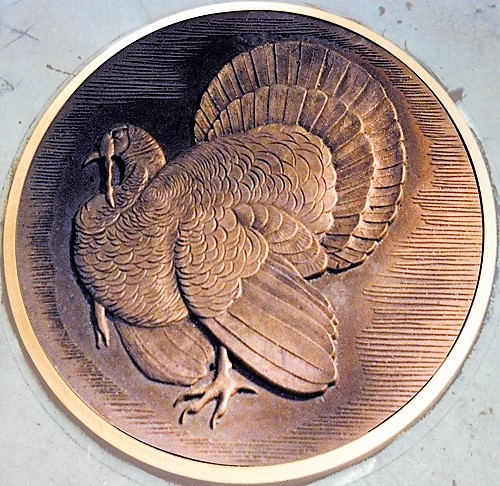 Within the Thomas Paine Park in lower Manhattan rests the historic Foley Square. Renovated and redesigned in the 1990s, architect R.G. Roesch laid five large bronze medallions (each seven feet in diameter) into the ground throughout the park, designed by Rebecca Darr and fabricated by Gregg Lefevre.
Completed in 2000, the five medallions represent: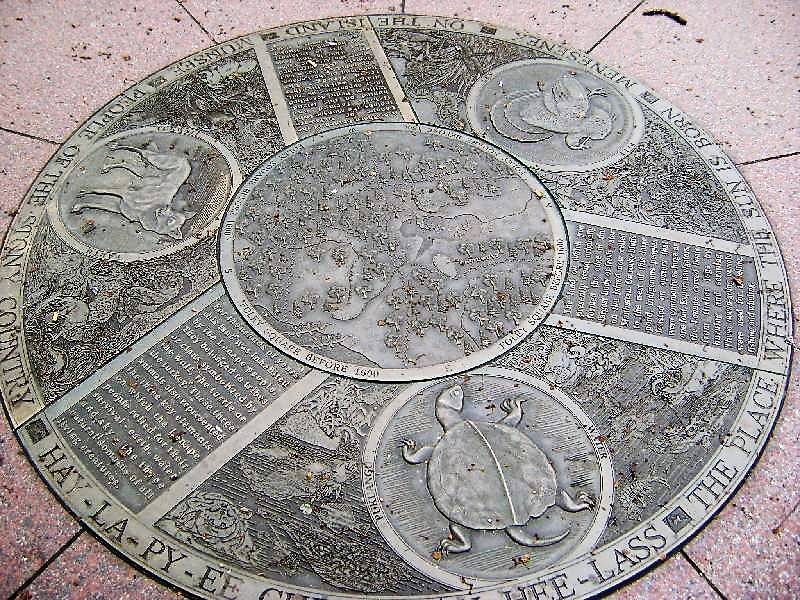 1. Before 1600: Lenape and Munsee Native Americans with three totem animals, the turtle, wolf, and turkey. According to author Will Grant, the Delaware People called Manhattan: Hay-la-py-ee-chen-quay-hee-lass or The Place Where the Sun is Born.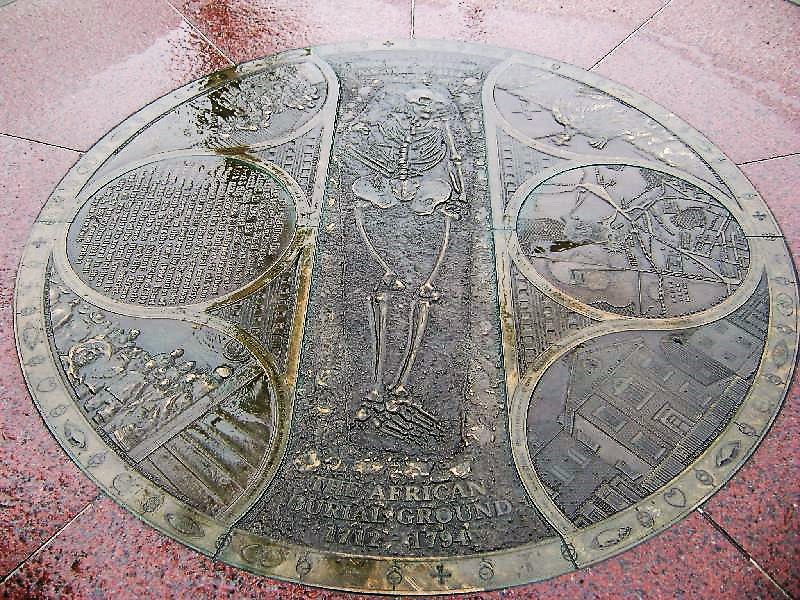 2. 1712-1794: The African Burial Ground with skeletons for Burial 336 and 354 of a mother and baby, along with the African Free School, Maya Angelou's "Still I Rise," and Adinkra symbols of Ghana.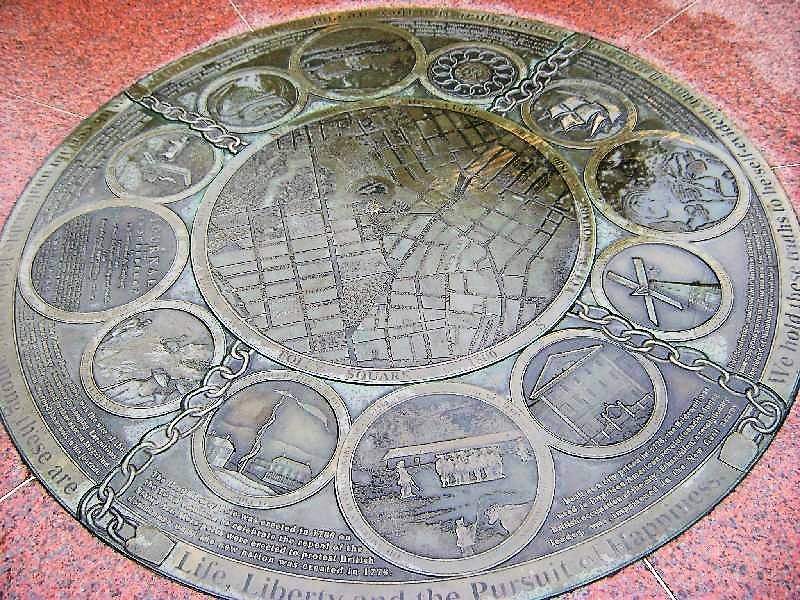 3.1700-1800: The Dutch presence and Dutch West India Company, Powder House for the city's gun powder, gallows built in 1742 during the so called Negro Plot Conspiracy to hang eighteen Blacks and three Whites, and Bridewell city prison for American revolutionaries during British occupation.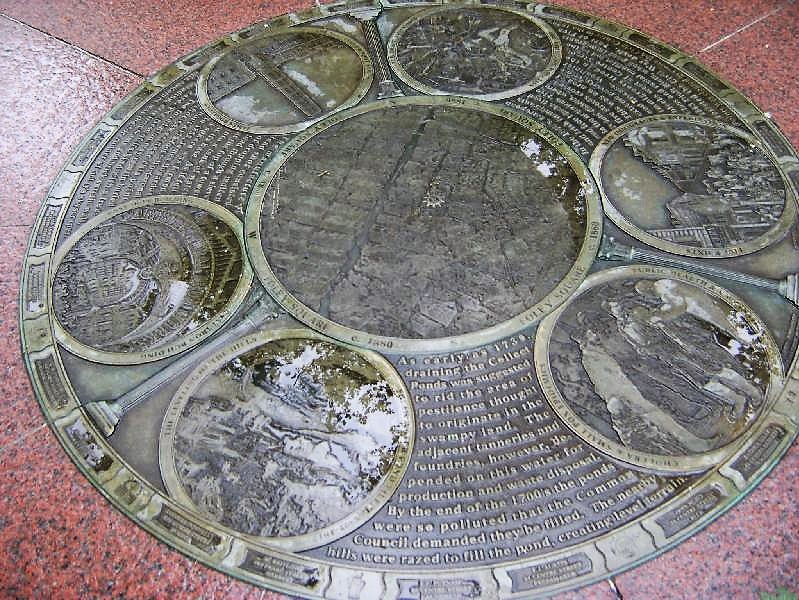 4.1800-1900: A shot tower for making lead cannon balls, the site of Collect Pond, which was leveled and filled in, and the dangerous Five Points neighborhood that housed new immigrants.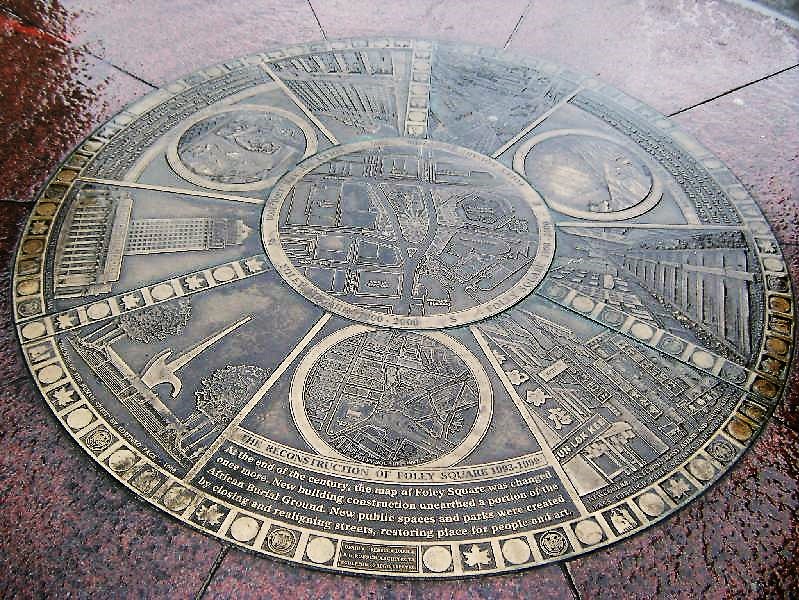 5. 1900-2000: Construction of the subway or Interborough Rapid Transit, building the Civic Center, unearthing the African Burial Ground, the reconstruction of Foley Square described above, and Lorenzo Pace's monument.
The African Burial Ground in New York City: Memory, Spirituality, and Space (Firestone Library F128.9.N4 F76 2015)
Rebecca Darr and R.G. Roesch, "Schematic of Medallions" Report of the New York City Department of Parks and Recreation, October 7, 1996.
Foley Square construction project and the historic African burial ground, New York, NY: hearings before the Subcommittee on Public Buildings and Grounds of the Committee on Public Works and Transportation, House of Representatives, One Hundred Second Congress, second session, July 27, 1992 (New York City, NY), September 24, 1992 (Washington, DC). Washington: U.S. G.P.O., 1992. Forrestal Annex – Documents Off-Site Storage Y 4.P 96/11:102-80