When Robert Brown asked Fritz Eichenberg (1901-1990) [left] about his dramatic book illustration, the artist answered,
"Well, it solves, also, my own problems. Some people have to take it to a psychiatrist or a psychoanalyst. I was able to use art as a kind of purifier, or as a kind of a safety valve for my own problems. Because to leave your so-called "native country" and come into a completely new civilization and adjust yourself to it – raise children here – presents a problem which is not insurmountable. But it's psychologically difficult. You don't want to be a rebel in your new country. You want to show your gratitude, in a way. You also try to do your share to improve conditions wherever they can be improved by your knowledge, or by your work, or by your contribution to society. And, I think, through my work, I could reach people, which has always been very important to me. …

…Man is a very fragile being. He does his best to corrupt the environment in which he lives. We have now the problems of pollution and nuclear energy and we have gone through a disastrous war. We lost more than the war. We lost our integrity and our standing in the world to a large degree. Whatever I could do as a kind of conciliator coming from the other side I tried to do.

…And since I have been lucky enough to be commissioned to do the imagery accompanying the works of great writers, it makes me a kind of a mediator – a kind of interpreter – a visual interpreter – and has helped many people to read Dostoyevsky who've never read Dostoyevsky before. Or the Brontes. Jane Eyre and Wuthering Heights are probably the most popular books I have done.
–Smithsonian Archives of American Art Oral history interview with Fritz Eichenberg, 1979 May 14-December 7. https://www.aaa.si.edu/collections/interviews/oral-history-interview-fritz-eichenberg-12736#overview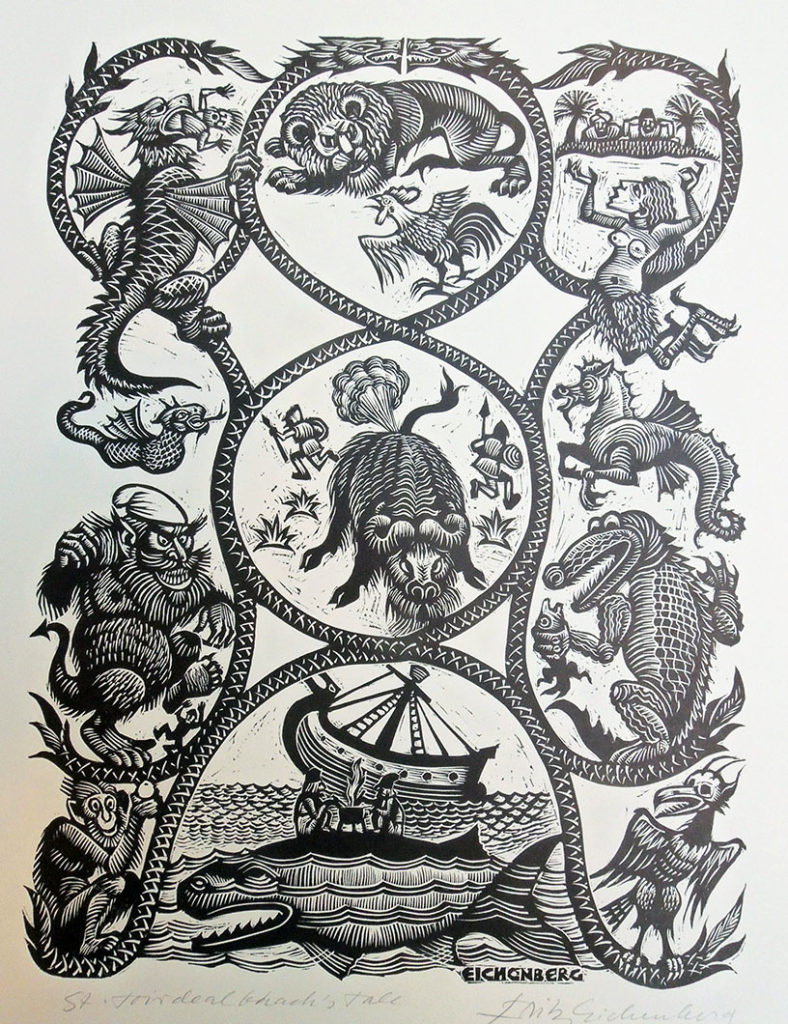 St. Toirdealbhach's Tale (from The Once and Future King)
Thanks to the friendship between former Graphic Arts Curator Dale Roylance and Eichenberg, Princeton holds complete proof sets for most of the wood engravings Eichenberg printed as book illustrations. This includes the unpublished illustrations planned for an edition of T.H. White (1906-1964), The Once and Future King (New York: Collins, 1939)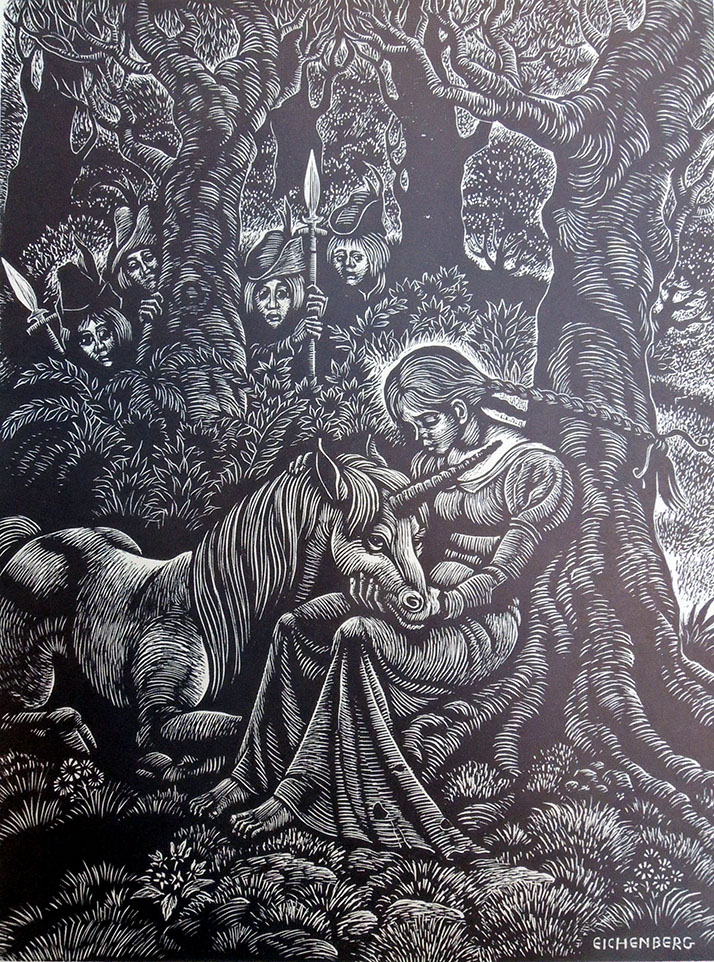 The Maid and the Unicorn (from The Once and Future King)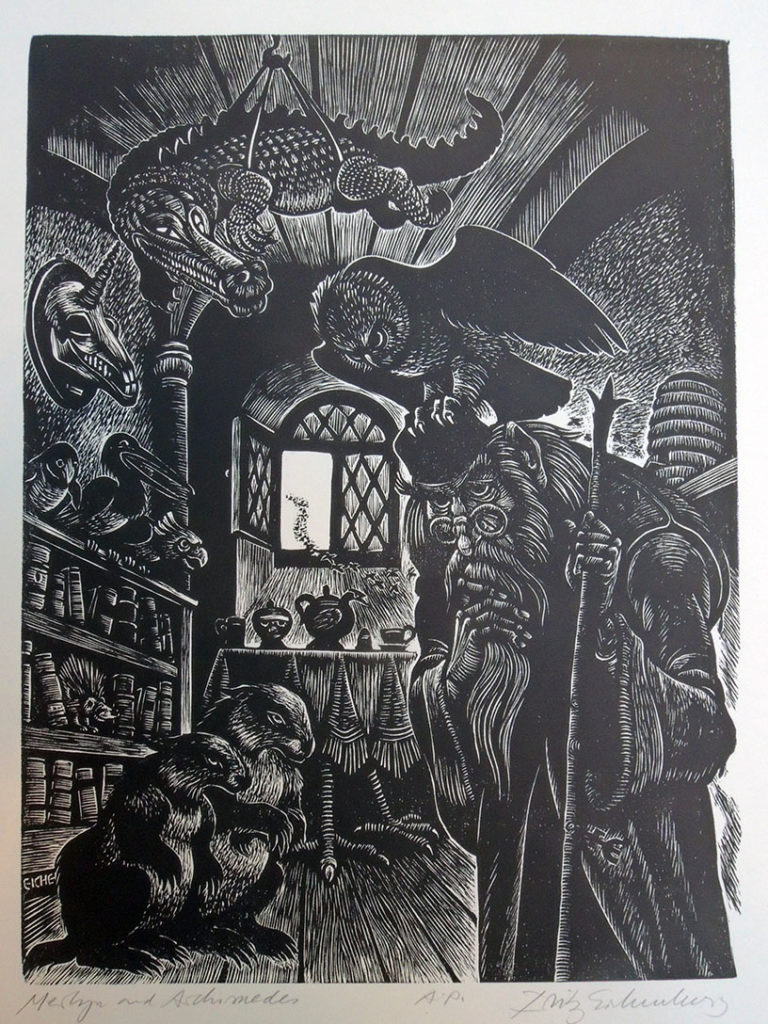 Merlyn and Archimedes (from The Once and Future King)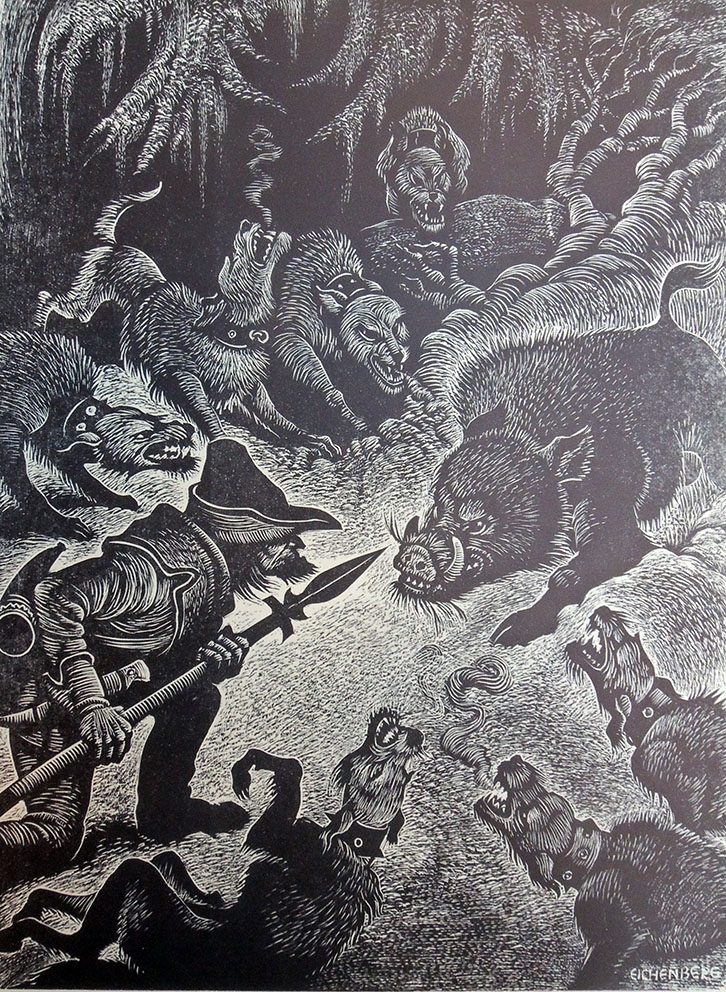 The Boar Hunt (from The Once and Future King)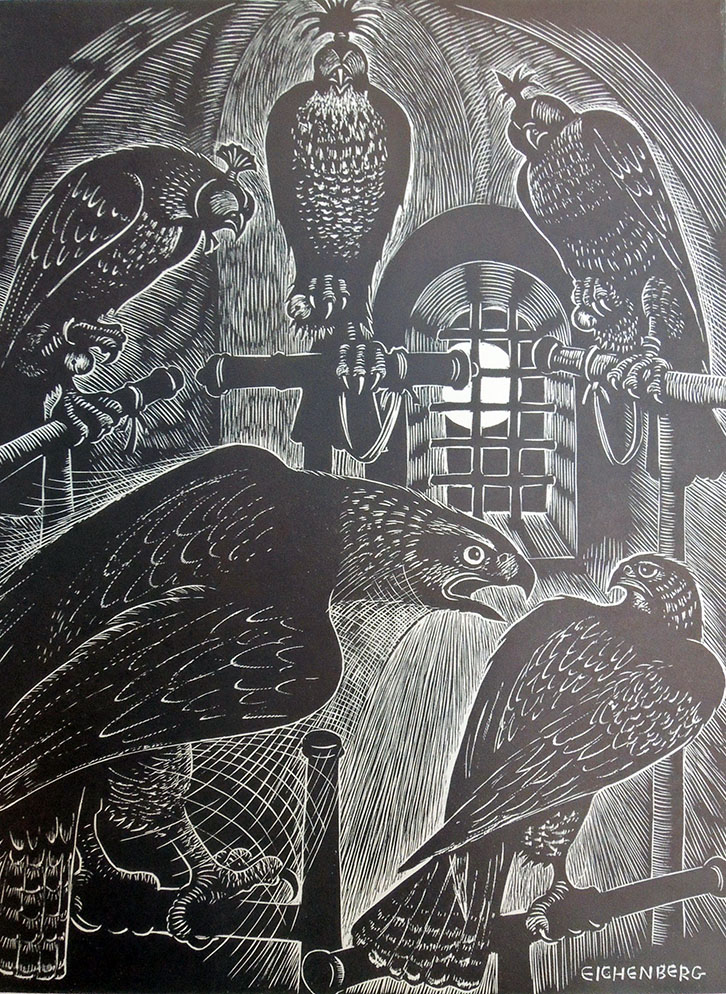 The Wart and the Hawks (from The Once and Future King)