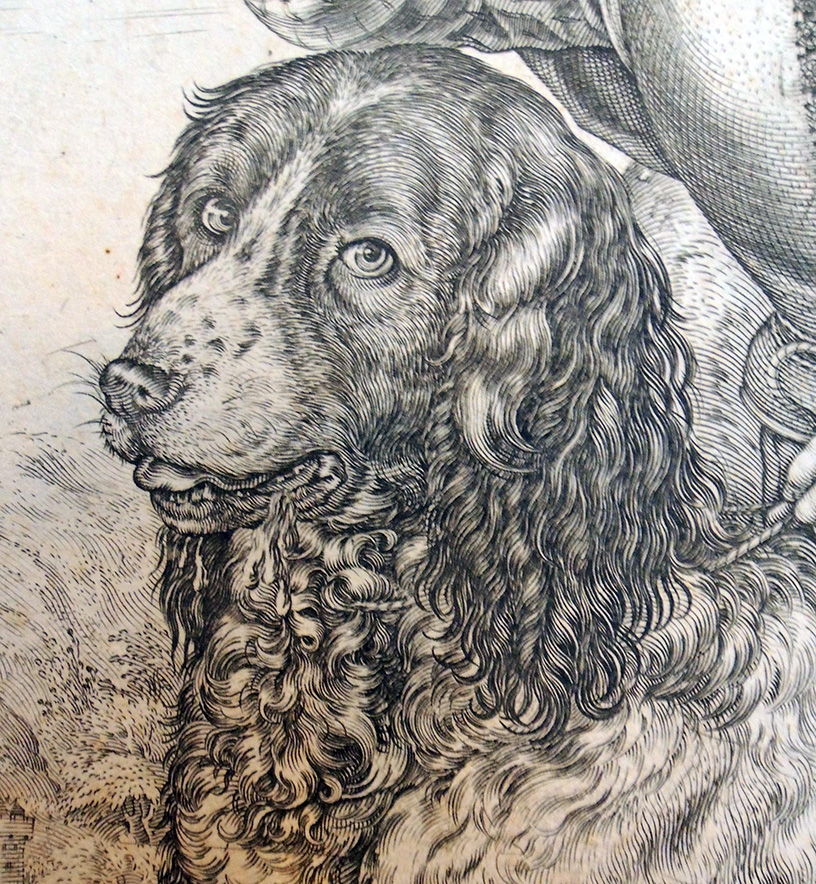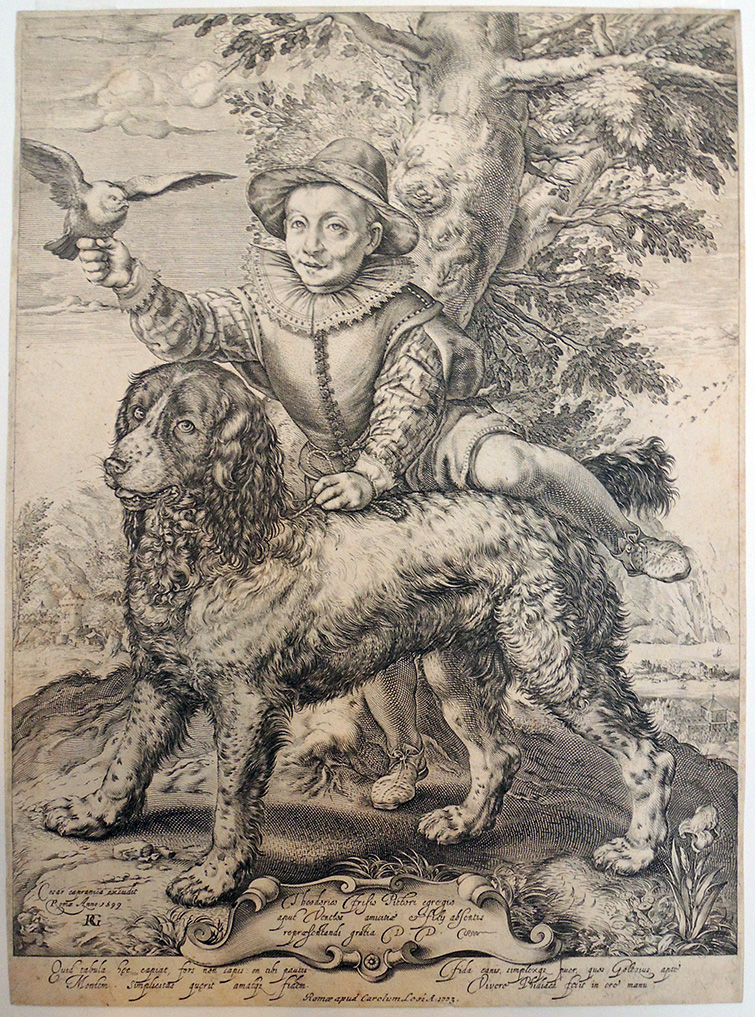 Anonymous artist after Hendrick Goltzius (1558-1617), Frederick de Vries with Goltzius' Dog, 1773, original 1597. Engraving. Bartsch 59.190; Hollstein 218; New Hollstein 256; Strauss 344. Bottom center "Theodorico Frisio Pictor egrogio / aput Venetos amicitiæ et filij absentis / repræsentandi gratia D.D." Graphic Arts Collection Dutch/Netherlandish prints
The Graphic Arts Collection holds a reprint of one of Hendrick Goltzius's most famous engravings, depicting Frederick de Vries, the son of the Venetian painter Theodore Frisius (to whom the print is dedicated), climbing onto Goltzius's dog holding what has been called either a dove or a falcon. The dog has been identified as a Drentsche Patrijshond, a spaniel-type hunting dog from the Dutch province of Drenthe. In English, we say Dutch Partridge Dog (or "Drent" for Drenthe).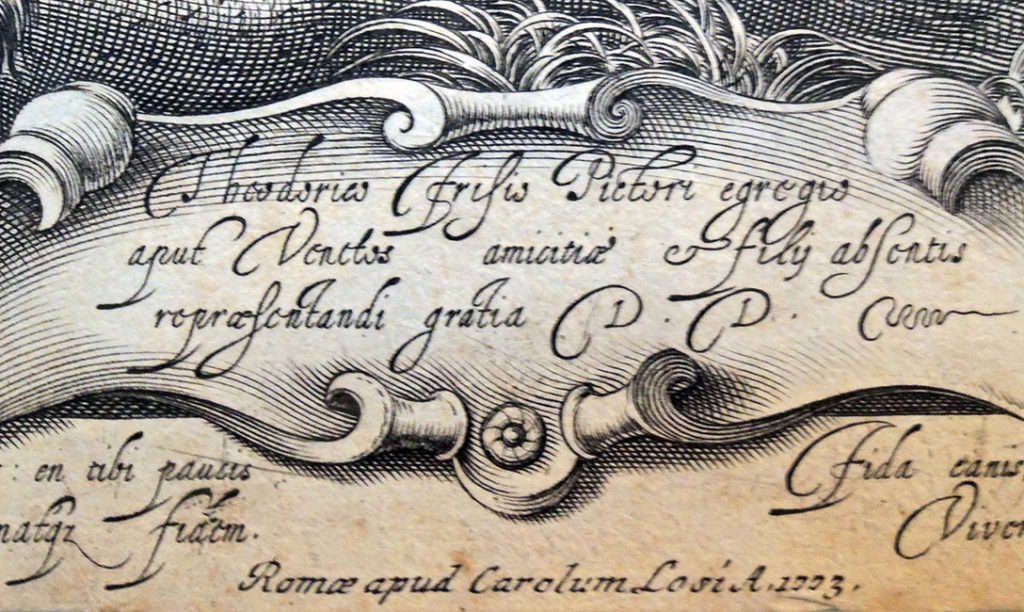 The Princeton University Art Museum holds a copy of the original engraving, completed in 1597, while ours is clearly labeled bottom center: "Romae apud Carolum Losi A. 1773." This is the signature of bookseller and publisher Carlo Losi (active 1757-after 1805) whose shop was located at "via Condotti, presso il Palazzo dei Cavalieri di Malta, Rome." According to the British Museum Losi reprinted popular 16th and 17th century engravings, having "almost no interest in new plates of topography, portraits or contemporary artists." There is a catalogue of his stock in 1775 in Metropolitan Museum of Art and his stock of 1788 in Vatican. See also Veronica Federici, 'Carlo Losi editore ai Condotti', in Giovanna Sapori (ed.), Il Mercato delle Stampe a Roma XVI-XIX secolo, Rome 2008, pp.95-115.
See the impression at the Princeton University Art Museum: https://artmuseum.princeton.edu/collections/objects/47454
This Dutch Partridge Dog appears often in Goltzius's drawings and engravings. Here are two more: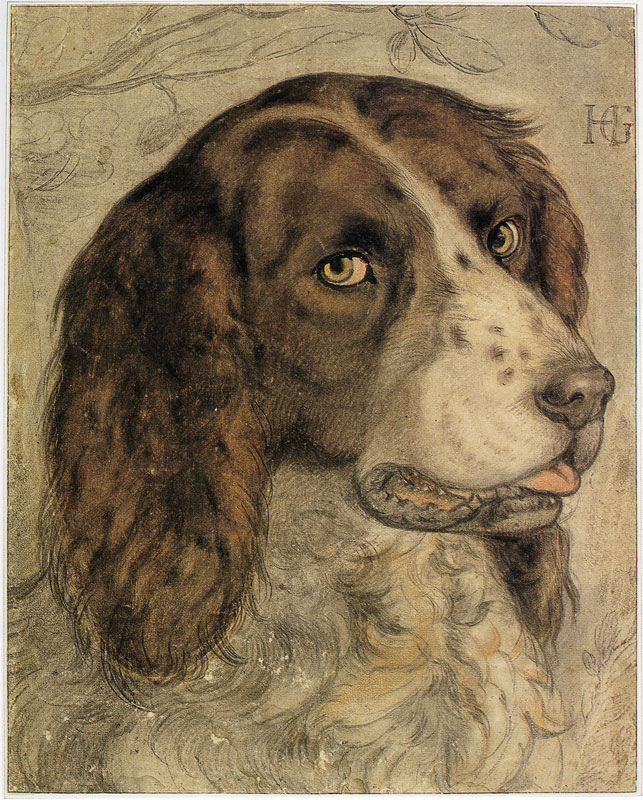 Hendrick Goltzius, Goltzius's Dog, ca. 1595-1600. Black, brown, red and yellow chalk, brush in brown and black ink. Teylers Museum, Haarlem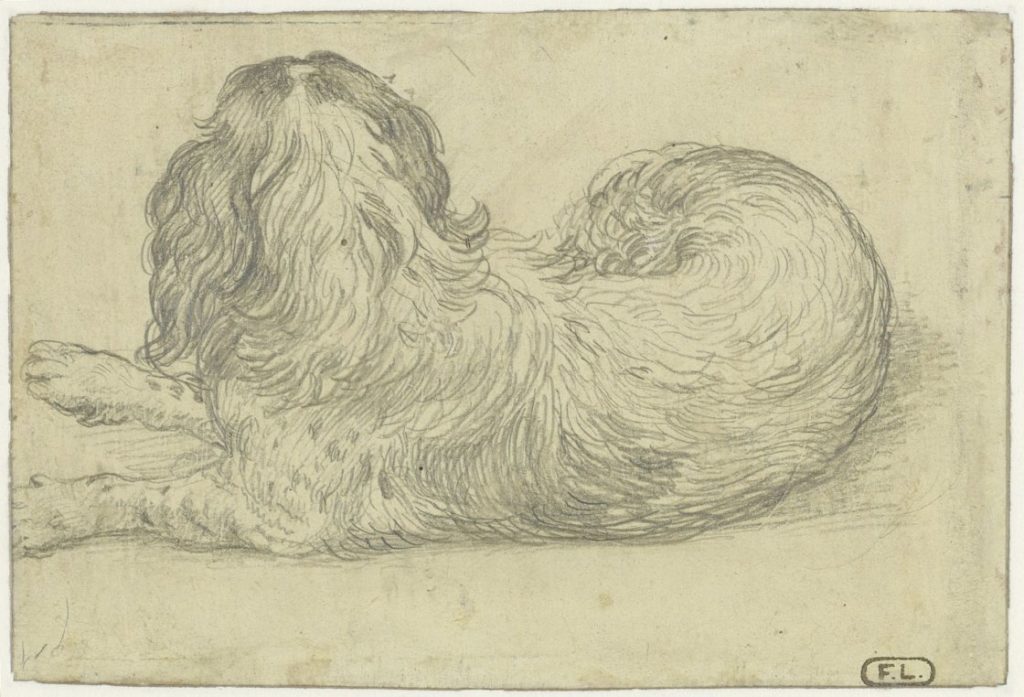 Hendrick Goltzius, Sleeping Dog; verso: Study of the Same Dog, Seen from the Back, c. 1596. Metalpoint and graphite. Fondation Custodia / Collection Frits Lugt