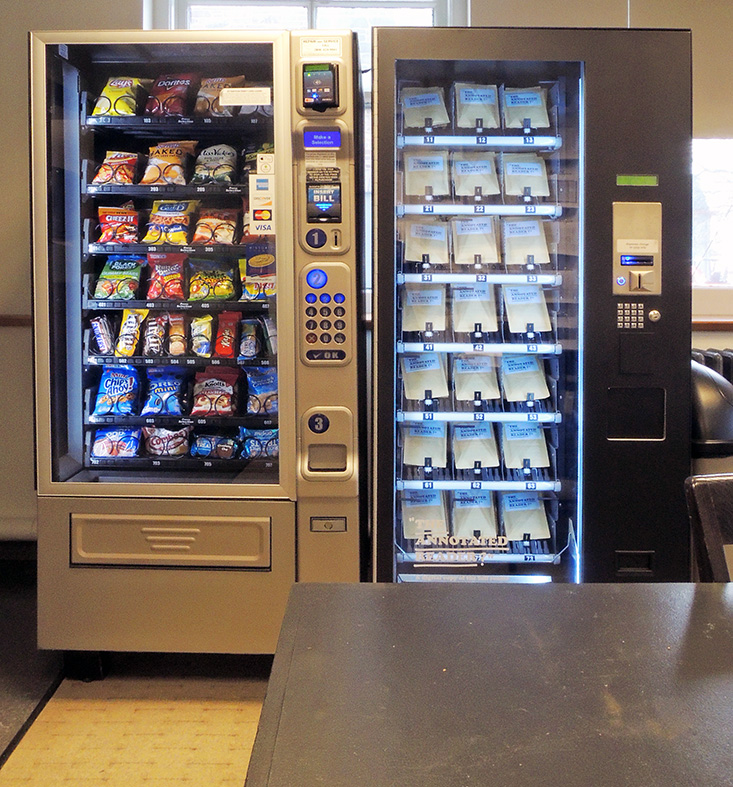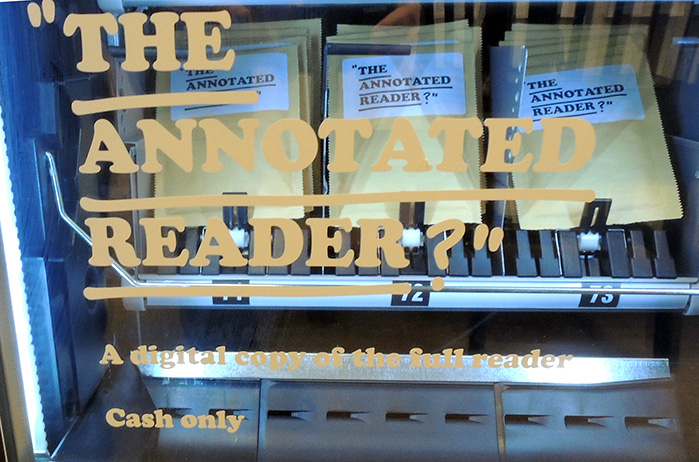 From now until February 28, 2020, the lounge at 185 Nassau Street, Lewis Center for the Arts, has "slipped into a reading lounge. Sitting next to the existing vending machine with snacks is its fraternal partner, 2019-20 Hodder Fellow Ryan Gander's vending machine containing USB sticks of over 300 annotated essays. Collected together to form a library for our times, The Annotated Reader project includes texts of almost 300 contributors including the Faculty in Visual Arts. Is there one piece of writing that you would want with you for company in the small hours? All are welcome to come sit and read."
https://arts.princeton.edu/events/the-annotated-reader/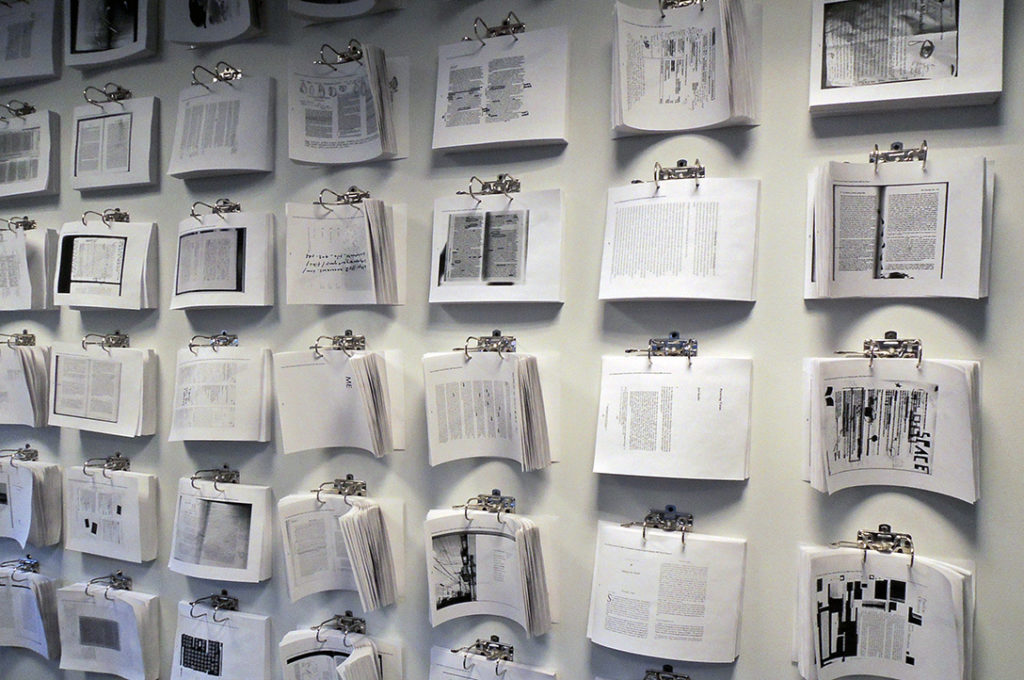 Unlike his art vending machine that dispensed random artworks for a £500 fee during the London Frieze arts fair last fall, the Princeton vending machine only costs $1.00 for a complete book. The art machine contained a total of 125 items, including stones that Gander has collected with his children, as well as cast versions of some of the most widely used and affordable digital watches.
"The rest of the installation [at Frieze] includes paintings and a book, which is a version If on a Winter's Night a Traveler, a 1979 novel by Italian writer Italo Calvino, that Gander has re-typed using a typeface of his own invention that no one can read, in which the letters are replaced by shapes of stones–the same stones that can be obtained from the vending machine. The paintings are enlarged pages from the book, printed using the illegible stone typeface, then annotated over by the artist with black ink. 'I repeated the annotations over them with a large calligraphy brush. They become a form of censorship, it makes them illegible in a way. But through that process they become an abstract, expressionist motif of what art is,' he said. 'The book is published. We will distribute these unreadable books in hospitals, prisons, hotels, lighthouses — places that have time abundance and attention abundance,' he continued, adding that he's replaced the bible in the hotel room up for grabs with a copy of the book.—Jacopo Prisco, CNN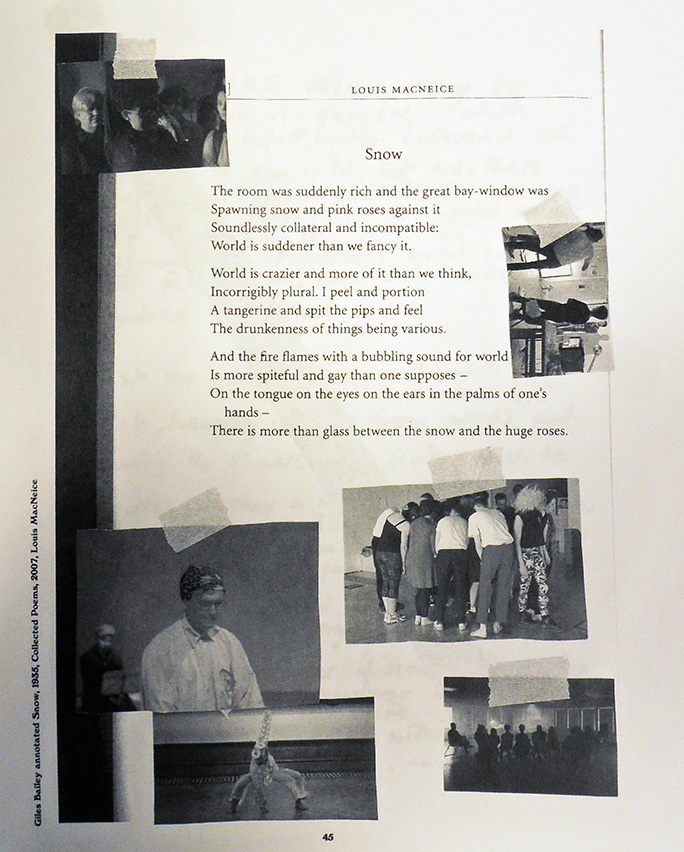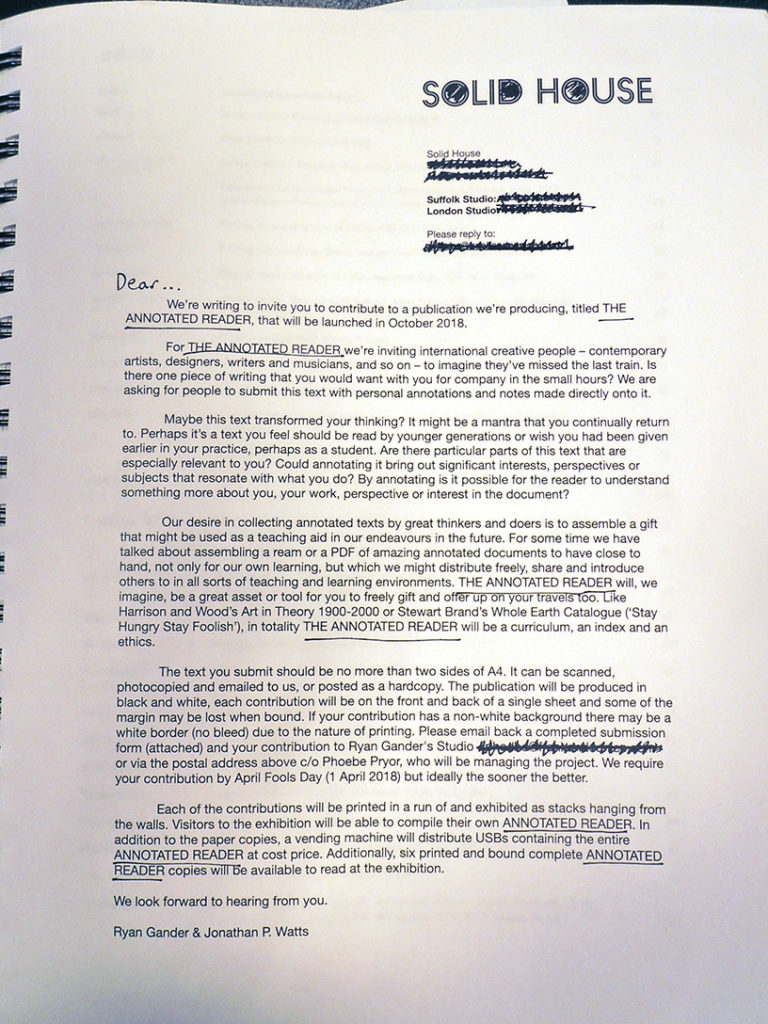 Gander currently lives and creates in London and Suffolk, visiting Princeton periodically during his fellowship year. His work encompasses graphic design, installation, performance, and more, and he has garnered international attention as he challenges notions of knowledge, language, and understanding. He is drawn to the contradictions in paradoxes and the ambiguity of life. His work often unites the mundane and commonplace with the aberrant and extraordinary.

His recent solo shows include exhibitions at Esther Schipper in Berlin, The National Museum of Art in Osaka, Hyundai Gallery in Seoul, Contemporary Art Gallery in Vancouver, and Manchester Art Gallery in Manchester. His most recent publications include The Boy That Always Looked Up, Picasso and I, and the monograph Culturefield. He has been presented with the 2007 Paul Hamlyn Award for Visual Arts, the 2006 ABN AMRO prize of the Netherlands and the 2009 Zürich Art Prize.

Gander studied at Manchester Metropolitan in the U.K., Rijksakademie van Beeldende Kunsten and the Jan van Eyck Akademie, both in the Netherlands. He has been a visiting lecturer at a number of European art schools throughout the continent. He was also awarded Doctor of Arts of the Manchester Metropolitan University and Honoris Causa for his efforts in academia.—https://arts.princeton.edu/news/2019/11/screening-of-me-my-selfie-and-i-followed-by-talk-with-artist-ryan-gander-presented-by-lewis-center-for-the-arts-program-in-visual-arts/