The Judging Committee of the 2019-2020 Elmer Adler Undergraduate Book Collecting Prize is pleased to announce this year's winners. We are departing from our tradition of publicizing the result of the annual essay contest over a large group event, where student winners join the Friends of the Princeton University Library at its spring dinner meeting. The gathering, originally scheduled for April 19, was cancelled due to the COVID-19 pandemic, and Princeton students have been sent home and dispersed around the world. As chair of the Judging Committee, I (Minjie Chen) used to prepare for the ceremony by finding colleagues who could teach me how to pronounce winners' names. This year I am spared this little routine as well because the announcement will appear in writing only.
The 2019-2020 Adler Prize is awarded to three student collectors who, in the opinion of the judges, have "shown the most thought and ingenuity in assembling a thematically coherent collection of books, manuscripts, or other material normally collected by libraries." Thanks to the generosity of the Princeton University Press, the Judging Committee has selected books to be presented as part of the prize. They are sitting in the Firestone Library and waiting until it reopens to be shipped to students. Each of the winners will also receive a certificate from the Dean of the College.
Instead of the group photo of the winners we planned to take and post here, we asked students to share their photos with us, and they responded with both words and pictures. I heard from one of the students, Tan Shanker, that he had had the harrowing experience of testing positive for COVID-19 but, to my great relief, fully recovered. The extraordinary story of his abundant vigilance and steely self-discipline in breaking the chain of infection even made it to the Gulf News.
We have two tied winners of the SECOND PRIZE.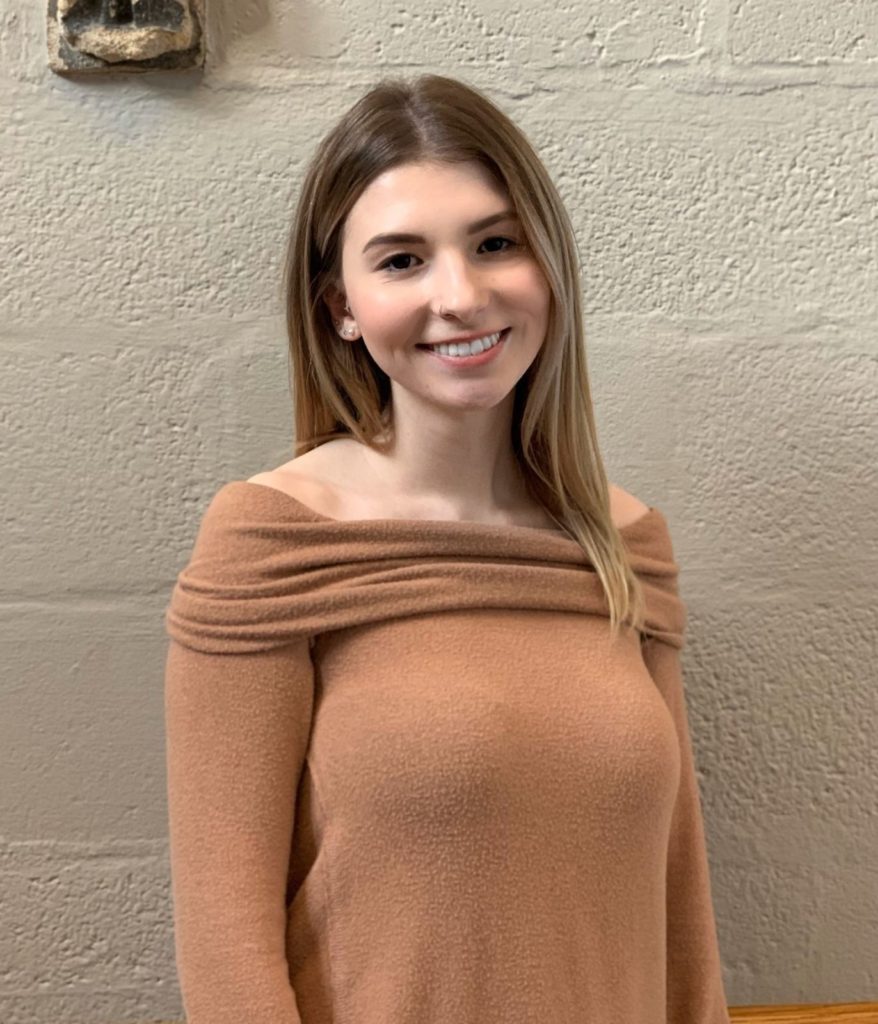 (Photo courtesy of Mikaylah Ladue)
Mikaylah Ladue, Class of 2020, wins for her essay, "Raw and Unfiltered: The Creation of a Book Collection." Ladue, of Levittown, Pennsylvania, is concentrating in anthropology with specialization in legal, political, and economic anthropology and earning certificates in both Gender and Sexuality Studies and Latin American Studies.
Ladue curates an eclectic collection of books, the organizing principle of which, as she argues, is meaningfulness to who she is. Her collection encompasses a range of genres and subjects, each representing a different phase of her life so far. An avid collector, Ladue wrote that she has "never left a bookstore empty-handed." To complement her growing collection and her passion for Dostoevsky's works, we selected for her a copy of Joseph Frank's Dostoevsky: A Writer in His Time (regarded as the best biography of Dostoevsky in any language, including Russian). Ladue receives a prize of $1,500 in addition to the book.
(Photo courtesy of Kaveh Badrei)
Also awarded second prize is Kaveh Badrei, Class of 2020, for the essay, "Stewardship of the Stranger: A Collection of Albert Camus." Badrei, from Houston, Texas, majors in the Woodrow Wilson School of Public and International Affairs with a focus on human rights, international law, and transitional justice. He is earning certificates in History and the Practice of Diplomacy as well as French Language and Culture, for which he has conducted independent work analyzing the role of nature and the harvest in the works of Albert Camus.
Badrei, too, explores the meaning of life through his collection. Ever since first encountering Camus's writing in high school, he has been drawn to the French Algerian philosopher's ideas, finding solace, connection, and inspiration in his works and discovering layers of meaning increasingly aligned with Badrei's professional and personal endeavors. To his collection of thirty books—actively read, marked up, and sometimes mended—we will add a copy of Camus at Combat: Writing 1944-1947, translated by Arthur Goldhammer (the first complete English edition of the 165 articles and editorials Camus published in Combat). Badrei receives a prize of $1,500 in addition to the book.
FIRST PRIZE goes to Tanishk (Tan) Shanker, Class of 2020, for his essay, "My Two Cents: A Coin Collector's Perspective on Exploring the World." Shanker hails from Dubai, United Arab Emirates. He majors in Operations Research and Financial Engineering and is pursuing four certificates—in Finance, Applications of Computing, Engineering and Management Systems, and Statistics and Machine Learning.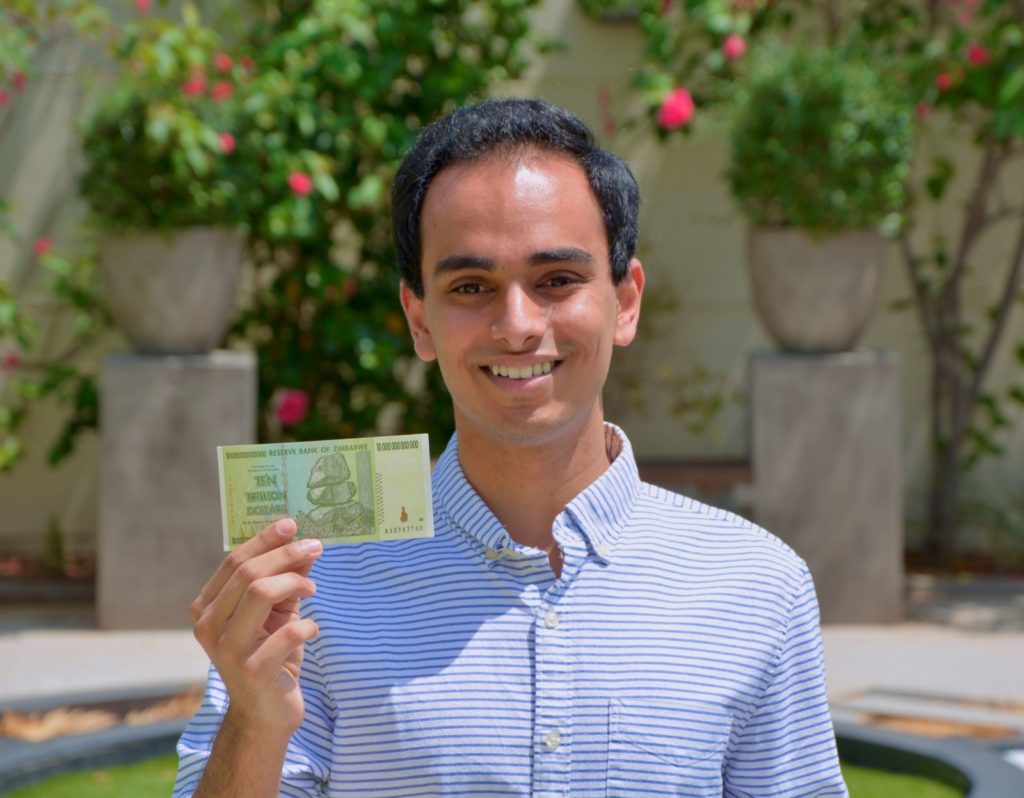 Shanker holds a ten-trillion-dollar Zimbabwean bill, which, due to hyperinflation in 2009, was worth less than five US dollars. Photo courtesy of Tan Shanker, taken after he recovered from the coronavirus and shaved his "quarantine beard."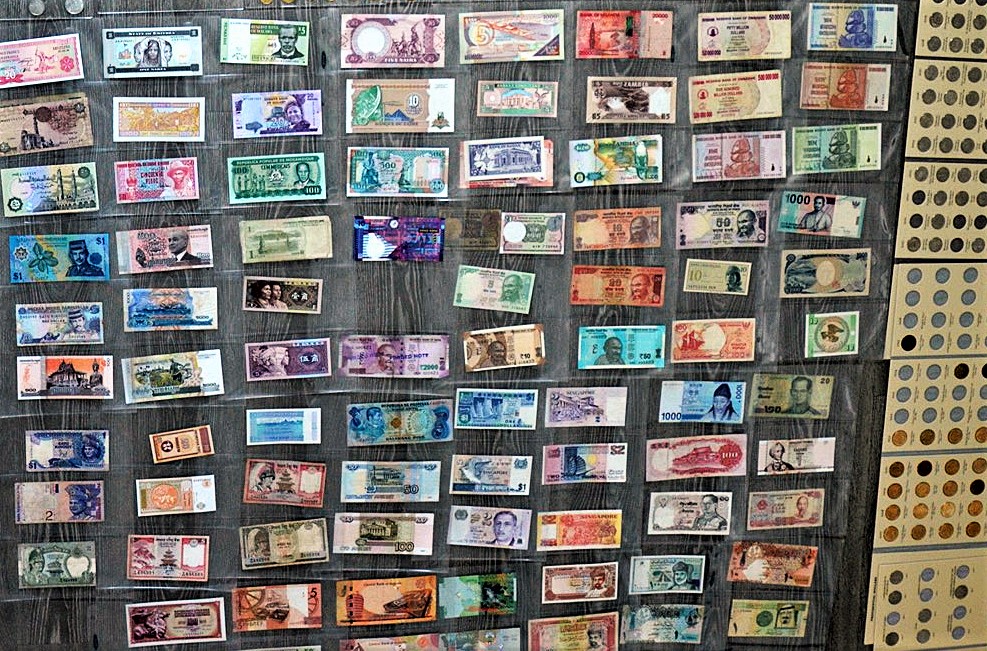 Some of the banknotes and coins from Shanker's collection. (Photo courtesy of Tan Shanker)
Shanker is an unusually precocious collector, whose obsession with coins was manifest as early as the tender years of toddlerhood, earning him nicknames like "Magpie" and "Little Metal Detector." His essay takes us along a journey that spanned five countries—India, Singapore, New Zealand, United Arab Emirates, and the United States—and began with visits to his Indian grandfather, who had accumulated coins from India's various empires. Shanker inherited both his grandfather's collection and his intellectual curiosity about the history of coinage. Shanker's essay deftly interweaves several themes: how he grew as a collector, how he matured as a person (his parents cleverly "exploited" his passion, tying it to math lessons and using it to discipline adolescent behavior), and how coins taught him about the nature, history, economics, art, culture, and religion of various nations and regions.
Shanker is awarded $2,000 and the book, Coins, Bodies, Games, and Gold: The Politics of Meaning in Archaic Greece, by Leslie Kurke. His essay will represent Princeton in the National Collegiate Book Collecting Contest organized by the Antiquarian Booksellers' Association of America.
Thanks go to the Princeton University Press for its book donations and to Lyndsey Claro, Chief of Staff at the Press, for kindly facilitating the process.
Thanks also go to the following judging committee members, who engaged in a pleasantly intense debate over the essay submissions back in the days when a lunch meeting was a perfectly acceptable activity:
Alfred Bendixen, Professor of English;
Claire Jacobus, member of the Friends;
Emma Sarconi, Reference Professional for Special Collections;
Jessica Terekhov, Student Friends member;
John Logan, Literature Bibliographer;
Julie Mellby, Graphic Arts Librarian; and
Minjie Chen, Metadata Librarian (Chair)
Thanks to all of the contest participants and congratulations to our three graduating senior winners!
–Minjie Chen