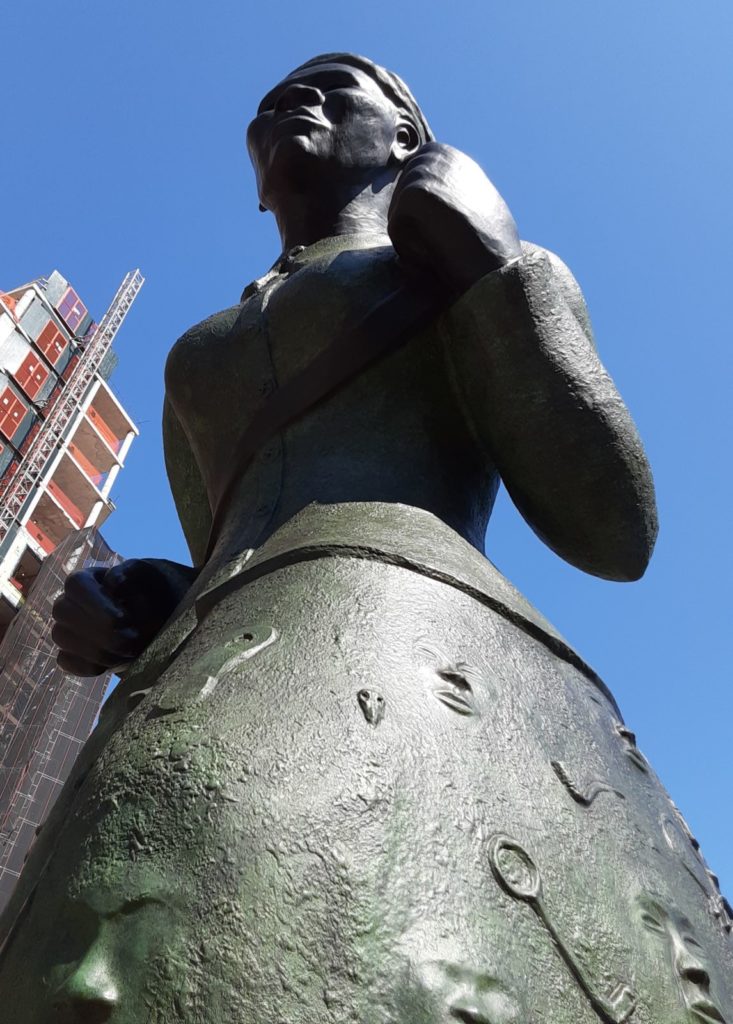 Back in 2008, Alison Saar was commissioned to create "Swing Low," a two-tone bronze statue of Harriet Tubman (died 1913) in a traffic island at West 122nd Street, St. Nicholas Avenue, and Frederick Douglass Boulevard in Harlem. Thirteen feet tall, the memorial shows Tubman striding fearlessly forward despite roots pulling on the back of her skirt. The base illustrates moments from Tubman's life, alternating with traditional quilting symbols.
"Harriet Tubman is shown with the force of a locomotive coming on full steam with the ruffle of her petticoat acting as a cattle guard to push all resistance aside. Artist Alison Saar designed stylized portraits of "anonymous passengers" of the Underground Railroad in Tubman's skirt, some of which were inspired by West African "passport masks." Around the granite base of the monument are bronze tiles alternately depicting events in Tubman's life and traditional quilting patterns. Trailing behind Tubman's skirt are roots which symbolize the pulling up of roots by the slaves and all they had to leave behind and Tubman's uprooting of the slavery system itself."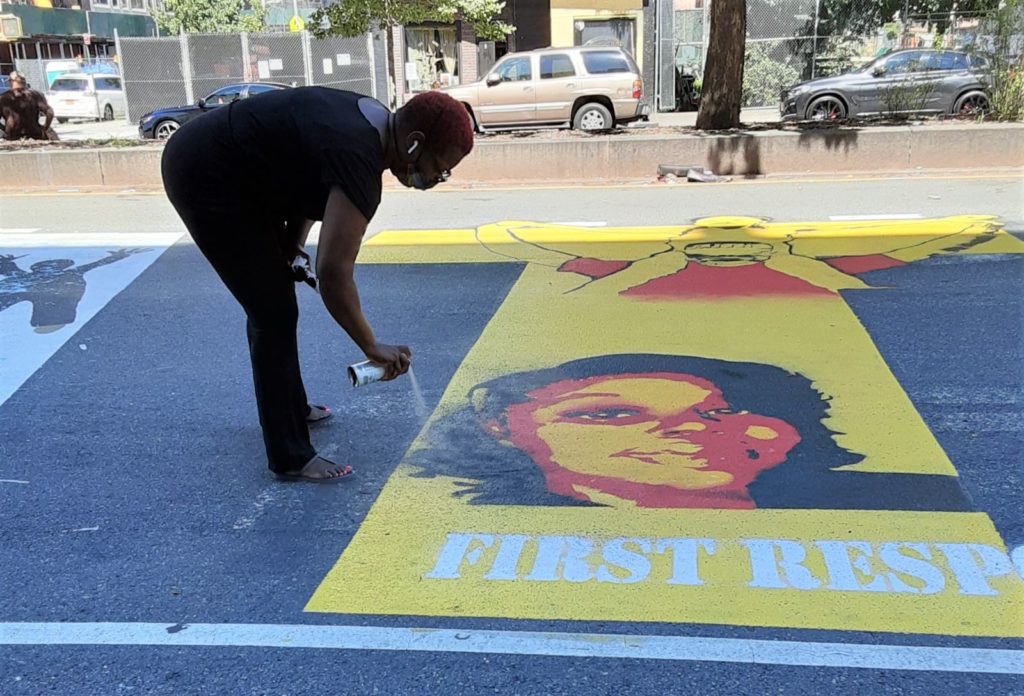 Dianne Smith touching up her piece of the Harlem Black Lives Matter mural.
A Black Lives Matter mural, with letters painted in both directions on Adam Clayton Powell Jr. Boulevard from 125th to 127th Street, was designed and completed by local community residents, apart from the six other murals painted across New York City's five boroughs by Department of Transportation workers.
The artists are also cleaning and repairing it each day. Seen above is Dianne Smith who is responsible for the two Ts, incorporating the faces of Sandra Bland, Breonna Taylor, and George Floyd's daughter along with text by James Baldwin. Other artists who contributed designs for the mural include LeRone Wilson, Jason Wallace, Omo Misha, Guy Stanley Philoche, LesNY Felix, Thomas Heath, and Joyous Pierce.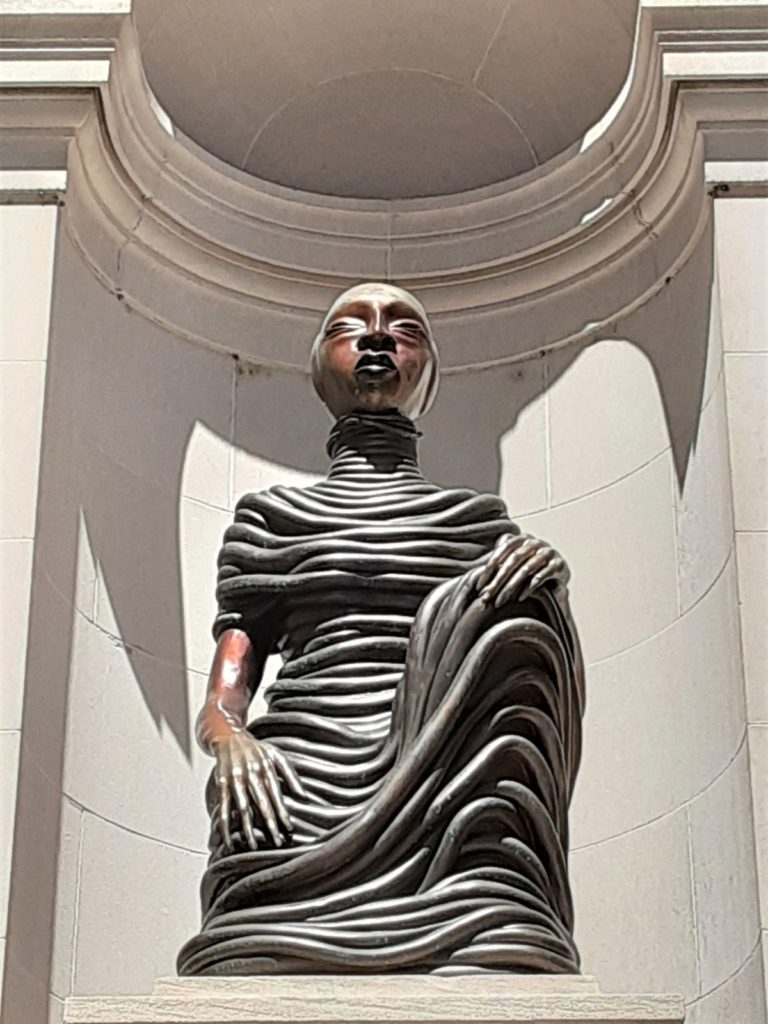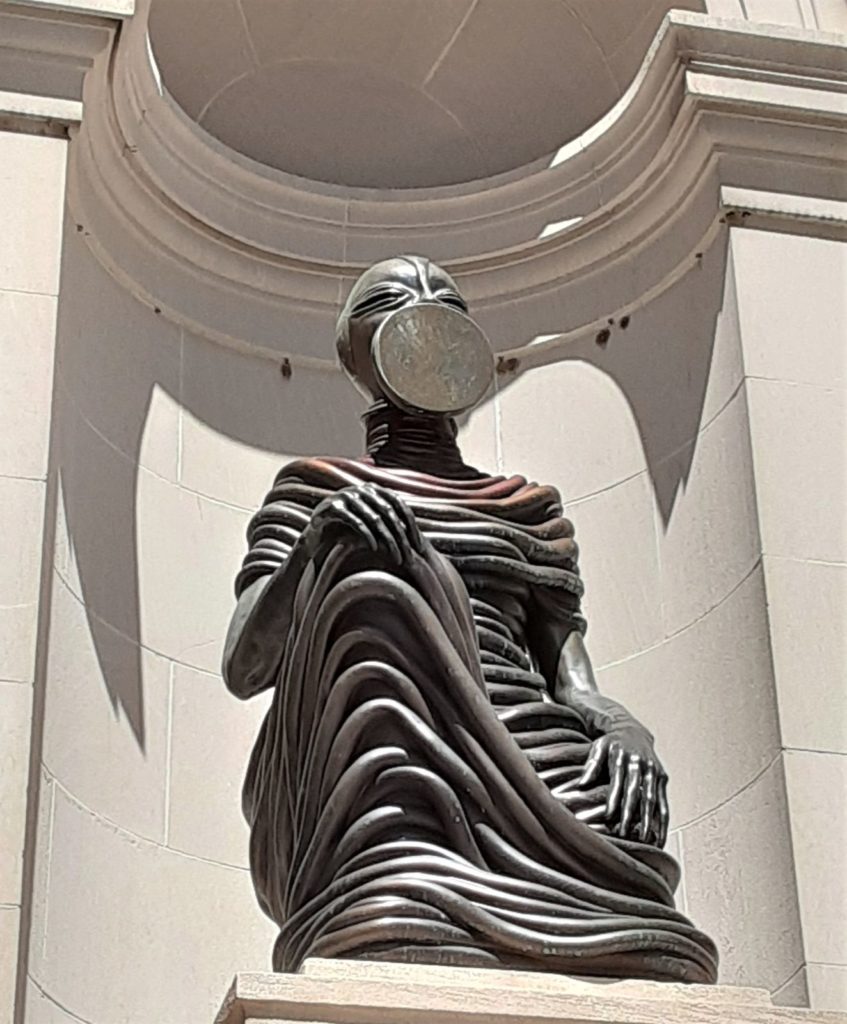 Although the Metropolitan Museum of Art remains closed until the end of the summer, visitors can still enjoy Wangechi Mutu's "The NewOnes, will free Us," four bronze sculptures mounted in the building's 5th Avenue façade. This is the first time works of art have been placed in the four niches and when Mutu's temporary exhibit is over, another artist's work will take its place.
Born in Nairobi, Kenya, Mutu trained in sculpture at Yale University, from which she received her MFA in 2000. Her work often references modern and classical mythologies, while they conflate histories and traditions of Africa and Europe. For "The NewOnes," she was invited to establish a dialogue between "the artist's practice and our physical Museum, its collection, and our visitors. …Mutu took this traditional function and turned it on its head. Here, the caryatids have been liberated from their supporting role: these magnificent, commanding figures assert their power and independence, and directly engage with all who visit the Museum."
"Luminescence" by Nobuho Nagasawa, is one part of the newly constructed Hunter's Point Park in Long Island City, Queens. The installation of seven cast concrete domes represent the seven phases of the moon, using white Portland cement integrated with phosphorous particles, pigment, and reflective silicon carbide grains. Best seen at sunset when Nagasawa's moon's begin to glow as the evening approaches.
"In the field of public art, Nagasawa completed more than thirty public art and intervention projects with successful interdisciplinary collaborations with architects and engineers internationally. They include civic projects such as city halls, government plazas, research laboratories, libraries, greenways, and transportation infrastructure. They range in scale from a 3000-foot long state highway retaining wall and large sculptures integrated within the architecture and landscape, to human-scale projects."
Her works has been published in books including: Japanese Art After 1945: Scream Japanese Against the Sky (Alexandra Munroe, 1994), Lure of the Local: Senses of Place in a Multicentered Society (Lucy Lippard, 1997), Epicenter: San Francisco Bay Area Art Now (Mark Johnstone, Leslie Aboud Holzman, 2002), and Art after the Bomb: Iconographies of Trauma in Late Modern Art (Darrell Davisson, 2008).
"Luminescence" (2018) by Nobuho Nagasawa at Hunter's Point South Park, Long Island City, New York from Nobuho Nagasawa on Vimeo.