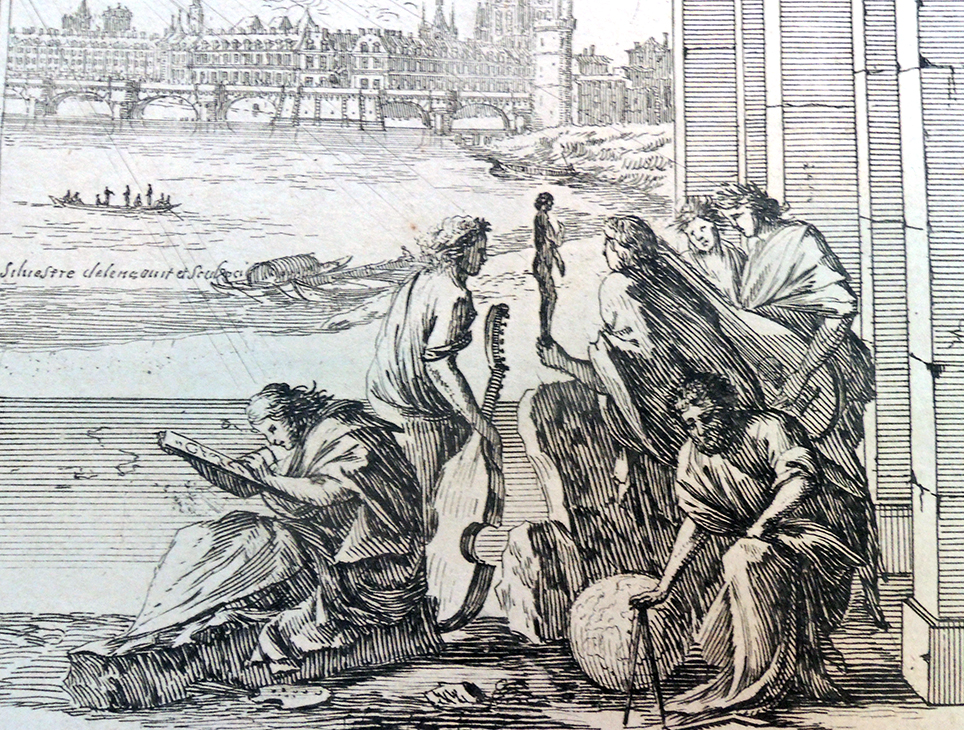 Giacomo Torelli (1608-1678), Scene e machine preparate alle Nozze di Teti, balletto reale representato nella sala del piccolo Borbone (Paris, 1654). Bound with: Giacomo Torelli (1608-1678) and Giulio Strozzi (1583-1652), Feste theatrali per la Finta Pazza drama del Sig. Giulio Strozzi. Rappresentate nel piccolo Borbone in Parigi quest'anno 1645 (Paris, 1645). Text in French and Italian. Provenance: From the library of the late-eighteenth-century Milanese engineer Giacomo Antonio Besana. Graphic Arts Collection GAX 2020- in process
Together with the Marquand Art and Archaeology Library, the Graphic Arts Collection acquired a first edition of this royal ballet, staged for Cardinal Mazzarino (1602-1661) with the participation of Louis XIV (1638-1715, King of France 1643-1715). Detailed plans for the inventive staging are by Giacomo Torelli (1608-1678), one of the most talented Baroque theater designers. This variant B edition in an early vellum binding retains two additional leaves with Torelli's verses "Per la ricreazione e fuoco di Gioia," engraved title page, plus the five folding double plates. Many pages are uncut.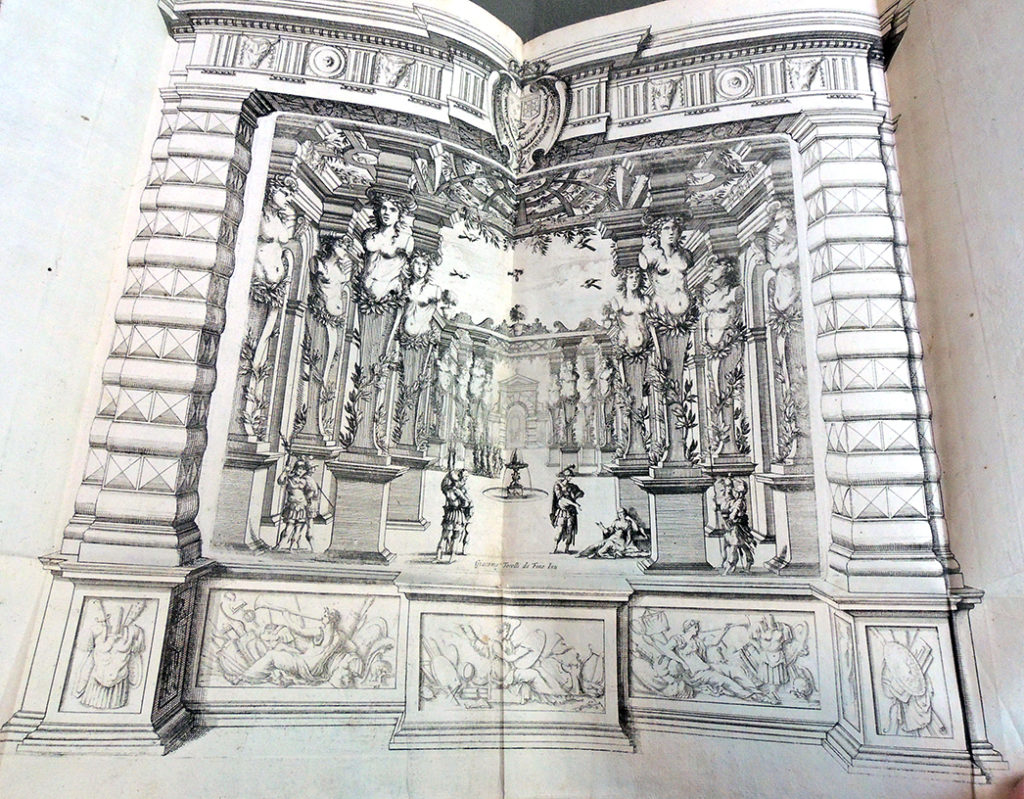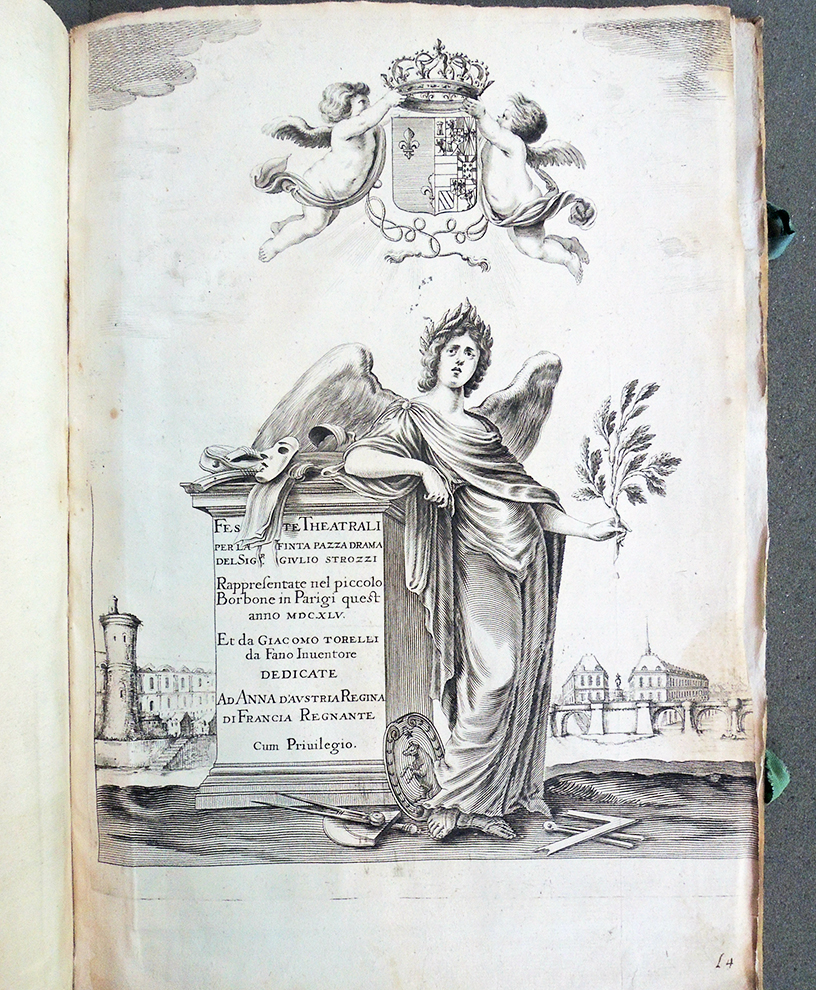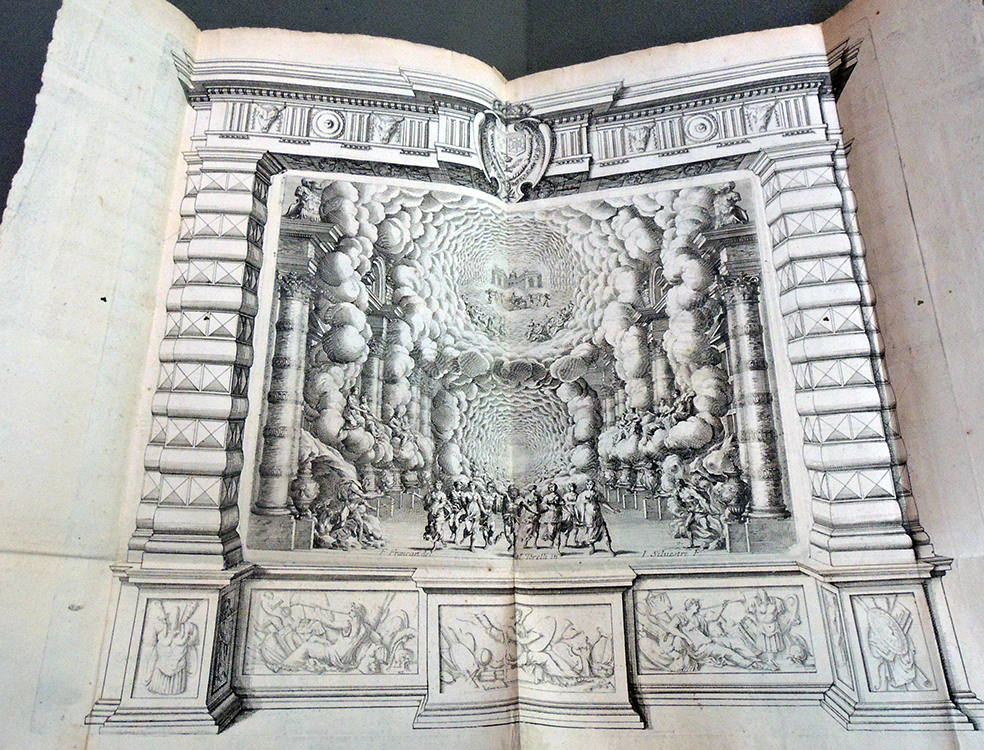 Copying the dealer's note in full:
In 1645, Torelli arrived in Paris and directed the refurbishment of the Palais Royal, the theatre built by Cardinal Richelieu. There he staged several appreciated performances, winning over not only the title of "Grand Sorcier", but also the patronage of Cardinal Mazzarino. This famous "Noces de Pèlee et de Thétis" were staged by Torrelli in 1645, at the Petit Bourbon, with King Louis XIV dancing the role of Apollo. The libretto was composed by Francesco Buti, the music by Carlo Caproli and the ballets by Isaac de Benserade. The lavish scenographic apparati are thoroughly documented in this book, which contains the preparatory plans attributed directly to Torelli by Bjustrom. The opening verses and the following eight descriptions were penned by the Friuli librettist Giovanni Battista Amalteo, active in Vienna. The remarkably neat engravings were made by Silvestre Israël (1621-1691) after François Francart (1622-1672).

The acclaimed performance remained memorable as one of the first in Paris to exploit such complex machinery, insomuch that this edition was commissioned to eternalise this very aspect of the play. The copy also retains Torrelli's large and inventive plates related to Finta Pazza, another work staged at the Petit Bourbon in 1645. The play had already been hailed as a great success at the premiere in Venice on 14 February 1641, with music composed by Francesco Sacrati. One can find here the title-page and the plates of the first edition of Finta Pazza, which circulated independently from the libretto, as was the case of the copies recorded by Vinet. Likewise, Gourary's copy is with no text and intriguingly bound together with the Nozze di Teti, also without text, and other 13 suites of French and Italian theatrical, architectural and garden ornament.
This acquisition can be studied in the Firestone Library Special Collections reading room, when it reopens.