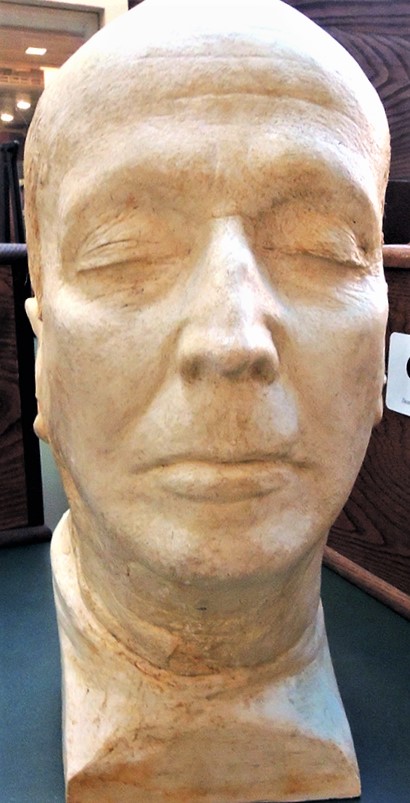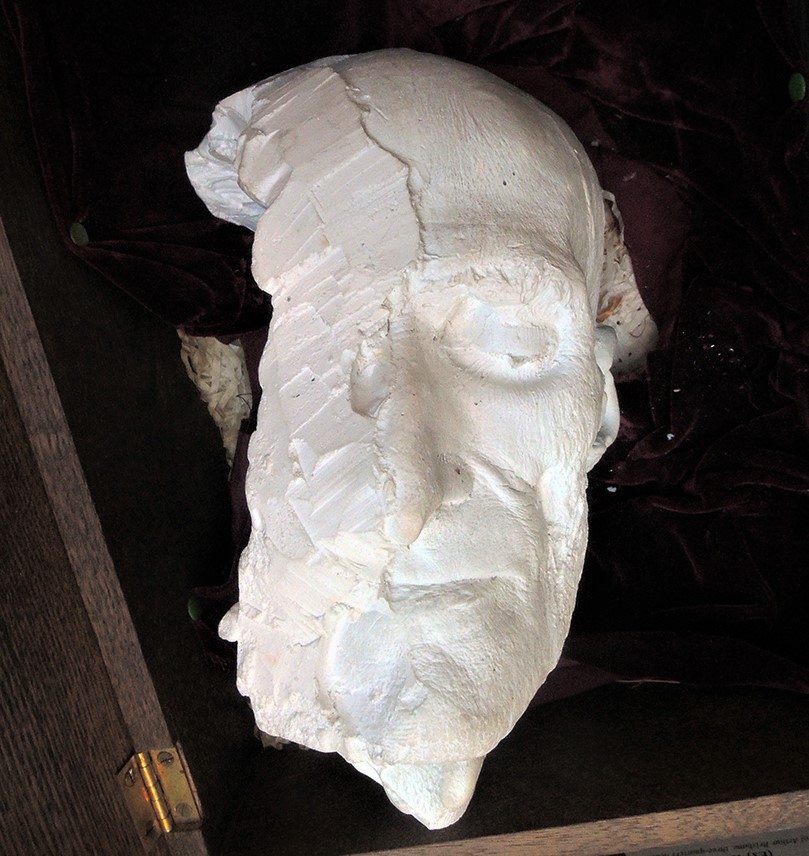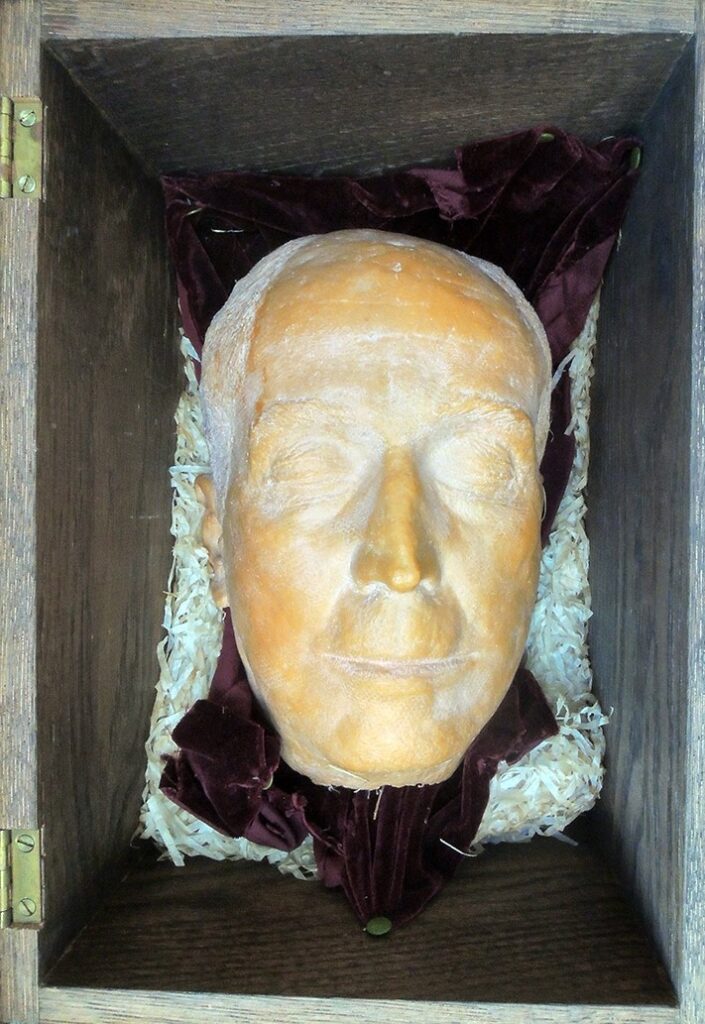 Thanks to a gift in the 1970s from Sarah Brisbane Mellen (1913-1977), daughter of Arthur Brisbane, granddaughter of Albert Brisbane, also known as Mrs. Chase Mellen, the death mask collection acquired three examples in three very different formats. The first was made in 1890, at the death of Albert Brisbane (1809-1890), whose head was only partially cast in plaster, either in Richmond where he died or in Buffalo, where he was buried. A second mask was made of his son, Arthur Brisbane (1864-1936) and used to sculpt a full standing bust of Arthur's head. A third wax cast of Arthur's face was moulded either directly or from the plaster cast.
Arthur Brisbane's bust is signed in the plaster by Herman Walthausen (188-1962), as mentioned in his New York Times obituary:
"Herman Walthausen … a molder and an assistant to sculptors, died today in a nursing home here [White Plains]. …Mr. Walthausen, a pupil of the late Augustus St. Gaudens, had worked with such sculptors as the late Adolph Weinman, Charles Keck, Daniel Chester French and Jacques Lipchitz. Projects on which he had worked included the Lincoln Memorial in Washington, the Confederate Memorial Monument at Stone Mountian, GA., and death masks of former Gov. Alfred E. Smith of New York, Arthur Brisbane, the editor, and Sir Jacob Epstein, the sculptor. –New York Times, September 23, 1962.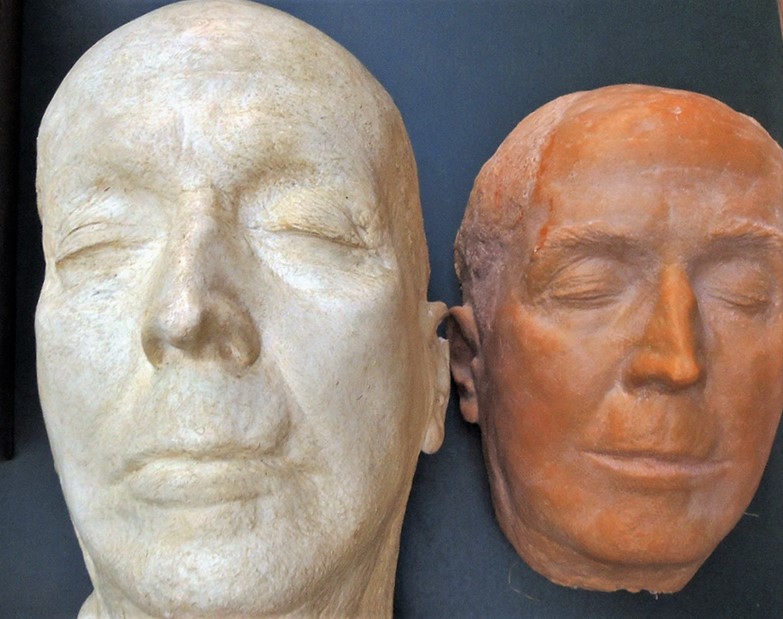 A brief biography of Albert and Arthur was posted by Syracuse University Special Collections, which I quote here:
Albert Brisbane (1809-1890), social reformer, was born in Batavia, N. Y., the son of James and Mary (Stevens) Brisbane. He was sent to a boarding-school on Long Island, and then studied in New York City under private tutors. He traveled to Europe, where he was influenced by the ideas of Charles Fourier, the French utopian socialist. Poor health on his return to the United States in 1834 dampened his Fourierism campaign, but in 1840 he published Social Destiny of Man: or, Association and Reorganization of Industry. After striking up a friendship with Horace Greely, he began writing for the Tribune. His "hasty propaganda" gave birth to numerous experiments in Associationism, as he called his theories, the general failure of which caused a waning of interest in the whole movement. In 1876, he published General Introduction to Social Sciences containing the essence of Fourier's social theory and a translation of his History of Universal Unity. Brisbane was a highly educated man with a vigorous mind, but he failed as a social reformer because he lacked an ability to lead, as well as a realization of the practical difficulties in the way of a universal panacea for evil. He wrote with comparative ease as well as fervor, but only as object lessons in social reform have his writings survived the movement of which they were a part. [adapted from American Authors 1600-1900, (1938)]

With his first wife, Sarah White, Albert had three children, one of whom, Arthur (1864-1937), would go on to become a successful writer and newspaper editor. After completing his education in the United States and Europe, Arthur Brisbane took his first newspaper job as a reporter with the New York Sun. He went on to hold jobs as an editor at the Sun, the New York World, and the New York Evening Journal. He remained editor of the Evening Journal until 1921 and continued to write for the paper as a columnist until his death. Brisbane was known for his punchy prose style and fondness for short, blaring headlines. By the time of his death he was the highest paid newspaper writer in the world ($260,000 a year). [ Adapted from World Authors 1900-1950, (1996)]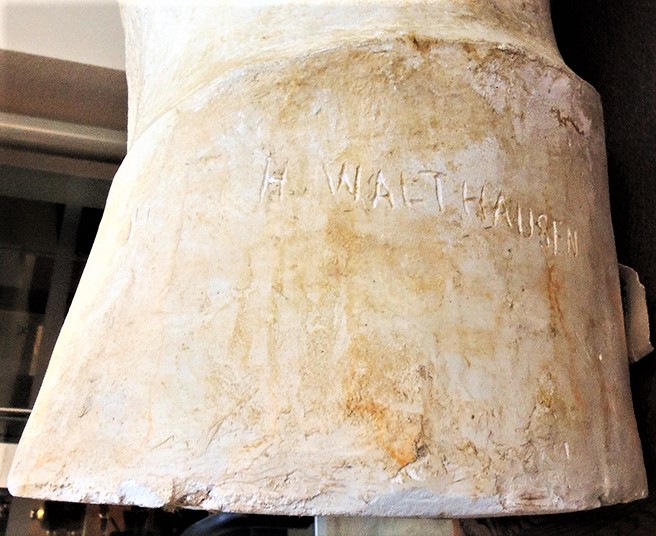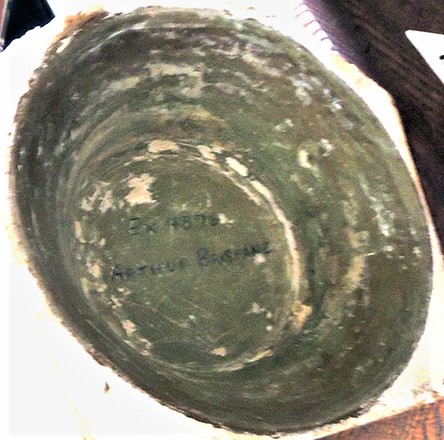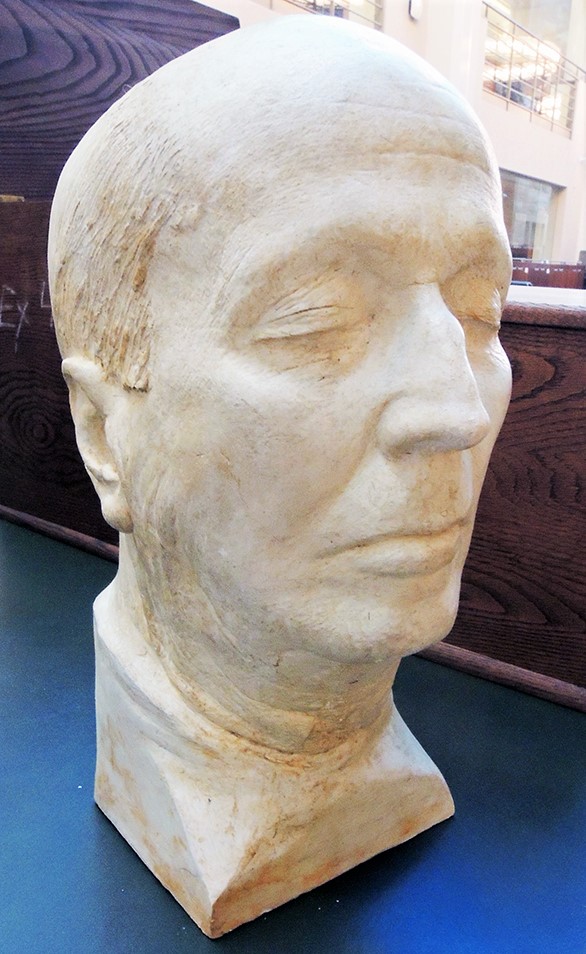 Death mask of Albert Brisbane (1809-1890), Partial plaster cast, 1890. Graphic Arts Death Mask Collection (Ex) 4875. Gift of Sarah Brisbane Mellen, 1913-1977
Death mask of Arthur Brisbane (1864-1936). Plaster bust on pedestal. 1936? Graphic Arts Death Mask Collection (Ex) 4876. Gift of Sarah Brisbane Mellen, 1913-1977.
Wax mould of Arthur Brisbane (1864-1936). Graphic Arts Death Mask Collection (Ex) 4877. Gift of Sarah Brisbane Mellen, 1913-1977.