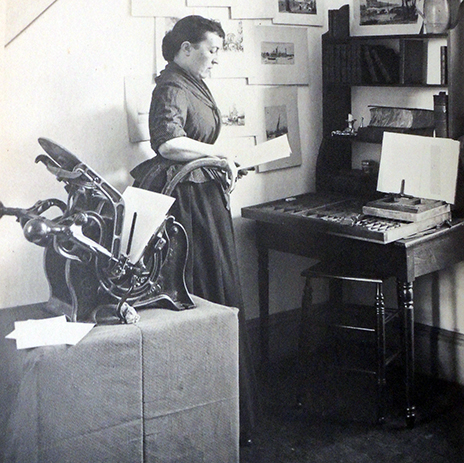 Agnes Haswell Osgood in her Waldstein Press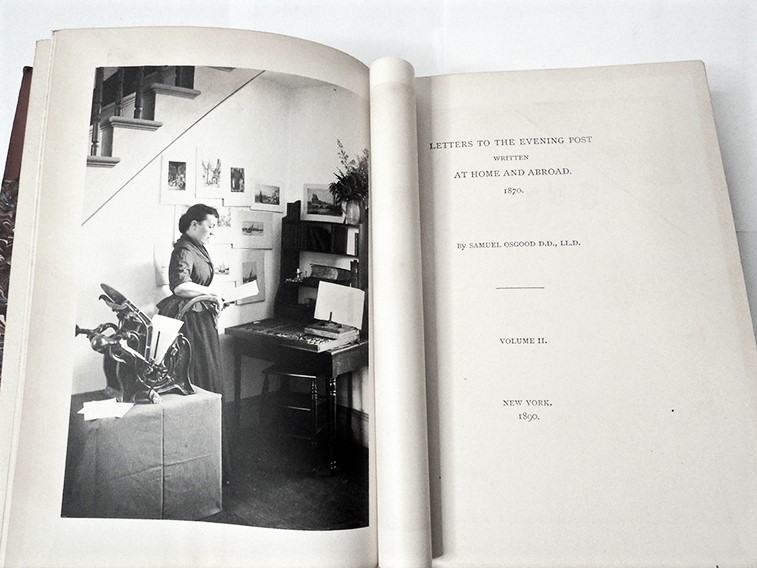 Samuel Osgood, Letters to the Evening Post Written at Home and Abroad (New York: [Waldstein Press], 1890). Copy 13 of 25. Presentation copy inscribed by the author's daughter: "Miss Graham from her friend Agnes H. Osgood New York March 9th 1891." Graphic Arts Collection GAX 2020-  in process
"… these days the new library was a household magnet that made up for many other changes," wrote Mabel Osgood Wright in her autobiography My New York (Macmillan, 1926). "Even Gatha [Agnes], who resented innovation and change of any sort, took pleasure in arranging the books evenly, neatly, as they were wont to be shifted and pushed back at random."
Agnes Haswell Osgood (1844-1929), Bertha Stevens Osgood Miller (1847-1917), and Mabel Osgood Wright (1859-1934) were the daughters of Ellen Haswell Osgood (1820-1906) and Reverend Samuel Osgood (1812-1880), pastor of the Second Congregational (Unitarian) Church in New York, better known as the Church of the Messiah. While the sisters were not allowed to attend Harvard College, as their father had, they were well educated at a private finishing school for ladies, where Agnes excelled at music, Bertha chose to paint, and Mabel, who wanted to be a doctor, settled for a career as a writer. Their New York home was frequented by actors, musicians, and politicians throughout the winter, while summers were spent at Waldstein (later called Mosswood), the family's country estate in Fairfield, Connecticut.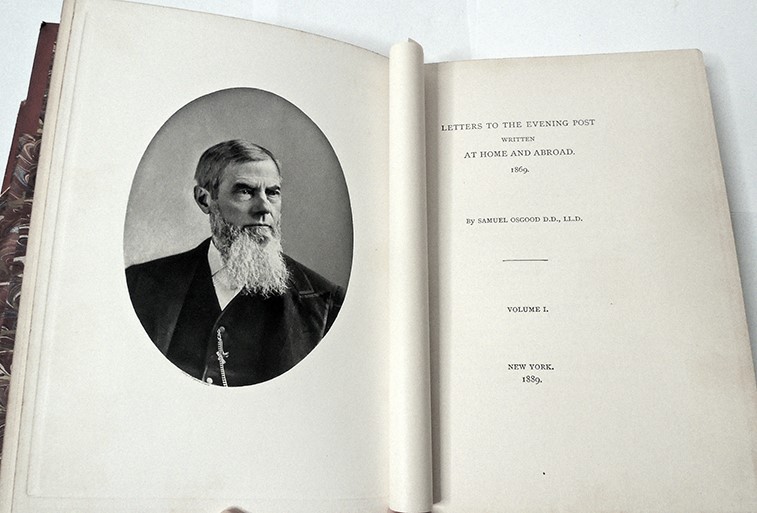 In 1866, their father oversaw the design of a new church on Park and 34th Street, where a cornerstone was laid containing a copy of the Declaration of Independence, the United States Constitution, the Emancipation Proclamation, a piece of the Trans-Atlantic cable, coins, medals and photographs. But as the congregation grew increasingly liberal, Osgood chose to resign, joining the Episcopal Church, where he was ordained as a priest in 1870. Samuel spent the majority of his later years writing essays for newspapers and magazines, including the New York Evening Post, where Mabel also published her first poem at the age of 16.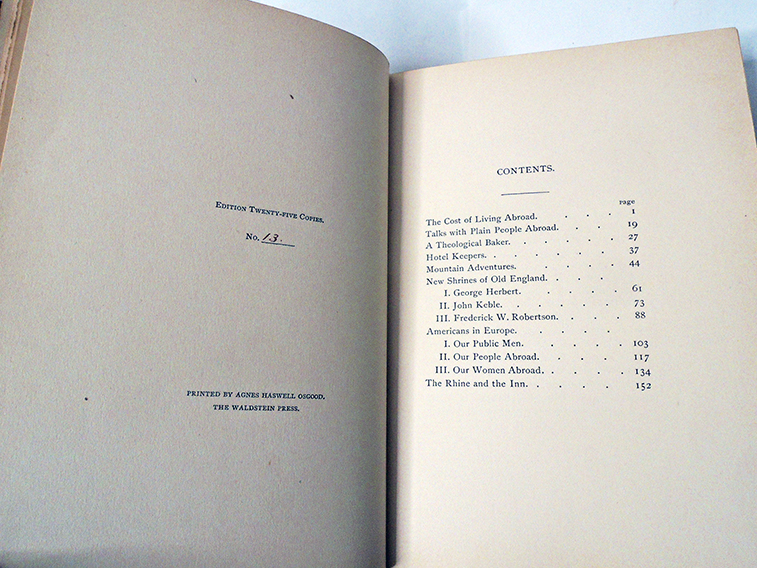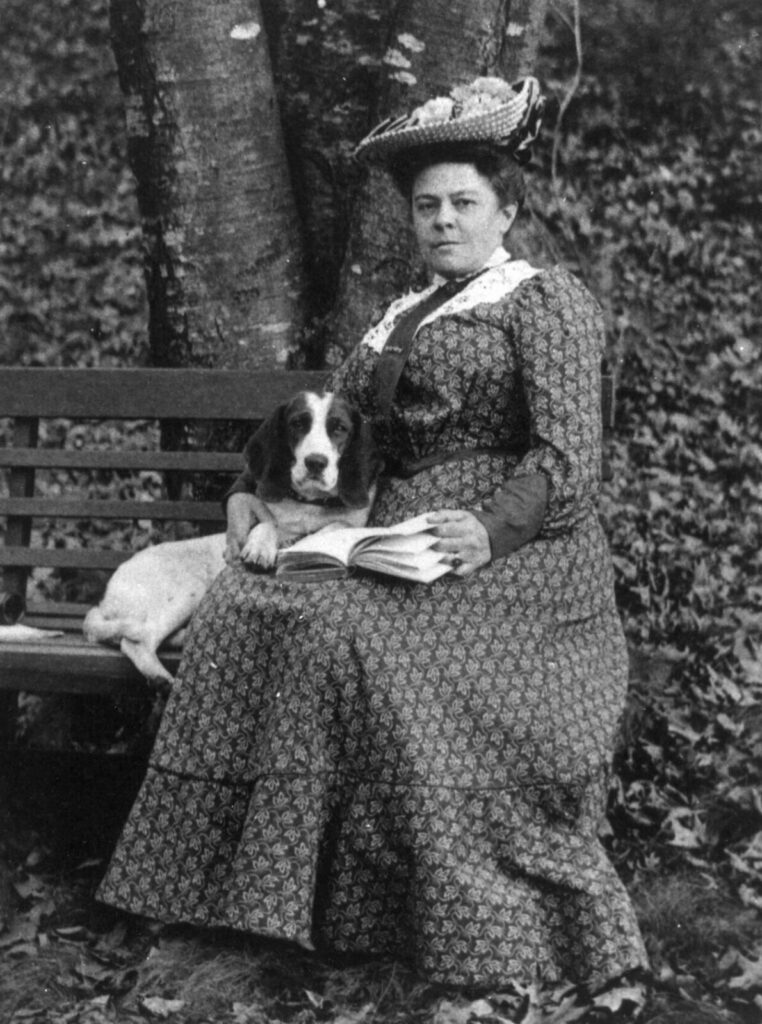 left: Mabel Osgood Wright at Waldstein
Most nights, the Osgood family gathered in their upstairs library, where bookshelves had been built across the entire length of the wall. Mabel wrote, "The new love of books, which not only for their contents, but for the shape, size, feel and type, enthralled me and still does, was born of the dainty well-bound, well-printed volumes from which Clarence Cook had read to us at his literature class at Number One Fifth Avenue. His Chaucer and Shakespeare, in English editions, by their form seemed to give more meaning and importance to the text. His Tennyson also, in tree-calf covers, printed on heavy paper in clear text, was such a contrast to the odd volumes of our own copies, "pirated" editions and printed cheaply, like so much of the work of overseas authors before the honor of publishers and the law of international copyright prevailed."
When Rev. Osgood died unexpectedly in 1880, Bertha had already married and was living apart. In 1884, Mabel married James Osborne Wright (1851-1920), a British art and rare book dealer, moving with her new husband to London. Agnes remained with her mother, living primarily at Waldstein, where she set up a small proofing press and taught herself to set type. By 1889, she had finished printing 25 copies of a two volume set of her father's essays, entitled Letters to the Evening Post Written at Home and Abroad. She called her operation Waldstein Press, after the family estate, and although she may having continued to print, no other books were ever released with that imprint.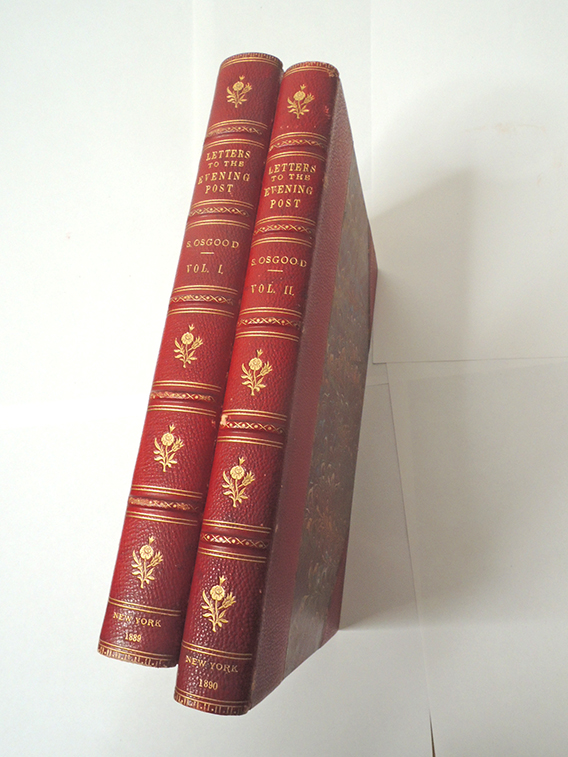 The Graphic Arts Collection recently acquired copy 13 of this set, inscribed "Miss Graham from her friend Agnes H. Osgood New York March 9th 1891." For the frontispiece of volume one, Agnes chose a portrait of her father and for volume two, she used a photograph of herself with her modest press.
Not long after this, Mabel and James returned to Waldstein, where she continued writing for the New York Evening Post, and then, for Macmillan Press, which published Friendship of Nature (1894), Birdcraft (1895), and Flowers and Ferns in Their Haunts (1901) among others.