Looking for a good novel to read while the 2020 campus shuts down for a winter break, Edith Wharton's Old New York (1924) was suggested. A collection of four novellas set in the 1840s, 1850s, 1860s, and 1870s, the last, New Year's Day, seemed timely. Although written in France, they describe Wharton's family home at 14 West 23rd Street–the same building that now holds a Starbucks–acting as prequels to The Age of Innocence, for which she received a Pulitzer Prize in 1921. Each of the four volumes is decorated with a paper label on the cover and illustrated endpapers designed by E.C. Caswell (1879-1963).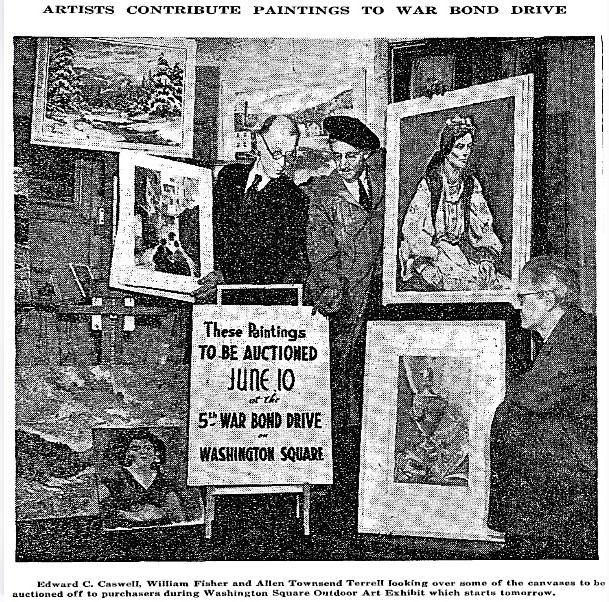 Edward Colie Caswell may not have known he was following in  Wharton's footsteps when, a few years later, he moved into the Chelsea Hotel also on 23rd Street, joining the musicians and writers who first gave the Hotel its reputation for housing bohemians. Suzan Mazur wrote one of the few biographical sketches of Caswell, a well-known book illustrator and columnist for The Villager newspaper. "Caswell started out at a studio in the Ovington Building on Fulton St. before moving to the Chelsea Hotel in the 1930s," she wrote, adding that he "helped establish the Washington Square Outdoor Art Exhibition."
What she didn't mention were his illustrations of Princeton University for the fictional memoir by Latta Griswold (1876-1931) entitled Deering at Princeton: a Story of College Life (1913. Recap PS3513.R786 D44 1913. Gift of Landon T. Raymond, Princeton Class of 1917 collection). It is the story of a freshman named Deering, who endured hazing, bullying, and other difficulties during his first year at Princeton.
The book was read by every student that year and in response to complaints, the author wrote a letter to the Editor of the Princetonian:
Dear Sir:— My attention has been called to the fact that in a recent story "Deering at Princeton", published a few weeks ago, among the fictitious names given to various Princeton clubs I called one The Arch Club, assigning to it a somewhat undesirable character. It should be evident to everyone, but in case any misunderstanding should arise I desire to say through your columns, that when I selected this name I did not know that the Princeton Arch Club had been formed, and with quite different purposes from those associated with the name in my story. I regret very much that this should have happened, and offer my apologies very sincerely to any who may have been annoyed by the unfortunate mistake. In any future edition of the book the mistake will of course be rectified. Very truly yours, Latta Griswold."– Daily Princetonian, Volume 37, Number 110, 5 November 1913
Edith Wharton (1862-1937), Old New York (New York and London : D. Appleton and Company, 1924). "The shared main title, Old New York, had served for the working title of The Age of Innocence … All four volumes printed at Van Rees Press, New York (printing completed 30 August 1924)"–Cf. Garrison.
Learn more about Edith Wharton's New York home: