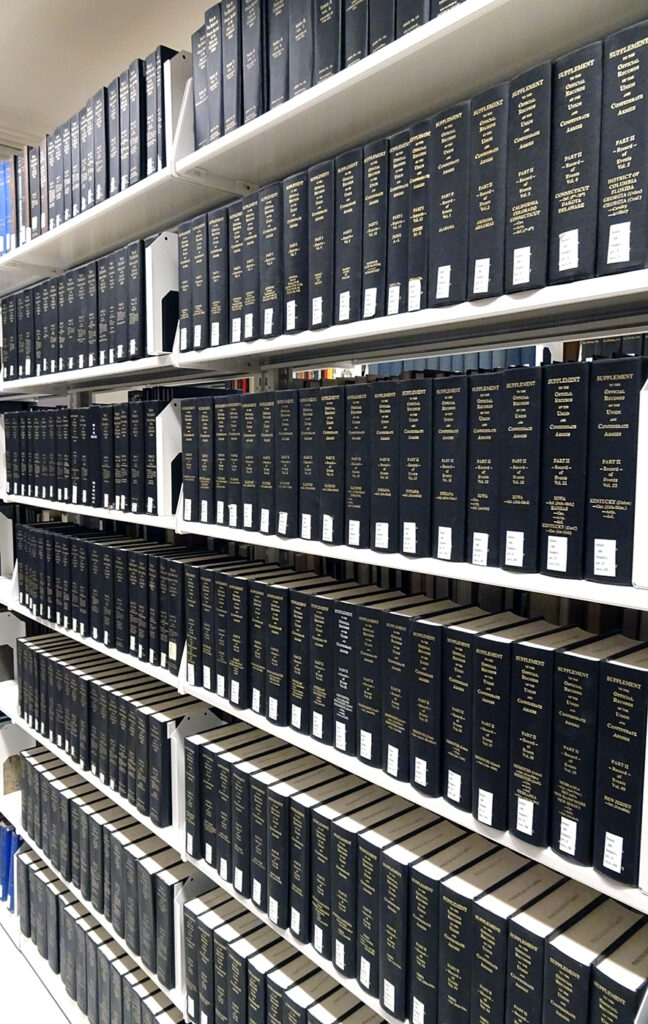 United States. War Department, The War of the Rebellion : a compilation of the official records of the Union and Confederate armies prepared under the direction of the Secretary of War by Robert N. Scott ([Pasadena, Calif.] : Historical Times ; [s.l.] : distributed by Broadfoot Pub. Co., 1985, c1971). Reprint of the ed. published in 1971 by the National Historical Society, Harrisburg, Pa. Originally published in 1880 by the Government Printing Office, Washington, D.C. Also called Official records of the Union and Confederate armies. Firestone Library E464 .U6 1985. Digital copy: http://collections.library.cornell.edu/moa_new/waro.html
"One of the largest jobs ever undertaken by the [Government Printing] office since it came into the possession of the Government was commenced a few months ago in the Document Room. I refer to the printing of the official records of the war, or perhaps better known by the title "Rebellion Records." Colonel Scott, the officer in charge of this work at the War Department, estimates that these records will make 96 large octavo volumes, of about 800 pages each, or 76,800 pages.
As 10,000 copies of each of these volumes are to be printed for Congress, some idea may be formed of the formidable character of the task. It will require nearly 50,000 reams of paper to print these copies, which, at $4 per ream, will amount to $200,000. The composition will probably exceed 250,000,000 ems, and the number of books will be 960,000."–R. W. (Robert Washington) Kerr (born 1841), History of the Government Printing Office, (at Washington, D.C.) with a brief record of the public printing for a century, 1789-1881. By R.W. Kerr, of the Government Printing Office (Lancaster, Pa., Inquirer Print. and Pub. Co., 1881). Graphic Arts Collection 2006-3271N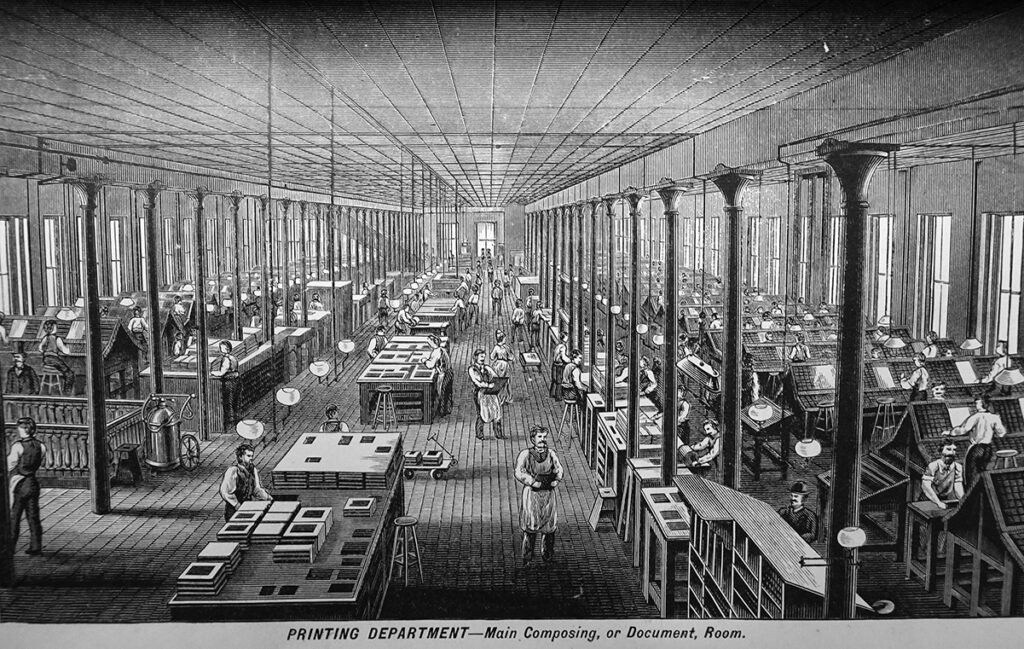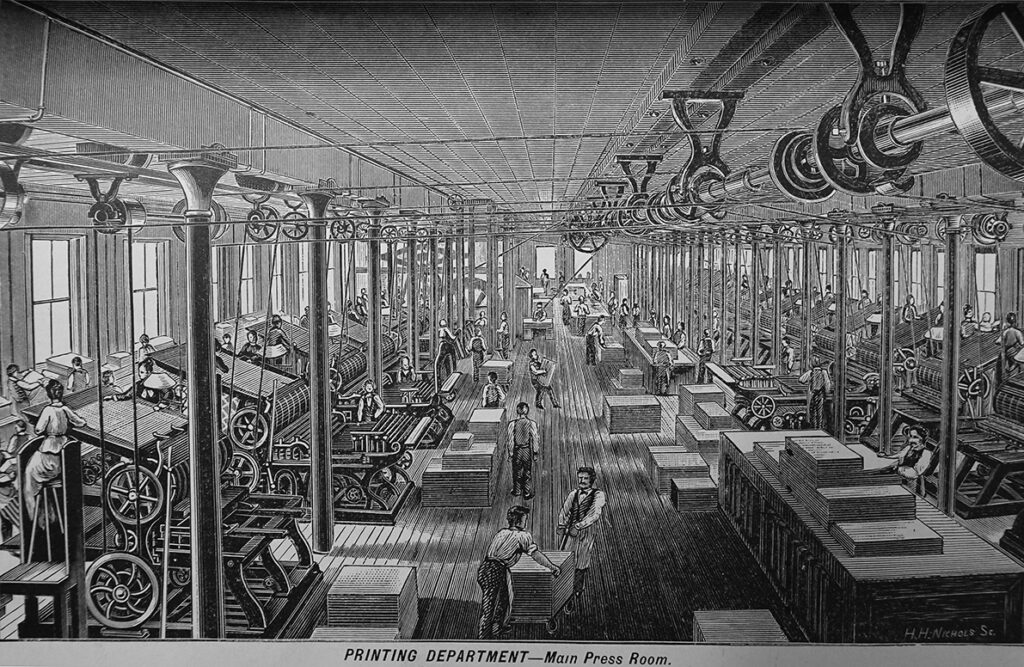 Note all the women working as sheet feeders.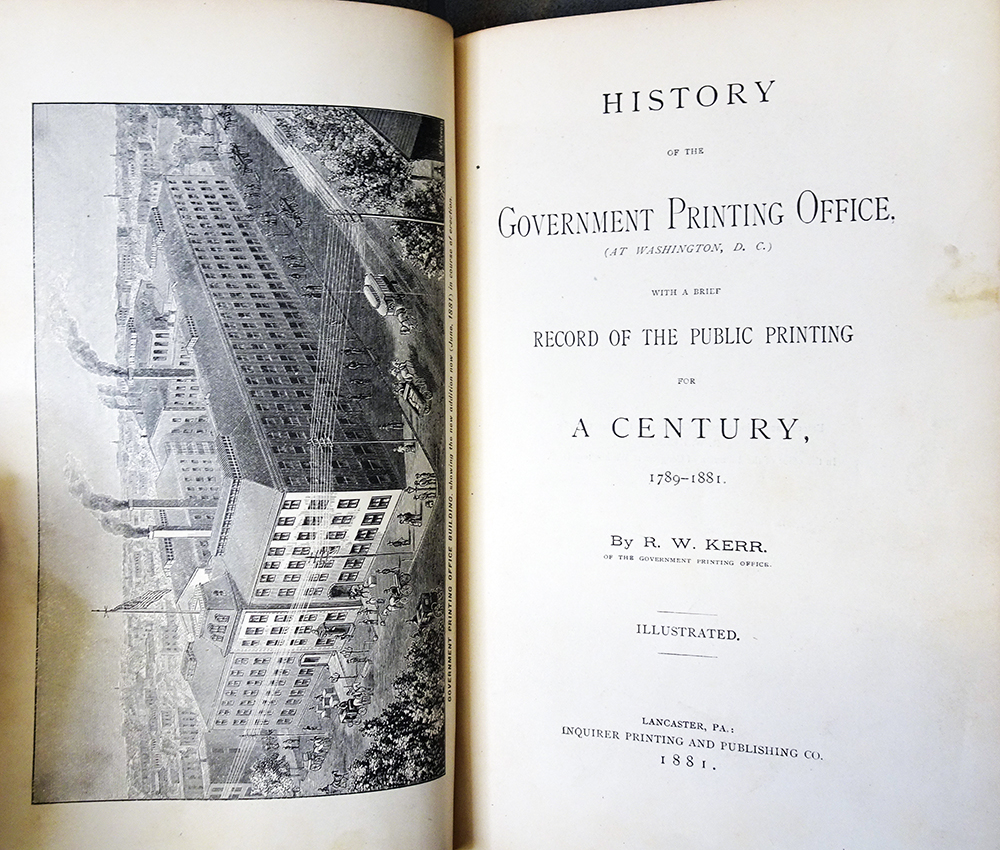 "An order was sent from the [GPO] to a New York type-founder in July 1877 for 60,000 pounds of type. This amount was subsequently increased about 15,000 pounds, making perhaps the largest single order ever given by a printing office, or filled by a type-founder, since the art of printing was discovered."–History of the GPO, p. 46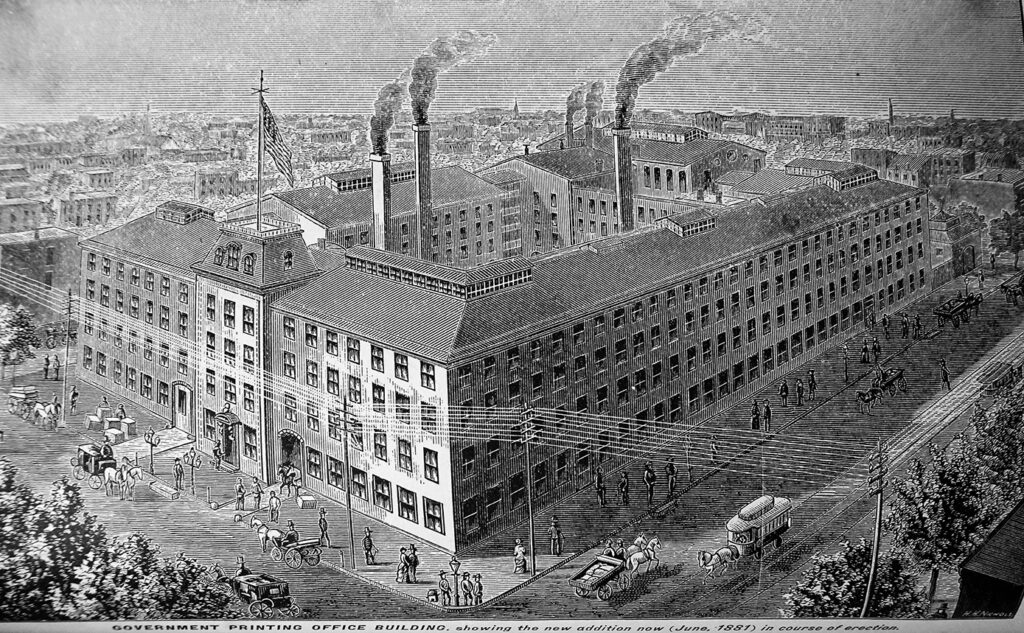 "In January 1878, three accomplished sneak thieves, who had previously been shadowing the [GPO]–as was proved by a subsequent examination into the matter–succeeded in abstracting from the safe, by means of false keys, during the temporary absence from the room of the paymaster, some $9,000; and although the parties were afterwards arrested in New York, and indicted, they were never brought to justice, nor was the money ever recovered."–History, p.46. No record of this theft was published in Washington or New York City newspapers.