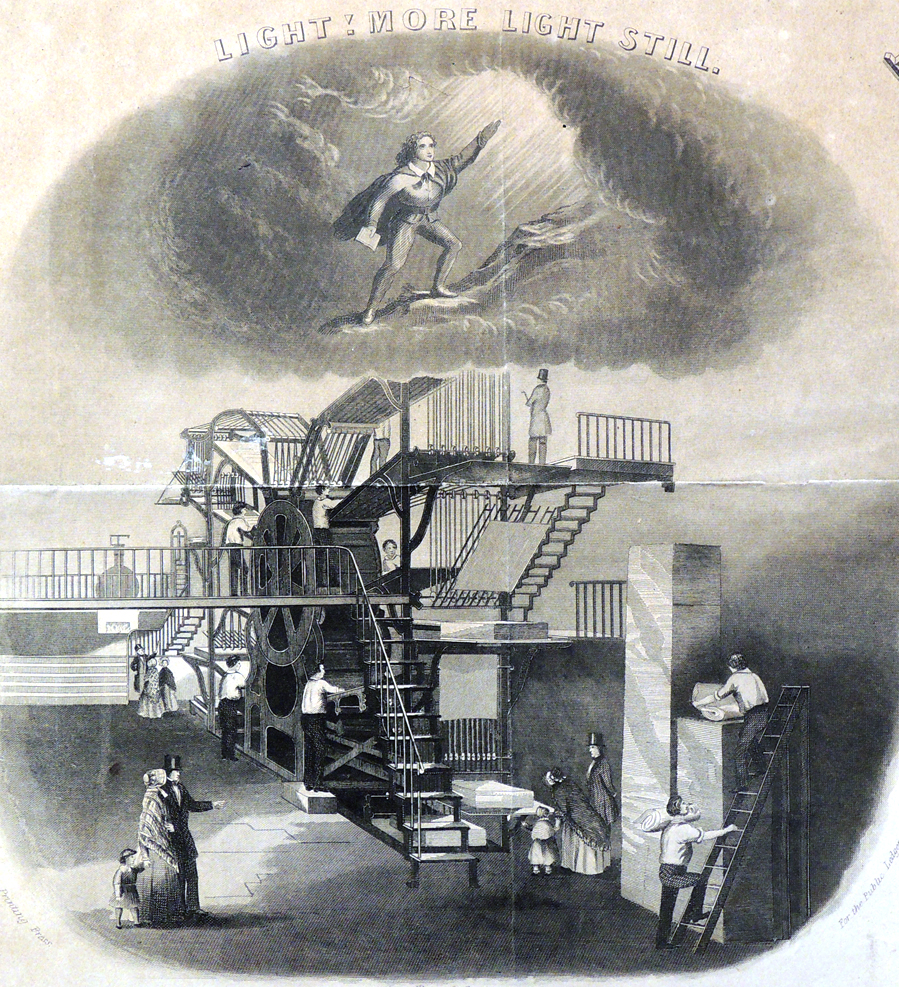 The New Year's Address by the Carriers of the Public Ledger, January 1, 1852 ([Philadelphia: Public Ledger, 1851]). Broadside. Graphic Arts Collection GA2013- in process. Gift of Garrett Scott, in honor of Dale Roylance, with special thanks to Donald Farren, Class of 1958, for his assistance.
After leaving school at the age of fifteen, Richard March Hoe (1812-1886) joined his father's New York printing business and went on to transform the entire printing industry.
Henry Lewis Bullen wrote a history of Richard Hoe for The Inland Printer:  "In 1834 the firm of R. Hoe & Co. consisted of Richard March Hoe and Matthew Smith, cousins, both twenty-two years of age, and Sereno Newton. The business was carried on in Gold Street, between Fulton and John streets, and in Ryder's alley, leading off Gold Street, eastward. They were then the only makers of cylinder presses in America, and, in addition to making four kinds of cylinder presses, they made cases, chases and almost everything then used in printing except types and inks."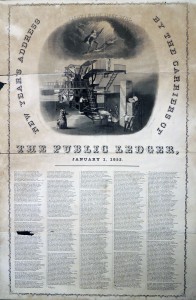 "…The first record we have of the inventive genius of Richard March Hoe is the patent issued in 1843 for the first application of air springs to cylinder presses. …In 1844 he was the first to place type-high adjustable bearers on each side of the beds of cylinder presses. In 1845 he patented the first automatic sheet flier. Prior to this invention the sheets were taken from the cylinders by hand. In the same year the galley proof press was first put on the market by R. Hoe & Co., the idea coming to them from a printer in Boston. All these inventions are in common use today."
"In 1846 Richard March Hoe patented a "steam inking apparatus" for automatically inking forms on Washington hand presses, and a number were sold. This apparatus displaced one operator on a hand press. It had two rollers. Notwithstanding the gradual increase of cylinder presses and their improvement, in 1846 the bulk of the printing was still done on hand presses."
"The year 1847 saw the advent of fast cylinder presses. In that year, on July 24, Richard March Hoe patented his type revolving newspaper press, of which in its largest development we present a picture. The English patent was issued on May 4 of the same year. The first of these presses had four impression cylinders, and was installed in the plant of the Philadelphia Public Ledger in 1847. This press made 10,000 impressions an hour. It worked so satisfactorily that the proprietor of the Ledger accepted it immediately and ordered a second press. From that time until the present America has held the foremost place in the development of printing presses."
In 1851, to celebrate the end of a successful year, the Public Ledger printed this New Year's broadside featuring a large wood engraving by Illman & sons of the paper's eight cylinder press.