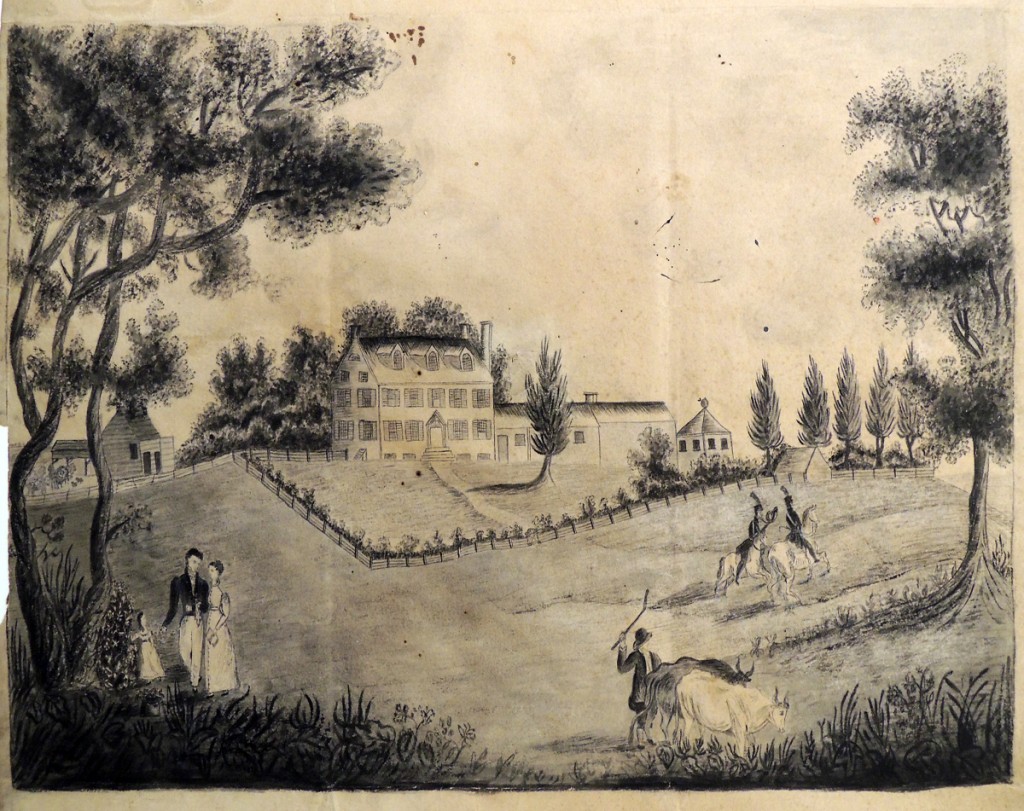 Graphic Arts Collection GA 2006.02561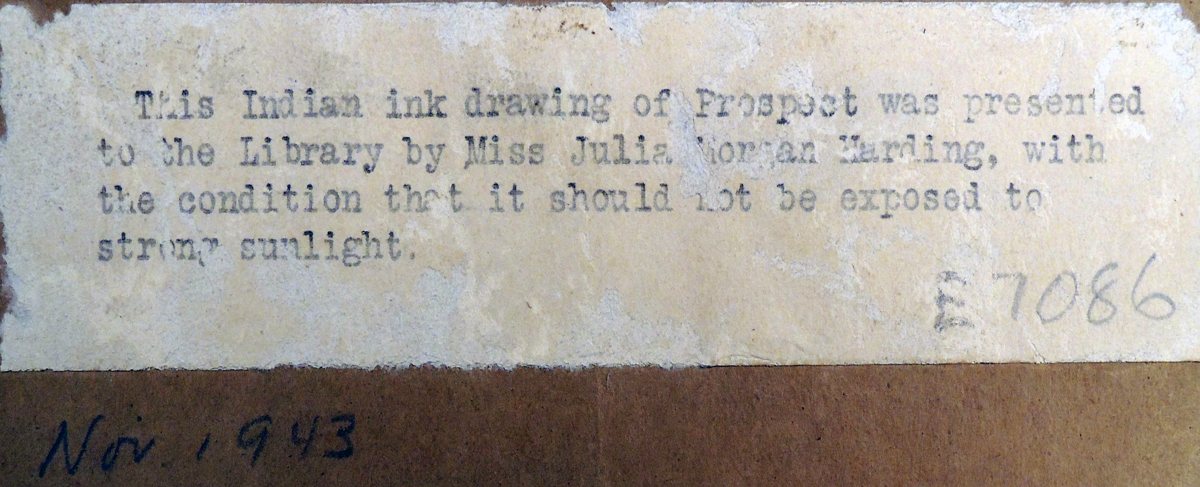 Shortly before her death, Julia Morgan Harding (1854-1943) offered Princeton a drawing of the 18th-century Prospect Farm, near Princeton, "with the condition that it should not be exposed to strong light." We agreed and happily the view of the Morgan Prospect shows little sign of wear.
Harding was a great-great-grand-daughter of Colonel George Morgan (1743-1810) and the great-grand-daughter of General John Morgan (1770-1817). The Colonel was a United States Indian agent during the American Revolutionary war and played an important role negotiating the European settlement of what became Pennsylvania.
According to campus history, the current Prospect House, "was built circa 1850 by the American architect, John Notman, and is one of the few University buildings not originally part of the campus. Prospect House owes its name to the stone farmhouse first constructed on the site in the mid-18th century by Colonel George Morgan, western explorer, U.S. Agent for Indian Affairs and gentleman farmer. The superb eastern view from that farmhouse prompted Colonel Morgan to name his estate "Prospect." Morgan's estate, a popular stopping of place in Revolutionary times, was visited by such diverse groups as a delegation of Delaware Indians, 2,000 mutinous soldiers of the Pennsylvania Line and the Continental Congress."
"When Prospect was acquired in 1849 by John Potter, a wealthy merchant from Charleston, South Carolina, he replaced the colonial structure with the present mansion. In 1878 Robert L. and Alexander Stuart of New York bought the house and accompanying 35-acre estate and deeded it to Princeton University, known at that time as the College of New Jersey."
Writing for the 1903 Princeton University Bulletin, Varnum Lansing Collins notes, "The erection of the Seventy-Nine Dormitory goes far to complete the transformation of a property which in the last quarter of the eighteenth century became famous through the Middle States as "Prospect near Princeton," the home of the Indian agent, explorer and scientific farmer, Colonel George Morgan. A single mutilated gravestone, overshadowed by the new dormitory, is all that is now left to give hint of a past of which none need be 'ashamed; and it seems high time to sketch, though it be but fragmentary, the history of which that stone is a pathetic reminder."