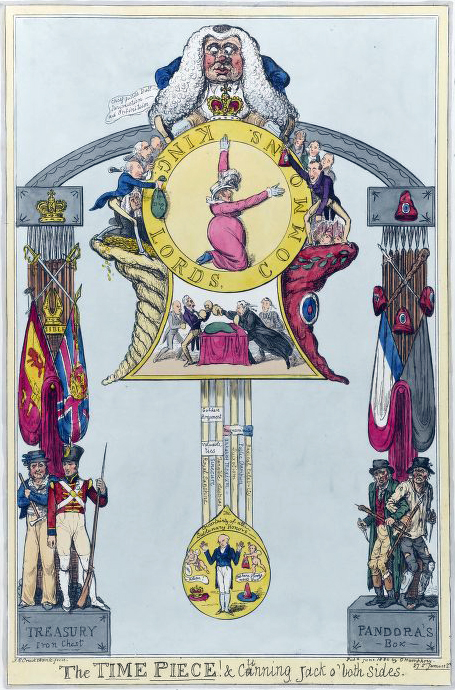 Graphic Arts is fortunate to own one of the few complete volumes of The Attorney-General's Charges Against the Late Queen: Brought Forward in the House of Peers, on Saturday, August 19th, 1820, commissioned by George IV and published by George Humphrey. The transcript of the trial and all 50 hand colored plates attributed to Theodore Lane (1800-1828); George Cruikshank (1792-1878), and Robert Cruikshank (1789-1856), have now been digitized and are available at http://pudl.princeton.edu/objects/dj52w599c
The volume begins with a view of Humphrey's shop-window where 42 of these prints are on view. The focus of these caricatures is Caroline of Brunswick (1768-1821) and her alleged affair with Bartolommeo Bergami (active 1820). She renamed him Pergami (as being more aristocratic), and appointed him Grand Master of the Order of St Caroline.
In 1820, her estranged husband George became King of the United Kingdom and Hanover, and Caroline assumed she would become Queen. Instead, George attempted to divorce her by introducing the Pains and Penalties Bill to Parliament. A campaign was launched through George Humphrey, funded by George IV, to discredit her. The following year, in July 1821, Caroline was barred from the coronation, fell ill, and died three weeks later.