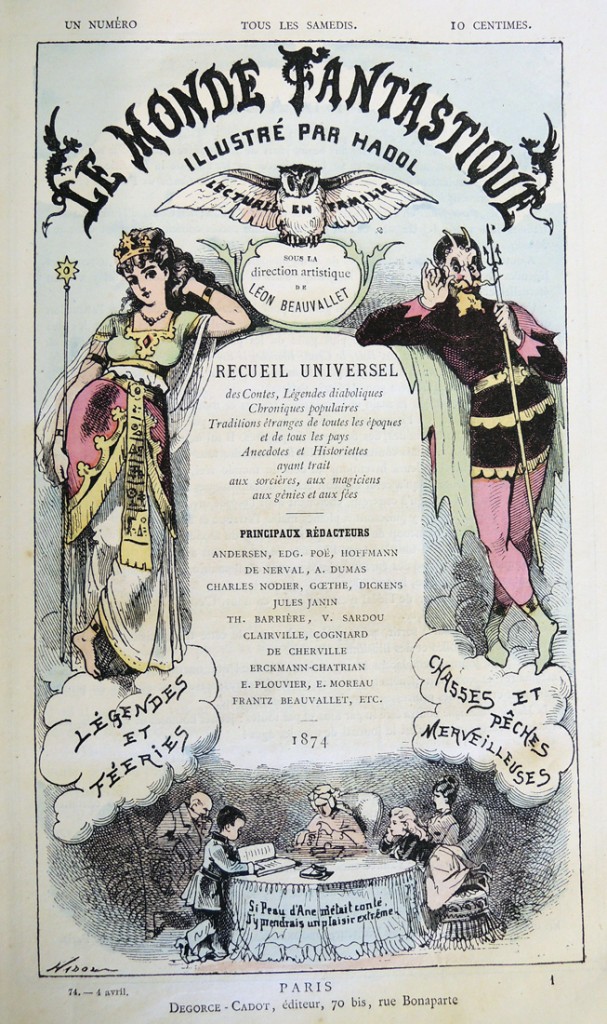 Le monde fantastique, illustré par Hadol (The Fantastic World, illustrated by Hadol) (Paris: Degorce-Cadot, 1874-75). Paul Hadol (1835-1875) illustrator and Léon Beauvallet (1829-1885) editor, Graphic Arts Collection 2013- in process.
Ghouls are nothing new nor is fantasy literature. This French periodical offered amazing stories for the whole family featuring witches, sorcerers, outrageous monsters, and tales of evil things.
The illustrator was Paul Hadol (1835-1875) who created designs for many 19th century magazines including Le Gaulois, Le Journal Amusant, High Life, Le Charivari, Le Monde comique, La Vie Parisienne and L'Eclipse.
Hadol, like many of his contemporaries, worked on a variety of commercial assignments including not so fantastic novels, posters, and advertising brochures. Our Cotsen Library holds an accordion folded alphabet book designed by Hadol: Le jardin d'acclimatation ([Paris]: Au Journal amusant, 20, rue Bergère : Et chez H. Plon, éditeur, 8 rue Garancière, [186-?]). 1 folded sheet 16 x 252 cm., folded to 16 x 11 cm. Cotsen Children's Library (CTSN) Moveables 19 317.
A few of his plates are below. Note in particular the ghoul eating the heart of a just-married woman, reminiscent of The Nightmare by Henry Fuseli (1741-1825) from 1781.