The skating pond in Central Park opened to the public on December 19, 1858 and by Christmas Day, a reported 50,000 people came to the park, most of them to skate. Not long after this, the artist Winslow Homer moved from Boston to New York and began designing scenes for illustrated newspaper Harper's Weekly. The skating pond was a natural subject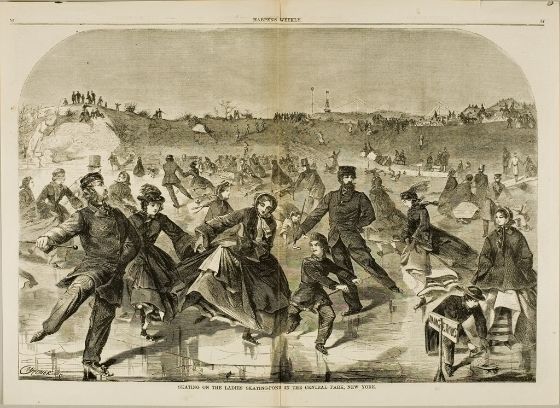 Skating on the Ladies' Skating Pond in Central Park, New York was drawn on a woodblock that was then cut apart, engraved, reassembled and printed as the centerfold in the January 28, 1860 issue of Harper's Weekly. The scene documents the fact that there were two distinct skating areas, the rowdy one for men and a calmer one for ladies (and men who accompanied them).
Homer immediately went to work on a variation of the scene, done in watercolor, called Skating on the Central Park, which became the first work he was invited to exhibit in New York at the National Academy of Design. The painting was so popular that the Boston master lithographer John Bufford (1844–1851), arranged to reproduce it as a color lithograph, publishing the print in 1861.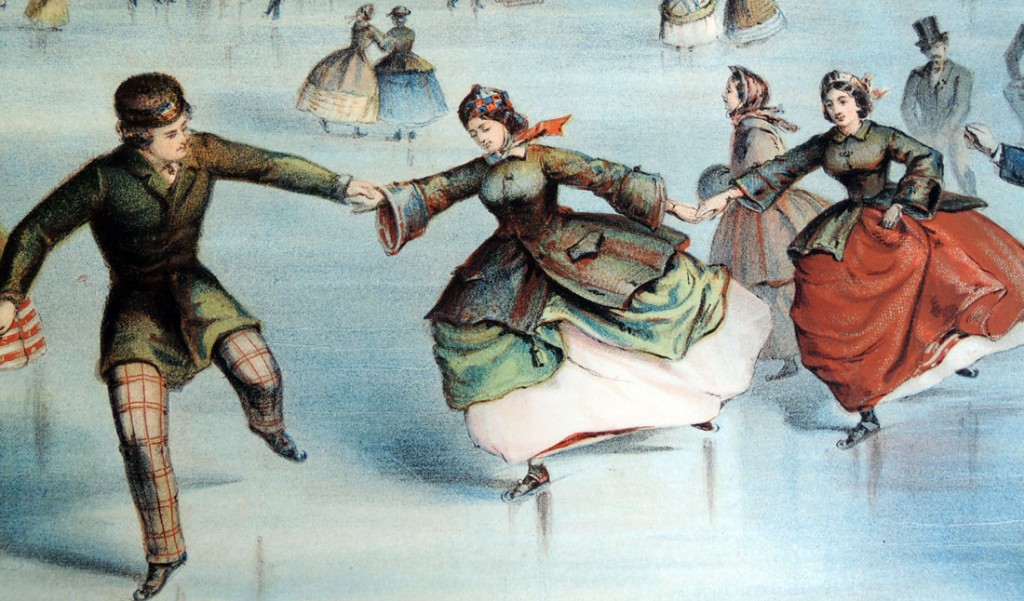 Note the young boy in the center foreground of each scene. In the first he struggles to skate, blending into the rest of the skaters on the ice. In the second work, the boy has just fallen, creating a more active moment that immediately catches your eye.
Harper's Weekly. New York: Harper's Magazine Co., 1857-1916. Annex A, Forrestal Oversize 0901.H299f, Vol. 1, no. 1 (Jan. 3, 1857)-v. 62 (Apr. 29, 1916)