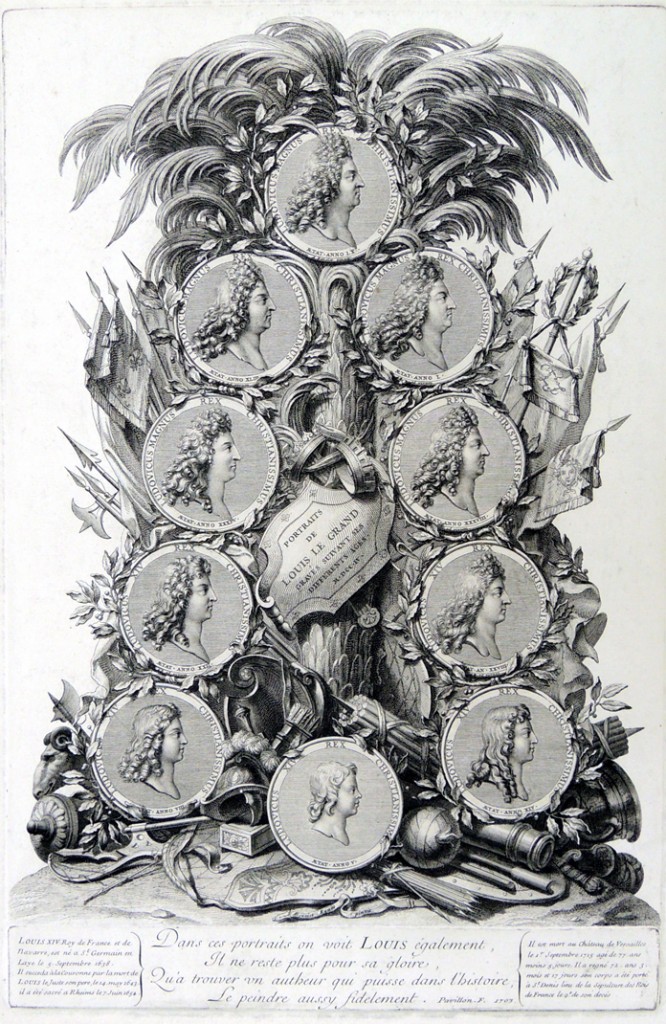 This engraving offers ten profile portraits of Louis XIV (1638-1715) at various ages, beginning with his childhood. Thanks to research by Professor Volker Schröder, we believe the engraver to be Charles Simonneau (1645-1728), after the painter Antoine Benoist (1632-1717); along with text by the poet Etienne Pavillon.
This is also confirmed in the Bulletin de la Société de l'histoire de Paris et de l'le-de-France, "Le Cabinet des Médailles de la Bibliothèque nationale possède une double série de portraits en grisaille de Louis XIV à différents âges et de membres de la famille royale, qui ont été exécutés par Antoine Benoist, selon toute vraisemblance, en 17o4. Ces miniatures sont réparties dix par dix en deux cadres pareils; le premier, intitulé: Portraits de Louis le Grand suivant ses âges; le second, Portraits de la maison royalle. Le premier de ces cadres a été reproduit, à de très légères variantes près, sans doute au lendemain de la mort de Louis XIV, en une gravure attribuée à Charles Simonneau et dont on a plusieurs exemplaires au Cabinet des Estampes."
The Bibliothèque nationale de France owns Benoist's beautiful set of portraits, painted in grisaille on paper pasted on metal and mounted within a gilt frame.
Charles Simonneau (1645-1728) after the painter Antoine Benoist (1632-1717), Portraits de Louis le Grand graves suivant ses differents âges MDCCIV [1704]. Text by the poet Etienne Pavillon.  Engraving. Graphic Arts Collection GA 2012.01433