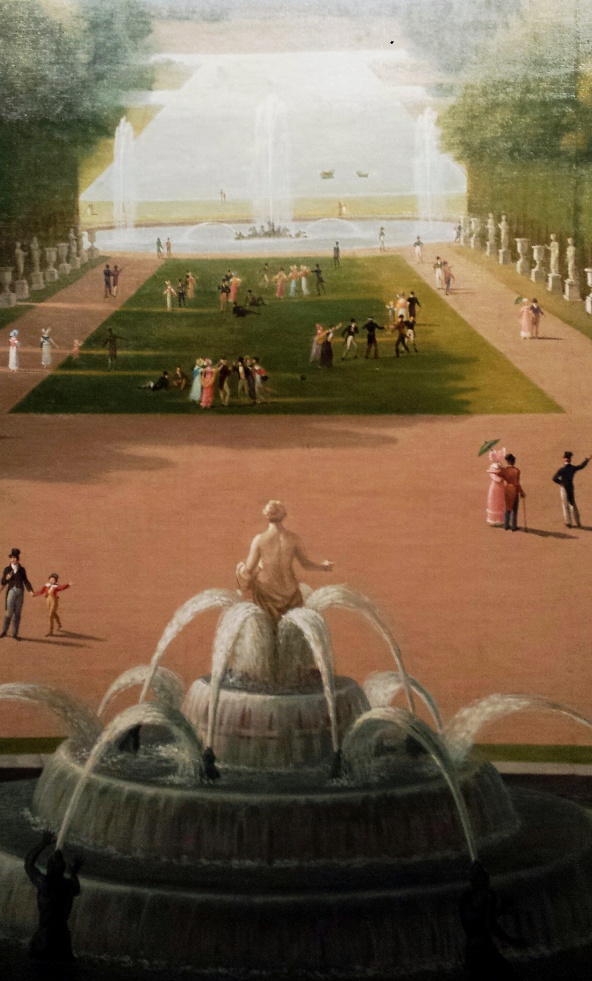 The exhibition Versailles on Paper at Princeton University is in its final weeks, closing on Sunday, July 19, 2015. Until then, the gallery will be open free of charge, 8:30 to 4:30 Monday to Friday and noon to 5:00 on the weekends.
In addition, you may want to visit the Metropolitan Museum of Art where John Vanderlyn's painted panorama of the palace and gardens are on view in a specially designed room within the American wing.
Invented in Great Britain in the 1780s, panoramas were displayed within the darkened interior of a cylindrical building or room. According to the Met's commentary, this 12 x 165 ft. (3.6 x 49.5 m) painting is a rare survivor of a form of public art and entertainment that flourished in the 19th century.
A native of Kingston, New York, Vanderlyn studied historical painting in Paris during the Napoleonic era and conceived his panorama project after seeing the American artist and inventor Robert Fulton establish a panorama theater on the Boulevard Montmartre.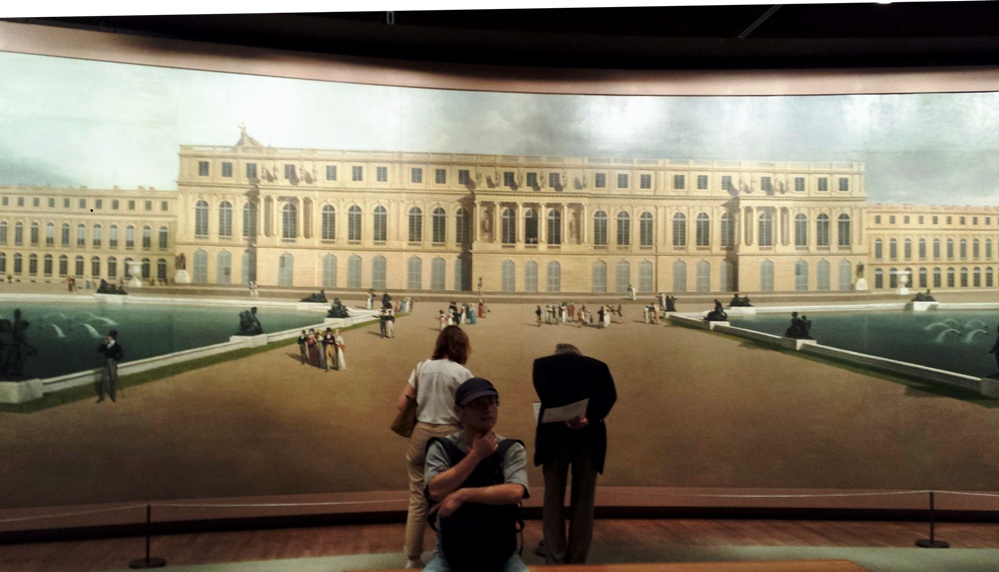 Vanderlyn's Versailles was drawn between 1814 and 1815, then mounted in 1818 in a building behind the City Hall in lower Manhattan. The scene depicts a sunny afternoon between 4:00 and 5:00 p.m. in September 1814. King Louis XVIII can be seen on the center balcony of the palace.
John Vanderlyn (1775-1852), Description of the panoramic view of the palace and gardens of Versailles, painted by Mr. Vanderlyn [electronic resource] (New-York: Printed by E. Conrad, 1819). Series:, Early American imprints. Second series ; no. 49975.
The Panoramic view of the palace and gardens of Versailles painted by John Vanderlyn: the original sketches of which were taken at the spot, by him, in the autumn of 1814 (New York: The Metropolitan Museum of Art, 1956). Marquand Library (SA) ND237.V19 P36