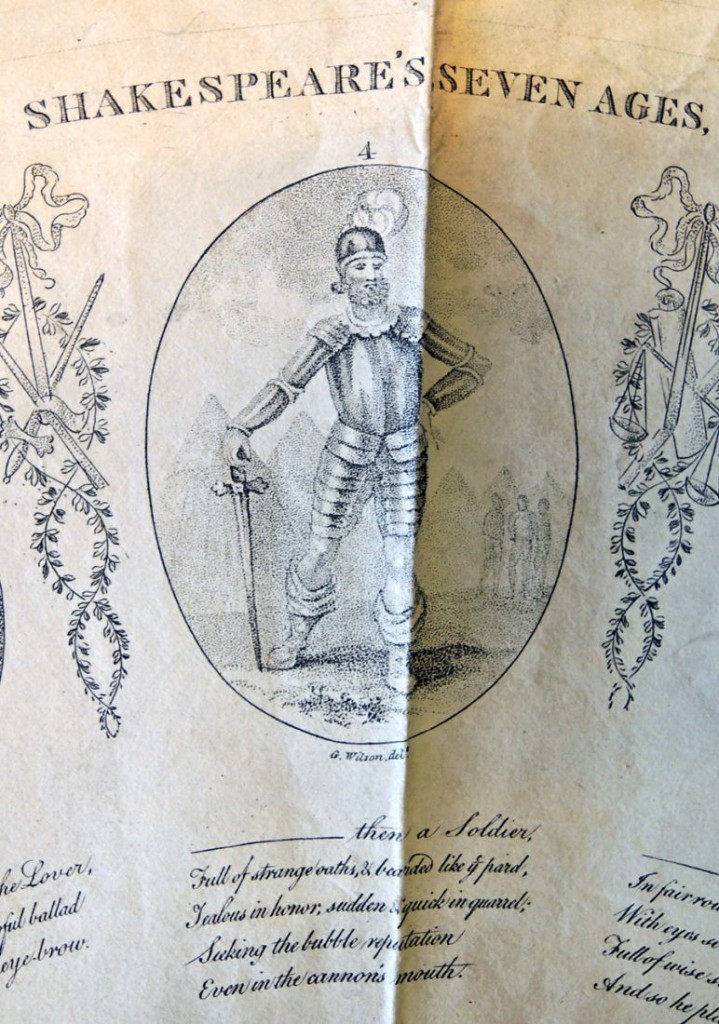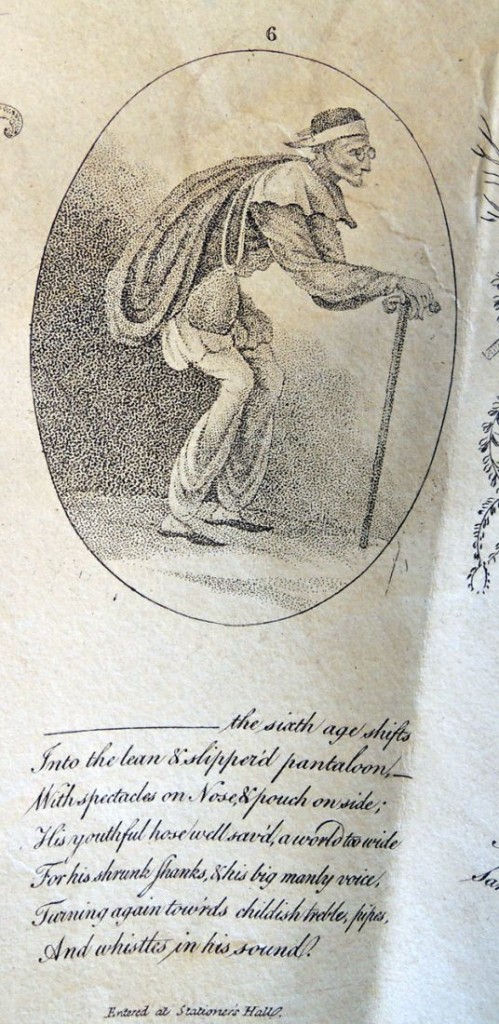 This unmounted print by George Wilson turned up recently. It was meant to be folded and attached to a lady's fan. The Beinecke Library has a completed version and the Folger's Library has the complement showing the female Ages of Man.
Thanks to Rosanna Lucy Doris C Harrison, who posted A Scholarly Catalogue Raisonné: George Wilson and the Engraved Fan Leaf Design, 1795-1801, online we now know more about Wilson and his publisher Sarah Ashton.
"Wilson himself was part of a now largely obscure collective of eighteenth-century London-based fan makers. His business was located at 108, St. Martin's Lane, in the centre of the city. Meanwhile, his works were entered and exhibited regularly at Stationers' Hall, an ancient Livery Hall of the Old Company of London Stationers. Wilson can also be assumed to have been a member of the Worshipful Company of Fan Makers, which was integrated in 1709 and located at 70 Fann Street."
"Wilson collaborated with other engravers and printers who specialised in printing fan leaf designs, figures such as the fan maker Cock, Joseph Read, and Sarah Ashton . Ashton, in particular, worked closely with Wilson in the publishing of many of his fan leaf designs—pointed up by the inclusion of the humorous line '… by S.A Professor of Physiognomy & Corrector of the Heart' in the lyrical verses placed in the centre of The Quiz Club fan leaf . . . that allude to the initials of Sarah Ashton—and was a very prominent female publisher of fan leaves in the mid to late eighteenth century."
"She was admitted in 1770 into The Worshipful Company of Fan Makers as she carried on the printing business in Little Britain, near St. Paul's Churchyard, after her husband died. Ashton published at least 13 engraved fan designs . . . ."
A Scholarly Catalogue Raisonné: George Wilson and the Engraved Fan Leaf Design, 1795-1801 by Rosanna Lucy Doris C Harrison (M.A.,Uuniversity of York, 2012).
http://etheses.whiterose.ac.uk/2672/1/m.a_by_research__thesis_-_Copy.pdf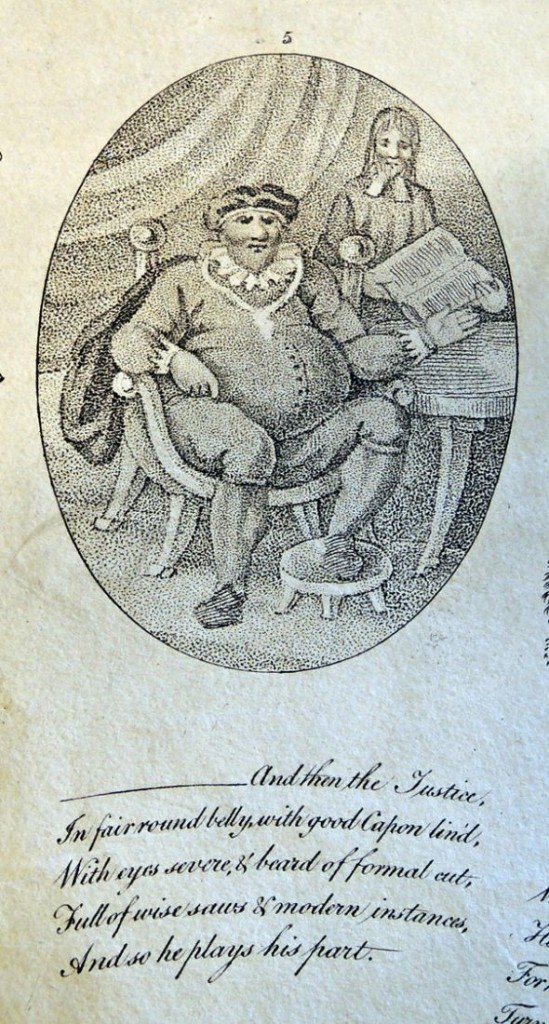 All the world's a stage,
And all the men and women merely players;
They have their exits and their entrances,
And one man in his time plays many parts,
His acts being seven ages. At first the infant,
Mewling and puking in the nurse's arms.
Then, the whining school-boy with his satchel
And shining morning face, creeping like snail
Unwillingly to school. And then the lover,
Sighing like furnace, with a woeful ballad
Made to his mistress' eyebrow. Then, a soldier,
Full of strange oaths, and bearded like the pard,
Jealous in honour, sudden, and quick in quarrel,
Seeking the bubble reputation
Even in the cannon's mouth. And then, the justice,
In fair round belly, with a good capon lined,
With eyes severe, and beard of formal cut,
Full of wise saws, and modern instances,
And so he plays his part. The sixth age shifts
Into the lean and slippered pantaloon,
With spectacles on nose and pouch on side,
His youthful hose, well saved, a world too wide
For his shrunk shank, and his big manly voice,
Turning again toward childish treble, pipes
And whistles in his sound. Last scene of all,
That ends this strange eventful history,
Is second childishness and mere oblivion,
Sans teeth, sans eyes, sans taste, sans everything.
Jaques, As You Like It, Act II Scene VII.