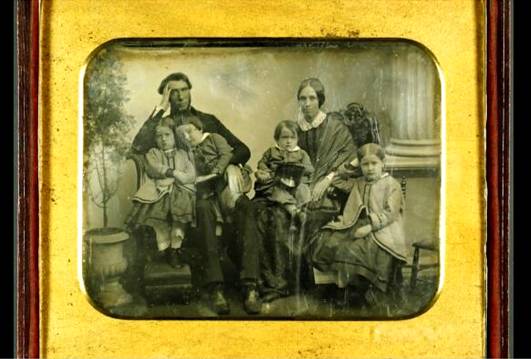 Family portrait with twins. Collection: Fotomuseum WestLicht
Deeplink: http://www.daguerreobase.org/en/type/d853f357-be53-ae00-e0b3-f6a4c06aa52e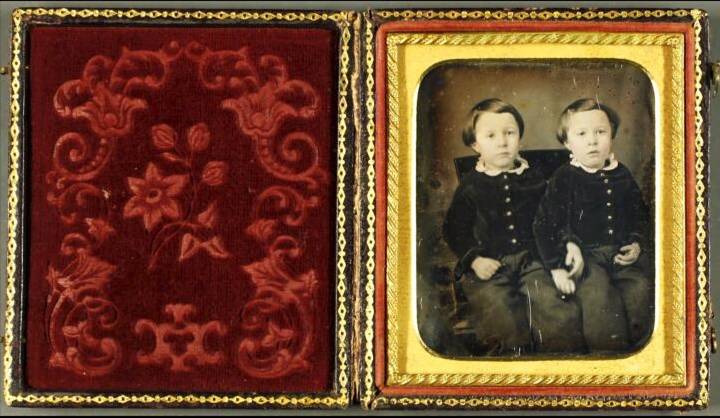 Twins. Collection: Fotomuseum WestLicht
Deeplink: http://www.daguerreobase.org/en/type/04911999-e8bd-5bc4-787e-e2bb28636814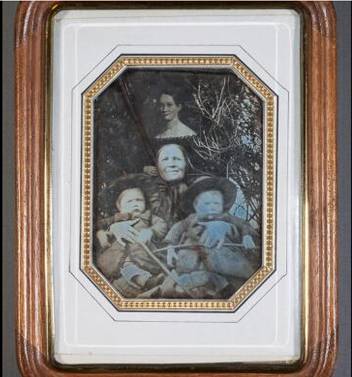 The Nanny, "Dadda", Anna Cassius with twins Hugo and Bruno Sirén, painted portrait of their mother Matilda Sirén on the background. Collection: Porvoo Museum
Deeplink: http://www.daguerreobase.org/en/type/93e9ec41-9d48-0349-5aa5-959a653df23f
The European Daguerreotype Association (EDA) is an international non-profit association of photography enthusiasts who are particularly interested in the history and the art of the daguerreotype. Thanks to the EDA, Daguerreobase is now live, offering detailed information about daguerreotypes from 17 partners in 13 different European countries. The images seen above were retrieved with a simple search for twins.
Their Daguerreotype Journal, now in its second year, is open source and free to down load: http://www.daguerreobase.org/en/journal
Coming this fall, the EDA will hold their first international symposium, consisting of two days of conferences held October 8-9, 2015 in Bry-sur-Marne, Paris. This will be the first of a series of events, conferences, workshops and meetings, with a special annual symposium or excursion to a European location with a particular relevance to the history of the daguerreotype.The EDA will also offer its expert assistance and advice regarding publishing, education and the maintenance and conservation of photography collections. http://www.daguerreobase.org/en/eda
They welcome new collections.