Transcription: "Benefit of Q. K. Philander Doesticks, P. B. respectfully tendered by himself to himself, in the hope that it will pay his small debts.
Doesticks will sing his new version of the Song of Hiawatha called Plu-ri-bus-Tah: a song that's by no author, in Niblo's saloon, some Saturday next year, if in the mean time a large and efficient orchestra of seven hundred persons can be trained to whistle the accompaniment.
Plu-ri-bus-tah, a book making most impertinent mention of a vast number of respectable persons it has no business to say anything about, is a Poem containing several hundred lines more than it ought to, willfully perpetrated with malice aforethought by Q. K. Philander Doesticks P. B., who has been aided and abetted in his intentional wickedness by John McLenan, Who has contributed thereto One hundred and fifty-four atrocious illustrations, for the purpose of making the enormity more noticeable.
The entire Poem has been set to music by the renowned author of "Villikins and his Dinah," "Bobbin' Round  [Polka]," and our other purely American Operas, and will be sung in three flats, before a New-York audience by Doesticks, the author, who will make his first appearance on the operatic stage.
In order that the people may have ample opportunity to appreciate the pathos, the tenderness, and the inexpressible simplicity of the poetry, the public performance will not take place until considerable time after ten thousand copies have been sold, paid for, and the proceeds spent by the enterprising author.
This work will be issued on the first of May and the American People can gratify themselves, the writer, and the publisher, by making immediate application for early copies, for which they will be charged one dollar each.
To guard against speculators, no more copies will be sold to any one man than he can pay for. To avoid confusion in the tremendous rush for copies, wagons will enter the store at the Broadway entrance and having received their loads, will depart by the rear door. Handcarts and wheelbarrows not admitted. Apply at the box office of Livermore & Rudd, 310 Broadway."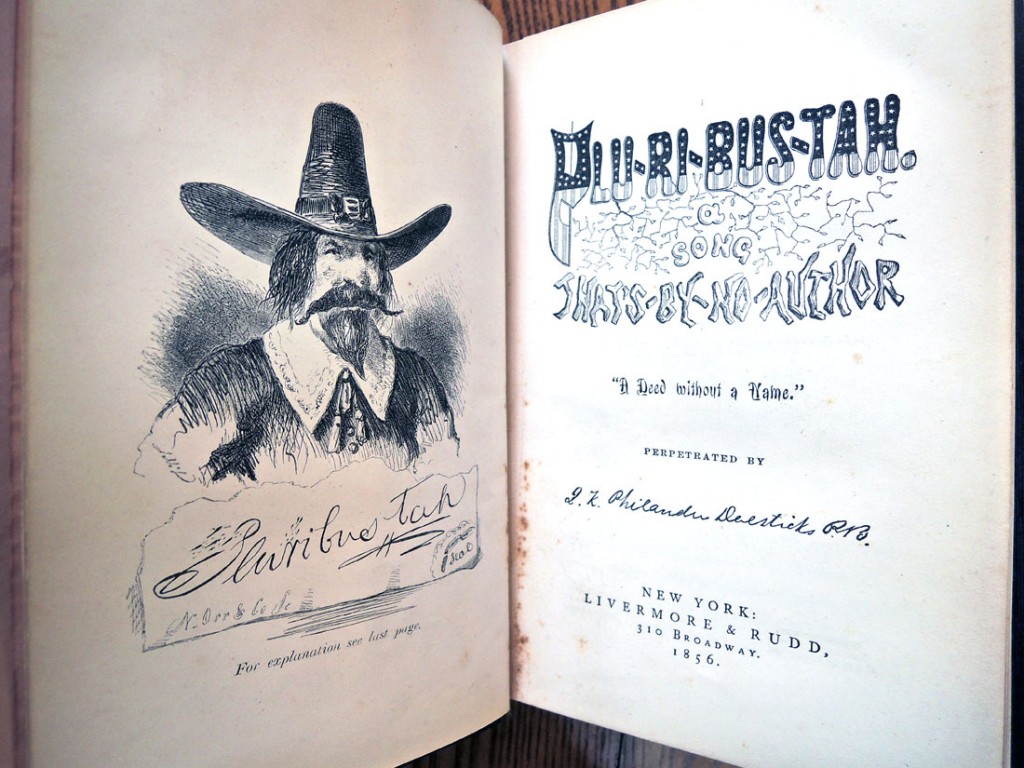 Q. K. Philander Doesticks (Mortimer Thomson, 1831-1875), Plu-ri-bus-tah. A song that's by no author (New York: Livermore & Rudd, 1856). Comic history of the United States written in the style of Longfellow's Hiawatha, Contains numerous illustrations, mostly in silhouette by John McLenan, engraved on wood by N.Orr, & Co. Graphic Arts Collection (GAX) Hamilton 1063
See also Q. K. Philander Doesticks (Mortimer Thomson, 1831-1875), Doesticks: what he says (New York: Edward Livermore, 1855). 8 full page illustrations by John McLenan, engraved on wood by N. Orr and S.P. Avery. Graphic Arts Collection (GAX) Hamilton 1054