While many engravings are produced after oil paintings for the mass distribution and sale of an image, this representation of Washington Irving and other contemporary American writers was painted and engraved simultaneously. The faces were photographed by Mathew Brady and the fictional scene designed by Felix Darley. Then the painter Christian Schussele when off to one studio while the master printer Thomas Oldham Barlow when off to another. The results were exhibited in New York City in December 1863.
The oil painting is currently on view in the National Portrait Gallery and the mammoth steel engraving can be viewed in the Graphic Arts Collection at Princeton.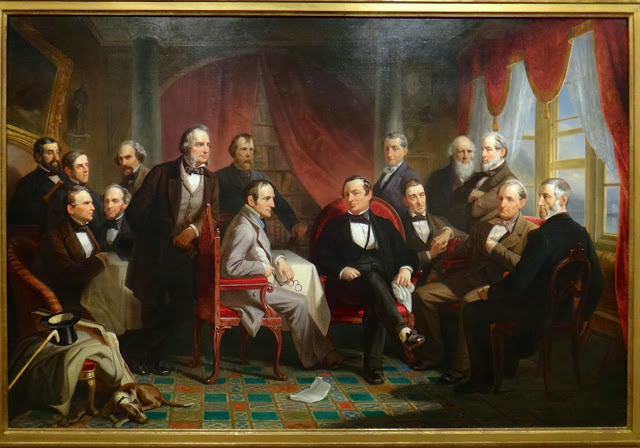 left to right: Henry T. Tuckerman (1813-1871), Oliver Wendell Holmes (1809-1894), William Gilmore Simms (1806-1870), Fitz-Greene Halleck (1790-1867), Nathaniel Hawthorne (1804-1864), Henry Wadsworth Longfellow (1807-1882), Nathaniel Parker Willis (1806-1867), William H. Prescott (1796-1859), Washington Irving (1783-1859), James Kirke Paulding (1778-1860), Ralph Waldo Emerson (1803-1882), William Cullen Bryant (1794-1878), John Pendleton Kennedy (1795-1870), James Fenimore Cooper (1789-1851), and George Bancroft (1800-1891).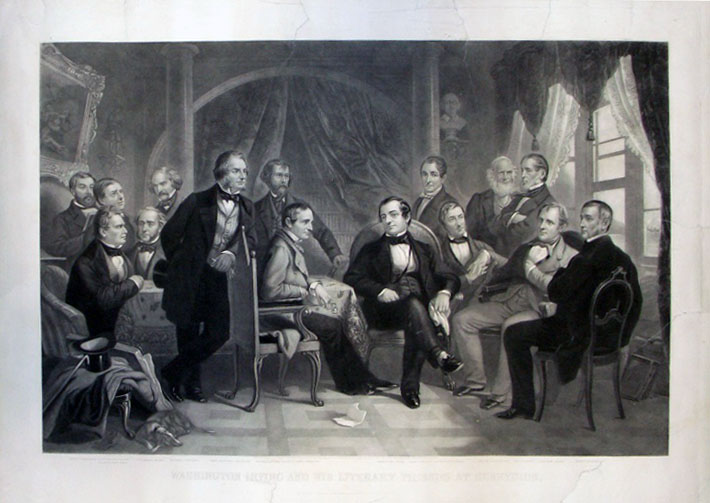 Washington Irving and His Literary Friends at Sunnyside, 1863. Steel line and stipple engraving. Engraving by Thomas Oldham Barlow (1824-1889), after a drawing by Felix Octavius Carr Darley (1822-1888), made from photographs by Mathew B. Brady (1823-1896), in conjunction with an oil painting by Christian Schussele (1824-1879). Graphic Arts Collection.
Christian Schussele (1824-1879), after design by Felix O.C. Darley (1822-1888), Washington Irving and His Literary Friends at Sunnyside, 1863. National Portrait Gallery, Washington D.C.
For more information see: https://blogs.princeton.edu/graphicarts/2008/01/the_sensation_of_the_day_is_th.html