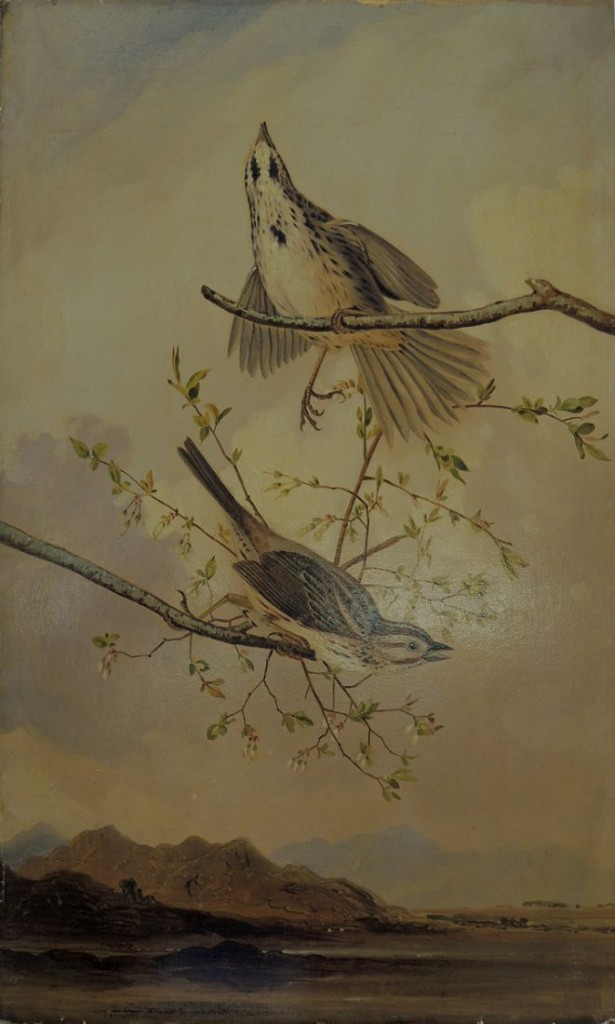 John James Audubon (1785-1851), Song Sparrow, no date [1800s]. Oil on cardboard. Graphic Arts Collection GC154. Gift of John S. Williams, Class of 1924.
Inscribed on verso "Painted by J.J. Audubon, certified by his elder granddaughter Lucy Audubon Williams." Notes: "A variant version in oils of Plate 25, Birds of America, with added landscape background showing distant mountains." –Howard Rice, "Princeton University Library Chronicle" XXI, 1&2 (Autumn & Winter, 1959): 45.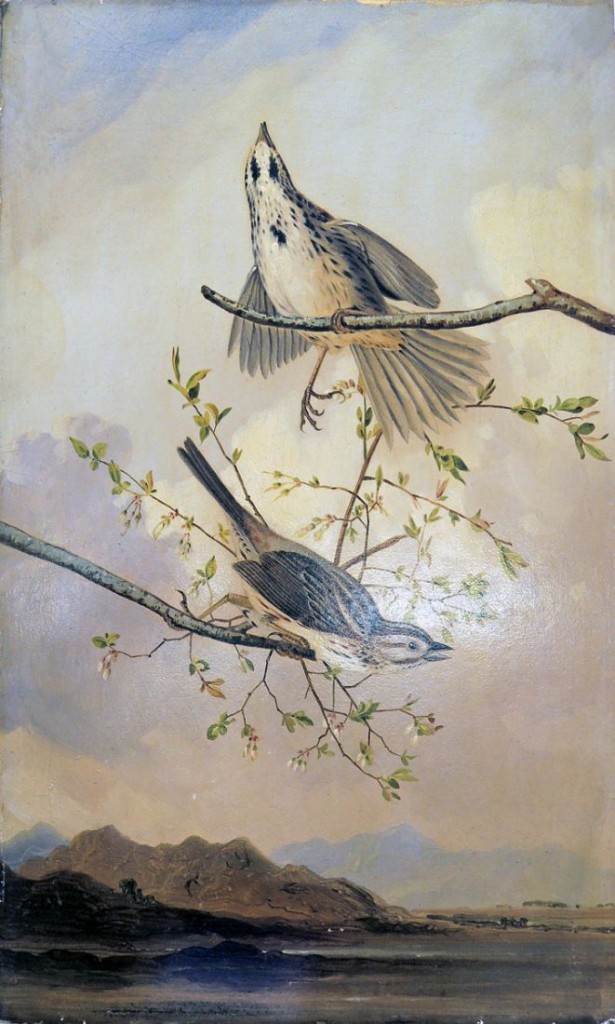 After Photoshopping, this is closer to what the original painting may have been. The heavy varnish has darkened over years of over exposure to light and unstable humidity.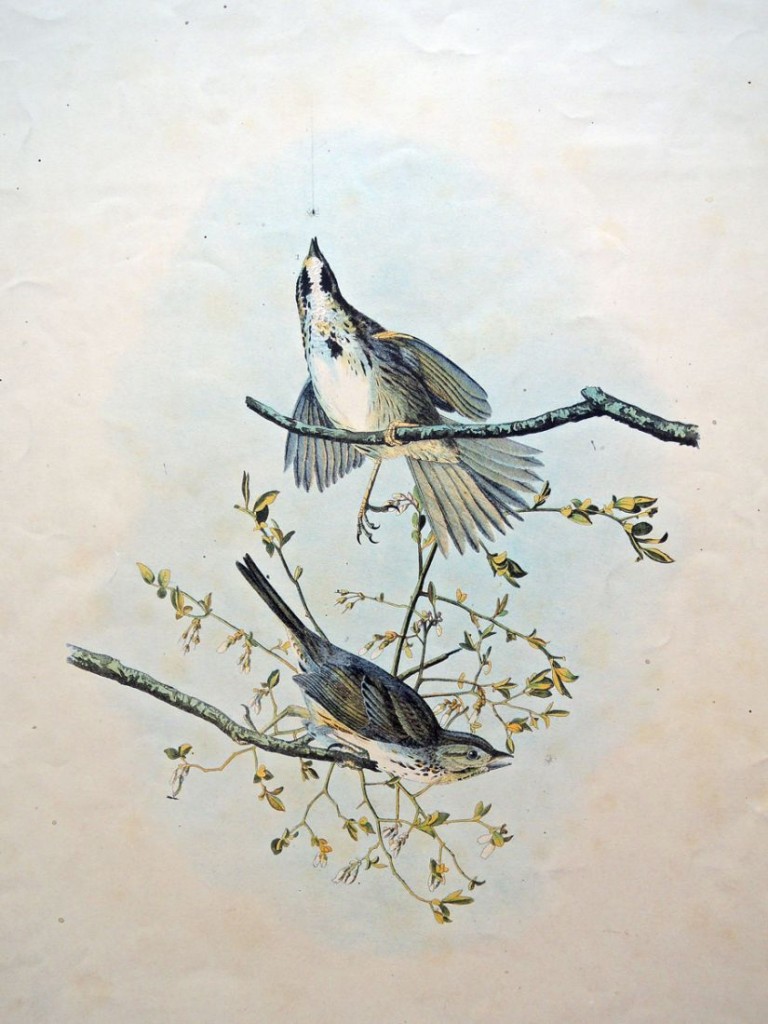 This is the 1859 chromolithograph by Julius Bien (1829-1909) after Audubon's original Song Sparrow.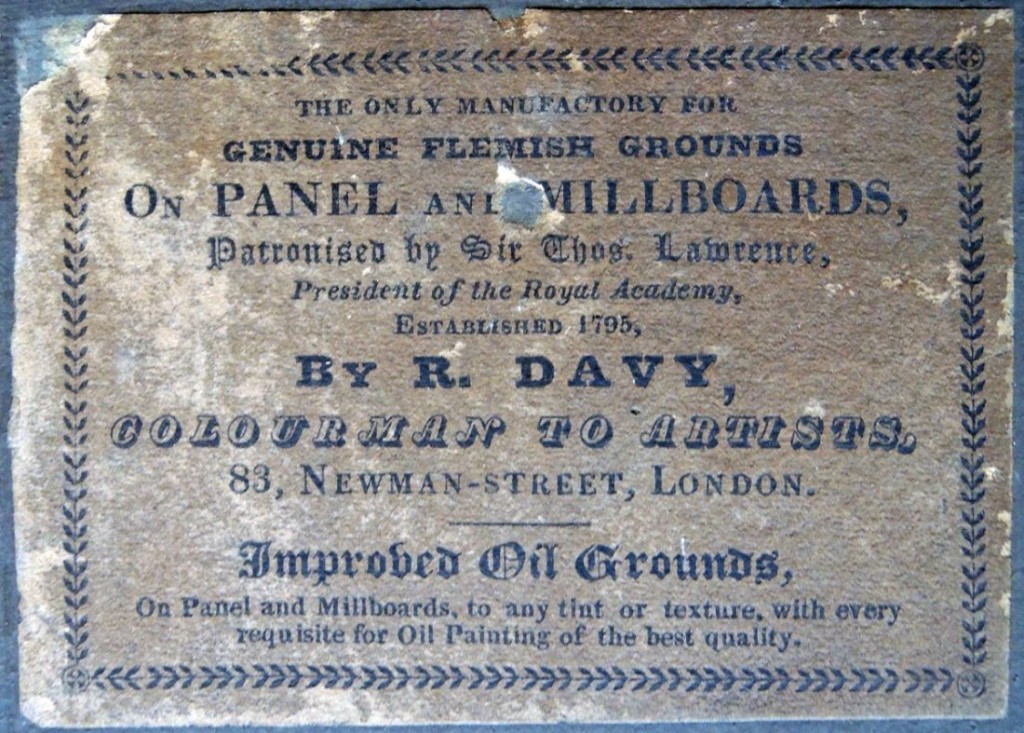 In the 1959 exhibition catalogue of the Princeton University Library's Audubon collection, Howard C. Rice went on to note, "From numerous references in [Audubon's] journals it is known that Audubon did many oil paintings, especially during his sojourns in England, where they provided an additional source of income to him when he was hard pressed for funds. The oil paintings nevertheless pose certain problems of attribution, not entirely resolved."
"For example, in his journal, Edinburgh, 20 March 1831 . . . Audubon notes that he made an agreement with a young painter named J.B. Kidd "to copy some of my drawings in oil, and to put backgrounds to them, so as to make them appear like pictures. It was our intention to send them to the exhibition of sale and to divide the amount between us. He painted eight, and then I proposed, if he would paint the one hundred engravings which comprise my first volume of the 'Birds of America,' I would pay him one hundred pounds."


Also available in the bound sets:
John James Audubon (1785-1851), The birds of America : from original drawings by John James Audubon … (London: Pub. by the author, 1827-38). Rare Books: South East (RB) Oversize EX 8880.134.11e
John James Audubon (1785-1851), The birds of America: from original drawings; reissued by J.W. Audubon; chromolithography by J. Bien (New York: Roe Lockwood & Son, 1860). Rare Books (Ex) Oversize 8880.134.1860e